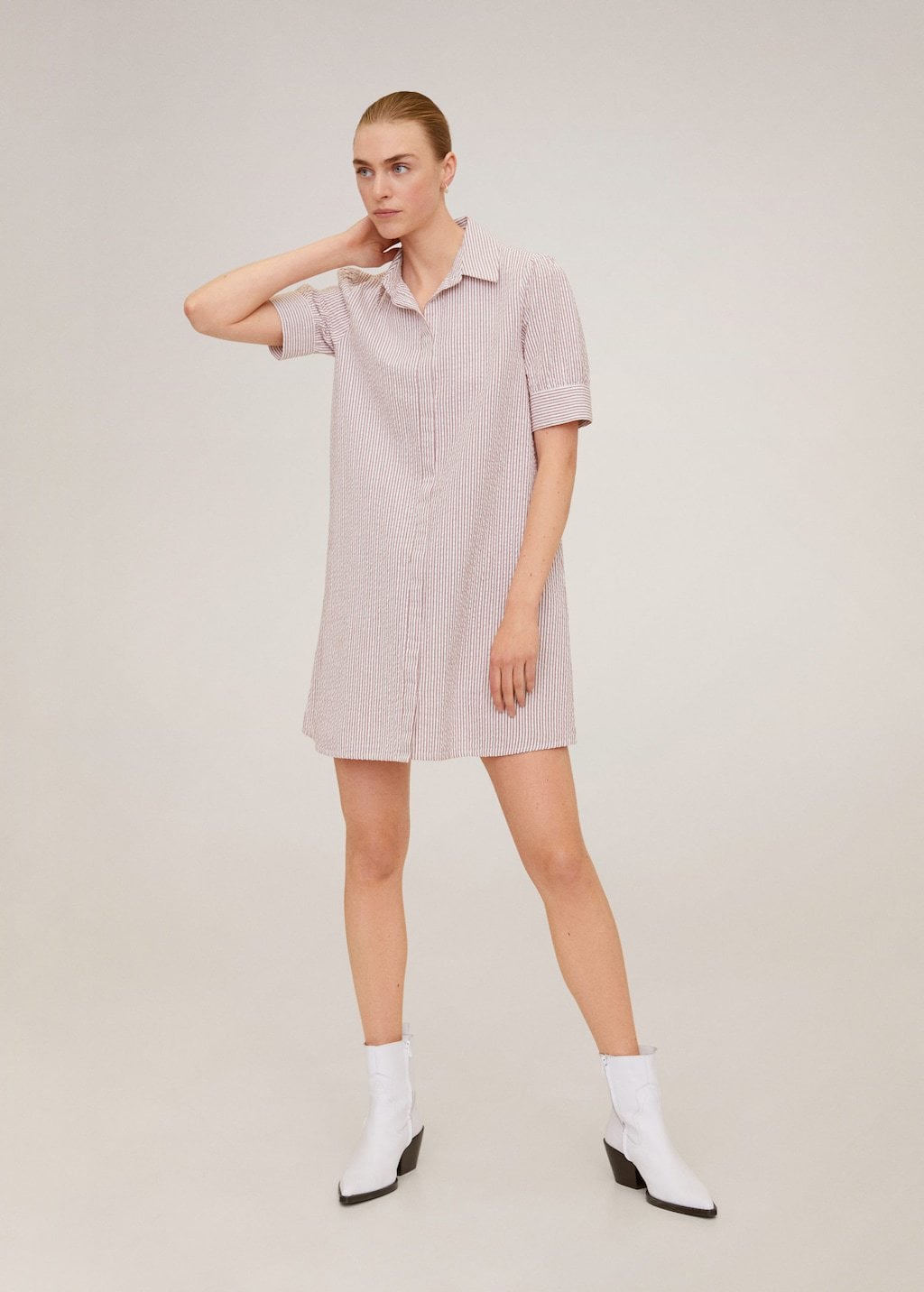 Spring is almost here, which means that dress season is around the corner!
Sure, you can wear dresses when it's cold out. However, there's something especially wonderful about wearing a dress during spring, when tights and leggings aren't necessary. Plus, your styling options increase tenfold, thanks to a lack of bulky layers that can bog down your look.
One dress style that I've always favored, and which also happens to be trendy this spring, is the classic and versatile shirt dress.
Whether you prefer a feminine fit-and-flare style or a looser, straighter fit, you can definitely find a chic shirt dress that looks (and feels) amazing on you, thanks to the variety of styles out there.
Don't know how to wear a shirt dress in spring 2020? Look no further, I've styled three cute and easy looks to get you started.
How to Wear a Shirt Dress: Outfit #1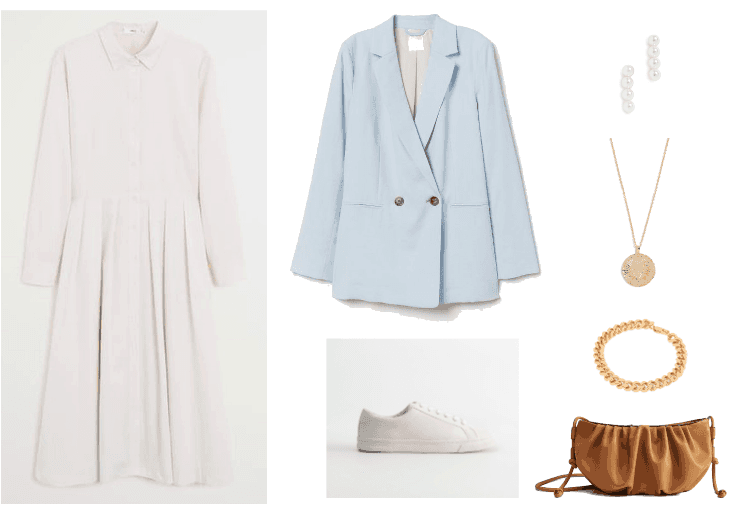 Products: Shirt Dress – Mango, Blazer – H&M, Sneakers – Mango, Earrings – Shopbop, Necklace – Shopbop, Bracelet – Revolve, Bag – Mango
If your style is feminine but also practical, you will be sure to love this gorgeous and easy-to-wear outfit!
To start, don a pretty fit-and-flare shirt dress. I love the one pictured here because I think it would look beautiful on a variety of body types thanks to its timeless silhouette.
Next, layer a preppy pale blue double-breasted blazer over top for a soft pop of color.
After that, add some trendy jewelry, such as a pair of faux pearl earrings, a coin necklace, and a chunky curb chain bracelet.
For maximum comfort, put on your favorite pair of simple white sneakers. Finally, grab a half-moon bag to complete the look.
How to Wear a Shirt Dress: Outfit #2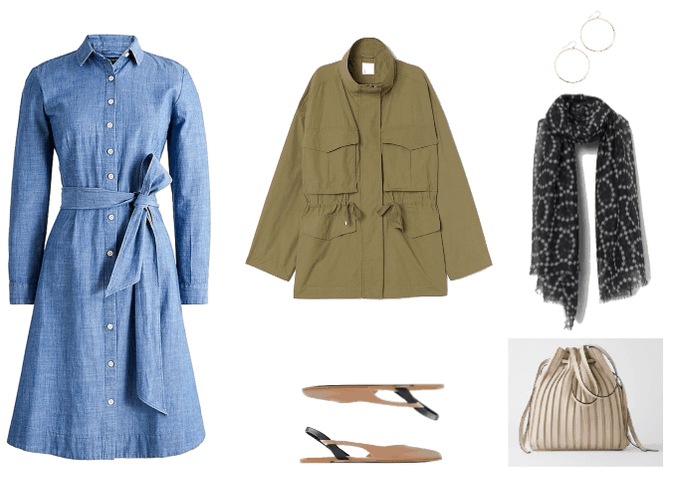 Products: Shirt Dress – J.Crew Factory, Jacket – H&M, Flats – Zara, Earrings – Shopbop, Scarf – H&M, Bag – Zara
This polished outfit is ideal for wearing to Sunday brunch with friends, but would also work well for class if you're in the mood for something a little more dressy.
Copy it for yourself by putting on a preppy chambray shirt dress with a stylish tie waist. Pair it with a khaki green utility jacket for an unexpected combo.
You don't need much in terms of jewelry for this look, so skip out on unnecessary embellishments and opt for a pair of funky earrings with asymmetrical edges.
A breezy scarf with a timeless print is perfect for those cooler spring days and these two-tone pointed-toe slingback flats are darling.
How to Wear a Shirt Dress: Outfit #3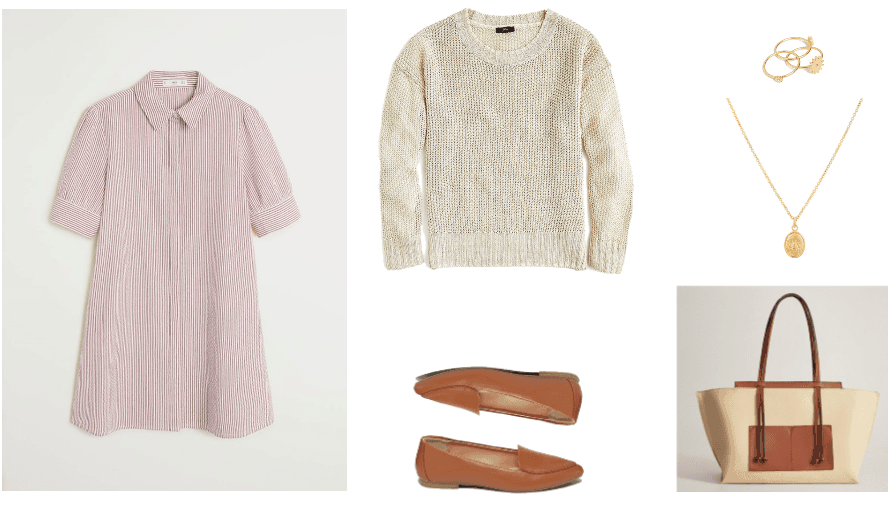 Products: Shirt Dress – Mango, Sweater – J. Crew, Loafers – Old Navy, Ring Set – Shopbop, Necklace – Mejuri, Tote – Mango
If you're still unsure how to wear a shirt dress in spring 2020, I put together a final look for the warm days.
To get this outfit, put on a super sweet short sleeved shirt dress. Add a chic lightweight sweater that you can easily tie around your waist if it really starts to get hot out.
Add some shine to the outfit with this stacked ring trio, as well as an adorable bee necklace.
And, since you can't go wrong with loafers, put on a pointed toe pair in a lovely shade of cognac brown that you're sure to get lots of use out of all season long.
What do you think?
Do you own a shirtdress? What's your favorite way to style a shirtdress? Which of the outfits above would you be most likely to wear?
Let me know in the comments!