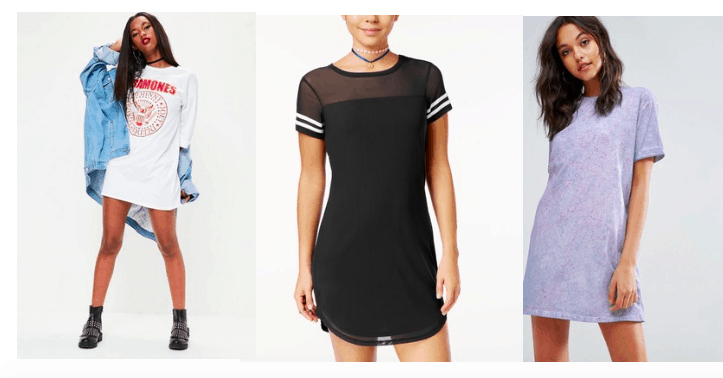 Athleisure is a trend that has only grown in popularity this year. It's been widely associated with the model-off-duty look and Kim Kardashian's latest style evolution, and it definitely defines this year's fashion vibe.
As you guys may know, athleisure is all about mixing athletic and casual wear. That's why an athletic t-shirt dress is the perfect athleisure piece. You can dress it up and dress it down to fit any occasion, and it's especially easy to transition from class to a night on the town!
While this Adidas t-shirt dress didn't come off the Moschino runway like Real Housewives of Beverly Hills star Erika Jayne's, you can channel your inner runway fashionista by rocking it.
Want to find out how to wear a t-shirt dress this season? Keep reading for two ways to style a black and white Adidas t-shirt dress:
How to Wear an Adidas T Shirt Dress to Class: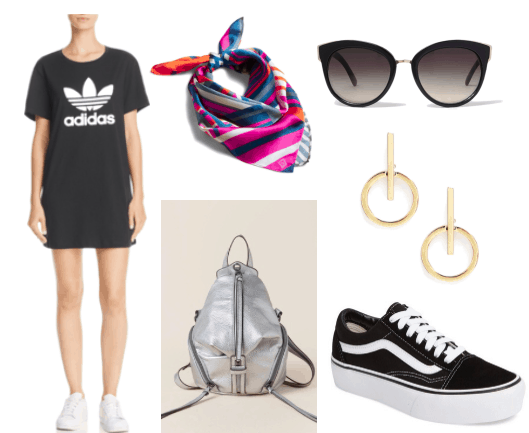 Products: T-Shirt Dress – Bloomingdales, Backpack – Francesca's, Scarf – Vera Bradley, Sneakers – Nordstrom, Earrings – Sole Society, Sunglasses – River Island
A t-shirt dress is the single most comfortable dress you'll ever wear to class. This one from Adidas is perfect, as it combines comfort with a trendy athleisure vibe. You can play around with sizing to achieve either an oversized or a fitted look – your choice.
For maximum comfort, pair the dress with on-trend sneakers like Vans. Then, pack your bag: This backpack from Francesca's could hold books or supplies for hitting the gym. Decorative earrings and a neck scarf lend some class to the look.
This outfit says "I didn't just roll out of bed," however it's perfect for such an occasion. (It'll be our secret.)
How to Wear an Adidas T Shirt Dress for a Night Out: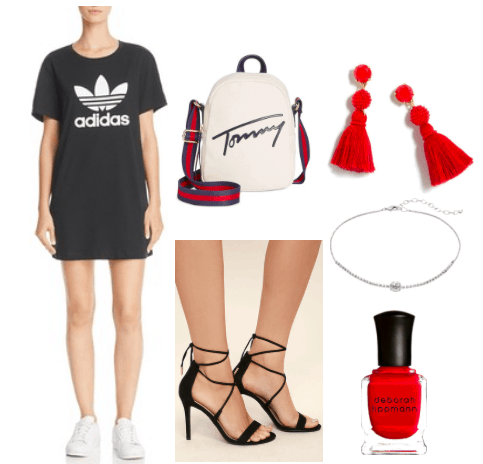 Products: T-Shirt Dress – Bloomingdales, Earrings – J.Crew, Shoes – Lulus, Bag – Macy's, Necklace – Kohl's, Nail Polish – Barney's
Wondering how to style a t-shirt dress for night? It's easier than you think! Start by adding a cute bag, like this Tommy Hilfiger crossbody. This crossbody is perfect for the athleisure trend as it looks like a mini backpack.
Now it's time for extras. Red earrings add extra color to the look while matching the bag — I absolutely love these trendy tassel earrings for the season!
To finish off the look add an intricate hairstyle, like a braid, to remind everyone that there's nothing basic about this outfit!
What are your styling tips for an athleisure t shirt dress?
Do you own any t shirt dresses? What are your best t shirt dress styling tips? Let's talk in the comments section below!