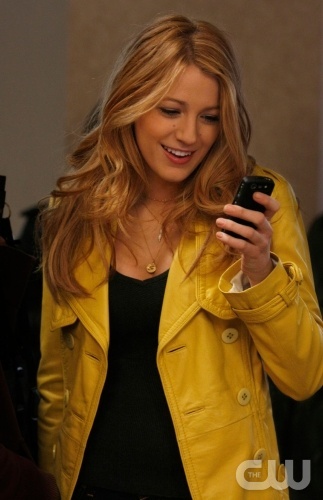 Since my favorite show — even today — is Gossip Girl, it's only natural I wanted to talk about Gossip Girl fashion!
I get tons of emails from readers asking where the Gossip Girl characters get their clothes, and how they can find similar outfits, so I decided to write an article series about it.
Today I'm going to break down Serena van der Woodsen's style, because it seems like every blog in the universe has talked about Blair Waldorf's style already! Serena is also my favorite character on the show, so of course I wanted to start with her.
Serena's Style
Serena's sense of style on the show is said to be "inspired by Kate Moss." That means that she mixes lots of fashion-forward and vintage pieces together for a look that is "boho chic" with a rocker-chick edge.
Like her style icon Ms. Moss, Serena is not afraid to wear something crazy if she's in love with it, can throw anything on and make it look effortlessly fabulous, and she will never leave the house without putting a unique spin on her outfit!
Of course, Serena's style is also inspired by the Upper East Side, so there is always an element of classic chic that gets thrown into the mix. Serena's clothes may not always look it, but most are very expensive designer pieces, made in luxurious fabrics and costing hundreds of dollars.
Don't worry, though. It's easy to get that Serena Van Der Woodsen style and look just as fabulous for much less money! Once you have the basics down, it's very simple to make that "I just threw this on" look yours.
Serena's Wardrobe Essentials
If you want to dress like Serena, there are a few key pieces that you'll want to make sure you have in your wardrobe. These are the staples of Serena's look.
Well-cut Jackets
Serena is pretty much always wearing a jacket. While of course jackets are a must for Manhattan in the winter, they are still definitely one of her signature looks.
Serena has quite a collection of every type of jacket: long, short, cropped, leather, wool and everything in between! She wears them in every color, too: bright colors like red and gold, muted shades like gray, and earth tones like camel and brown.
If you want to wear a jacket like Serena does, the cut is everything. A jacket that fits you perfectly is a wardrobe goldmine – you can wear it with everything and you'll always look well put-together. One way to make sure your jackets fit just right is to bring them to a tailor – it doesn't cost much money to have seams taken in or let out, and it will pay off hugely in the long run!
To find a great jacket like one of Serena's, check EBay, vintage stores (many of Serena's are vintage), and even H&M (they have been known to carry some cute ones!) Then call up your tailor & get it so it fits you right.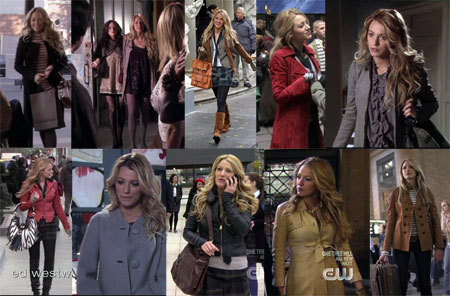 Skinny Jeans
A Kate Moss staple, Serena wore skinny jeans in many episodes this season. Although they are on their way out for Fall (wider legs and boot-cuts will be in again), skinny jeans are still Serena's denim style of choice. If you have great legs like Blake Lively, show them off with a pair of skinnies before they go out of style!
On the show, Serena wears Seven For All Mankind Skinny Jeans, but if you don't want to spend a lot of money, stores like Forever 21 and Wet Seal sell quality skinnies for a fraction of the price.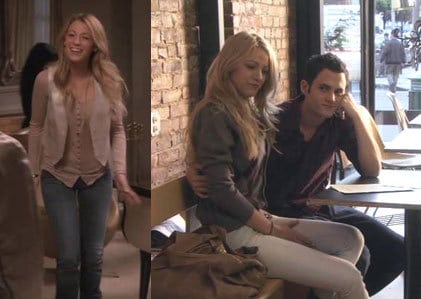 Dresses
Serena has a girly side to her, so we've seen her in many dresses throughout the season. Even though dresses aren't a "style" in themselves, Serena is always wearing dresses that have unexpected details to express her quirky style.
Take for example the gray T-shirt dress that she wore to Blair's birthday party (pictured below on the right). The top half resembles a plain men's shirt, but when you look down at the hem, there are gold studs all around the bottom! Paired with sparkly black & gold tights, the look was casual yet funky at the same time.
To get this look, try to find dresses that have something unexpected about them: studs, sequins, patterns, or a pretty design. Serena usually wears mini dresses, so if you have the legs for it, wear one with some black or sparkly tights and fabulous shoes.
Some great places to find trendy dresses that wont break the bank are H&M, Bluefly, and of course Charlotte Russe and Forever 21.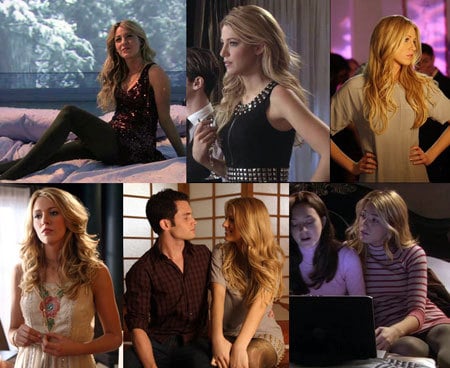 Serena's Accessories
Serena's look is all about the details. While she may just throw on a T-shirt and skinny jeans, you can bet that she'll make the look fashion-forward and unique by adding lots of fabulous accessories! Some of her favorites are below:
Boots
If you've ever seen Gossip Girl, you know that Serena wears boots all the time! She pairs them with skinny jeans & tees, dresses, and even her preppy school uniform. To buy a pair of Serena's boots, check out The CW's Gossip Girl Style Site.
Layered Necklaces
Serena has lots of necklaces, and it seems like she is always wearing one or a few of them! Her necklaces are usually long, hitting above her belly button, and she layers them for a bohemian look. If you want to find amazing and unique necklaces at low prices, search for some on Etsy, or EBay, or try making your own! H&M can be great for this kind of thing too.
Bangles
Serena doesn't wear bangles all the time, but when she does, she uses them to add interest to her simpler outfits. You can find great inexpensive bangles at places like Charlotte Russe, Wet Seal or, again, H&M.
Serena Van Der Woodsen's Hair
Wavy, Imperfect Hair
Long, wavy, highlighted-blonde hair is definitely Serena Van Der Woodsen's signature look. Blake Lively wears extensions on the show to get her hair super-long, so if your hair isn't so long, consider clip-in hair extensions to get the same look. If you have long hair already, it will be even easier for you to get Serena's signature hairstyle.
To get waves like Serena's, work mousse through damp hair and blow dry with a diffuser attachment while scrunching to bring out your hair's natural wave! Next, take a 1.25 or 1.5 inch barrel curling iron and curl your hair in sections, starting with the bottom layers and working your way up your head. Don't worry about getting it perfect! Part of Serena's style is that her hair is never perfect, and that's okay! Finish your hair with light hold hairspray, tousle and go. Bonus points if you add a cute head scarf like Serena's in the photo below!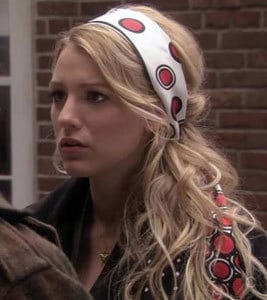 Photos courtesy of The CW and BlakeLively.Net
More Information
If you want more Gossip Girl fashion, I've written style breakdowns for Blair Waldorf, Jenny Humphrey (and the new Jenny Humphrey as of Season 2) and Vanessa Abrams (plus even one for the new mean girl Georgina Sparks. I don't like her, but her style is pretty fierce.)
Also, if you're looking for specific items that you've seen on the show, check out The CW's Gossip Girl Section. They have many of the designer looks seen on Gossip Girl that you can buy online!
Until next time, XOXO…