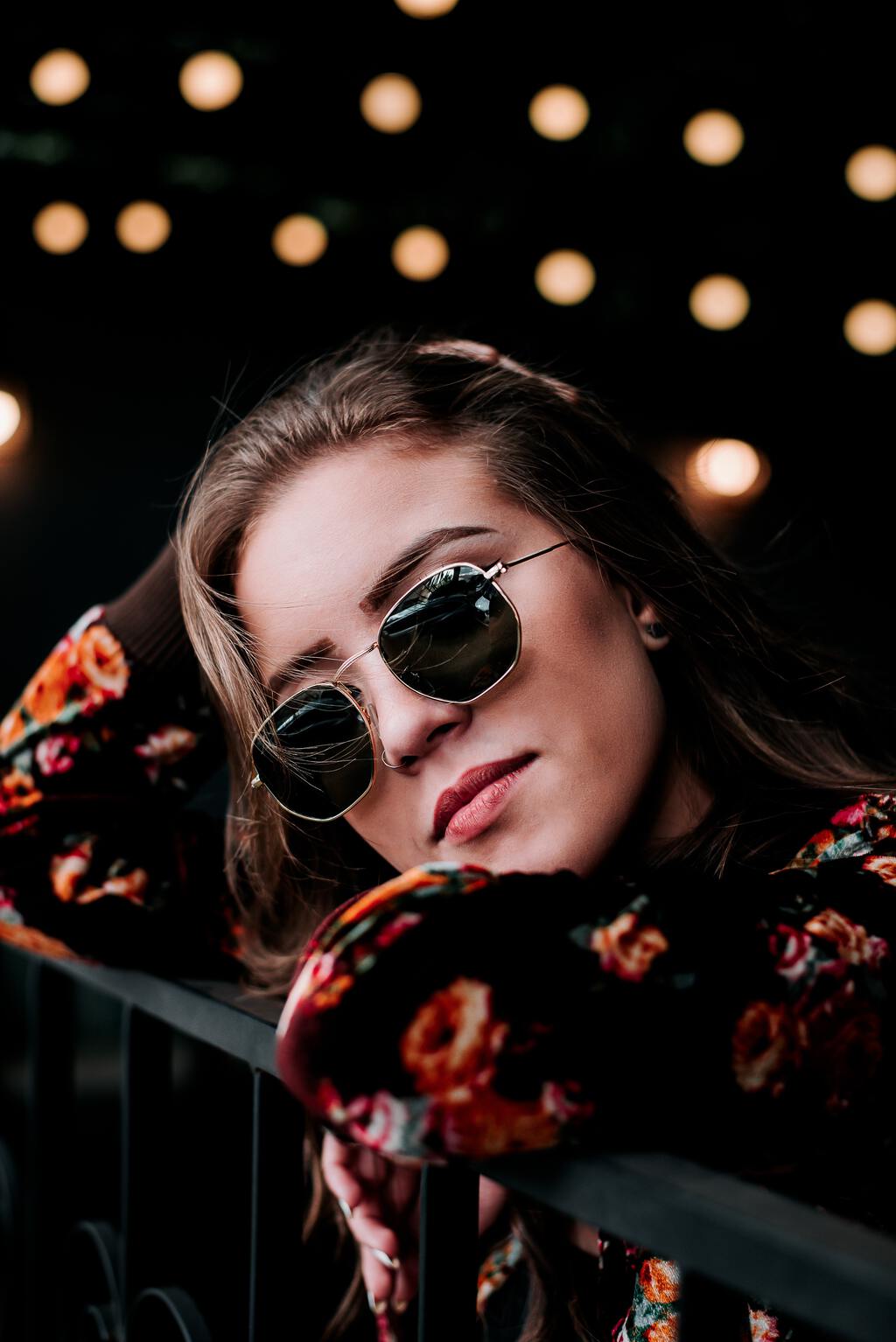 Sunglasses are a non-negotiable summer staple. They not only protect our eyes from damaging solar rays, but they make us look damn good doing it! They're beautiful, functional, hide a multitude of sins, match your outfit and complement your features. What's not to love about sunnies?
If you're looking for a new pair of sunglasses for summer, here's a handy guide to shopping for your perfect pair of shades – from the right frame shape for your face to the perfect color for you. I've also included some trendy and inexpensive sunglasses for each face shape.
Related reading: The Classic Sunglasses Every Woman Needs in Her Wardrobe
The Best Sunglasses for Your Face Shape
The perfect pair of sunglasses will flatter your face shape and balance your natural features out. The basic rule for choosing a frame for your face is to look for one that will contrast with your face shape. If you aren't sure what your face shape is, here's a guide to determining your face shape.
If you already know your face shape, here are some tips to finding your perfect pair of sunglasses for each of the four basic face shapes.
Oval Face
You have it the easiest when it comes to shopping for sunglasses – most frame shapes will work for you! Oval faces can handle round or square frames, oversized shades, aviators, and everything in between. Of course, depending on your individual features, certain styles might not work as well as others. Also, make sure to look for styles that are in proportion to your face and features – if you have small features and a small face, steer clear of the oversized sunglasses look (unless you're specifically going for the "little girl in huge sunglasses" thing a la Mary-Kate Olsen).
Sunglasses for Oval Faces: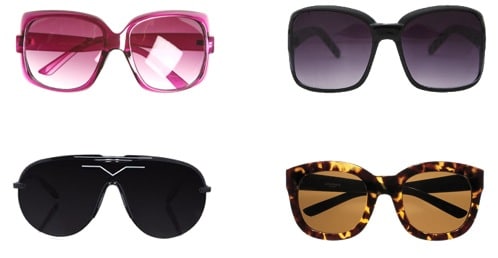 Clockwise from top left: Dior-Inspired Sunglasses – Bleudame, Kirra Sunglasses – Pacsun.com, Tortoise Sunglassess – Liz Claiborne, DVB Aviator-style Sunglasses – Asos
Round Face
A circular face requires angular sunglasses to balance out the roundness. Straight lines are important, so look for square or rectangular frames if possible. Again, pay attention to proportions – if you have large features and a large face, don't attempt tiny sunglasses as they will only make your face/features look distorted.
Sunglasses for Round Faces: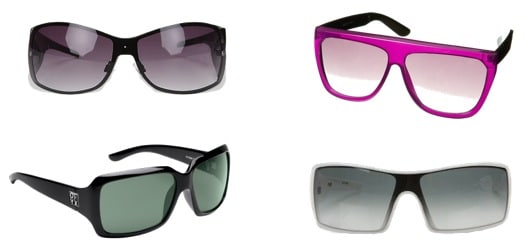 Clockwise from top left: Kirra Truth-or-Dare 2 Sunglasses – Pacsun.com, Flat Top Wayfurther – TopShop, Fox Duncan Sunglasses – Pacsun.com, Grasshoper Sunglasses – Roxy
Heart-Shaped Face
If you have a heart shaped face that's wider at the top than at the bottom, look for sunglasses that echo this shape. The aviator is a perfect example of this. Aviator shades are super-flattering on heart-shaped faces. You can also get away with certain rounded and rectangular frames so long as the upper part of the frame is larger than the lower.
Sunglasses for Heart-Shaped Faces: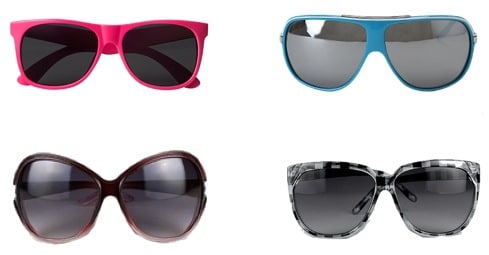 Clockwise from top left: Neon "Wayfarers" – H&M, Kirra Thunder Sunglasses – Pacsun.com, Retro Plaid Print Sunglasses – GoJane, Butterfly Sunglasses – GoJane
Square Face
Square faced girls should stick to curved sunglasses – they help soften your facial features and downplay your angular face shape. To draw attention away from a strong jawline, look for frames that sit slightly higher than usual on your face. This will help draw the eye up toward your eyes.
Sunglasses for Square Faces: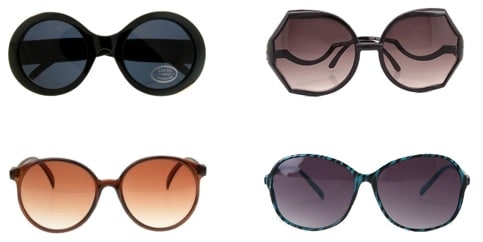 Clockwise from top left: Jackie O Round Sunglasses – GirlProps, Angle Frame Sunglasses – GoJane, Kirra Oliver Zebra Sunglasses – Pacsun.com, EP 'Activist' Vintage Sunglasses – 80's Purple
What color sunglasses should you choose?
Now that you know what shape of sunglasses to buy, what about color? Sunnies come in so many colors these days – it can be near impossible to choose just one! If you need some help, here are some tips to help you decide on the best color for you.

You can't go wrong with basic black. Everyone should have at least one pair of gigantic black sunglasses for everyday wear – they're so Breakfast at Tiffany's. For extra movie-star appeal, make sure the lenses are as dark as possible.
Pay attention to the colors you wear most often. You want your sunglasses to work with the majority of your clothes. Do you wear cool colors most often? If so, try to stay with cool colored sunglasses in shades like black, gray, blue, and silver. If you tend to wear warmer colors, look for brown, red, gold, or similar warm-toned sunglasses.
Try to buy shades in one of the colors that flatters you most. Shades that flatter your skin and hair coloring will bring out your features and make you glow. Not sure which colors look best on you? See my article How to Find Your Perfect Colors.
Have fun and experiment with cheap, colorful frames. Neon sunglasses are a huge trend for summer 2009, so I recommend having some fun and trying the trend out with some inexpensive frames. Sometimes it's fun to wear ridiculously bright, cheap sunglasses. Keep the rest of your outfit simple & classy but go wild with your shades for a look that's very modern and right-now.
A Final Tip
The most important thing to remember when shopping for sunglasses: try on as many pairs as you can! It's fun to buy cheap ones online sometimes, but you should really go to a store and test them out in person. Each pair is different and will make your face look different. Experiment as much as possible 'til you find your perfect ones!
What do your favorite sunglasses look like? Do you have a certain style of sunglasses that you wear most? Do you stick to basic black and brown or do you mix it up with funky neon colors? Answer in the comments section!