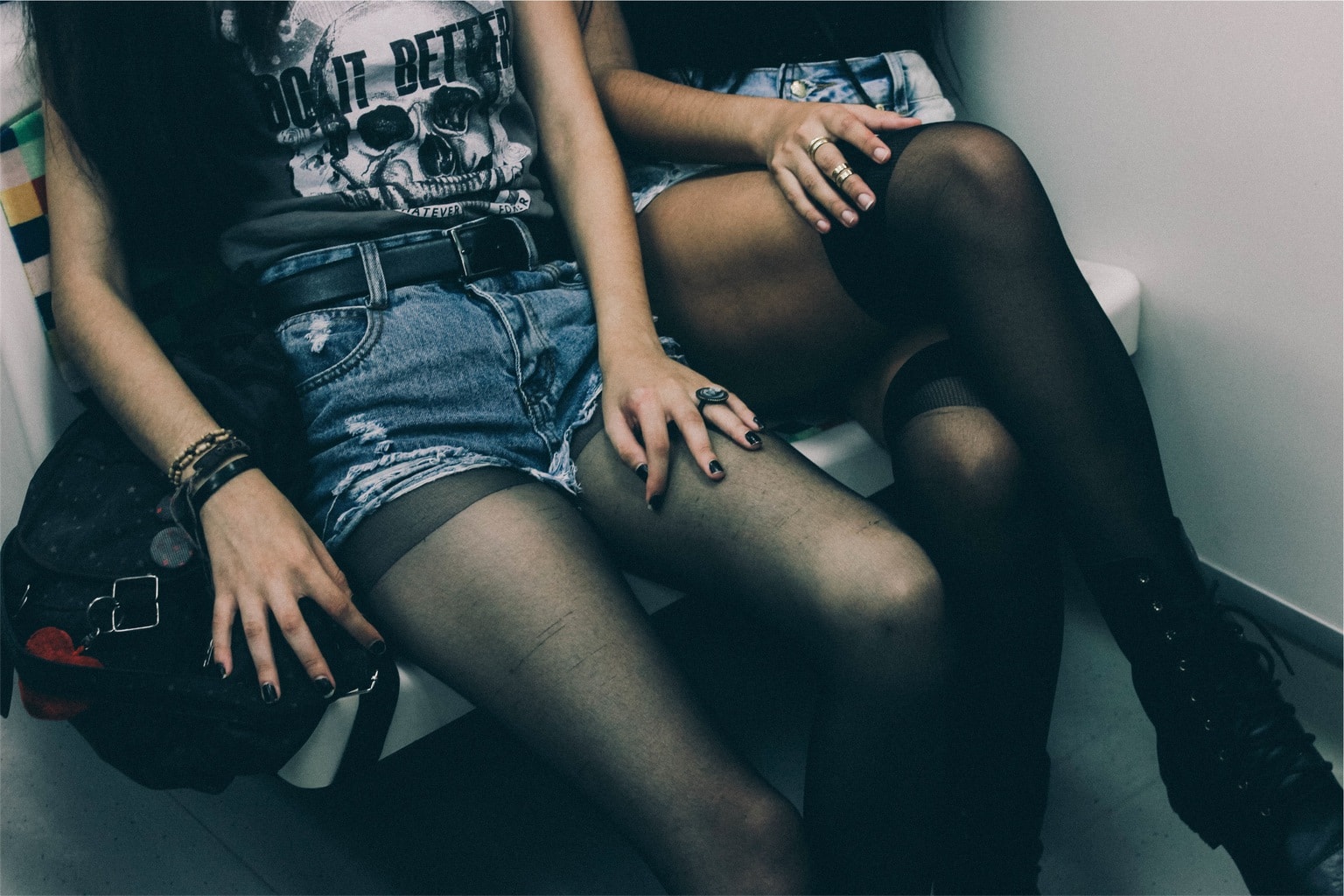 I've always admired the devil-may-care attitude that edgy style invokes. I even had a short-lived goth phase in middle school (okay, it lasted two hours before my dad made me wipe off my blue lipstick).
However, even with my continuing nerd status in ongoing education, I still feel a longing for the badass attitude inherent in punk, goth, and other edgy looks. Aside from wearing all black, which is always an option, I've found accessories to be the perfect method to add a little more edge to my outfit while not committing myself entirely.
Here are some tricks I use when I want to look like I'm a cool kid:
Distinctive lipstick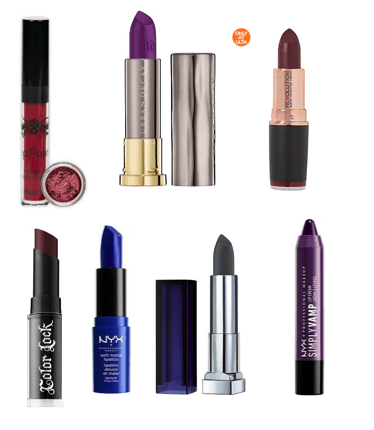 From Top left, clockwise: 1. Tattoo Junkee, 2. Urban Decay, 3. Makeup Revolution, 4. NYX, 5. Maybelline, 6. NYX, 7. BH Cosmetics
Although I've never had the nerve to wear my blue lipstick again for fear of my father's sassy remarks, the whole color spectrum has been popular to wear in recent months! Highlight your ability sneer at society's rules with a nontraditional lipstick color.
If you're not quite ready to jump into the purple, blue, or green lipsticks, a berry or darker red is an easier (and more subtle) way to add a little color to your look.
Body jewelry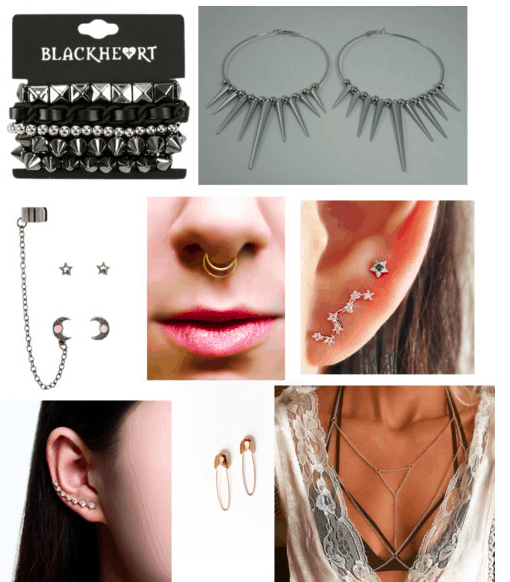 Top row L-R: Bracelet (Hot Topic), Earrings (Etsy) // Middle row L-R: Earrings (Hot Topic), Faux septum ring (Etsy), Constellation ear crawler (Etsy) // Bottom row L-R: Cubic zirconium ear crawler (Etsy), Safety pin earrings (Etsy), Body chain (Etsy)
Part of what draws me to body jewelry is a deep-seated love of bling. I am not a fan of the "less is more" method of dressing. I'm firmly in the "more is more" camp. There are so many options for accessorizing in this style; it appeals to me viscerally.
I personally have a couple of non-ear piercings, but if you're not quite ready for that, here are some easy ways to try the look out.
Ear crawlers and ear cuffs mimic the look of more piercings without needing the help of a tattoo/piercing shop. Similarly, you can test your affinity to a septum piercing with the faux one shown above!
Finally, body jewelry is perfect for anyone who just wants accessorize every part of their body (me!). You can wear a body chain over neutral clothing for a step up on decoration, or underneath so that it peeks out (as seen above).
Boots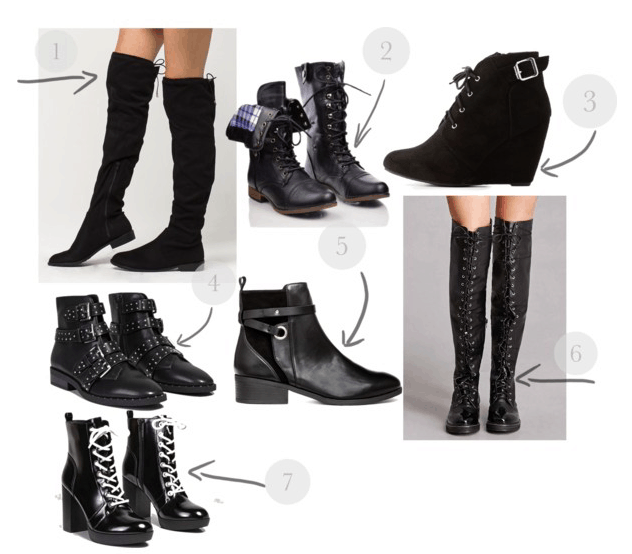 1. Tilly's, 2. Walmart, 3. Charlotte Russe, 4. Forever 21, 5. H&M, 6. Forever 21, 7. Forever 21
Combat boots and Doc Martens have long been associated with a readiness to do some butt-kicking, but other boots are also an easy way to add some flair to an otherwise normcore outfit.
Switch one of these pairs of boots for your flats or sneakers and immediately bump up your cred at least two points. The nice thing about black boots is they can cover such a range of formalities and edginess.
If you're feeling like you might want to try a little darker than your usual, you don't need to jump straight into thigh high stilettos. If that's what you're ready for, though, there are always options for that too!
Military and (faux) leather jackets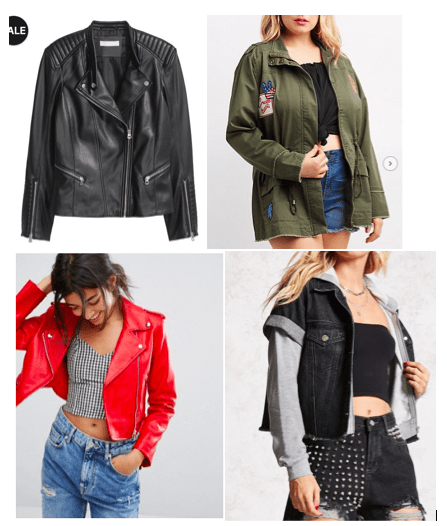 From top left, clockwise: 1. H&M, 2. Charlotte Russe, 3. Forever 21, 4. ASOS
My favorite impulse buy ever was a discounted military-style jacket from Charlotte Russe for $15. It's warm and it makes me look like I spend my Friday nights on an exciting motorcycle adventure rather than googling the citric acid cycle and "how to become a trophy wife".
Throw a (faux) leather jacket over any outfit to change the entire look (my favorite is leather jackets over dresses) or embrace the adventurer theme and pair the jacket with distressed jeans and your handy pair of combat boots.
What do you think?
The best part of using accessories to change a look is that you are able to fine-tune the exact amount of edginess you're ready for.
If you feel like playing the role of vamp for the night, throw on a couple of the pieces above! If you're just adding an article to provide a high contrast look to an otherwise feminine outfit, just pick one to highlight your other clothing choices.
Which of these pieces would you wear in daily life? Do you want more articles with this type of style? Did you also have a middle school goth phase? Share any and all opinions!