This post may contain affiliate links, which means we may receive a commission if you purchase through our links. Please
read our full disclosure here
.
Faux fur, one of the biggest trends happening right now, can be tricky to style. On the one hand, it looks super fancy, but on the other, it can give off a casual vibe. If you want to try the look out but aren't sure exactly how to make it work, here's your go-to guide.
1. Wear a Faux Fur Coat Over a Fancy Dress and High Heels
Wearing an oversized faux fur coat over a fancy mini dress and high heels is the way to go if you want to be super trendy! If it's super cold outside, opt for over-the-knee boots instead of open-toed heels, and you're good to go!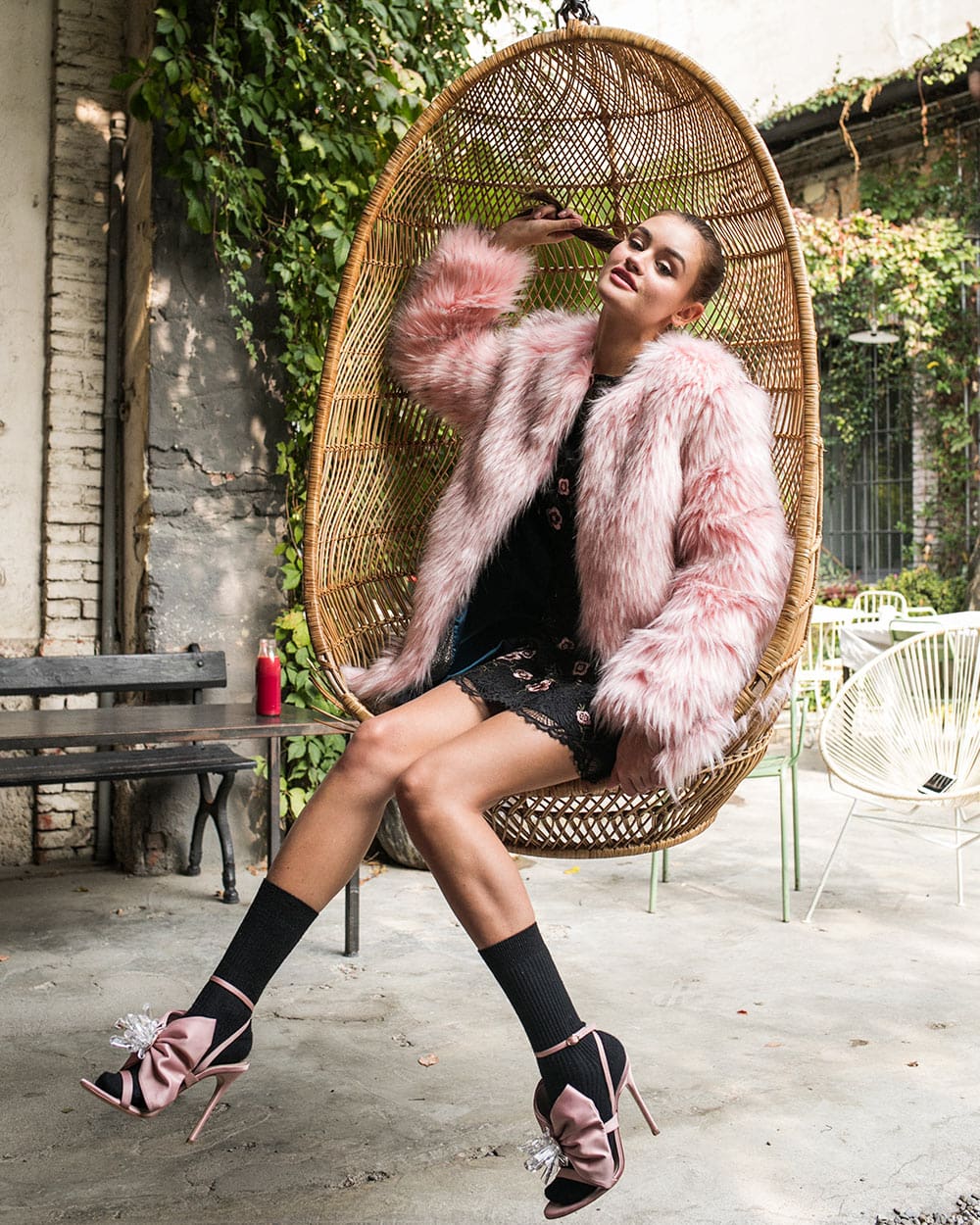 2. Rock a Neutral-Toned Teddy Faux Fur Coat with Light Wash Jeans
As previously hinted, faux fur comes in handy for a casual outfit too. It all depends on what you combine it with! Try either a colorful or a natural-brown teddy faux fur coat over light wash jeans and a chunky cream sweater: not only does it look cute and adorable, but it is also super comfy!
If you don't have a teddy coat yet, be sure to see our guide to affordable teddy coats you can buy today.
3. Pair Your Faux Fur with Extra Accessories
We all have those days — especially in college — when we really, really don't want to dress up for the day. At the same time, though, we always want to be fashionable.
The solution to this conundrum is simple: dress comfy, then add a faux fur coat and extravagant accessories! If you want to leave your hair down, then choose a fancy hat and wear it over an oversized fur coat. If you're going for a messy bun instead, huge earrings or headbands are at your rescue to create a perfect, casual faux fur outfit. You're welcome!
4. Wear a Feminine Coat Over a Boyfriend-Kind-of-Outfit
A faux fur coat is usually seen as a pretty feminine, elegant piece of clothing. It shouldn't surprise you, then, that most people believe it can only be worn for fancy night outs and classy events. Yet, I'm here as a bearer of good news: that's not the only way!
One of the most enduring looks in fashion is putting together items and garments that belong to different – if not opposite – "categories". So a very cool way to sport your faux fur coat is over a boyfriend-style look! Mix loose boyfriend jeans, an oversized hoodie, and a warm faux fur coat over top, and you'll be the newest trendsetter at your university.
5. Choose a Statement Vest When You're in an All-Black Mood
Personally, I'm in an "all-black mood" at least twice a week, and although at first, it seems the easiest outfit to match a coat with, it can become really frustrating. Do I want to wear a black puffer jacket? Would I rather wear a parka coat? Is a faux fur coat going to work or nah? Even though both a puffer jacket and a parka coat are good choices, I'm here to tell you that a faux fur vest (or coat) is a great choice for an all-black outfit!
There are a few reasons for it: first, the faux fur refines an outfit that is pretty basic and common itself; second, it can be the opportunity to give a hint of color to a monochromatic look if you opt for a colored faux fur coat; third, it's a win-win for every occasion — if you're going for a night out, you're going to look classy, if you're going somewhere during the day, it will give you a refined, polished kind of look!
Are you a faux fur fan?
Do you feel like rocking your faux fur coat every day yet? Let us know in the comments below – we'd love to hear from you!