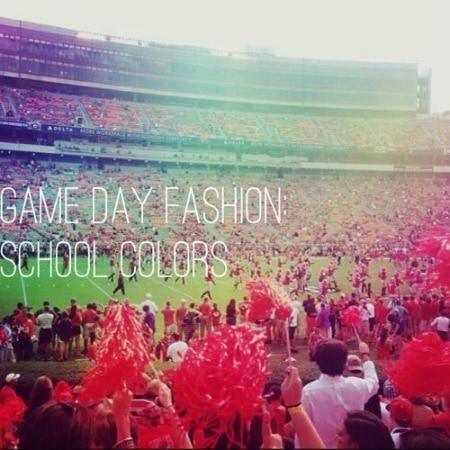 Once upon a time, I went to a football game. I assumed a game that involved tackling and pigskin in the grass would mean that fashion wasn't important.
Oh, how wrong I was.
I transferred from a teeny, liberal arts college to a ginormous state university where football is revered. I found myself wondering what to wear to a football game, a.k.a. how to look put-together and full of school spirit when standing in the sun for a long time.
If you're in the same boat as me, please sail with me through some OOTGs (Outfit of the Game) based on some of the most frequently used color schemes in the SouthEastern Conference:
1. Red & Black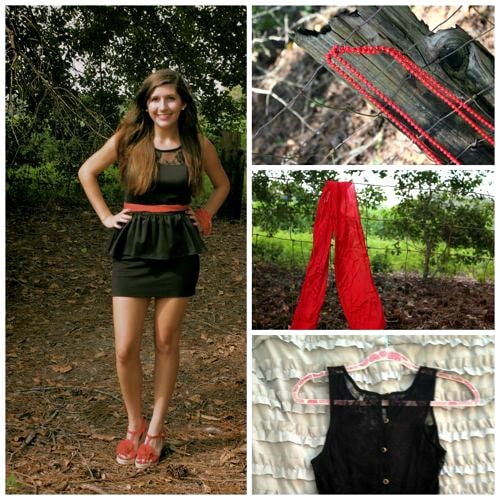 Red and black is a powerful, classic color combination. I have on a black skirt with a peplumtop. I can't get enough of peplum because it gives the illusion of awesome curves – however, this top was a little large around my midsection so I simply added a thick red ribbon (a belt would have worked also). This top keeps me cool because the back is actually lace with buttons running down the back, as shown above.
Although I don't own much red clothing, I added in my school color with accessories.
2. Blue & White
This outfit is the most bohemian of the three. If your school color is a unique, rare shade, than I suggest looking for a patterned piece, because you're more likely to find it that way. My feet are adorned with camel-colored gladiator sandals, only because I like to imagine that Daenerys Targeryn from Game of Thrones would wear them.
To make this look a little more interesting than just a floral dress, I added a white vest with interesting back cut-outs and belted it at my waist with a belt that's similar to the color of my sandals.
3. Black & Gold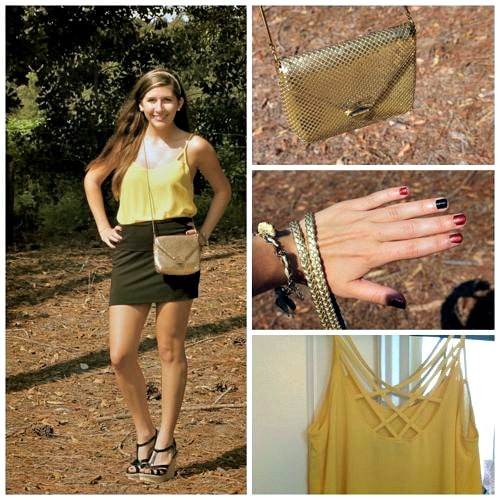 It's absolutely acceptable to substitute a yellow top for gold if you don't want to glitter in the sun. On the bottom, I'm wearing the same skirt from my first look, as well as some black wedges. On top, you guessed it: another shirt with a daring back!
Since this outfit on its own is pretty minimalistic, the gold purse, headband, and bracelet add extra style points. This outfit will keep you looking and feeling fresh until the fourth quarter.
What do you think?
What do you wear to a football game? What are your school's colors? Which of these looks is your favorite? Will you be recreating any of them? Let me know below if you've been to a college football game and how you dressed!