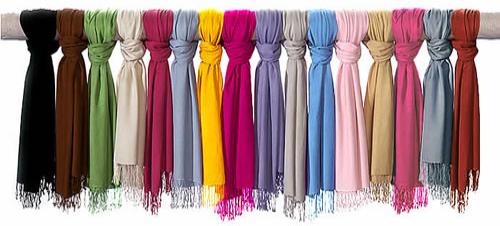 Whether you picked yours up for $5 on the streets of Manhattan or at a fancy boutique, I'd be willing to bet that you have a pashmina somewhere in your closet. These large, fringed pieces of cloth are silky soft and surprisingly warm, making them clear winter staples, but how to style them isn't so obvious.
With only a few weeks of winter left, we've all come down with a bit of spring fever! Infuse some color into your cold-weather wardrobe by taking this week's challenge: work a pashmina into an outfit. Before you change clothes, take a few snapshots — YOU could be featured here and provide inspiration for other CF readers!
Ready to take on this week's challenge? Read on for ideas on how to wear a pashmina!
Tips and Tricks for Rocking a Pashmina
Wear it as a scarf. This is probably pretty obvious, but it bears repeating. Pashminas make ideal scarves – they're full, not the slightest bit itchy, and long enough to wrap around your neck a few times.
Bring it with you while you travel. Pashminas are lightweight and fold easily, so they're great to bring along with you on long road trips on on flights.
Wear it as a headscarf. Pashminas can easily be knotted, pinned, or draped, making them perfect for going incognito – just add a pair of sunglasses for a very Jackie O. look.
Try it as a shawl. A wide, lightweight scarf like a pashmina looks great draped across one's shoulders on a chilly night. Knot it in the front or pin it with a brooch to hold it in place.
Wear it around your hips. Depending on its weight and length, a pashmina can work as a colorful belt or just for a little extra warmth on your backside if it's super cold out.
Make it into a funky top. Pashminas have enough fabric to offer you coverage – so why not take yours and get creative? Try to pin, tie, or wrap it to make a unique top. This IS a fashion challenge after all!
Outfit Inspiration
Outfit #1: Class Up a Pashmina with a Trench Coat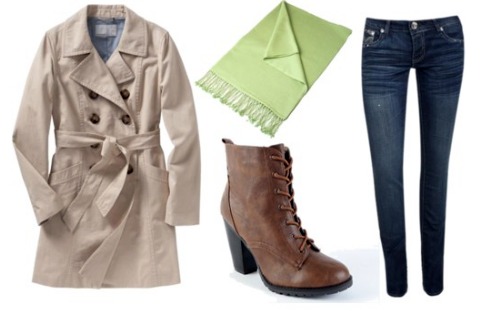 An easy way to perk up your trusty trench or pea coat is by wearing a brightly colored scarf underneath and letting it peek out at the collar. Pashminas are perfect for this because they're full and will feel super soft around your neck. Alternatively, you could wrap a pashmina around your hair to keep it from getting messed up in the wind or rain while walking from class to class. An outfit like this will look great with almost any top in your closet, a pair of skinny jeans, and boots.
Outfit #2: Wear a Pashmina as a Scarf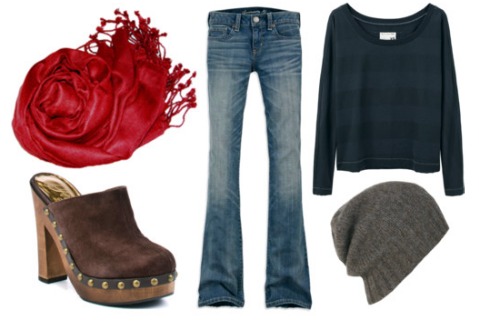 Pashmina, Clogs, Jeans, Sweater, Beanie
With a bold pashmina worn as a scarf, the rest of your outfit doesn't have to be fancy to make a statement! Rock a pair of flared jeans and clogs for a '70s look that's right on trend. A cozy batwing-style cropped sweater like this Rag and Bone one (semi-affordable at $80) is stylish but won't take away from a bright pashmina knotted like a noose or wrapped around your neck. Finish with a beanie.
Outfit #3: Wear a Pashmina as a Shawl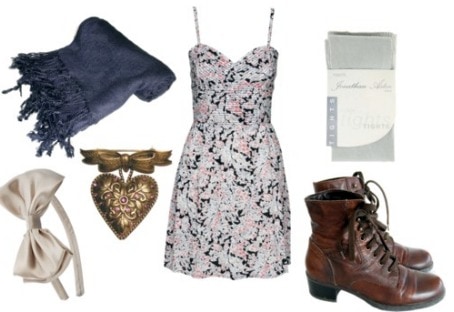 Pashmina, Headband, Brooch, Dress, Tights, Boots
After 15 inches of snow last week, the weather forecast in Oklahoma is set to be in the 70's all next week – I personally can't wait to break out some spring attire! A fun way to rock a spring-y dress when its still a bit chilly out is by pairing it with a chic pashmina. Start out with your favorite dress and wrap your pashmina around your shoulders. Secure with a brooch to keep your hands free. Pull on a pair of tights and combat boots, but add a little feminine touch with a bow headband.
Rocked the Challenge? Be Our Cover Girl!
Did you wear your trusty pashmina this week? Take some photos and send them to fashionchallenge AT collegefashion.net along with your name, your college, a description of what you're wearing, and blog URL if you have one. We'll feature your photos here to inspire other CF readers!
CF Reader Looks
Celia – Texas A&M at Corpus Christi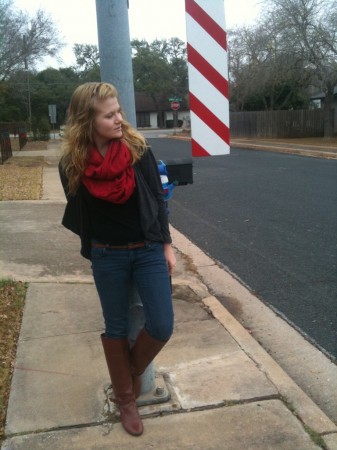 LOVE my pashminas! I have three of them – red, blue, and beige. Here, I knotted the fringe in the back to wear it as an infinity-style scarf, perfect for a chilly day.
For more of Celia's faboosh style, check out her blog here!
Caitlin – Simon Fraser University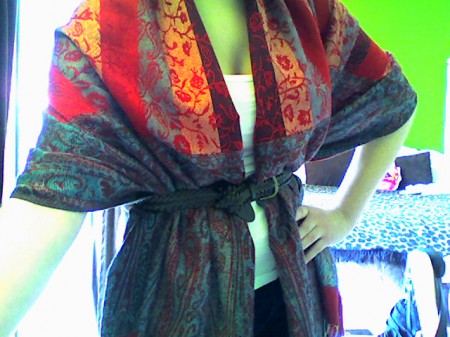 I love my pashminas! I'm wearing the red and blue one I got while visiting San Francisco's Chinatown. I draped it over my shoulders as a shawl and belted it to add some shape to my outfit and keep it in place.
For more of Caitlin's fierce style, check out her blog here!
Liz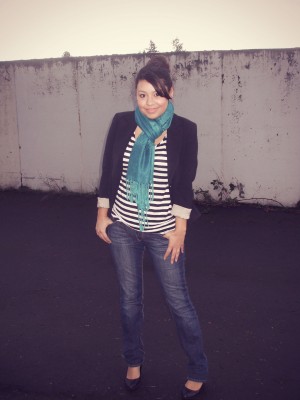 This is my favorite teal pashmina, I liked how it added a little pop to this basic look!
For more of Liz's awesome style, check out her blog here!
What Do You Think?
Do you own a pashmina? What is your favorite way to wear it? Do you think they work better in the summer or winter months? What fashion challenges would you life to see in the future? Let us know what you think by leaving a comment!