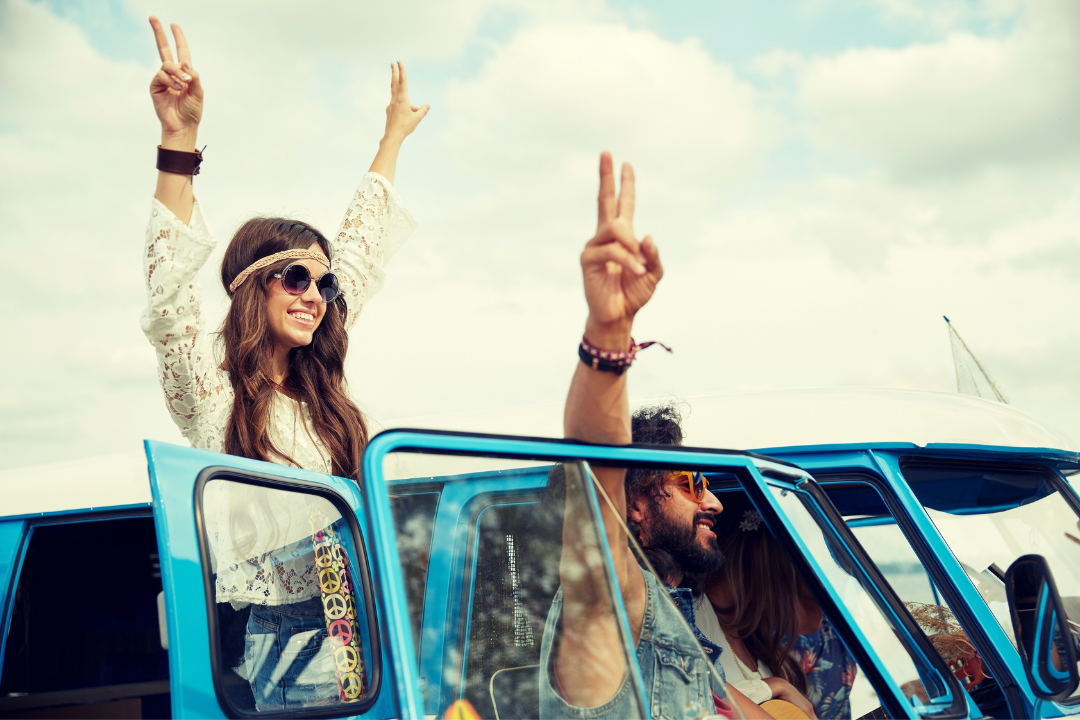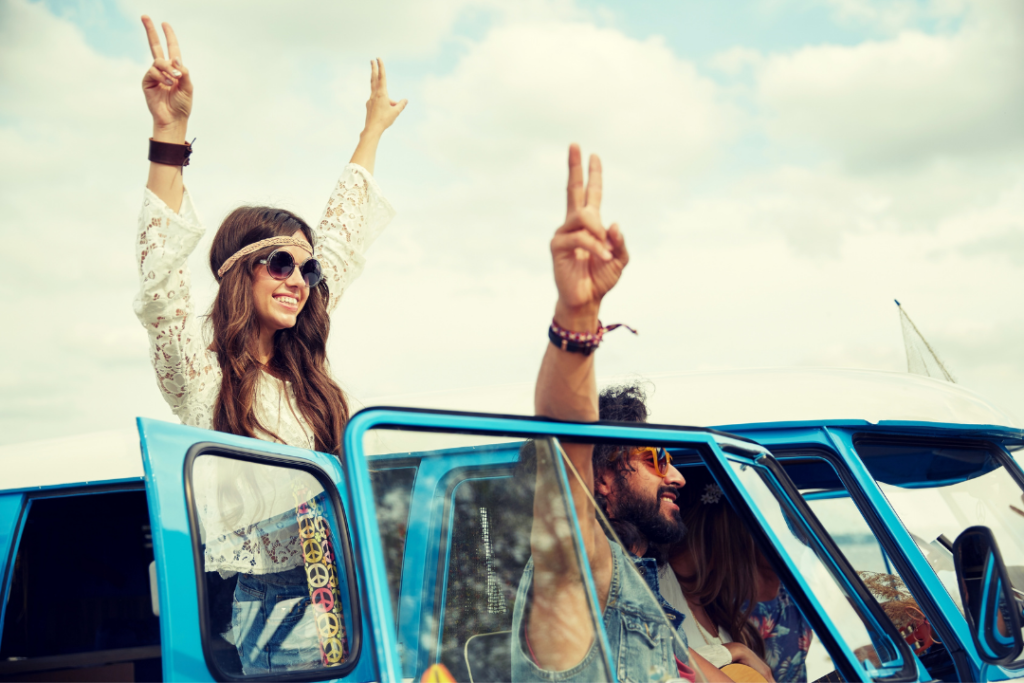 Rising in popularity over the last few seasons and now hitting an all-time high thanks to this spring's 1970s trend, hippie headbands are absolutely perfect for spring 2011!
Most people I've talked to have strong opinions about these headbands – some girls love them and wear them several times a week, while other girls complain that they make their ears or hair look funny.
But fear not if you're in the latter camp – it's possible to rock these headbands without suffering from "weird hair syndrome"! Below, I've compiled some tips and tricks to help you pick the perfect headband for you, choose where on your head to place it, and how to rock your hippie headband with confidence.
Ready to take this week's challenge? Read on!
Tips and Trick for Rocking a Hippie Headband
Think about width. Thin headbands give off a flirty flower child vibe, whereas a single thick one can make a bold statement.
Placement is key. The most popular place to wear a hippie headband is across the forehead, but my favorite place to wear one is back a couple inches from your hairline – this way, your hair will fall more naturally, keeping your ears from poking out.
Choose simple or embellished. Both styles look awesome, but a really fancy headband might be too much if you're already wearing a busy outfit.
Any hair texture works! Girls with straight, wavy, curly, coarse, and thin hair types can all pull off the hippie headband.
Too tight? Uncomfortable headbands can cause headaches. Make yours looser by stretching it over a thick textbook or the back of a chair when you aren't wearing it.
Find one that ties. Headbands that tie are perfect if you are self-conscious about the way elastic headbands make your hair fall around your ears. A string or ribbon, tied around your head, can be adjusted to to be as loose or as tight as you want it. My favorite adjustable headbands are American Apparel's braided belts. (Honestly, I've seen more people on the streets wearing these as headbands than as belts!)
Use them as perfect spring accessories. These go so well with outfits for outdoorsy events. Wear one with denim shorts and a t-shirt for a music festival, with a sundress for a picnic, with your bikini while laying out at the pool, or with a giant pair of sunnies while running errands.
Outfit Inspiration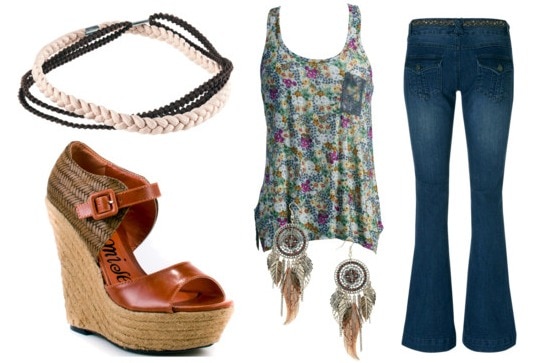 Tank, Jeans, Platforms, Earrings, Headbands
Release your inner hippie chick with a groovy outfit like this. Flared jeans are hot this season, and a floral tank top is perfect for springtime. Espadrilles are comfortable (for heels!) and right on-trend, and these dream catcher earrings will pull the outfit together nicely. Add a hippie headband for extra interest. Finally, keep this outfit from looking costume-y by adding a classic watch or some timeless sunglasses, like wayfarers or aviators.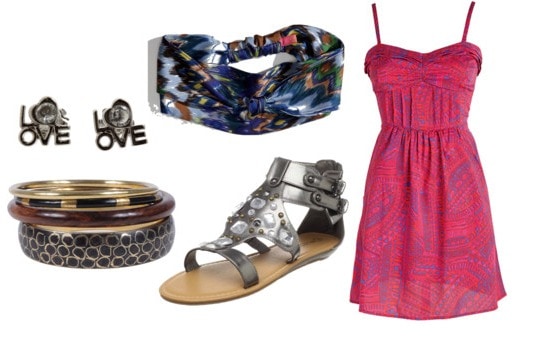 Dress, Shoes, Bangles, Earrings, Headband
This outfit combines multiple prints and textures for a unique look that's perfect for spring. I love this pink printed dress: Worn with gladiators and bangles, it looks exotic and eclectic, but it can also look all-American when paired with espadrilles and a sun hat – your choice! Finish the look with stud earrings and a thick scarf-like head wrap. A headband like this will look great placed right at your hairline, with your hair down and worn over your ears.
CF Reader Looks
Lani Rowley – Washington State University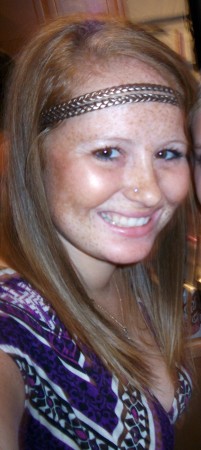 Stephany C. – LIM College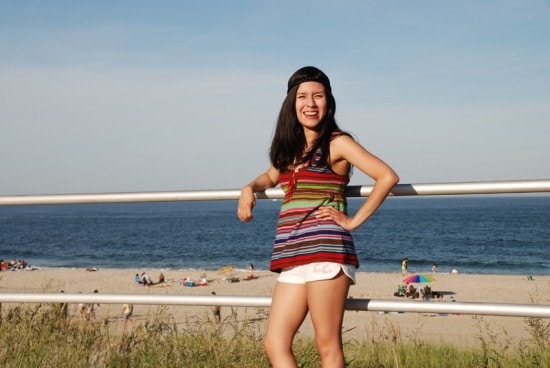 Took the Challenge? Send Us Your Photos!
Did you wear a hippie headband this week? Take a couple snapshots and send them to fashionchallenge AT collegefashion.net along with your name, school, a description of what you're wearing, and the URL of your blog if you have one. We'll post your picture here to inspire other CF readers (and perhaps give your blog a few extra hits).
Can't wait to see your fierce looks!
What do you think?
Have you been wearing hippie headbands for a while now? What are your favorite things to wear them with? Do you prefer thin ones, or thicker ones? Do you like to wear them across your forehead or on the crown of your head? Let us know what you think by leaving a comment!