This post may contain affiliate links, which means we may receive a commission if you purchase through our links. Please
read our full disclosure here
.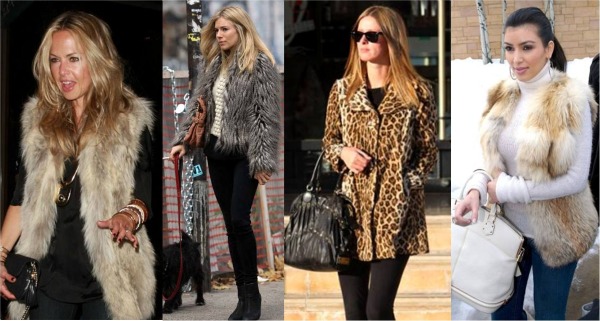 Ladies, you shared your thoughts and they have been heard! It may be 70 degrees here in sunny Oklahoma Soonerland, but my friends at school up north are shocked at how cold it has suddenly become. So watch out for more cold weather-appropriate shoes and more fun ways to help you stay chic in the snow. This week, we focus on (faux) fur.
I know that there are a lot of mixed feelings on fur — personally, I'm an advocate of faux fur (as are many of us here at CF). Not only is is cheaper and animal-friendly, but there are incredible plush pieces available that keep you warm and look great. That said, my mom gave me her vintage white rabbit fur coat a couple years ago; I haven't had the nerve to wear it in public, but it's a shame that it has just been hanging out in my closet for so long. Although I would never buy a real fur item, I can understand keeping a vintage piece that holds sentimental value.
The other great thing about faux fur is that it is SO warm. There is nothing cozier to wrap around yourself on a windy night than a fuzzy coat. It also carries an air of sophistication and class — pair a coat with a string of pearls and red lipstick for some old Hollywood glamour.
There are many ways to rock faux fur without channeling stuffy old ladies who lunch or looking tacky. Curious to know how? Read on for ideas take on this challenge!
Tips and Tricks for Working Faux Fur into an Outfit
Try a faux fur vest. I got mine on sale for $20 at American Eagle last season, so this piece does not have to be a huge splurge. Fur vests look awesome with jeans and a long sleeved shirt, or a simple dress, leggings and boots.
Try small accents. If you're hesitant about this look, try a faux fur scarf or purse for a hint of the trend. I also love corduroy and wool jackets with fur trimming on the collars and sleeves.
Keep it simple if you're unsure. I love faux fur with florals and stripes, but my style is all about contrast. For a more conservative approach, try it out with solid colors.
Rock a faux fur jacket or coat. We all loved Carrie Bradshaw's coat on SATC, and coats like hers are amazingly warm and stylish. Just be careful about wearing one in precipitation — water can make faux fur clump together awkwardly.
Experiment with animal print. I absolutely LOVE my leopard print faux fur jacket, and I've seen other great animal prints as well in stores this season. But to avoid looking like Cruella DeVille, seek out subtle, blended prints.
Outfit Ideas
Outfit #1: Casual Outfit for Daytime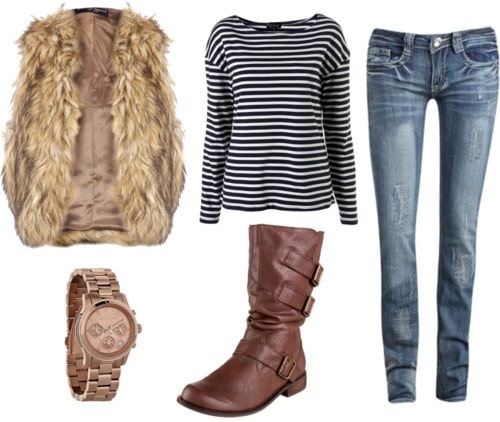 Fur Vest, Shirt, Jeans, Watch, Boots
Faux fur vests are great investments – they can literally change the entire look and feel of an outfit! Pair one with a long sleeved shirt – plain if you're trying the trend for the first time, or striped to step up the style. Pull on a pair of worn-in jeans and add riding boots to keep your feet dry and warm. Finish with simple jewelry, like this menswear-inspired watch.
Outfit #2: Classic Look for a Semi-Formal Occasion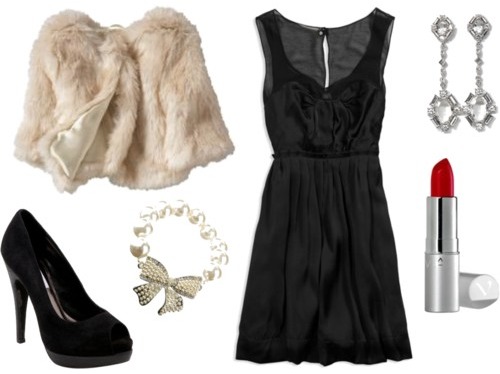 Fur Stole, Dress, Bracelet, Pumps, Earrings, Lipstick
There's nothing like a faux fur stole to completely change an outfit from plain-jane to absolutely glamorous! The outfit is perfect for a semi-formal occasion, like a date party, fancy dinner, or banquet. Start off with your trusty little black dress, classic black pumps, crystal earrings, and a pretty pearl bracelet. Finish the look with ruby red lips and a warm fur wrap.
Outfit #3: Trendy Look for a Night on the Town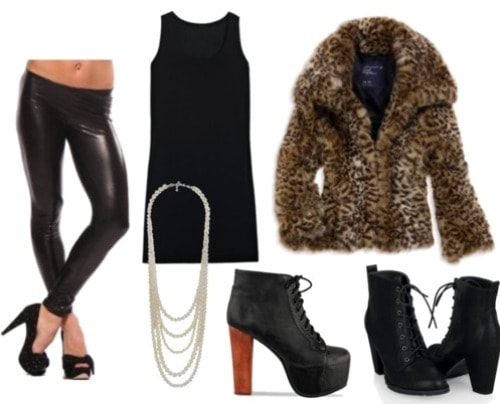 Liquid Leggings, Tank Dress, Leopard Coat, Necklace, Jeffrey Campbell Boots, Lace Up Boots
This is one of my favorite outfits for a night out on the town. Liquid leggings and a simple tank dress make a great base outfit. Throw on a fancy necklace and pull on a furry leopard print coat for a chic outfit perfect for a cold night. Keep your feet warm with a pair of lace up boots. I have been absolutely lusting over Jeffrey Campbell's Lita boots, but Forever 21 makes a great budget-friendly knockoff.
Took the Challenge? Send Us Your Photos!
Did you wear faux fur this week? Send your pictures at fashionchallege AT collegefashion.net along with your name, school, brief description of what you're wearing, and your blog's URL if you have one. We'll post your pictures here to inspire other CF readers!
Can't wait to see your submissions!
Thoughts?
How do you feel about real fur? Would you ever justify wearing a piece? Are you rocking faux fur already? What challenges would you like to see in the future? Leave a comment and tell us what you think!