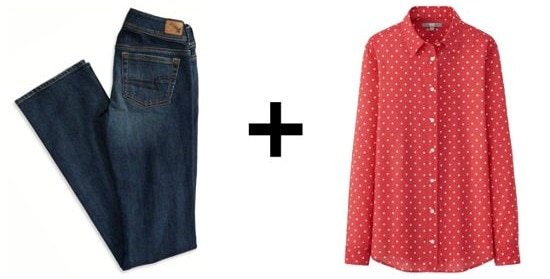 You know those days – the ones where you roll out of bed (after hitting the snooze button too many times), stumble into your closet, and have no idea what to wear? Our series Easy Outfit Formulas is here to help! Every other week, I'll feature two items (which you probably already own) that can be paired into outfits for those days when you need some quick and easy inspiration.
Skinny jeans may be the most popular denim style of the moment, but one of the most classic and flattering jean styles is a simple bootcut. Depending on the wash and distressing, bootcut jeans can be polished and professional or rustic and weathered. Plus, with a great pair of heels or boots, they are super leg-elongating.
So, what's the best thing to wear with these classic, versatile jeans? A button-down shirt, which is equally classic and versatile, pairs perfectly with bootcut jeans. To see how to wear this combo for different situations and styles, check out the outfits below:
Polished and Preppy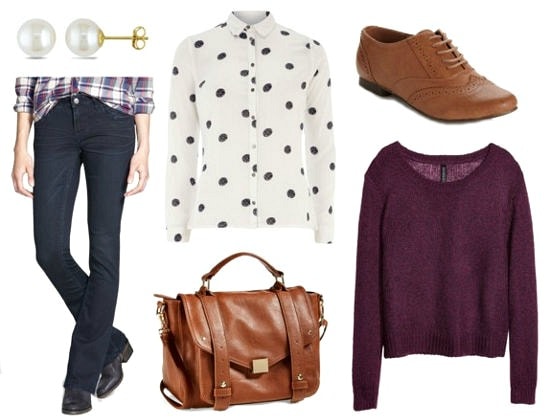 Product Info: Jeans, Shirt, Sweater, Shoes, Bag, Earrings
This outfit has a clean, polished, and slightly preppy feel – perfect for class or an internship setting. Start with dark wash bootcut jeans, which have a more dressy and professional look, and a crisp polka dot shirt. Layer a plum sweater over the shirt so that the collar peeks out, then slip on a pair of cognac oxfords. Accessorize with a scholarly leather satchel and classic pearl earrings.
Rustic Fall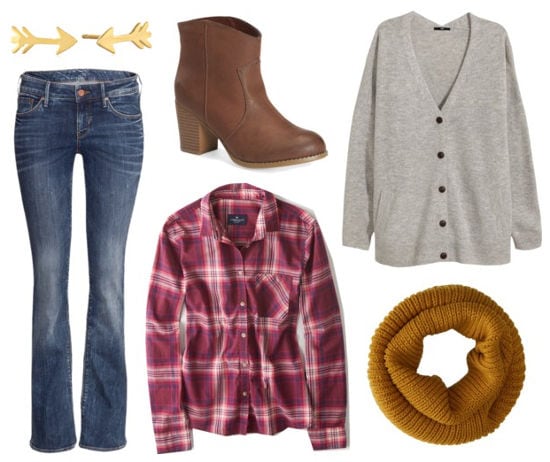 Product Info: Jeans, Shirt, Cardigan, Scarf, Boots, Earrings
If rustic and casual is more your style, try this look, which instantly makes me think of cozy cabins and pumpkin spice lattes. The outfit starts with distressed, medium wash bootcut jeans and a red plaid shirt. Perfect the art of fall layering by adding an oversized gray cardigan and a warm mustard yellow scarf. Western-style booties and arrow earrings complete the ensemble and add to the woodsy, country vibe.
Modern Classics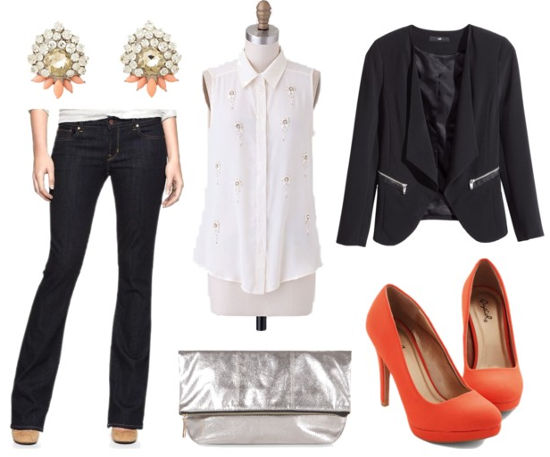 Product Info: Jeans, Blouse, Blazer, Heels, Clutch, Earrings
This dressy going-out look is all about classic pieces with modern and trendy touches. You can't go wrong with dark wash bootcut jeans, and an embellished, sleeveless version of a classic white button-down helps make the outfit more youthful.
The black blazer gets a modern update with zipper accents and a draped collar, and a slouchy, foldover metallic clutch also adds a trendy element. Finish with bright heels and jeweled earrings.
Thoughts?
What do you think of this outfit formula? Do you like bootcut jeans and button-down shirts? Which look is your favorite? Let us know in the comments!