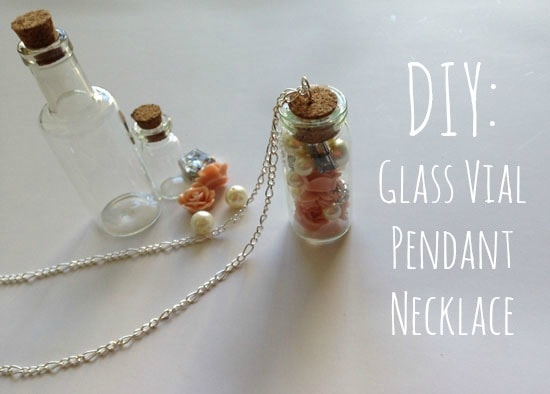 Until recently, my necklace collection was comprised solely of large, chunky, statement pieces; I didn't have anything cute, small, and charming. However, all that changed when I spotted a collection of corked glass vials while shopping for craft supplies. My mental Pinterest board wandered to the boho-chic Etsy section, and I realized I could take those vials and make them into pendants.
While I created a pendant necklace, this same tutorial can be applied to other pieces of jewelry as well. In fact, I'm planning on making a matching pair of earrings in the near future! Read on to learn how to make your own glass vial pendant necklace:
Materials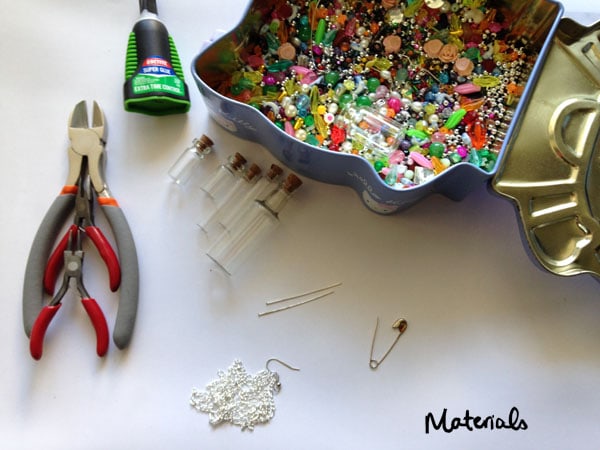 Super glue
Wire cutters
Jewelry pliers (round nose and flat nose)
Miscellaneous beads and findings
Head pins
Safety pin or other sharp, thin object (pins and needles work fine, too!)
Optional: a necklace chain, earring hooks, or anything you'd like to attach the pendant to
Step One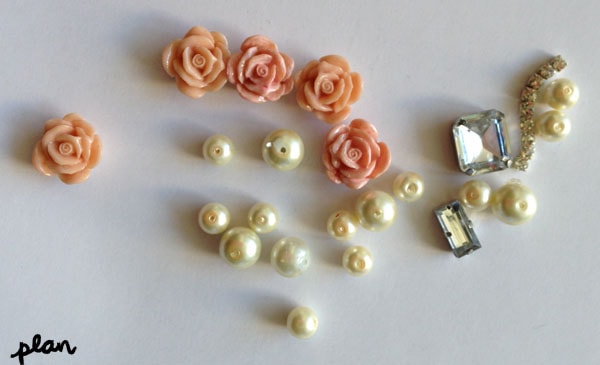 Plan ahead by gathering and selecting what you want to place in your vial. I went with cabochon roses, rhinestones, and pearl beads. These pieces were mostly left over from this Gatsby-esque hair brooch DIY.
Step Two
Fill up the vial. Go for a uniform look with glitter or small seed beads, or get creative and mix it up with different sized beads and types of findings, like I did here. Make sure you place everything so that it looks aesthetically pleasing. For example, I tried to make all of the rhinestones and roses face outwards.
Step Three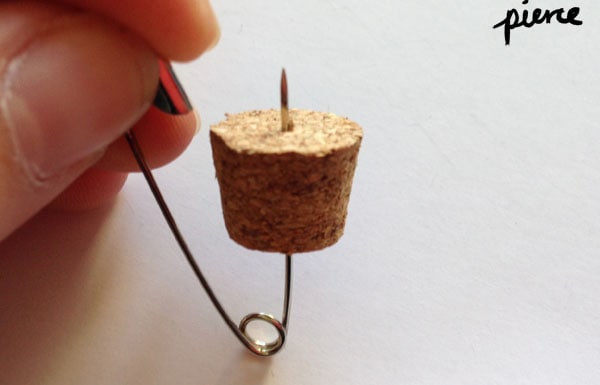 Using a sharp, thin object (like a safety pin), pierce a hole in the exact middle of the cork top.
Step Four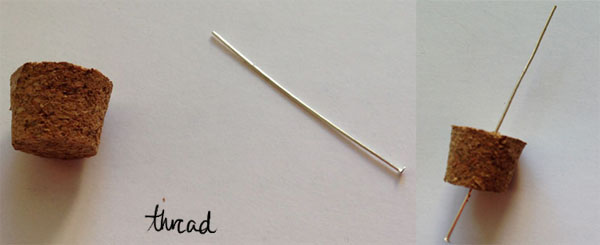 Next, threada head pin (with the "head" part at the base of the cork) through the hole you just made.
Step Five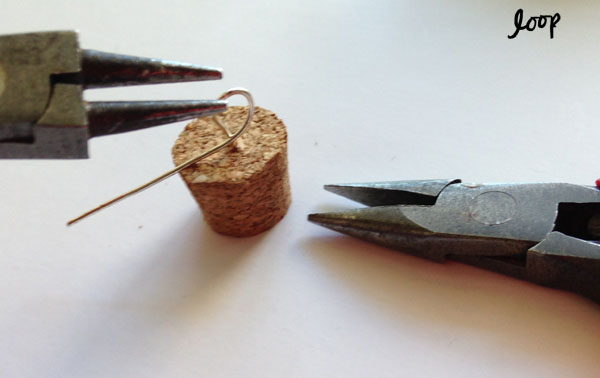 Create aloop at the top of the cork. Use the jewelry pliers to help shape and form the loop.
Step Six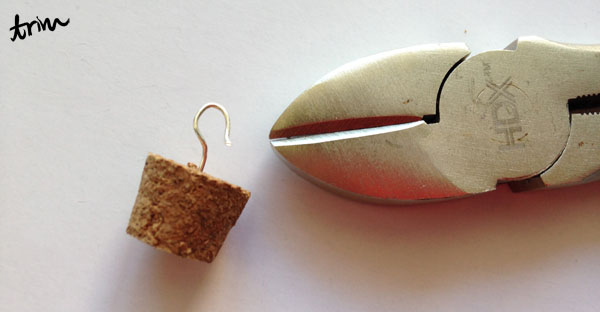 Use the wire cutters to trim off any excess metal.
Step Seven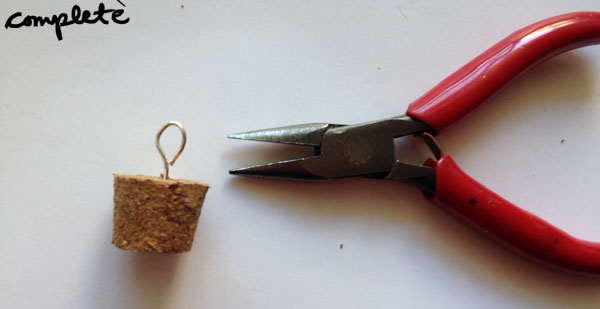 Use the flat nose pliers to completethe loop by pulling the wire end to the base of the loop.
Step Eight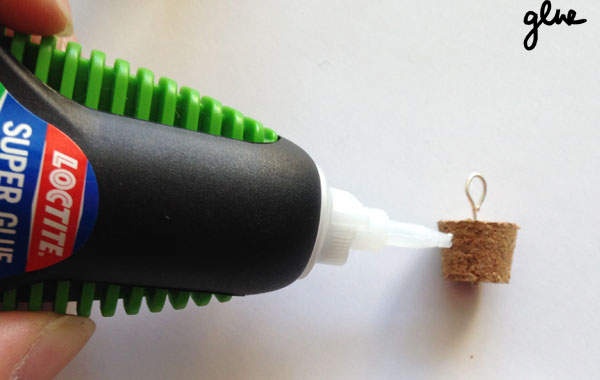 Thinly spread some liquid super glue around the cork. Make sure you do this near the top, and not the base.
Step Nine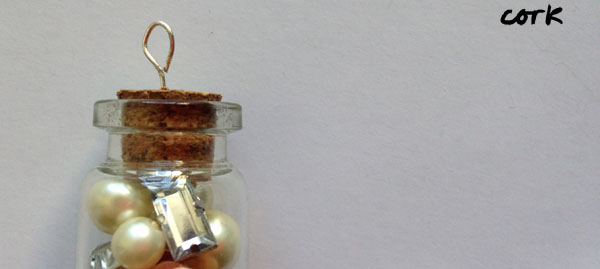 Firmly push the cork into the vial, pushing as far down as it can go. Only a tiny sliver should pop out, like you see in the picture. Try and line up the super glued portion of the cork with the mouth of the bottle. Let dry.
Step Ten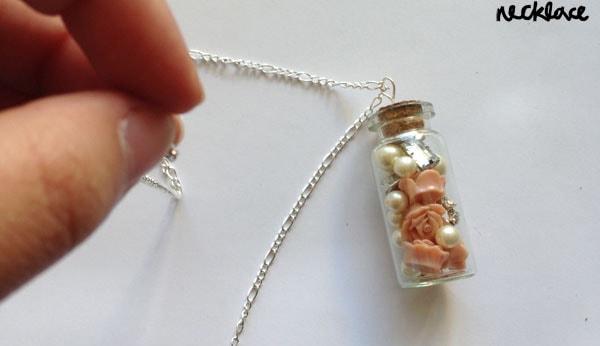 To turn this vial into jewelry, attach the top of the pendant loop to whatever you want to create. I wanted a necklace, so I simply looped a thin necklace chain through the pendant loop. It's as easy as that!
Finale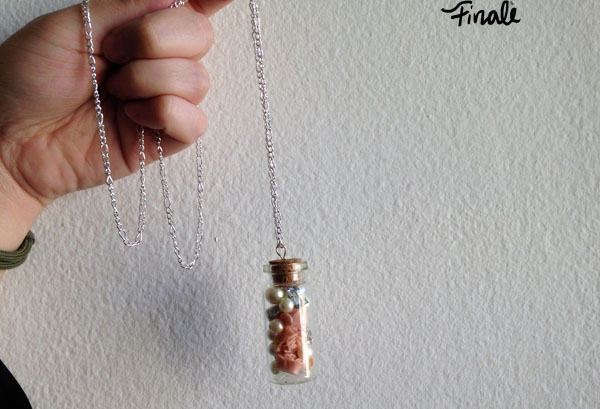 Feedback please:
What do you think of corked vial pendants? Will you make one using this tutorial? And if you are, what are you planning to fill your vial with? Are there any other DIYs you would like to see the tutorials for? Let me know in the comments!