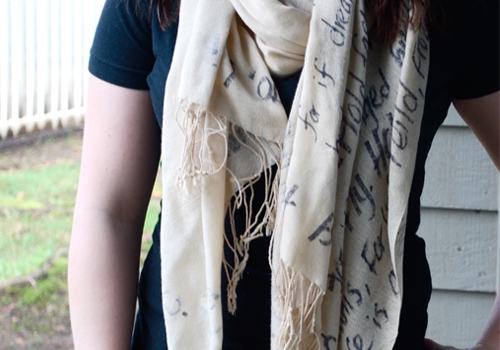 Personal style on a college budget can be a challenge. Whether you're a DIY guru or just want to spice up your wardrobe on the cheap, our new column DIY Chic is here to help keep you looking stylish without breaking the bank. If you are looking for a little inspiration, take a look at our past DIY posts on transforming your old jeans into skinnies and creating a pair of adorable button earrings.
Statement scarves are a perpetual fashion favorite. I love that they can make any outfit look chic and put-together, but can also keep you warm and cozy on cold days. When I stumbled upon this adorable printed word scarf on Pinterest, I knew it would be an easy and simple project to recreate. This quick DIY idea is the perfect way to repurpose one of your old lackluster scarves into a fun and unique statement piece.
What you'll need:
An old scarf – lighter colored fabrics work best, but feel free to experiment.
A permanent marker
A favorite quote, poem, or song lyric to write on the scarf
A pencil and paper. (Optional, in case you want to plan out your design beforehand.)
The step-by-step process:
Before you begin, plan out your design. How will you position the words? What sort of text style will you use?
Lay your scarf out on a flat, clean surface. Put newspaper down if you're worried about the permanent marker bleeding through.
Following your design, or creative intuition, write out your poem or quote on the fabric. I played around with different size letters, writing in different directions and switching between cursive and print. I also left some white space throughout the design for a little more visual interest.
And voila! This simple project is incredibly easy and quick to finish and it's a fun way to create a custom accessory that is entirely your own – absolutely perfect for any bookworm or word nerd out there. I think this would also make a fun gift idea if you're looking for something with a more personal feel.
What do you think?
What do you think of this quick and easy accessory? Do you have a DIY project idea you'd like to see here on College Fashion? What items would YOU like to make yourself? Let us know in a comment!