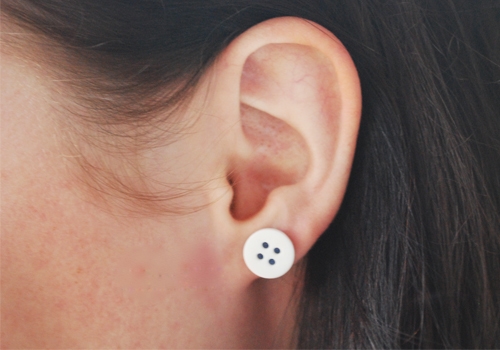 Personal style on a college budget can be a challenge. Especially when the latest trends change with the seasons… literally. But with a little DIY magic, you can perk up your wardrobe without breaking the bank. That's just what I aim to prove here – DIY Chic is dedicated to bringing you budget-friendly and super easy do-it-yourself projects.
For our first project, these adorable button stud earrings are about as simple as you can get. I love how they add a youthful and feminine touch to any look and it's so easy to make them entirely your own. (For more on making jewelry, see our past tutorials on DIY beaded earrings and DIY decoupage earrings.)
Even better, this tutorial is a great way to re-purpose an old item. You know that old button-down shirt or cardigan in your closet – the one you never wear, the one that's too big or has that unrepairable rip? Before you throw it out, salvage the buttons and take a look at this far-too-easy idea for a new pair of earrings!
What you'll need:
Buttons
Earring posts and backs (available at craft stores)
Scissors
Hot glue gun
Felt (optional)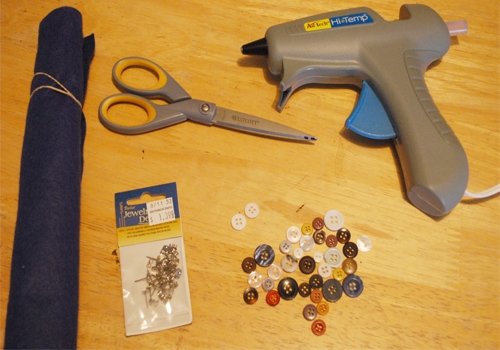 The step-by-step process:
1. Before you get started, be sure to plug in your hot glue gun and let it heat up. Also be sure to read through the manufacturer's instructions before use.
2. Pick out your pair of buttons. Experiment with sizes and colors, or get creative with novelty or vintage buttons. Then, grab your earring posts and backs. I found the posts and backs at a craft store for less than $2 for a small bag.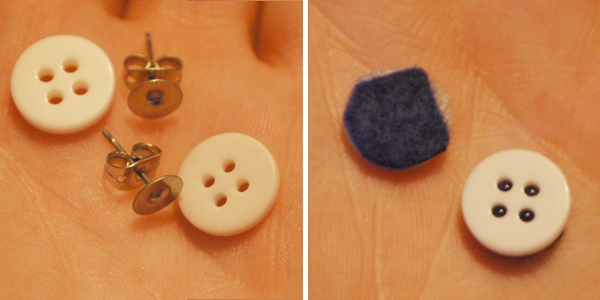 3. The next step is entirely optional, but does make it easier to fasten the buttons to the earring posts. Cut two small squares of felt, in a color that either matches or contrasts with your buttons. Add a small dab of glue and press the button onto the felt until dry. Then, trim away the extra felt.
4. Finally, add another dab of glue and secure the earring post to the back of the button. Of course, you'll want to let the earrings dry and cool completely.
And there you go! A simple, quick, and inexpensive way to add a new pair of adorable earrings to your jewelry collection. I think this project would also make a great gift for a best friend, sister, or roommate.
What do you think?
What do you think of these simple DIY earrings? Would you consider making your own jewelry, or do you prefer to stick to store-bought accessories? Do you have an idea or suggestion for a future DIY project you'd like to see here on College Fashion? Let us know what you think in a comment!