Products L-R: Lulus, Forever 21, & Boohoo.
Yellow is the color of the summer (and the color of 2018) and midi dresses will never go out of style. When you put the two together, you get my new favorite combo: a yellow midi dress!
We think every woman can rock a yellow midi dress. Yellow is one of those colors that looks good on every girl. There are also tons of styles out there, so you're sure to find one that looks amazing on you. So how can you style your yellow midi this summer? CF can tell you how!
How to Style a Yellow Midi Dress – Outfit for Class: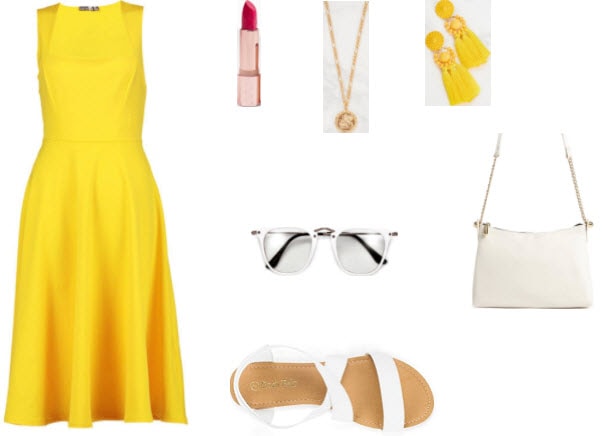 Products: Dress – Boohoo, Sandals – Amazon, Necklace – Pretty Little Thing, Earrings – Pretty Little Thing, Clear lenses – Sunglass Spot, Lipstick – Colourpop, Crossbody – Forever 21.
The midi dress from Boohoo is a super bright yellow, a color that you'll definitely be seen in — it's not for the faint of heart. Due to the dress being so bright, mixing it with Amazon's white sandals, Forever 21's white crossbody bag, and Sunglass Spot's white clear lenses helps dress it down for class. The outfit is comfortable, relaxed, and has that early summer feel.
How to Style a Yellow Midi Dress – Outfit for Dinner: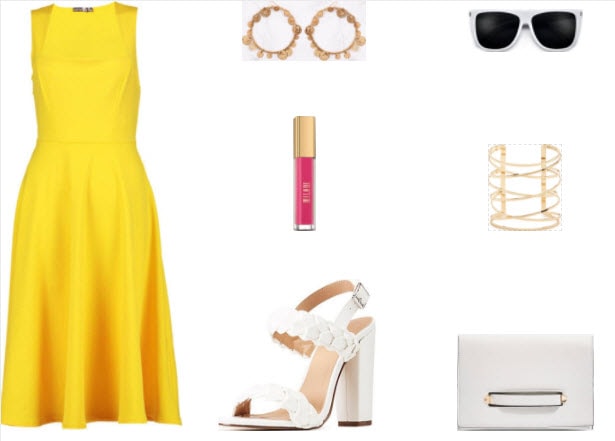 Products: Dress – Boohoo, Shades – Sunglass Spot, Earrings – Pretty Little Thing, Heels – Charlotte Russe, Lipstick – Milani Cosmetics, Bracelet – Forever 21, Purse – Topshop.
Just like almost everyone else, we love dinner out! Whether you're going to dinner with family, friends, or your partner, you always want to look your best. This yellow midi is the ultimate "dinner" dress. (It would also work for brunch.) It's loose at the bottom and fitted at the top, so it's ladylike and classic.
Charlotte Russe's white braided heels (pro-tip: be on the look out for braided style shoes this season) work flawlessly with this dress. Since the heels are white, they'll look great with Topshop's white clutch. Milani Cosmetics' "Sweetheart" lipstick is the best matte lipstick our right now, and it's ultra affordable. If you're going out before the sun goes down, sunglasses are a great pairing.
What's your opinion on yellow midi dresses?
Yellow midi dresses can be found at Lulus, MissGuided, Forever 21, Boohoo, and many more stores. After reading this article, what are your feelings about yellow midi dresses? How do you see yourself styling your yellow midi? Comment and let us know.