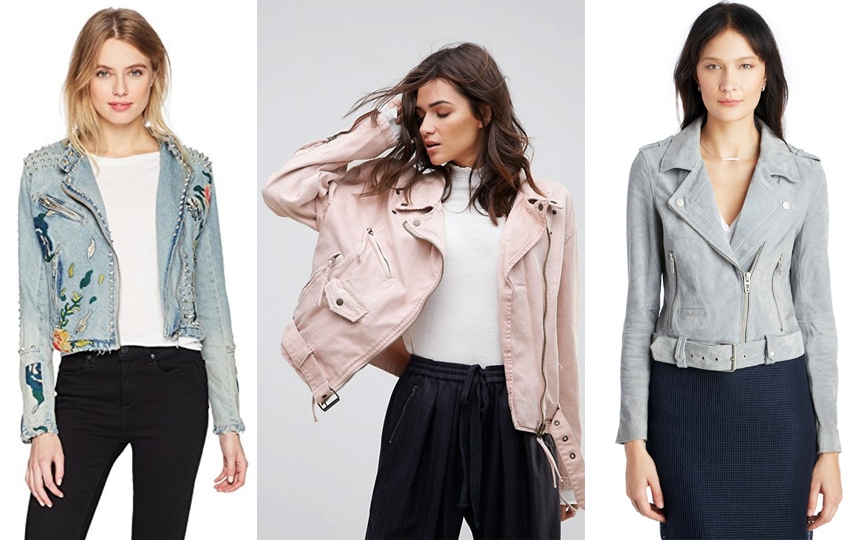 Products L-R: Amazon, ASOS, Sole Society
Denim moto jackets are the perfect jackets for spring days spent on the go. They're easy to throw on with any look (if you'd wear your regular moto jacket or denim jacket with it, wear one of these instead), plus they're totally on-trend. We've been watching this trend increase in popularity for a while, and we're more than ready to dive in this season.
Denim moto jackets aren't only good for campus: I also love these jackets for a night out in spring. Every girl knows to wear a light jacket when going out, especially in the colder seasons. The last thing you want is to be super hot while you're out, right? A light jacket is the perfect balance.
Below are some denim moto jacket outfits designed to show you how you can style your moto jacket for the rest of the semester. Read on to check them out:
How to Style a Denim Moto Jacket – Outfit for Class: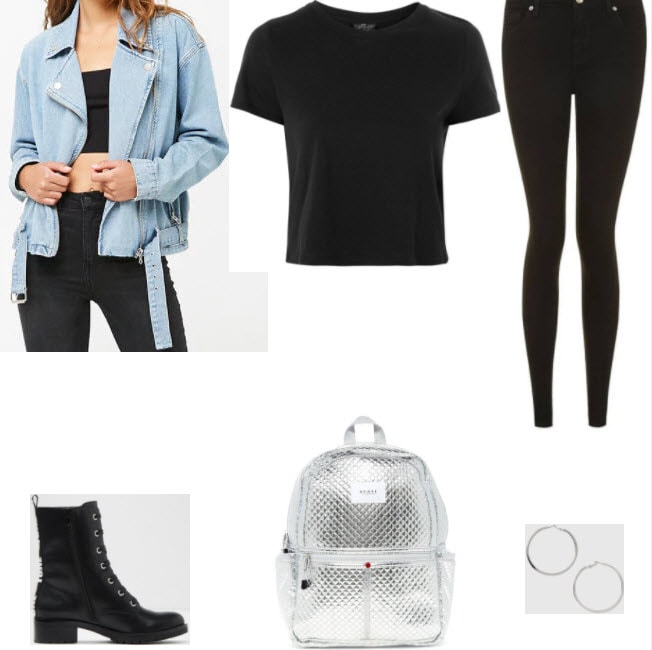 Products: Jeans – Nordstrom, Moto jacket – Forever 21, Boots – Aldo, Backpack – Nordstrom Rack, Top – Topshop, Earrings – Topshop.
Forever 21's light denim moto jacket is a head-turner. It's pretty, it's slightly oversized, and it's in that perfect light pastel wash for spring.
Forever 21 had the model wear all black, which looked awesome, so sticking with the all black theme I added these simple black skinny jeans, Aldo's lace-up "Love" combat booties, and Topshop's plain black cropped tee.
To give the outfit a little more interest, you can add silver accessories like what you see above to match the silver detailing of the moto jacket.
How to Style a Denim Moto Jacket – Outfit for Going Out: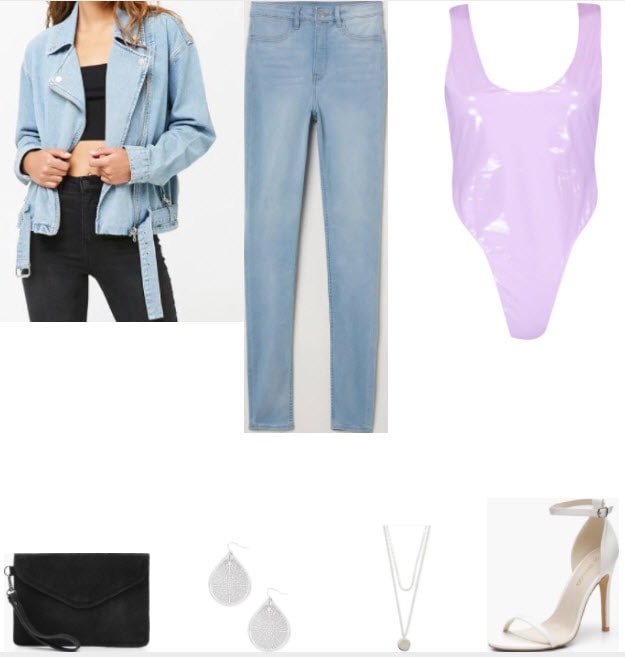 Products: Moto jacket – Forever 21, Jeans – H&M, Bodysuit – Boohoo, Clutch – Boohoo, Earrings – Forever 21, Necklace – Forever 21, Heels – Boohoo.
Since the weather is starting to get just a little bit warmer, it's officially time to start adding some more spring colors to your wardrobe. This lilac vinyl bodysuit from Boohoo is the perfect spring color, and it looks gorgeous with the pastel blue of the denim moto jacket.
If you want to do the denim-on-denim look (which is just as cute as ever this season), try to find jeans that come in the same denim color as Forever 21's moto jacket. If you can't find the exact denim color, you can do some light washed jeans like the ones above from H&M. White heels are super cute and you can pair them with just about everything in your closet this spring and summer.
Do you have a denim moto jacket?
After reading this article, what's your take on denim moto jackets? Do you have one already or will you be getting one? (Pro-tip: Since the weather is starting to get warmer, these jackets will be on sale soon enough. Snag one then to save money!)
Comment and let us know, we'd love to hear your thoughts!