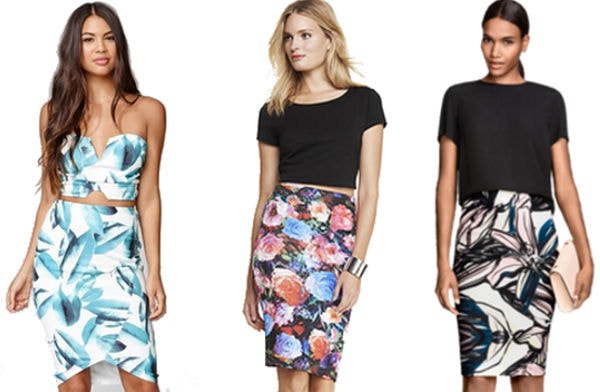 Floral Pencil Skirts: 1. PacSun, 2. Express, 3. H&M
If I asked a Magic 8 ball every day, "Is it spring yet!?" the answer would be a resounding "NO" each time. March is here, but spring weather is unfortunately not. I'm ready for sunshine and mild temperatures, but more importantly, I'm ready for spring fashion! Despite the constant threat of snow, I can't wait to toss my sweaters aside and dive headfirst into pastels and florals.
What better way is there to transition into spring than with a floral pencil skirt? The shape will ensure you don't get caught in any Marilyn Monroe situations on a blustery day, and the print is cheery enough to brighten up even the grayest of March weather. Plus, pencil skirts are super versatile addition to any wardrobe and are easily wearable for both day and night.
Below, I'll be showing you a daytime-appropriate outfit featuring a floral pencil skirt, plus an outfit ready for a night out. If you're interested, read on!
Floral Pencil Skirt: Class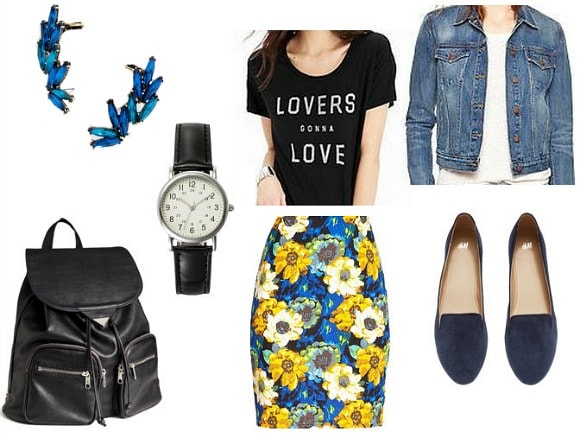 Product Info: Statement Tee, Pencil Skirt, Jacket, Flats, Backpack, Watch, Earring Cuffs
A bold, floral print pencil skirt looks casual enough for class when you pair it with a statement tee and a classic denim jacket. Slip on a pair of flats in a color that matches the skirt's print. Colorful earring cuffs are edgy without being overwhelming, while a plain black watch looks simple and classy. All you need now is a solid-colored backpack to hold all of your essentials, and you're ready for a day of classes.
Floral Pencil Skirt: Night Out
Product Info: Pencil Skirt, Crop Top, Jacket, Booties, Ring, Earrings, Purse
For a night out, embrace warm thoughts of spring by pairing your skirt with a crisp white crop top. Of course, if you're not actually experiencing spring weather yet, you'll need a layer on top; I'm in love with this slightly peplum-shaped faux leather jacket. Slip on a pair of navy blue booties to add some height, then pack your belongings in a sleek crossbody bag. Add some bling with a bold feather-shaped ring and sparkly earrings.
Thoughts?
Are you ready for spring and florals? Would you wear a floral pencil skirt? What do you think of the looks featured above? Leave me a comment and let me know!