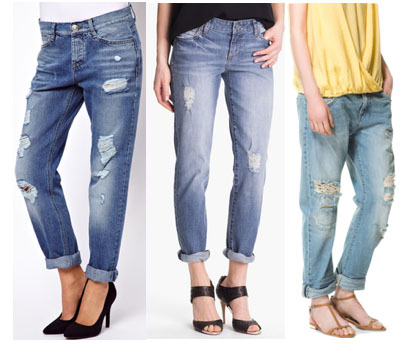 Do you struggle with transforming your outfits from day to night? Don't worry, CF is here to help turn that daily annoyance into a fun challenge. Class to Night Out focuses on one piece per week, and aims to help you take your look from study sessions in the library to dancing the night away.
I have a secret: I am so sick of skinny jeans. Yeah, they look good with pretty much everything, but after wearing them for a few years straight, I'm ready for a change! Which is why I'm slowly making the switch to boyfriend jeans.
No, I'm not ditching skinnies entirely, but for some reason I've always been afraid to wear boyfriend jeans. I thought they looked baggy and unflattering on everyone but the ultra-thin — but that's so not the case! If you have mixed feelings about boyfriend jeans, have no fear. This week I'll be showing you two super cute looks featuring a pair of distressed boyfriend jeans — one for day, one for night. On to the outfits!
Distressed Boyfriend Jeans: Class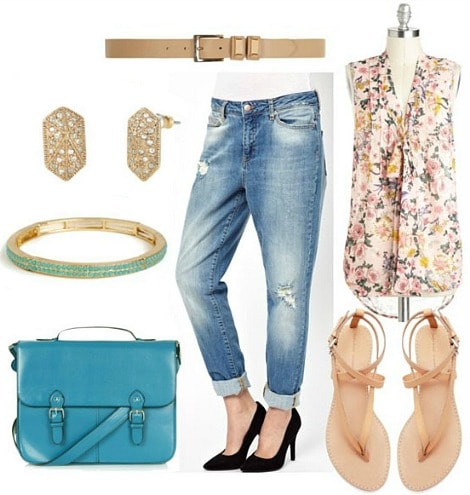 Jeans, Blouse, Belt, Sandals, Bag, Bangle, Earrings
The secret to mastering boyfriend jeans is all in the styling. If you want a balanced outfit that doesn't make you look sloppy, the rest of your look should be super polished and feminine. Epitomize the girly-girl look with a floral pussy bow blouse that's too chic to be fussy, adding waist definition with a beige belt. Create more balance with a pair of neutral sandals, then add a girly pop of color with a bright turquoise satchel. Accessorize with feminine, but mature jewelry like a turquoise bangle and oversized embellished studs.
Distressed Boyfriend Jeans: Night Out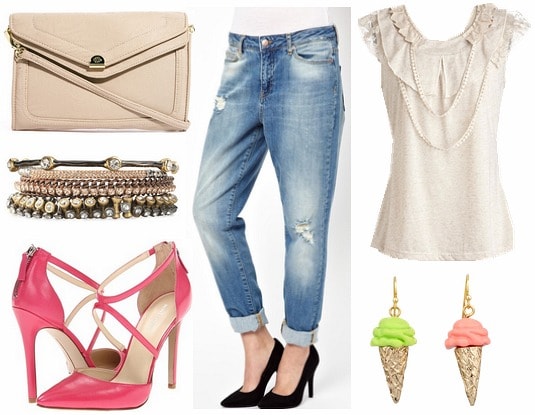 Jeans, Blouse, Pumps, Bag, Bracelets, Earrings
Heat things up for your night out look with a form-fitting white blouse. The color keeps you looking fresh and feminine, but the pretty detailing adds a little something extra. (Bonus: You don't have to worry about finding the right necklace!) Glam things up with a pair of hot pink cut-out pumps, then add a set of subtly sparkly bracelets and a nude clutch. Put on some funky mismatched earrings and you've got an ensemble that's absolutely perfect for a girl's night out.
Your thoughts?
Do you like boyfriend jeans? How would you style this pair? Be sure to let me know what you think of the outfits in the comments, and what other pieces you'd like to see featured on Class to Night Out!