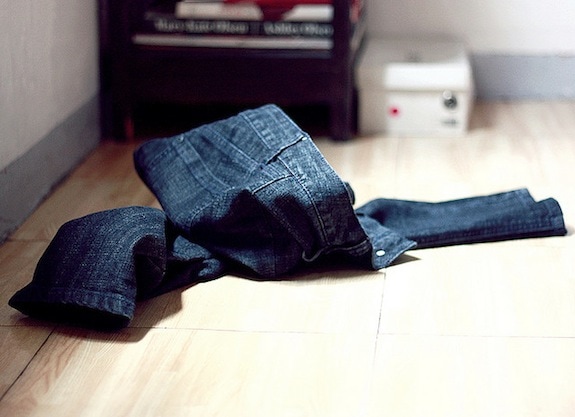 Welcome to the latest edition of Ask CF! Every few weeks, we select a reader fashion question and answer it here on the site. Do you have a specific fashion question for us? Scroll to the bottom of this post to learn how to send it our way!
Ask CF Question
Dear CF,

Could you do a post on alternatives to skinny jeans? How do you style boot-cut, flared jeans, and boyfriend jeans? What shoes would you would wear with them and how can I look fashionable in them?

Sincerely,
Tired of Skinnies
Our Response
Dear Tired of Skinnies,
Over the past few years, skinny jeans have gotten so popular that it's hard to remember a time before them. But – we promise – there was a time when other styles ruled the fashion scene.
Whether you don't like the way skinny jeans fit or you just want to change up your wardrobe routine, below, I've created three looks for inspiration to help you do just that. For variety's sake, each look includes a different style of jeans: There's a bootcut pair, a wide leg pair, and a boyfriend pair.
When styling each outfit, I focused on creating visual balance. For example, in the wide leg look, I added a heeled boot and a long vest to create length to balance out the width of the pants. For the boyfriend pair, I added ladylike details to feminize the look. I also added some fun shoes that will stand out even though the pant legs cover them up a little.
Thank you again for your question. I hope you enjoy the looks and find them useful and inspirational!
Sincerely,
Jessica
Outfit #1: Bootcut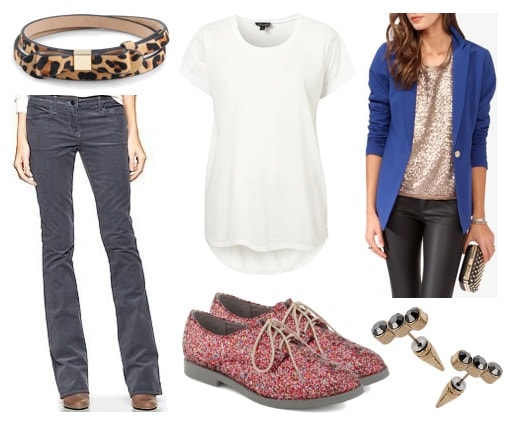 Product Information: Belt, T-shirt, Jacket, Earrings, Shoes, Pants
Bootcut pants are probably the most iconic of all styles, so it's likely that you have a few pairs lying around in your closet. (I know I do!)
For this look, I found these great bootcut cords, which are a great change from your typical jeans (though regular jeans would work just as well). Next, add a simple oversized white tee and and an electric blue blazer. Finally, put on the finishing touches with accessories like a leopard print belt, some cool studs, and — for some serious glitz — some glitter brogues that will peek out from under the cords.
Outfit #2: Wide Leg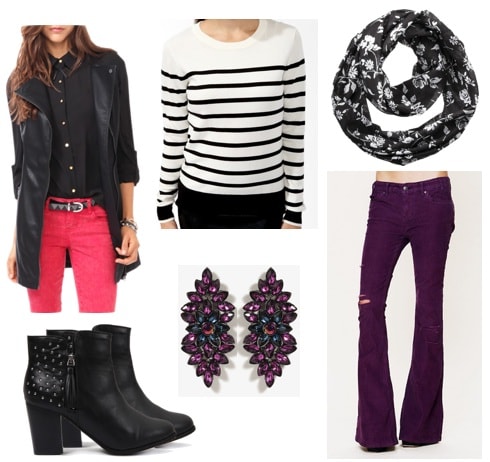 Product Information: Vest, Sweater, Scarf, Pants, Earrings, Boots
Another popular pant style is the iconic wide leg "flare" cut. For this look, I mixed an eggplant-colored pair of flared pants with a horizontal striped sweater. To balance out the width of the wide leg jean, I added length to the look with a heeled boot and a vegan leather waist coast. Finish the look with a floral print infinity scarf and some sparkly earrings.
Outfit #3: Boyfriend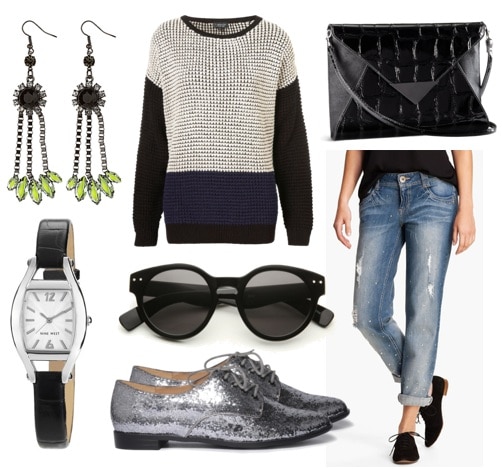 Product Information: Earrings, Sweatshirt, Bag, Pants, Shoes, Sunglasses, Watch
This final look incorporates a pair of trendy boyfriend jeans. To pull of this menswear-inspired style, I like to pair them with feminine pieces for balance.
To start, I chose some boyfriend jeans that actually boast a feminine vibe already, thanks to subtle rhinestone studs. And even though the jeans are oversized, a loose, baggy sweater can still work – just add glam accessories like glitter oxfords and bejeweled drop earrings. Complete the ensemble with oversized sunnies, an envelope clutch, and a sleek watch.
Do you have a fashion question? Send it our way!
Is there something in your closet that you can't seem to figure out how to wear? Do you have an event coming up and need an outfit idea? Do you have a specific fashion conundrum you need help with?
If you have a question you want to see answered in this column, just send it on over via email to askcf @ collegefashion.net and one day you might see your question answered right here on the site!
Please note: We get A LOT of email and unfortunately we will not be able to respond to every single question. However, we will read through each question and then decide which ones will be most helpful to the most readers. Thank you for your understanding.
What do you think?
Have you had this problem before? How do you feel about skinny jeans? Do you usually wear skinnies or do you stick to other cuts? What is your favorite way to style non-skinny pants? Which of these looks is your favorite? Please let us know what you think by leaving a comment below!