I find myself in the (un)fortunate place of having a capsule wardrobe…by accident.
I have gone through another style "regeneration," and that means half my clothes are in a pile, waiting to be donated or sold, and the other half…well, let's just say they're not the most exciting pieces, and they're definitely not coordinated.
And yet, I think I am not the only one who finds themselves with quite a lot of pieces that are a little too multifunctional, without a clear aesthetic to bind them all together.
While some people crave the capsule wardrobe, it probably works better when there's a "method to the madness."
So here is my guide to sorting through the madness of a boring warrobe to find some sort of method (and, hopefully, some cute outfits along the way). Follow these 4 steps to reinvigorate your wardrobe:
1. Preparation Makes Perfect
A good first step is to make sure you're finished paring down your closet.
Even if your wardrobe feels empty, if there are any more pieces that don't speak to you, that you haven't worn in a long time (and don't plan to anytime soon) — get rid of them! All they're doing right now is taking up space and confusing your aesthetic.
Second, I would recommend organizing your closet. I organize by type, but there are other ways to organize your closet that are a little more fun, and maybe even more useful.
And now we can begin.
2. Go Back to Basics…But Not Too Far
A capsule wardrobe is defined as being "a collection of a few essential items of clothing that will not go out of fashion," which can then be spruced up with some more fun items.
A start might be something like: tank tops or camis you can layer, jeans in a variety of styles/colors, skirts in neutral colors, v-necks, and so on.
Here's a capsule wardrobe example: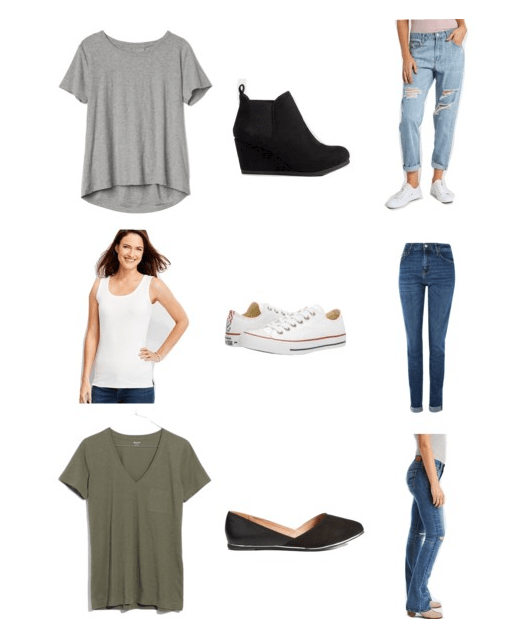 Products: Shirt (top) – Gap; Shirt (middle) – Talbots; Shirt (bottom) – Madewell; Booties (top) – Maurice's; Converse (middle) – Amazon; Flats (bottom) – Maurice's; Jeans (top) – Maurice's; Jeans (middle) – Nordstrom; Jeans (bottom) – American Eagle
These items are classic and timeless. To me, though, they are also…missing something. Classic and timeless items, while reliable, are very been-there-done-that, and let's be honest–fashion is about risk.
If you're like me, though, risk seems difficult to achieve when the most interesting item of clothing you own is a graphic tee with a Darth Vader quote on it.
But don't lose hope yet!
3. Pizzazz to the Rescue!
The obvious fix is to just buy a lot more clothes. But college students aren't exactly known for having the budget for wardrobe overhauls, so the key to making your wardrobe exciting is strategy.
Strategy One: Coats & Jackets
Bomber jackets, trench coats, even flannels — they can all turn a boring solid-color outfit into something interesting.
I spoiled myself earlier this fall with a trench coat from ModCloth (shown below):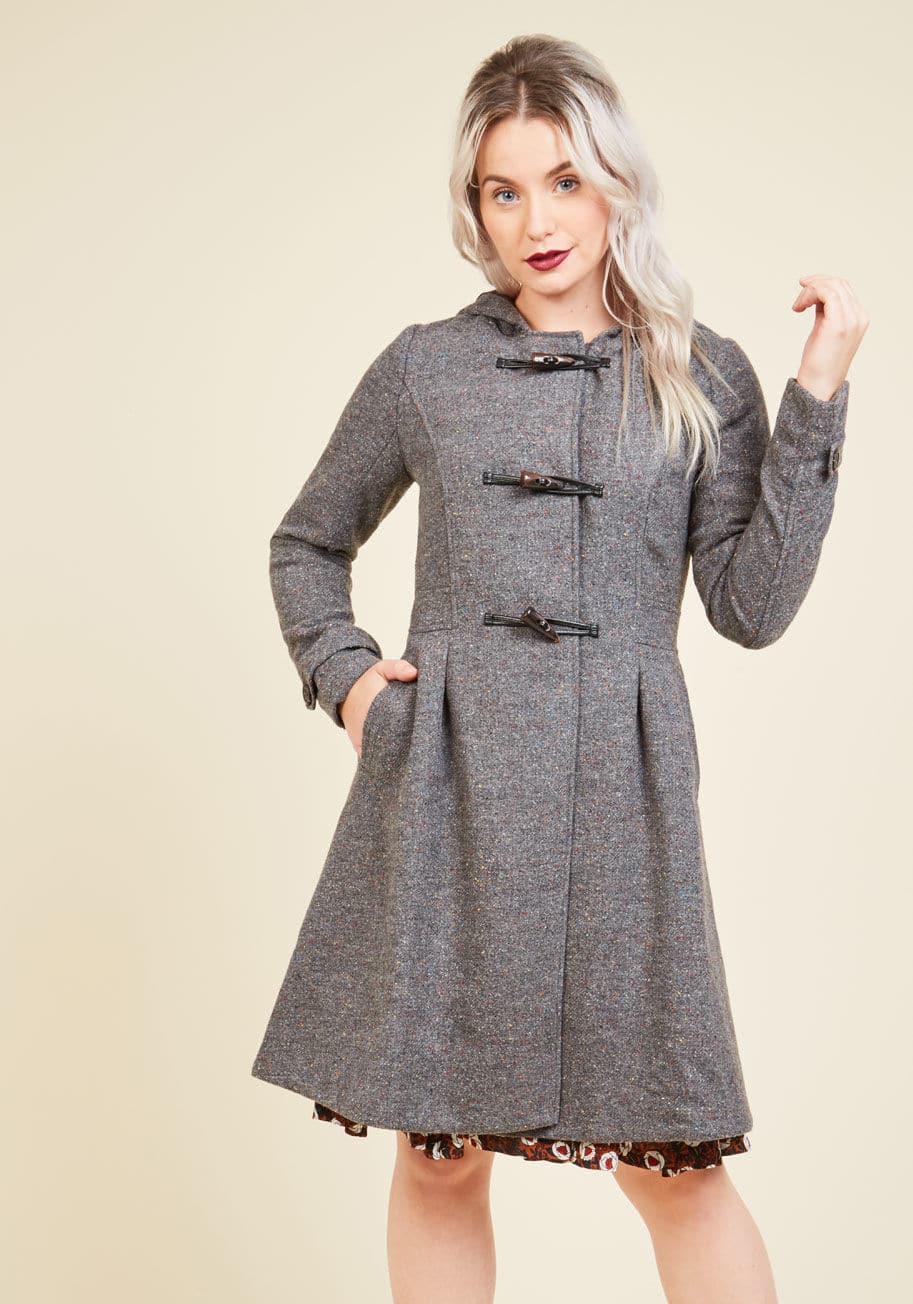 Grey coat – Modcloth
The Modcloth coat does top $100 (though IMO, a good winter coat is worth it), but there are tons of options out there under $100 at stores like Amazon and even Nordstrom.
If you can't spring for a new coat, flannels are another fun way to spice up an outfit. Wear one over a t-shirt, tie it loose around your hips, or, instead of buttoning it up, tie together the two sides around your waist, with a high-waisted skirt and some tights.
Strategy Two: Accessories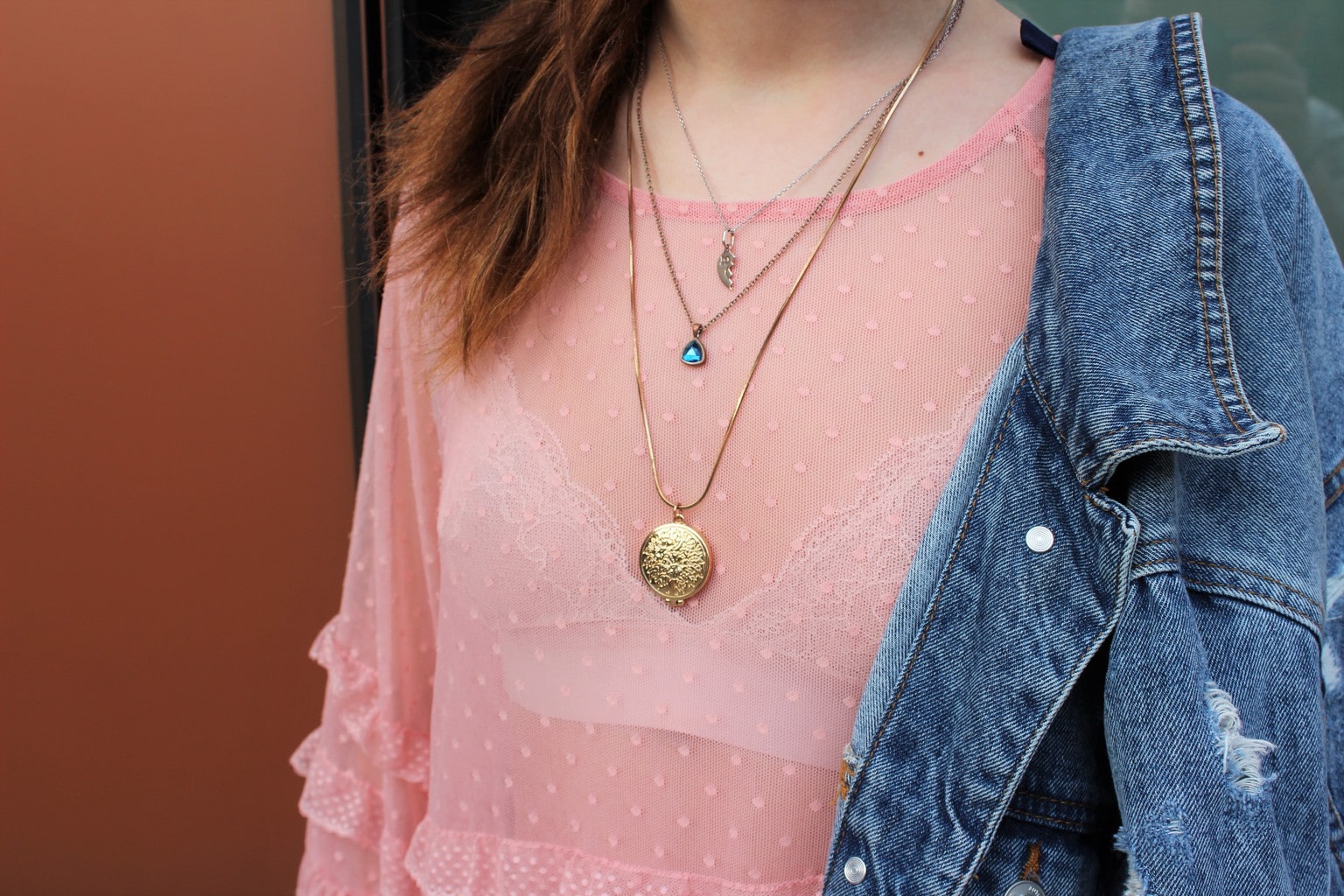 This is obvious to all you fashionistas, but if you're feeling stuck, it's worth repeating. T-shirts can be made fabulous with the help of a statement necklace or a scarf. Jeans and boring shoes can be improved with different socks, either in a funky pattern or in differing lengths and to varying degrees of scrunch.
This is, honestly, where I have focused all my efforts recently. I've really enjoyed wearing a more colorful patterned pair of sneakers with patterned socks, to create a quirky Zooey Deschanel (a la New Girl) kind of vibe. Target has some cute socks here.
Jewelry is also an easy go-to — look at the photo above! Some layered necklaces make all the difference in this look.
4. Be Creative
The key with reinvigorating or re-purposing old fallbacks into a new and fun outfit is to think creatively and try new things.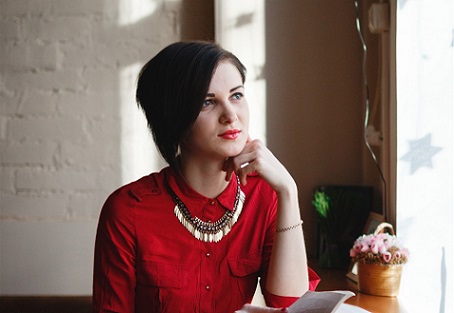 Sometimes I like to just take a risk and try things that I'm not sure will look good, just to see. I will often bunny trail from that idea to another, and after a few tries, I've found a new combination that I really like.
Try layering t-shirts or tucking in sweaters — even wearing a different pair of jeans with the same shirt can totally change a look!
Now it's your turn!
Is your closet feeling a little blah? What are your go-to tricks to spice up plain tees and jeans? Do you have a signature statement piece you're relying on this fall?