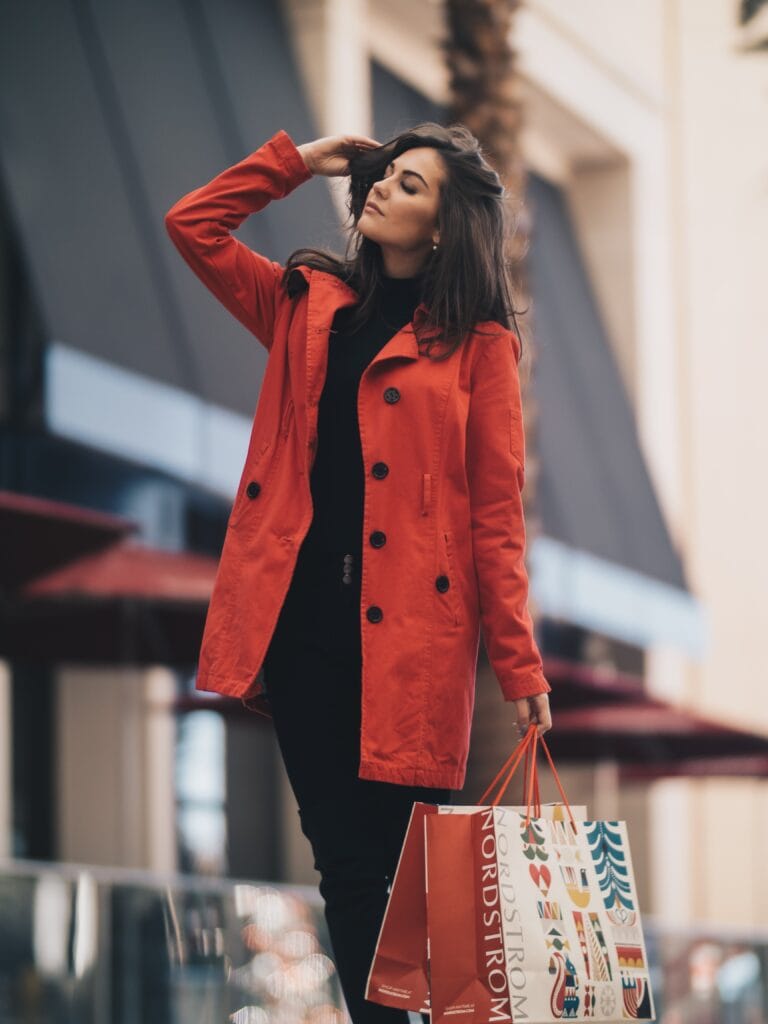 Black Friday is coming up, and that can only mean one thing: scoring amazing deals on items you've been eyeing for what feels like forever! (See our Black Friday sales list for hundreds of amazing sales to shop.)
However, if you plan on doing any shopping in brick-and-mortar stores (Retail's not dead yet!), you know that the experience of making your way through crowds, waiting in ridiculously long lines, and unreasonably aggressive fellow shoppers can be enough to drive anyone crazy!
Unfortunately, I can't make any of that stuff easier. But, what I can do is help you to put together a stylish and practical Black Friday outfit that'll make the whole thing a heck of a lot more comfortable.
So, keep scrolling to see three cute, comfy, and practical Black Friday outfits that'll have you covered no matter what kinds of stores you plan on hitting up this season.
Black Friday Outfit #1: The Mall Power-Shopper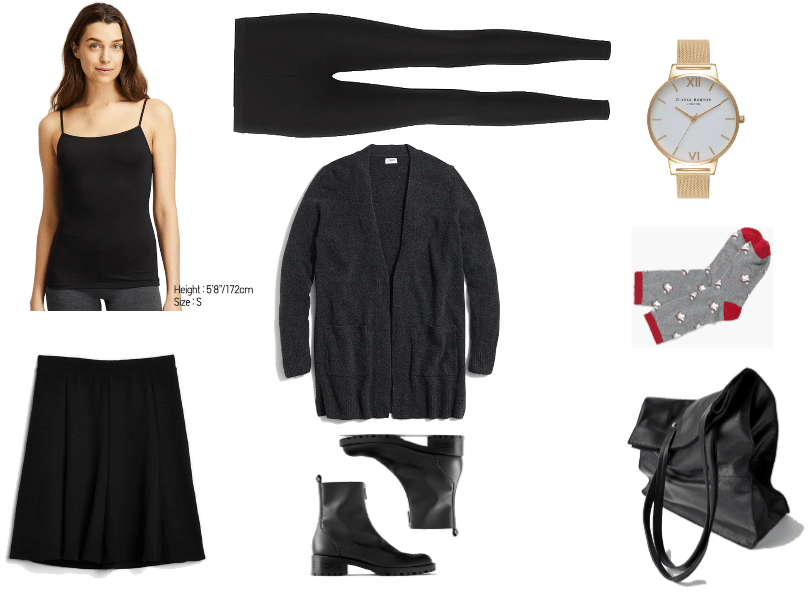 Products: Camisole – Uniqlo, Skirt – Gap, Leggings – Uniqlo, Cardigan – J.Crew Factory, Ankle Boots – Zara, Watch – Nordstrom, Socks – J.Crew Factory, Tote – Zara
This outfit is ideal for all of the fashionistas shopping for clothes at the mall this Black Friday.
I created this layered look with super-long fitting-room lines in mind, as it's often faster to try on clothes in front of a random mirror in the store than to wait in line for a fitting room. (Just remember to put anything you're not buying back neatly where you found it!)
However, since you obviously don't want to be getting undressed in the middle of a public place, it's best to dress in simple layering pieces. For example, the black camisole and leggings featured here will keep you appropriately covered up.
I decided to pair them with a chic open-front gray cardigan that's super easy to take on and off. If you want an additional layer, I added a classy black skater skirt that's also easy to remove and put back on.
These trendy lug-sole ankle boots are great for shopping, as they feature a practical zipper opening. What's more, if you're going shoe shopping, it's always a good idea to wear a pair of socks. (Bonus points if they have ice-skating polar bears on them!)
This simple tote is easy to keep close to your body, which is great when it comes to keeping your possessions safe in crowded environments. Moreover, its roominess ensures that you'll be able to temporarily stash the cardigan and/or skirt inside while trying on clothes.
Finally, I think it's always a good idea to wear a watch while shopping so you can keep track of how long you spend in each store without digging around for your phone. This classic gold timepiece fits the bill perfectly.
Outfit #2: The Well-Prepared Bargain Shopper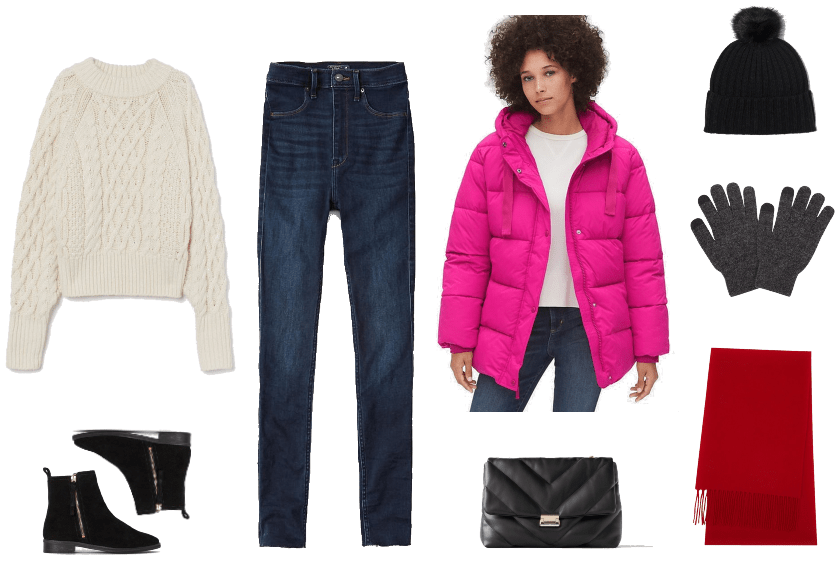 Products: Sweater – H&M, Ankle Boots – H&M, Jeans – Abercrombie & Fitch, Jacket – Gap, Bag – Zara, Beanie – H&M, Gloves – Uniqlo, Scarf – Uniqlo
I wanted to create a Black Friday outfit for those brave enough to wake up super-early to wait in line 'til the stores open! However, this outfit could also work for anyone whose shopping schedule involves a lot of walking around outside from store to store.
Since it'll likely be pretty cold outside — especially if it's really early in the morning — be sure to wear something warm. I'm a big fan of this cozy cable-knit sweater.
You can't go wrong with dark-wash skinny jeans, so put on a pair for a polished and put-together look.
An on-trend fuchsia puffer jacket is the perfect thing to liven up any cold day. A luxe red cashmere scarf, whose color clashes fashionably with that of the jacket, is also sure to keep you in good spirits.
A pom-pom beanie and tech-friendly gloves will keep your head and hands nice and warm, as will a pair of comfortable pile-lined ankle boots.
A large quilted cross-body bag completes the ensemble without sliding around while you're wearing the puffer jacket (#coldweatherproblems). Also, like the tote from Outfit #1, it's easy to keep close to your body in crowded stores.
Outfit #3: The Laid-Back Shopper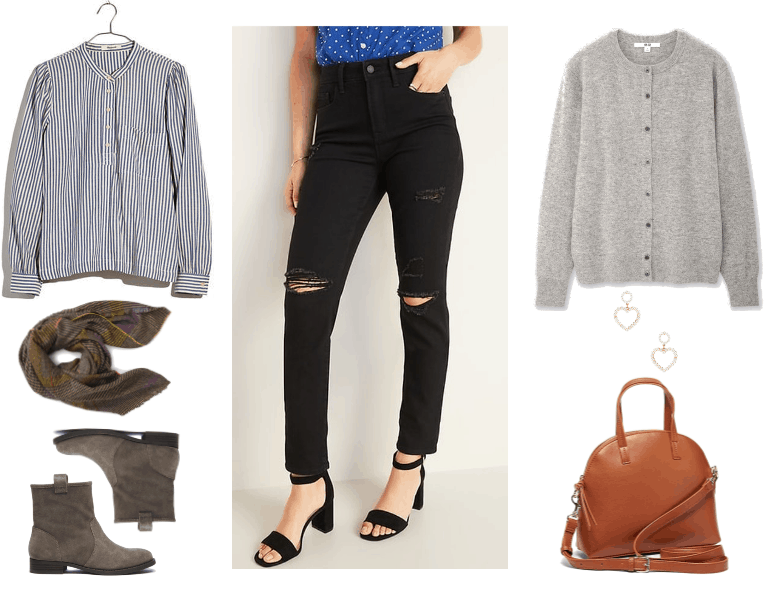 Products: Shirt – Madewell, Scarf – Nordstrom, Ankle Boots – Sole Society, Jeans – Old Navy, Cardigan – Uniqlo, Earrings – Revolve, Bag – Old Navy
If your idea of Black Friday shopping includes stopping by a few boutiques/smaller stores, this Black Friday outfit is for you!
This laid-back-yet-chic ensemble features a loose-fitting striped popover shirt. I decided to style the shirt with a pair of destroyed black straight-leg jeans for contrast.
A classic cashmere cardigan adds a preppy vibe, while a printed scarf adds visual interest.
Furthermore, flat Western-inspired boots are a great option when it comes to both comfort and style.
Pearl heart drop earrings make for a feminine way to accessorize this simple-yet-sweet look.
Lastly, a cognac-colored faux-leather bag provides a perfectly practical finishing touch.
What do you think of these Black Friday outfits?
Where do you plan on shopping this Black Friday? What do you plan on wearing? Do you have any other Black Friday shopping outfit tips to add?
Let me know in the comments!