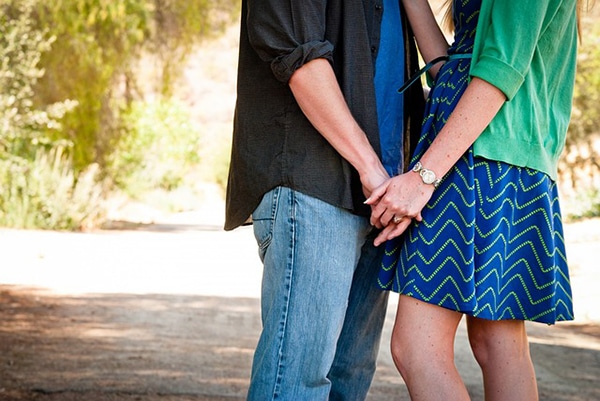 Welcome to the latest edition of Ask CF! Every two weeks, we select a reader fashion question and answer it here on the site. Do you have a specific fashion question for us? Scroll to the bottom of this post to learn how to send it our way!
Ask CF Question:
Dear CF,

My boyfriend and I like to go on date nights every once in a while, and when we do I like to dress up nicely for it. I like to wear something different from my usual uniform of jeans and a t-shirt and impress him a little bit.

But, being poor students, we only ever really go to the movies, bowling or out for dinner. Sometimes all three in one night. So, I need some help putting together outfits that are sexy yet still appropriate for these kinds of dates. I just need to be a bit more adventurous. Please help me!!!

Sincerely,

Lily
Our Response
First of all, congratulations on finding a guy who actually takes you out instead of just "hanging out" all the time in the dorms!
With busy schedules full of classes, homework, and other social activities, it can be difficult to find time to go out with your significant other, but date nights are fun and a really important part of any relationship. Plus, who doesn't want an excuse to dress up every once and a while?
There's no need to sacrifice feeling sexy for the functionality of an outfit. In this case, you really can have the best of both worlds. The key is choosing pieces that are versatile, so you can easily transition from dinner to the bowling alley to the movie theater.
Below, I've created three outfits to provide you with a little date night inspiration. These looks will leave you feeling cute, confident, and sexy wherever you decide to go.
Related reading: 6 Perfect Outfit Ideas for Your Next Date Night
Outfit #1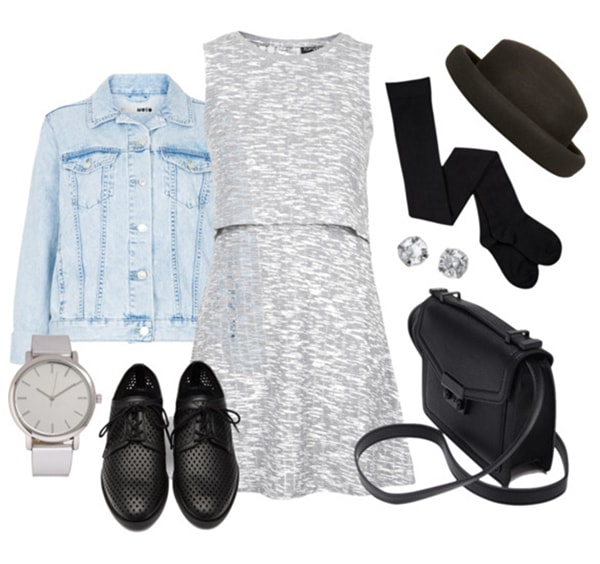 Product Information: Dress, Jacket, Shoes, Socks, Hat, Bag, Watch, Earrings
Slip on a dress if you're looking to keep it fun and flirty for your special night out. Simple dresses like this one are super-easy to dress up or down, depending on what accessories you choose. I decided to stick with classic jewelry, but added a fun twist with knee-high socks, a vintage-style hat, and oxfords.
Outfit #2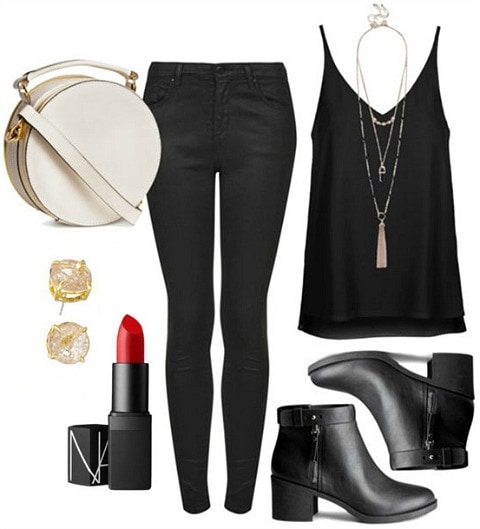 Product Information: Top, Jeans, Boots, Bag, Necklace, Earrings, Lipstick
If you want to change up your normal t-shirt and jeans ensemble, switch out that tee for a cute blouse or cami. Plus, there's nothing sexier than wearing all black. You can also never go wrong with a pair of black jeans; they work for both dressy and casual dates. Try a coated pair to add a little texture and edge to your outfit.
Outfit #3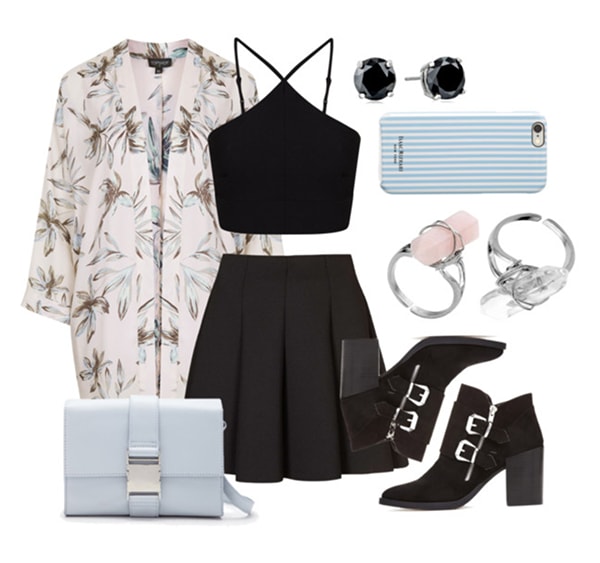 Product Information: Top, Skirt, Kimono, Boots, Bag, Rings, Phone Case, Earrings
With the recent transition into spring, there's nothing wrong with showing a little bit of skin. Just make sure to keep it classy! A skater or circle skirt like this one is perfect, especially if you're doing something that involves a lot of movement, like bowling or dancing. If you're feeling a little exposed, a kimono jacket is the perfect way to cover up without sacrificing style.
Do you have a pressing fashion question? Ask away!
Is there a piece in your closet that you never know how to style? Do you have an important event coming up? Is there a certain trend that is completely lost on you?
If you have a question you want to see answered in this column, just send it on over via email to askcf @ collegefashion.net and one day you might see your question answered right here on the site!
Please note: We get A LOT of email and unfortunately we will not be able to respond to every single question. However, we will read through each question and then decide which ones will be most helpful to the most readers. Thank you for your understanding.
What do you think?
What's your favorite outfit for date night? Do you prefer to dress up or keep it casual? Would you wear any of these looks? Let us know in the comments!