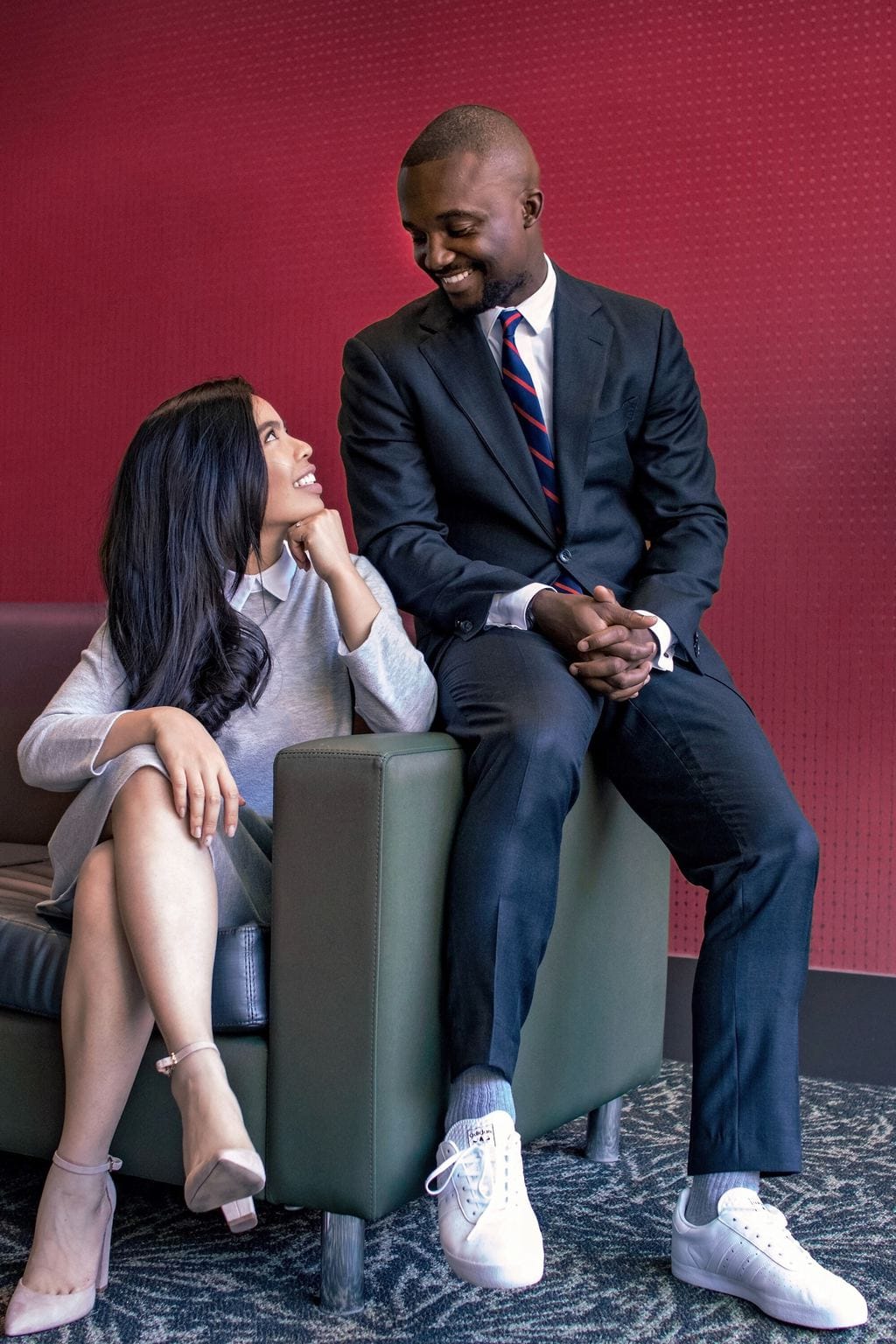 Welcome to the latest edition of Ask CF! Every two weeks, we select a reader fashion question and answer it here on the site. Do you have a specific fashion question for us? Scroll to the bottom of this post to learn how to send it our way–including how to submit your most pressing fashion dilemmas via Instagram!
This week's question comes to us via CF's Instagram.
Ask CF Question
Hey! I have an Ask CF question for ya: my boyfriend just graduated law school and will be getting sworn in as an attorney at the end of this month! What should I wear to the ceremony? Thanks!!
Our Response
I'll admit it: When I first saw your question, I was a little unsure about how to go about answering it, as I had never heard of a swearing-in ceremony before! But, after a little bit of research, I learned that these ceremonies are relatively formal, so a suit is generally required for everyone being sworn in. (PS: This article and this article both do a good job of explaining what the ceremony is like.)
As a guest, you have a bit more leeway than your graduate. Still, I would highly recommend planning your outfit around a business casual or business dress code. Think: A knee-length dress or skirt with a blazer or cardigan, pants with a blazer or sweater, or even a full-on pant or skirt suit, if you're feeling fancy! Note that whatever you do decide to wear should be on the modest side, and that colors should be muted, so as not to distract from the ceremony itself.
Below, see some looks that I've put together for you, all of which fall under the business-casual-to-business dress code spectrum; keep scrolling to see them!
Swearing-In Ceremony Outfit #1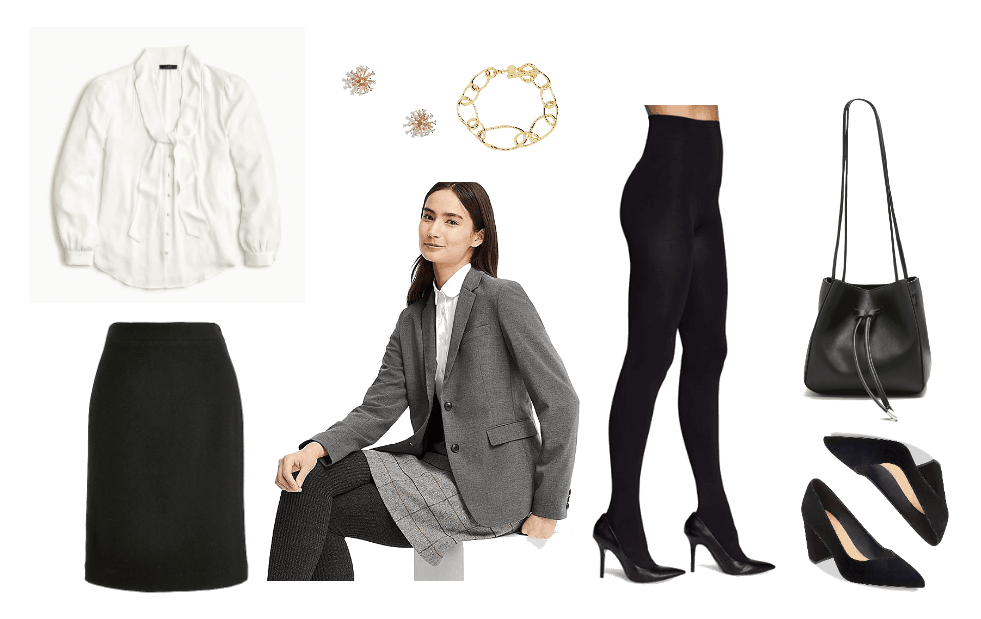 Products: Blouse – J.Crew, Skirt – J.Crew Factory, Earrings – J.Crew Factory, Blazer – Uniqlo, Bracelet – Nordstrom, Tights – Bloomingdale's, Bag – Mango, Heels – DSW
I've decided to kick things off with the most formal look of the bunch: Featuring simple, classic pieces that are easy to find at any retailer that sells business attire, you really can't go wrong with this outfit!
To get it, tuck a feminine ivory tie-neck blouse into a black wool pencil skirt. Next, add opaque black tights for a streamlined look, as well as a pair of chunky pointed-toe heels that add some height but aren't inappropriate for the occasion. (For the record, when it comes to business casual or business attire, I wouldn't recommend wearing heels higher than three inches.)
Sparkly firework-shaped stud earrings and an unevenly-shaped link bracelet put subtle twists on timeless jewelry styles, while a plain black bucket bag is an ideal purse choice due to its trendy-yet-unassuming silhouette.
Finally, if you want, you could add a blazer that either matches the skirt or is in a different color, as I did here, but this is not necessary if you feel that the look is complete without it.
Swearing-In Ceremony Outfit #2
Products: Jacket – H&M, Pants – H&M, Shirt – Everlane, Necklace – J.Crew Factory, Flats – J.Crew Factory, Earrings – Shopbop, Bracelet – Shopbop, Bag – Century 21, Nail Polish – Ulta
For this look, I thought I'd create a twist on the timeless black pantsuit by styling dark gray high-waisted tie-waist trousers with a Chanel-esque boxy jacket.
While you could pair the pants and jacket with an equally feminine blouse if you wanted, I decided instead to style them with something a little more preppy, aka a striped button-up shirt.
Since the pants' high waist is already leg-lengthening, you can forgo heels in favor of these cute pointed-toe tassel flats.
As for jewelry, I chose pieces that fall somewhere between preppy and girly, just like the rest of the outfit; think a pretty statement necklace (which would also look great with a little black dress this holiday season; hey, a girl's gotta think ahead!), a gold cuff bracelet, and faux-pearl stud earrings.
As for the bag, a black briefcase-style satchel does the trick just fine; lastly, I decided to include a lovely pale pink nail polish (OPI's "Bubble Bath," to be exact) to add a little something extra, but a shade of beige, tan, or brown that is similar to your skin tone would look just as nice.
Swearing-In Ceremony Outfit #3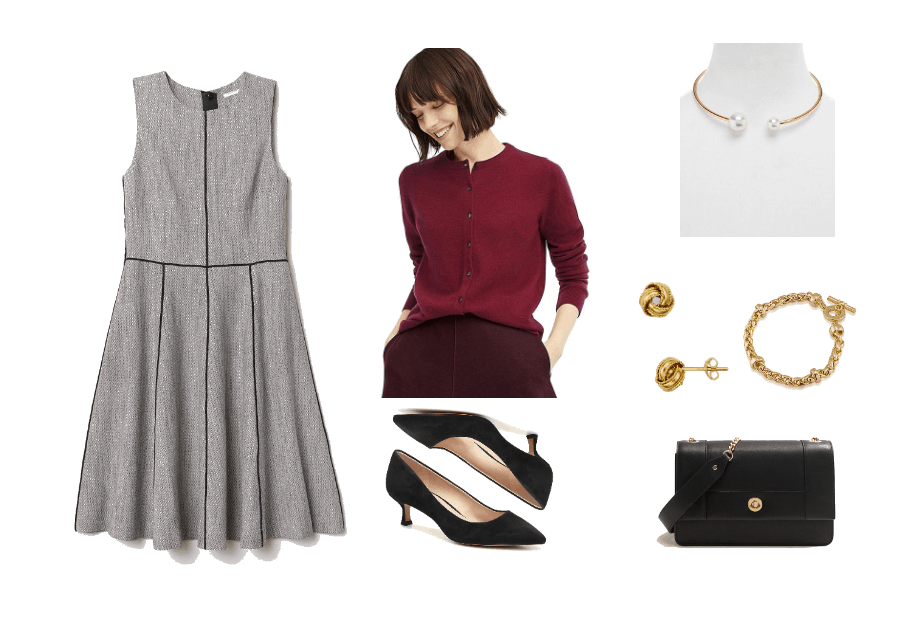 Products: Dress – H&M, Cardigan – Uniqlo, Heels – DSW, Necklace – Bloomingdale's, Earrings – Bloomingdale's, Bracelet – Bloomingdale's, Bag – Mango
I decided to switch things up a little for Outfit #3 by stepping away from the suit format and instead featuring this feminine fit-and-flare dress with bold seams.
Since the arms are exposed, it's a good idea to wear a blazer or cardigan over top; here, I chose to add a subtle pop of color with a maroon crewneck cashmere cardigan. (Note: If it's cold where you live, you'll probably also want to add a pair of opaque tights, such as the ones featured in Outfit #1, to the ensemble so that you won't look seasonally out of place.)
You can never go wrong with dainty kitten heels, so put on a classic black pair for a retro-chic touch.
Timeless jewelry, such as knotted stud earrings and a toggle-clasp bracelet, really allow this cool uneven faux-pearl collar necklace to take center stage without looking too flashy, while a chain-strap bag is the perfect way to finish off the look in style.
Swearing-In Ceremony Outfit #4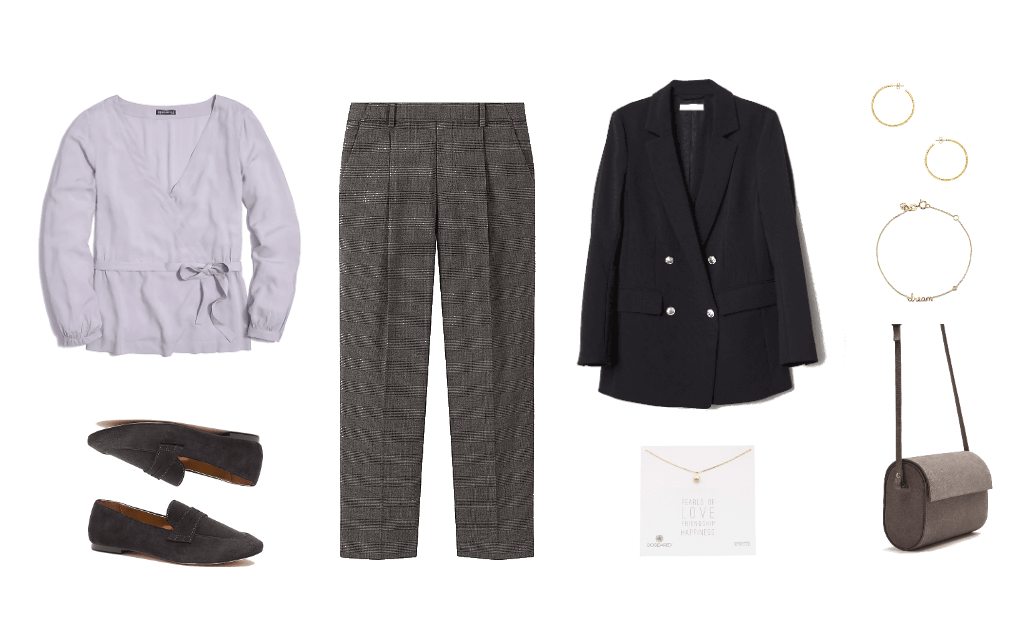 Products: Top – J.Crew Factory, Loafers – J.Crew Factory, Pants – Uniqlo, Blazer – H&M, Necklace – Nordstrom Rack, Earrings – Revolve, Bracelet – Nordstrom Rack, Bag – Mango
For the final look, I created an outfit that's a little more laid-back, but still event-appropriate nonetheless.
To start, pair a cute lavender wrap top with dark gray menswear-inspired checked trousers. (Note: Everyone's built differently, so if the top shows any cleavage on you, it's definitely a good idea to layer it with a plain white cami; but don't worry, this won't take away from the formality of the look at all.)
Next, add a trendy double-breasted blazer in black for a look that's less formal than a matching pantsuit.
Charcoal-colored penny loafers are a great alternative to traditional black ballet flats, while delicate jewelry, such as slim ball-textured hoops, a pink pearl necklace, and a tiny bracelet with a real diamond (!) and subtle script that reads, "dream" add the perfect amount of feminine shine.
Finally, a rounded cross-body bag adds a modern touch to this business casual, girl-meets-boy look.
I hope that these looks have helped to take some of the confusion out of dressing for this special occasion. Thanks for your question!
Do you have a fashion question? Send it to us!
Is there something in your closet that you want to wear but have no idea how to style? Do you need advice on what to wear to an upcoming event? Do you have a specific fashion conundrum? If you have a fashion-related question that you would like to see answered in this column, simply email it to askcf @ collegefashion.net, and one day you might see your question answered right here on the site!
Also, you can now message us your questions on College Fashion's Instagram account, @collegefashion!
What do you think?
Have you ever had to dress for a business event? If so, what did you wear? Do you have any more advice regarding how to dress for (and what to expect while attending) a swearing-in ceremony?
Let me know in the comments!