Here at CF, we love to get the most bang for our buck while staying stylish. One of the best ways to accomplish this challenging task is to realize the incredible power of accessories. Accessories have this amazing ability to completely transform an outfit; throw on a bangle, clasp on a necklace, or grab a different bag and you've got a whole new look!
This week, we'll be taking a simple sundress (we've all got one!) and shaping it into three completely different outfits, using just accessories (okay, and one cardigan). With warm weather just around the corner, girls around the country will be breaking out their favorite leg-baring dresses and skirts. Make sure you can get the most wear out of your favorite summer staple by mastering the art of accessorizing!
Look #1: Music Festival Friendly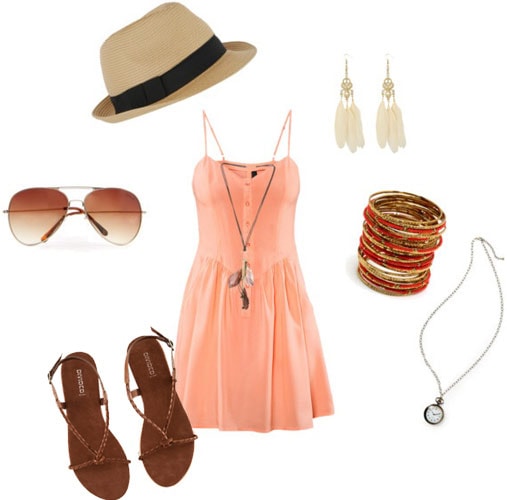 Product Information: Dress, Fedora, Sunglasses, Sandals, Earrings, Bangles, Clock Necklace, Feather Pendant Necklace
One of my favorite things about summer is the crazy abundance of music festivals and outdoor concerts. Whether you're hitting up Summerfest, Bonnaroo, or Lollapalooza, there's definitely a genre of music and a scene for you.
Be festival-ready by accessorizing with boho chic accessories and a trendy fedora. Pile on your favorite long necklaces (the more the better!) and stack bangles and bracelets on your arms. Sandals that strap in the back will be sure to stay on your feet – and the fringe is adorable. While a pink sundress on its own might be precious and girly, by adding these hippie-inspired accessories, you've got a completely new, edgy, and summer-friendly style. Now go find a concert!
Look #2: Special Occasion Pretty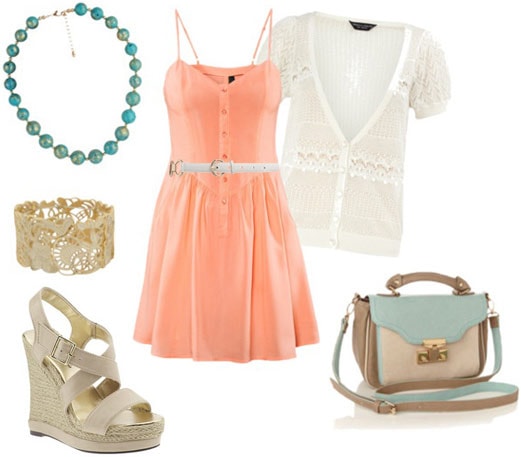 Product Information: Necklace, Bracelet, Belt, Wedges, Cardigan, Bag
As the end of the school year winds down and summer begins, you might find yourself with a schedule full of special events. I know that this time of year for me means awards banquets, graduation ceremonies, family brunches, and grad parties. Don't stress! Thanks to that amazing power of accessories, all you've got to do is throw on the same sundress that you rocked out to before.
Stay classy, feminine, and conservative by keeping accessories simple and shoulders covered. A short-sleeved embroidered cardigan and a white belt will change the look of your dress, while classic wedges give you some height while still showing off your new summer pedicure. Finally, don't be afraid to add color to this outfit! A contrasting necklace and a shiny gold bracelet will express your style and a pastel crossbody will keep you right on trend. Put on your parent-charming smile and enjoy your end-of-the-year events.
Look #3: Everyday Fun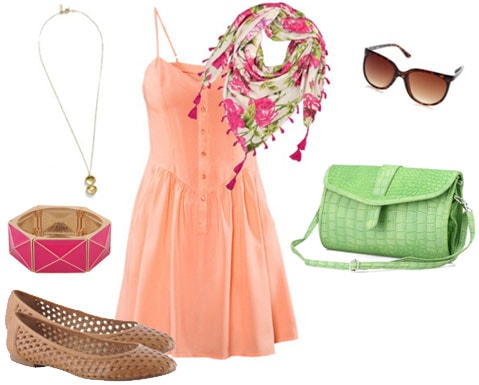 Product Information: Necklace, Bracelet, Flats, Scarf, Sunglasses, Bag
Finally, a sundress is the perfect summer outfit. No need to find matching tops or clean bottoms; throw on a sundress and you're good to go! While this dress can be applied to other occasions in life, don't forget to rock that sundress (or, hopefully, a few different ones) every single day.
Add some color to your dress with a bold scarf and contrasting accessories like a green bag and hot pink bangle. A necklace will give you a quick accessory that won't get in the way of everyday activities – I'm partial to long pendants but feel free to switch it up.
This ensemble shows how even just throwing on a printed scarf can change the whole look of an outfit. The neckline becomes drastically altered without changing anything to the dress! Color is added and focal points change.
Your turn!
I love shopping for accessories; I also love shopping for clothes. It's so easy to stay budget-friendly by learning how to transform pieces of your closet into completely new looks simply by adding a few accessories. Re-wearing is key!
Now, it's your turn. What do you think of the outfits featured above? Would you do anything differently? Can you think of another place to wear this sundress? What's your go-to accessory? Make sure to leave your thoughts below!