If you're anything like me you also have about eight different striped shirts in your wardrobe (all different sizes and designs, though) as well as other striped items strewn throughout. And you might be in need of some new ways to style them.
If that sounds like you, here are 5 ways you can keep your classic style alive in your stripes while still looking chic this spring! Read on for 5 cute ways to wear stripes:
1. Classic Striped Tee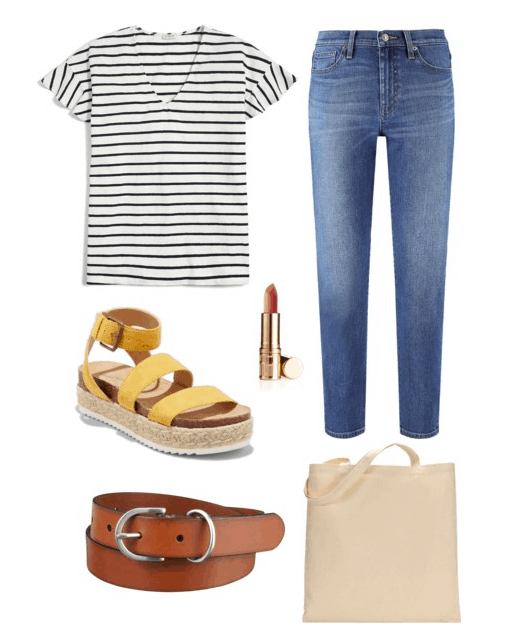 Products: Top – J.Crew Factory, Jeans – Uniqlo, Shoes – Target, Belt – Uniqlo, Bag – Blank Apparel, Lipstick – Elizabeth Arden.
A classic striped tee is something most people have in their closets. The one I chose for this set is an adorable take on a plain tee with a subtle ruffle hem on both of the sleeves. This outfit is perfect for a day out on the town. You have a classic jean that you can tuck your shirt into, as well as cute accessories that complement the look!
These platform espadrilles are the perfect shade of yellow. They're muted which makes them the perfect complement to the striped top. I chose to use a classic brown belt for this look because it makes a tucked in shirt look just a little more chic. Grab a basic reusable tote and your favorite neutral lipstick and you're ready for a fun day around town!
2. Oversized Striped Dress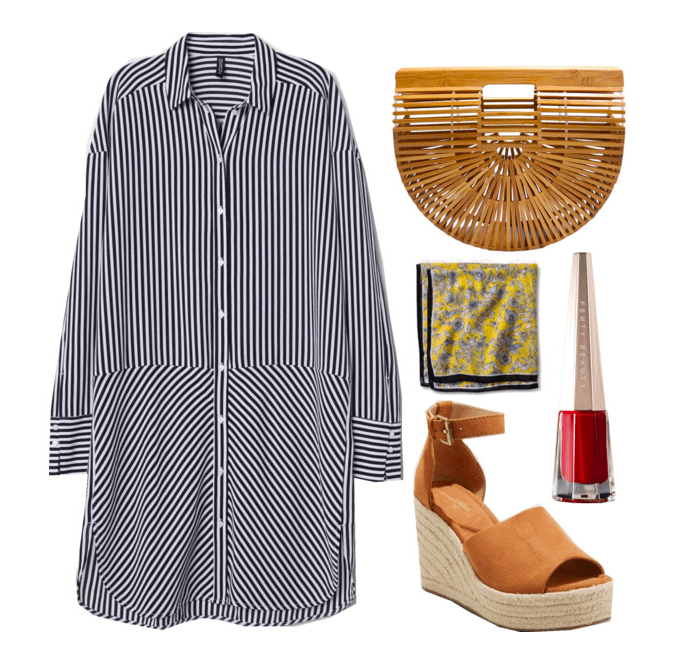 Products: Dress – H&M, Shoes – Target, Bag – Amazon, Lipstick – Sephora, Scarf – Target.
This next look is perfect for a special event. Whether it's a bridal shower with friends and family, a sorority event, or even just a day trip with your significant other, this look is an easy go-to. One of my favorite things to do is to mix patterns and pairing this striped dress with a floral scarf is an adorable way to do so.
For the other accessories in this look, I chose dupes of higher end items. First, I found these darker tan wedges. You might have seen the more expensive Marc Fisher pairs or the slightly more affordable Steve Madden ones; however, these Target ones are affordable and so comfy! This clutch featured is also a more affordable version of the original Cult Gaia clutch.
Make sure to use a bold lip with this look and you'll be all set for whatever event you have planned!
3. Striped Jumpsuit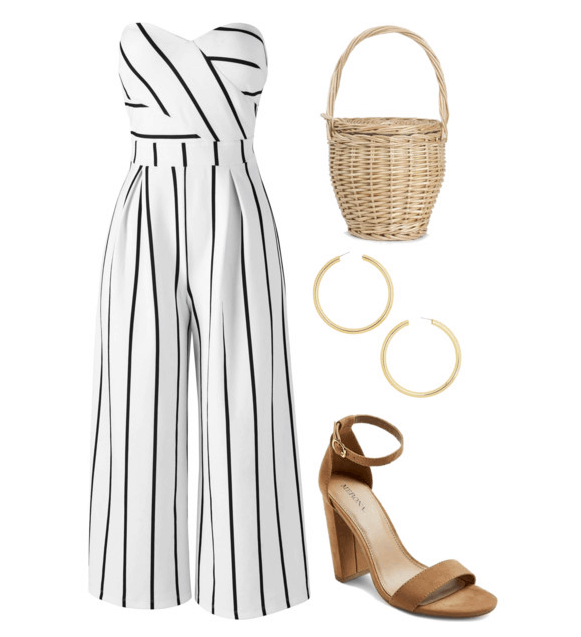 Products: Jumpsuit – Venus, Shoes – Target, Bag – Water Every Sunday, Earrings – Bloomingdales.
This next look is sophisticated and pretty. The sweetheart neckline and the tapered pant legs are sure to look amazing on any body type! This jumpsuit is another amazing striped look that you're sure to love. Since the print is the prominent factor in this look, make sure to keep the rest of your look pretty neutral.
For accessories, this basket bag is on trend as well as a perfect addition to this outfit. These shoes are perfect for showing off, as the jumpsuit is cropped above the ankle. I added a subtle pair of hoop earrings as a final touch.
4. Striped Trousers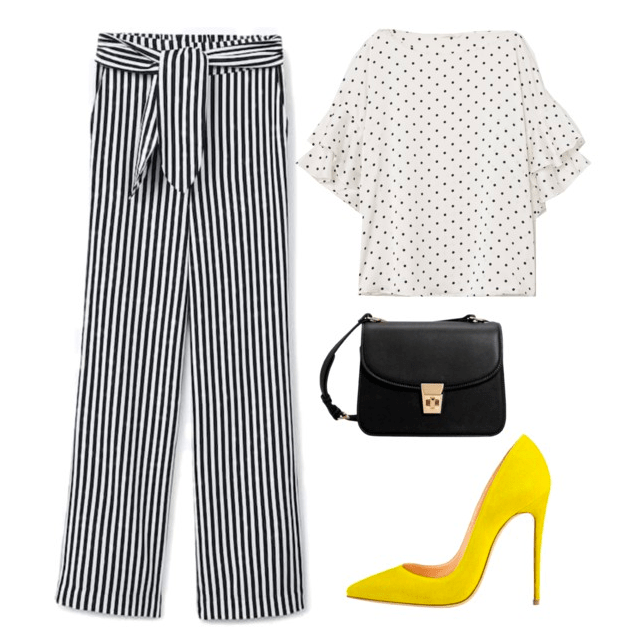 Products: Pants – Mango, Top – H&M, Shoes – Amazon, Bag – Mango.
The fourth striped look features bold tie-waist striped pants! I chose to do a little more print mixing in this look, pairing the pants with a subtle polka dot ruffle sleeve top. I'm always on board for mixing polka dots and stripes and these two mesh really well together.
When it comes to the accessories for this ensemble, I thought that since we're already doing two prints it would be a good idea to keep our extras simple. Add a nice pop of color with your choice of shoe and keep the bag neutral. This will ensure that your look will stand out without being too overwhelming!
5. Striped Maxi Skirt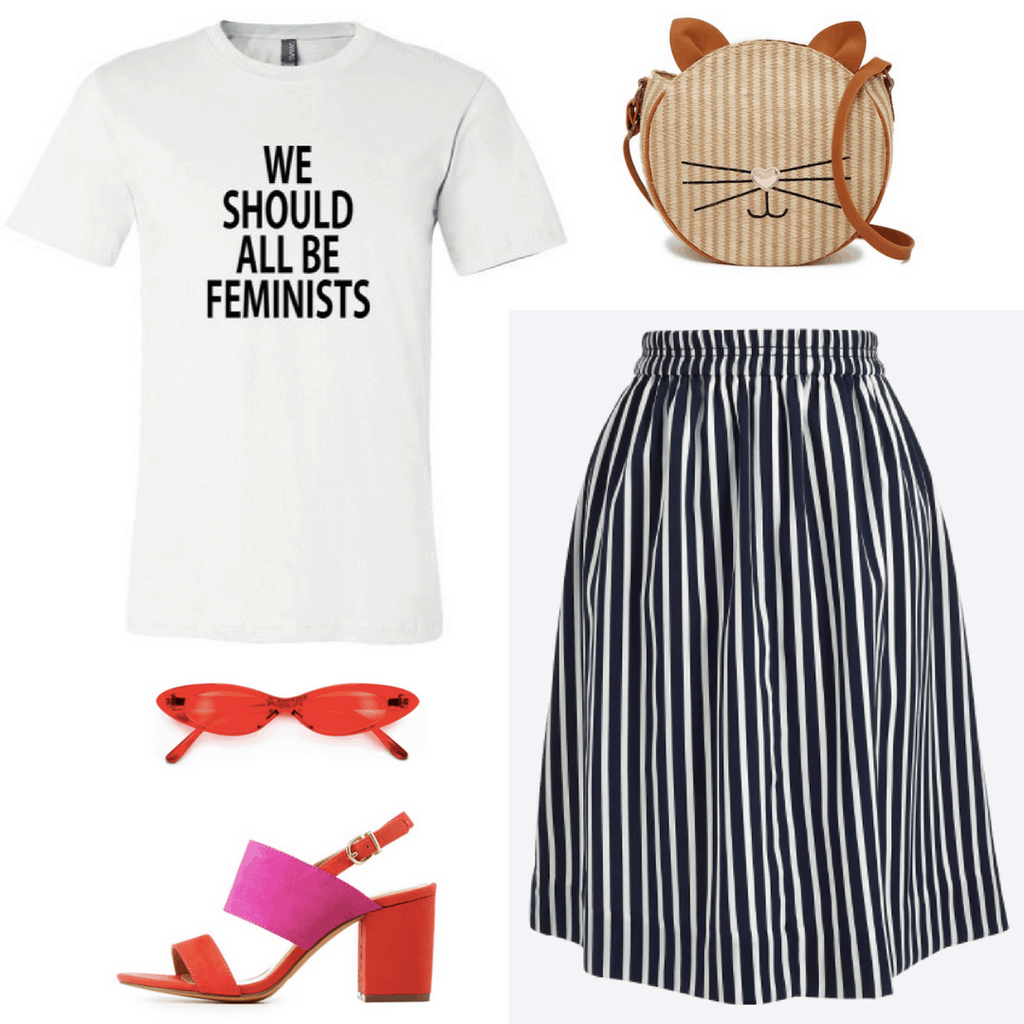 Products: Skirt – J.Crew Factory, Top – Hear Us Roar, Shoes – Charlotte Russe, Bag – Nordstrom Rack, Sunglasses – Sunglass Spot.
For the last striped look, I decided to go with a nice striped skirt. This is a midi length which to me is always in style. Midi skirts can end up looking formal, though, so I dressed the look down with this must-have graphic tee.
Since the main components of the outfit are all neutrals, I made sure the accessories really popped. These color-blocked heels are total statement-makers. I also found some matching "clout glasses" in red. These are very on trend at the moment and will upgrade your look. Of course I also had to add a chic woven bag to this look as well.
What do you think?
I hope this article has helped you think of some new ways to make your striped items staples in your wardrobe. If you decided to replicate any of these looks, make sure to tag @collegefashion on social media!