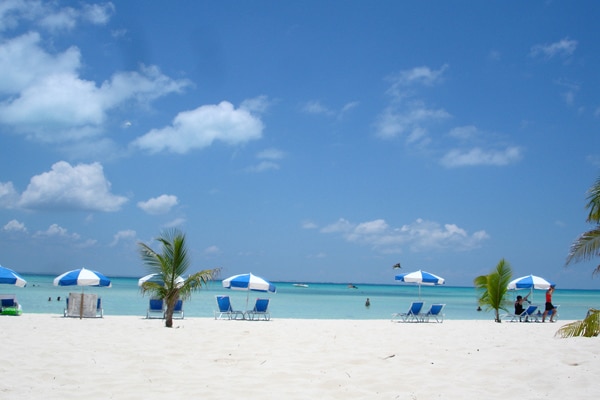 With spring break only a week or two away on campuses across the nation, many of you are probably starting to think about what to do, pack, and most importantly, what to wear!
Whether you're heading on a beach vacation in the near future, or if you're just planning on relaxing at home, these five outfit ideas will get you through the break and and inspire you to transition your wardrobe from winter to spring.
Outfit Number 1: Ready for Takeoff!
Product Information: Florentine Flats, Forever 21. Bonheur Tote, Yes Style. Ankle Leggings, Topshop. Math Sucks Oversized Tee, Wildfox Couture. Solid Pashmina, Lori's Shoes. Spring Cardigan, American Eagle. Plastic Aviator Sunglasses, Topshop.
No matter where you're flying, you're going to want an outfit that's both comfortable and effortlessly chic, not only for your flight, but also for your trek through the airport. Luckily, some of today's hottest trends blend fashion and function, making this an easy look to create.
Though it's best to forego most jewelry to avoid setting off the metal detectors, a cute scarf and oversized handbag are helpful travel accessories. A scarf will add punch and personality to your look, while the oversized bag can carry all of your essentials and anything from books to a wrap to a pair of flip flops for landing. Just make sure it still fits under your seat!
For more on airplane fashion and beauty, check out Colleen's What Do I Wear There post on the subject!
Outfit Number 2: Dinner With The Girls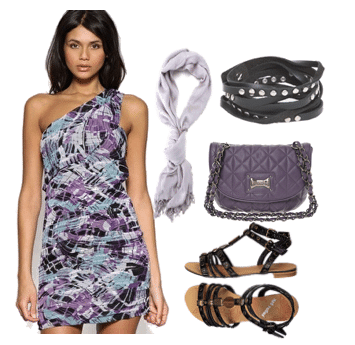 Product Information: Abstract Feather Print Dress, Asos. Solid Pashmina, Lori's Shoes. Multi Strand Bracelet, Metropark. Suzy Smith Quilted Chain Bag, Asos Outlet. Not Rated Sandal, The Buckle.
Remember all of those amazing episodes of Sex And The City where the girls are on location somewhere amazing enjoying a fabulous dinner together? Use them for spring break fashion inspiration!
When I put this look together, I had dinner on the beach in mind, but it would work equally well for a meal at any outdoor restaurant. The dress in this outfit is the perfect blend of casual and dressy: the cotton material gives it a relaxed feel, while the silhouette is still classically polished. The fun color also adds to the tropical feel! Since it can get cold at night, it's always a good idea to bring a wrap or pashmina with you when you go out.
Outfit Number 3: Hitting the Beach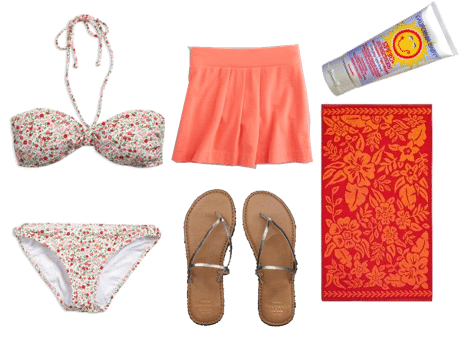 Product Information: Floral Halter Bandeau Bikini, American Eagle. Ultra-Knit Weekend Skirt, J. Crew. Preppy Leather Flip Flops, Abercrombie. California Baby SPF 30 Sunscreen, Target. Cotton Craft Terry Beach Towel, Amazon.
Swimming, surfing, sunning… what girl doesn't love going to the beach?! Beach outfits are pretty simple–all you really need is a cute swimsuit, towel, cover-up, and flip flops.
Most importantly, don't forget the sunscreen! Luckily, you've got a ton of options for sun protection. Burt's Bees makes a great all natural option, Neutrogena's Ultra Sheer Dry Touch works well for acne-prone skin, and Kiss My Face Face Factor sunscreen is water resistant. Try to use a sunscreen with AT LEAST an SPF 30 for days at the beach and tan safely. Wrinkly red skin is never in style!
Want more on swimwear? Check out Zephyr's lists of tankinis, monokinis, and one-pieces, as well as her favorite picks for bikinis for various body shapes!
Outfit Number 4: Exploring the City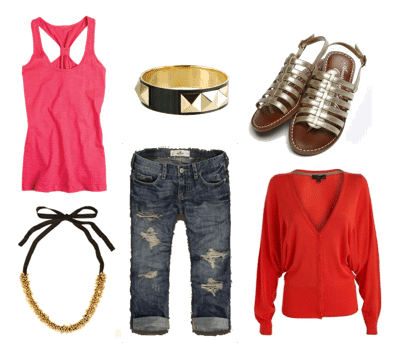 Product Information: Maribelle Knot Racerback Tank, Delia's. Antik Batik Gold Pemba Necklace, My Wardrobe. Lacquered Pyramid Bangle, Forever 21. Hermosa Boyfriend Capris, Hollister. Strap-Around Sandals, American Eagle. Batwing Sleeve Cardigan, Debenhams.
This outfit is perfect for an activity-filled vacation day where waking up slowly with a brunch, doing some shopping, and exploring your destination are on the itinerary.
Capris allow you to move freely, while the shoes are comfortable and cute, and the tank shows some skin. Hot outside? Ditch the capris and add a pair of shorts. Cold? Throw on the batwing top and layer! This outfit is more of an everyday look–something you can wear on campus as well when you get home! This is also a great option for your flight back home, just substitute the strappy sandals for flats and you're good to go.
Outfit Number 5: Other Essentials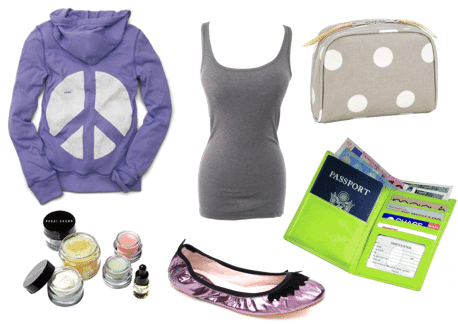 Product Information: The Duo Fold Zip-Up, Victoria's Secret. Bobbi Brown Travel Size Skincare to Go Set, Nordstrom. Ribbed Cotton Boy Tank, Styles for Less. Dot Cosmetic Bag, Yes Style. Passport Wallet, Gold Speed.
Though not exactly an outfit, these pieces are things to remember to pack for your trip.
It's always a good idea to throw a pair of jeans, a zip-up hoodie, and a basic tank in your suitcase wherever you're going. A foldable pair of flats won't take up much space, and can totally save your feet after a night (or day!) of wearing heels. These pieces are definitely college girl wardrobe staples whether you're traveling or not.
My favorite essential, though, happens to be this travel beauty bag–it has internal compartments for easy organization and is small enough to fit into your purse. Remember to take out your mascara, liquid foundation, and perfume and put them into a quart sized bag before your flight, or store them in your checked luggage.
What are your spring break plans?
What are you doing for spring break this year? Are you going on a trip? What will you be wearing? Share your thoughts and let everyone know with a comment!