Flats are essential in any college girl's wardrobe- most of us wear them every day. While I love ballet and oxford-style flats, the tomboy in me really loves wearing the more 'athletic' type flats as well- namely Converse, TOMS, Sperrys, Vans and Moccasins.
But sometimes we can all get in a rut with these types of casual "athletic" shoes- i.e. only wearing them with the jeans-and-a-tee combo. You know you've done it! Wanna shake up your look a little? Here are five fresh ways to wear your favorite casual athletic shoes-without a pair of jeans in sight!
Converse
Tunic- Free People, Blazer- La Garçonne, Bangles-E-Conscious Market, Pants- Gap, Converse-Dillards, Ring- Amazon
I've been a fan of these quintessential rock-n-roll shoes since I got my first pair at the age of 12. These look great with jeans, but look even better with skinny black pants. Make your outfit pop with a bright statement color- this pink Free People tunic is flirty and fun! A white blazer brings the entire outfit together and screams "model-off-duty."
TOMS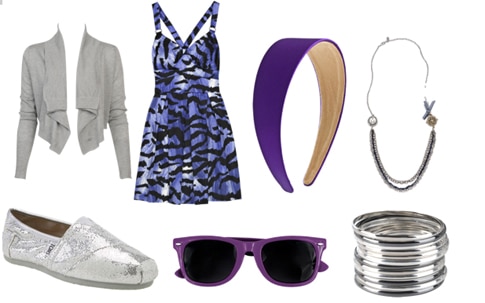 Cardigan- Forever 21, Dress- Net-A-Porter, Headband- Tano Jewelry, Necklace- American Eagle, Shoes- Nordstroms, Sunglasses- Fred Flare, Bracelet- Forever 21

TOMS shoes are great- for under $50, you get an amazing pair of shoes for you and one for a child in need. Usually I dislike athletic-type shoes with dresses, but I think TOMS are that one exception- plus, since the shoes come in so many colors but still retain a classic shape, you can pair them with basically any type of dress. I'm personally a fan of printed dresses with these kicks, but solid colors work great too. This is definitely a great look for lazy summer days!
Sperry's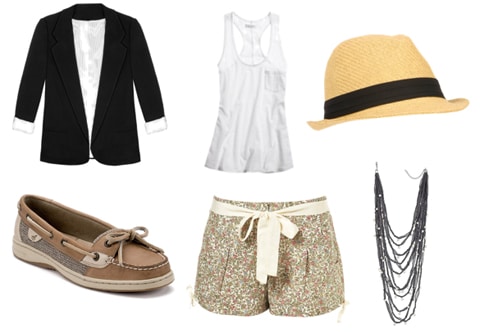 Blazer- Fred Flare, Tank Top- American Eagle, Fedora- Aeropostale, Sperry's- Zappos, Shorts- Topshop, Necklace- Topshop

Even though my campus is nowhere near the beach, it seems like everyone has a pair of these uber-preppy boat shoes. Since they're meant for the deck, they look amazing with shorts! If you're into the preppier look, pair them with jeans or khakis, but I love this pair of floral shorts from TopShop. Add in a fedora and boyfriend blazer and you have a trendy, easy look that's perfect for the yacht (I wish!) or the classroom.
Side Note: I bought my pair at an outlet mall over spring break- they're usually pricey, but if you buy child size's (a child 4 is equivalent to an adult 8) then they're only around $30!
Vans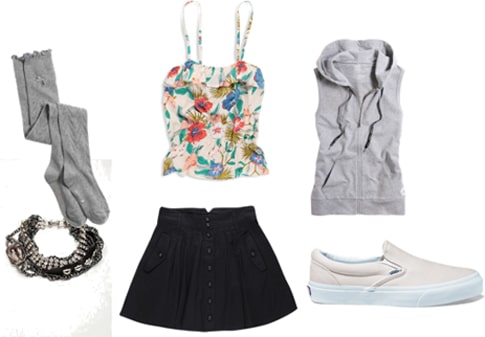 Socks- American Eagle, Top- Forever 21, Hoodie- American Eagle, Bracelet- Urban Outfitters, Skirt- Forever 21, Vans- Zappos
I'm from California, where Vans slip-ons are almost an institution. I'm no skater myself but I've owned at least five or six pairs of this classic shoe throughout my life. At my Catholic high school, everyone wore them with knee socks and our kilt, which is why I've shown these shoes with knee socks and a flouncy mini. Floral prints are bright and cheerful, so the floral top will add some sweetness to your outfit, and this grey sleeveless hoodie make it appropriate for any occasion!
Moccasins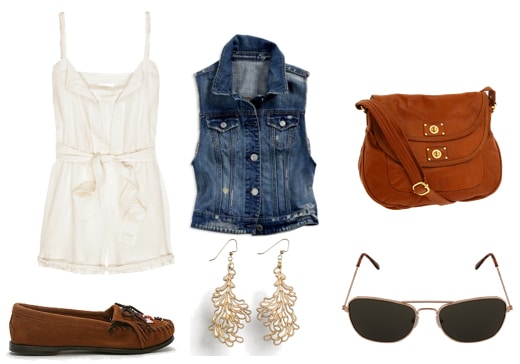 Romper- Net-A-Porter, Vest- American Eagle, Bag- Zappos, Moccasins- Urban Outfitters, Earrings- Moxsie, Sunglasses- Forever 21
If you haven't bought a pair of these yet, then I don't know what you're waiting for. These are super comfortable shoes and are easy to dress up or down. They look great with a pair of dark-wash jeans, but I think they look even better with white. This white romper is cute and effortless, but also looks really trendy. You'll probably be able to find similar styles at Forever 21, H&M and Target in the coming months- just add a denim vest and aviators for that "I-just-got-off-a-plane-from-Morrocco" international-jetsetter vibe!
What do you guys think?
How do you guys wear your athletic-inspired casual shoes? Tell me everything in the comments!