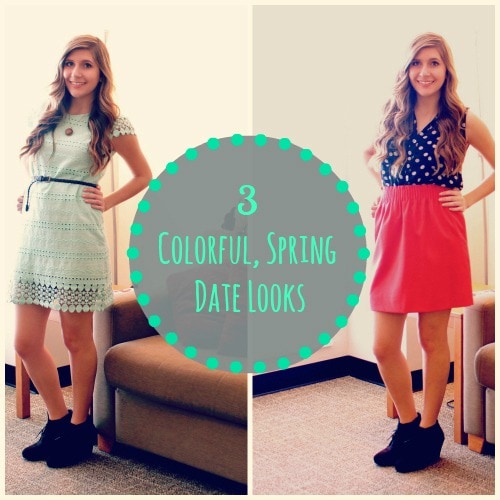 It's snowing outside, and I am currently bundled up in comfy cardigan, drinking my daily hazelnut coffee. But that doesn't mean we can't dream of warmer weather, brighter days, and happier clothes.
Here are three super-cute and colorful date outfits to prepare you for when the spring fever strikes, and the sun finally decides to come out again.
1. Polka Dot Pop
I am in love with this red skirt (the "City Mini" from J. Crew) for three reasons:
It has an elastic waist band so I can eat as much ice cream as possible in it.
It is a classy length – not too short, not too long – that's perfect for day or night.
POCKETS.
While J. Crew is obviously on the make-it-rain-when-you-pay side of fashion, the skirt is high-quality and will last for years to come.
This sheer, collared, polka dot blouse incorporates some fiesta into a plain, black top. I've loved polka dots since roughly the age of five. My art teacher always recognized my work by my signature dottiness, err, polka dots. On my toes are suede wedge ankle boots to add some much-needed spunk to the look.
2. Eyelet You Wear Mint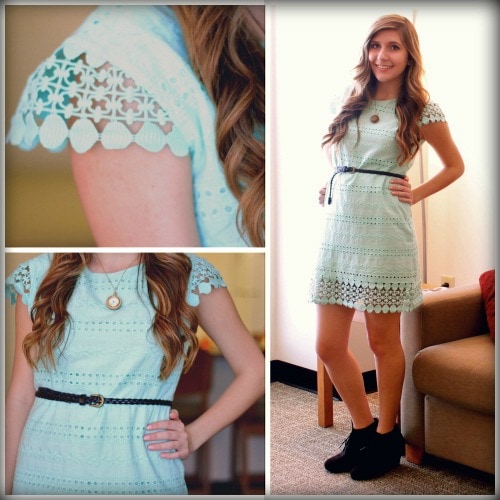 Eyelet… I'll let… har har. If you think of a better pun, leave it below in the comments.
This is what I wore on Valentine's Day. This minty, pastel dress is from a local boutique called Entourage, which is a store some of my UGA readers know I love and have asked me to point out in previous articles. The eyelet detail is very feminine and flirty like lace, but with a more modern feel.
I wore it with a unique clock necklace my grandfather made, a thin black braided belt, the same boots from before, and pale peachy nail polish.
3. Contrasting Peter Pan Collar & Patterned Shorts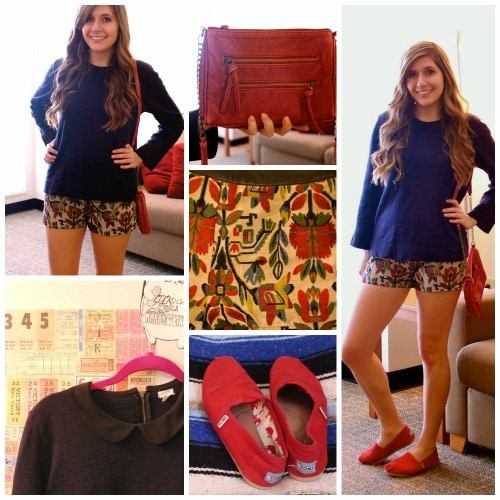 There is usually that one person in the comments that says "I can't wear dresses or skirts because I'm going horseback riding on the beach/going on a fox hunt/chasing mountain goats through the Himalayas." This is for you, that person. (Although I wouldn't wear shorts for any of those activities, FYI).
Usually, people pair solid-color bottoms with patterned tops. In this case, we're switching it up. I love patterned shorts for fall or spring. If you still have the winter blues and wear black all the time, navy is a good way to transition into some color without diving headfirst into the rainbow. My top also has a black Peter Pan collar.
I picked a color from the pattern, red, to match my shoes and cross-body purse with. This makes the whole outfit look more put-together and tricks your date into thinking you know how to dress yourself like a pro.
Bonus! Spring and Pollen-Fighting Essentials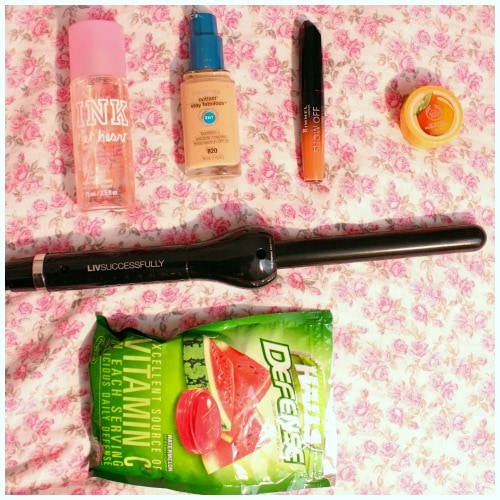 These are some of the things I surround myself with during the winter-spring transition (again, no sponsored placements here – I just really love these things!).
VS Pink's "Wild at Heart" is a fresh, fruity, and slightly musky scent with (surprise, surprise) sheer polka dot packaging. Packaging shouldn't matter, but I know enough from my marketing class to know that it secretly does.
Next to that is Covergirl's "3-in-1 Outlast Stay Fabulous Foundation," which I will be featuring this Tuesday in my February Favorites. Spoiler alert: it's awesome.
Spring calls for nude lips. Nothing else. Just your lips. Remember that next time you decide to leave your house. This is the extremely pigmented Rimmel "Show Off Lip Lacquer," or Apocalips for the UK, in the shade "Luna," to bring me one step closer to my dream of being as cool as Luna Lovegood.
The Body Shop's mango lip butter. I don't even like mangoes, but this smell is SO delicious.
A curling wand – because wavy curls are worth all those scars on my hands. In other words, use the protective glove.
Lastly, cough drops for the sick days, in a fabulous watermelon flavor, to bring us one step closer to Beyoncé in our time of need. "I've been drinking… watermelon," she coughed.
Let me know what you think!
Which of these outfits is your favorite? What you are most forward looking to this spring? As always, requests are the best, so leave them below.