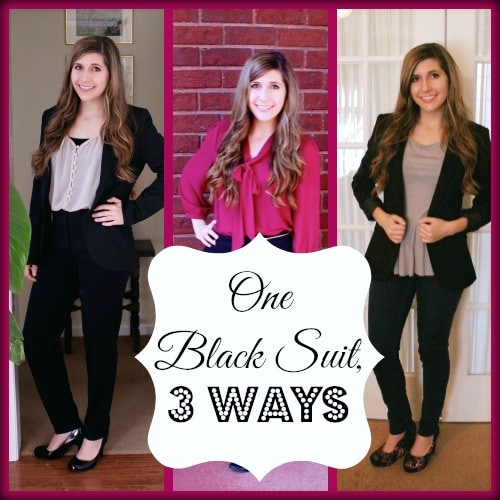 There are a few things I wish someone had told me when I started college:
"Don't get Netflix."
"You'll regret eating pizza every day."
"Buy a black suit. ASAP."
The first time I needed a suit was in my freshman year, and then again during my sophomore/junior hybrid middle years. Without a doubt, I will need a suit again when I'm a senior.
Since you are way smarter than me and obviously already own 50 black suits, let's talk about how you can wear them. You bought one, so don't let it waste away in that mess you call a closet! Here are three ways to style a black suit:
1. The Career Fair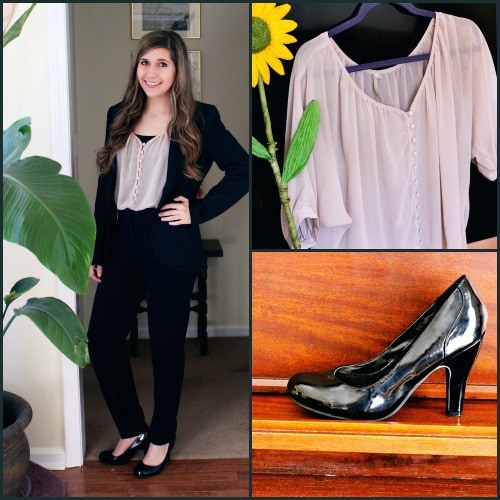 Is that a secret agent? A young CEO? Nope, just a student going to a career fair. This is the standard formal wear: a basic neutral blouse, a black blazer and pants, and black pumps or flats.
This outfit is modest, non-offensive, and says "I-let-my-resumé-speak-for-me."
2. Business Casual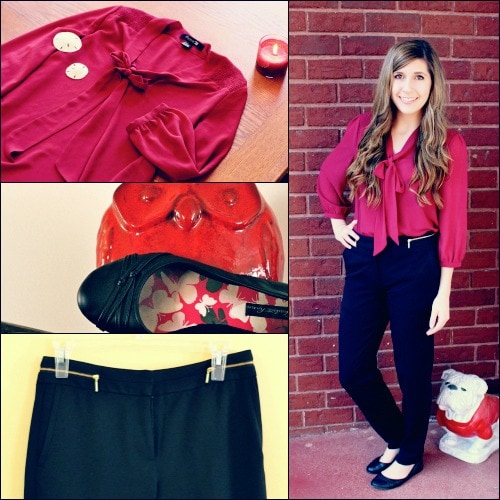 Dear girl at an event earlier this week,
Business casual does not mean running shorts and a sorority pocket t-shirt.
Sincerely,
The Business Casual Fairy
Here, I wore my black suit pants with gold zippers, along with this burgundy blouse with a bow, and comfy black ballet flats. Unlike formal/interview business wear, business casual lets your personality show.
Adding color, accessories, and comfy shoes is perfectly acceptable, as long as the overall look is clean, crisp, and modest.
3. Who Says You Can't Look Smart Every Day?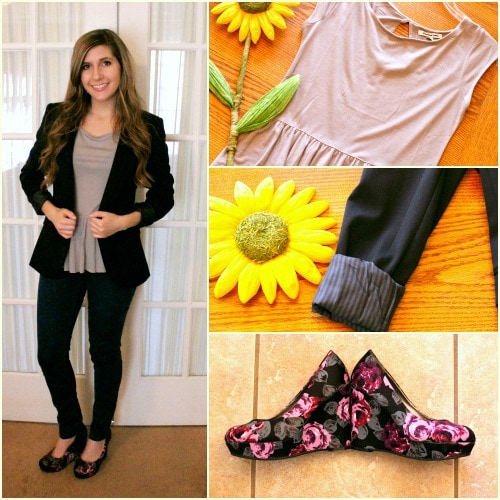 Blazers can make everyday outfits look smarter and more put-together. I am totally smitten with blazers that have roll-up sleeves and elbow patches (anyone know where to find an inexpensive one?).
The rest of my outfit is casual and comfortable. I have on dark skinny jeans and the soft gray peplum top from my March Favorites article. Since this outfit was begging for some color to match the beautiful flowers outside, I added flirty floral wedges.
I have major respect for people who can pull off blazers in class and make them look young and flattering. Suits don't have to be stuffy, and I think this outfit proves it!
Your turn!
Do you own a black suit? What's your go-to business casual outfit? Which of these looks is your favorite? Let me know in the comments below how you style your black suit.