One of the most difficult things about being a fashionista today is keeping up-to-date on the latest styles, especially when it seems like trends are coming and going faster than you — or your budget! — can keep up.
And while fashion has an unfortunate (and true) reputation for being wasteful, there are still ways to reduce the financial and environmental impact of looking current and cool.
One of the easiest ways to do this is to learn how to re-work some of your old favorite pieces in a totally new way.
So, in this article, I'll be showing you how to take three of 2017's biggest trends and put a brand new spin on them; keep scrolling to see how!
Outfit #1: Embroidered Denim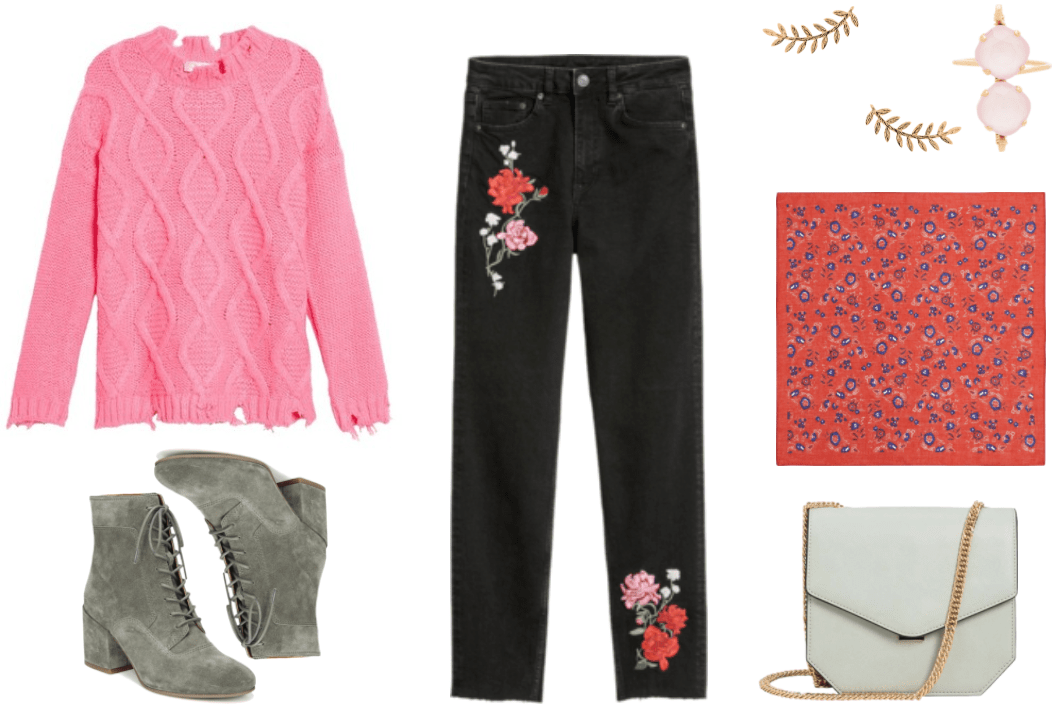 Products: Sweater – Nordstrom, Ankle Boots – Nordstrom, Jeans – H&M, Earrings – Revolve, Ring – Revolve, Scarf – Uniqlo, Bag – Mango
I like to think of this outfit as a mash-up between elegant English Country style and modern edge.
Embroidered denim was definitely one of 2017's prettiest trends, and I love how the cheerful floral embroidery on the jeans pops against the somber black color of the denim, while destroyed details lend a contemporary and grungy feel to a classic wardrobe staple.
A bright floral-pattern scarf brings out the colors of the embroidery even more and adds a certain boldness to this already-stand-out look.
These lace-up ankle boots in a gorgeous shade of moss green remind me of a more modern version of something that a Victorian woman might have worn while strolling through a beautiful garden, and the softer seafoam color of the bag complements the boots' color.
A lovely gold ring with pale pink stones and a dainty pair of gold leaf-shaped ear climbers are all you need to finish off this grungy-yet-girly look.
Outfit #2: Checked Blazer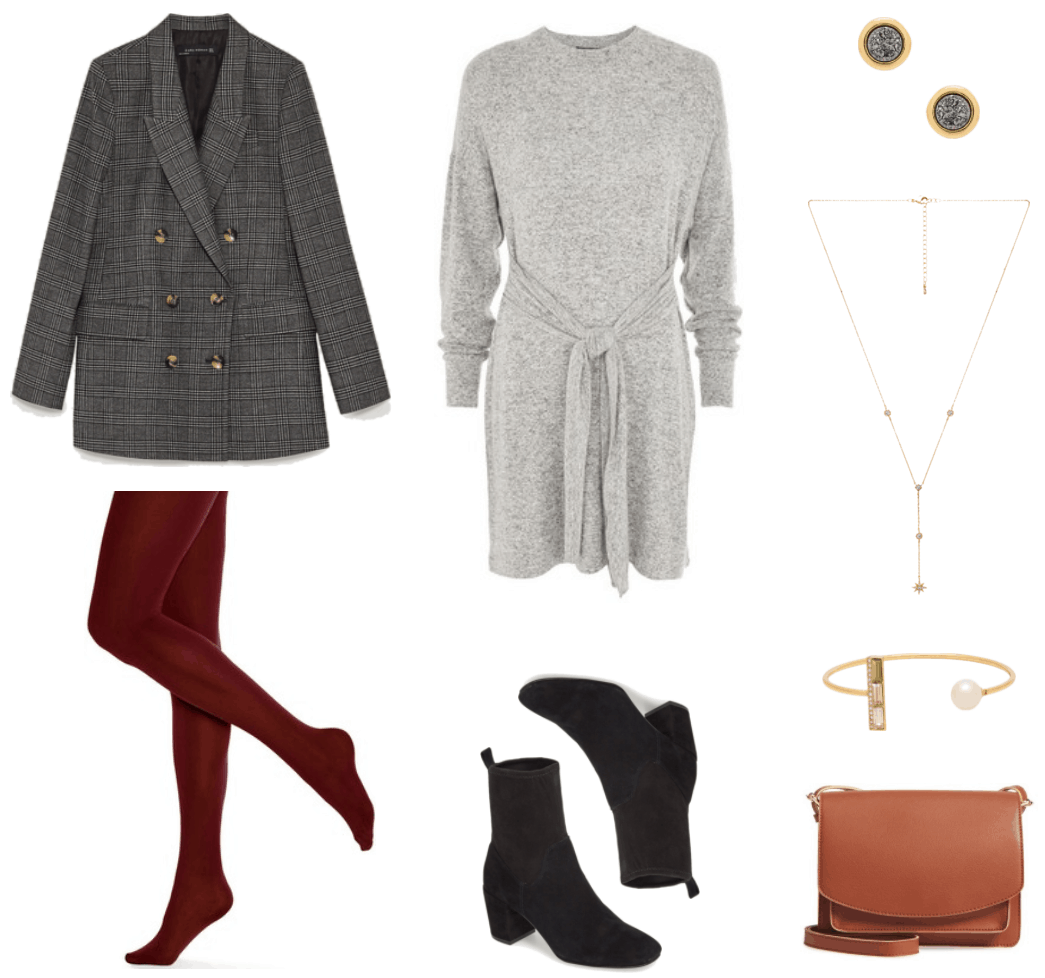 Products: Blazer – Zara, Tights – Macy's, Sweater-Dress – Nordstrom, Boots – Nordstrom, Earrings – Revolve, Necklace – Revolve, Bracelet – Revolve, Bag – Nordstrom
In Fall 2017, checked blazers were everywhere; so much so that it seemed like you couldn't open up a fashion blog or look at pictures of street style stars without seeing this retro-inspired trend somewhere!
And, given that this type of blazer is both stylish and infinitely wearable, it would be a shame to let it go in 2018.
Since this style is so versatile, I chose a splurge-worthy plaid blazer from Zara, which goes amazingly well with a tonal tie-waist sweater dress.
A pair of colored tights — something we haven't seen much of in recent years, but which, as far as I am concerned, is ripe for a comeback — adds an unexpected twist, while a pair of sock boots lends an of-the-moment touch.
As for jewelry, delicate, slightly bohemian pieces — such as these druzy stud earrings, star lariat necklace, and quirky cuff bracelet – -contrast perfectly with the preppier style of the clothes.
Finally, a cognac-brown cross-body bag completes the look in a classy way.
Outfit #3: Mules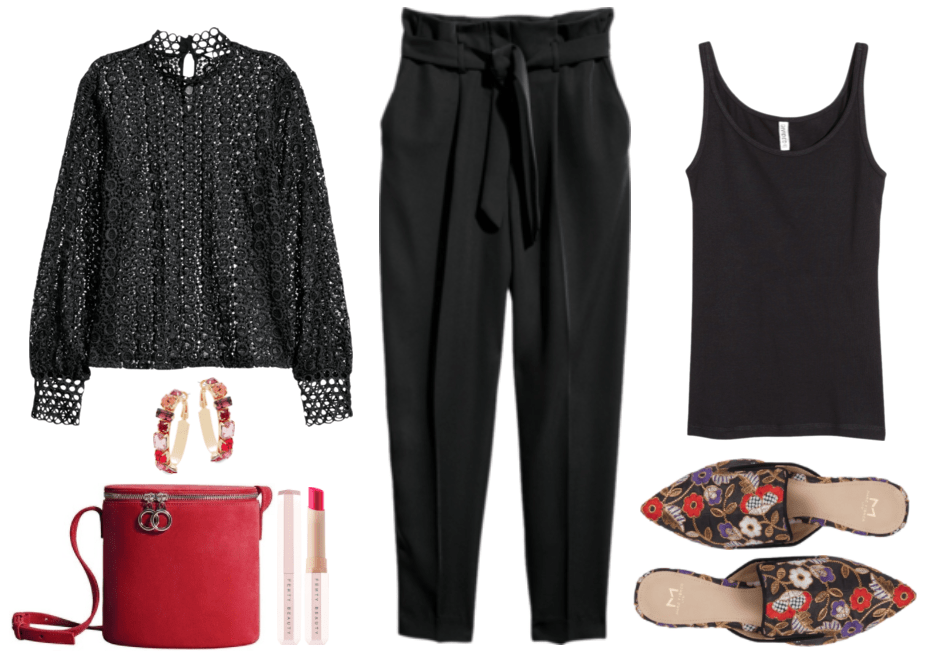 Products: Blouse – H&M, Earrings – Saks off 5th, Bag – Mango, Lipstick – Sephora, Pants – H&M, Tank Top – H&M, Mules – Nordstrom
If checked blazers were Fall 2017's biggest trend, then Summer 2017 belonged to mules.
Here, I've created an all-black, business-casual look that incorporates an elegant embroidered velvet version of this easy-to-wear shoe style.
A sweet-yet-edgy lace blouse tucked into a pair of sophisticated paper bag-waist pants shows off your style savvy, while a basic black tank (worn under the blouse) ensures that you're appropriately covered-up for a professional setting.
Gem-encrusted hoops and a cool cylindrical bag both echo the color scheme of the mules' embroidery.
A swipe of Fenty Beauty's just-launched lipstick in a bold fuchsia shade makes an of-the-moment statement, and is the perfect way to complete this striking ensemble.
What do you think?
What was your favorite trend in 2017? Do you plan to keep wearing it this year? If so, how do you plan to style it so that it continues to look up-to-date?
Let me know in the comments!