Here at CF, we're all about discovering our own style and becoming stylish, mature, and confident. In this next installment of Dormspiration, we'll explore the personal styles of three girls and their uniquely furnished rooms. The sky's the limit for their decor inspiration, which ranges from modern country to nautical to "scrapbook" sorority chic. Read on to see some gorgeous dorms and the interior design behind them!
1. Tarynn (Rowan University): Modern Country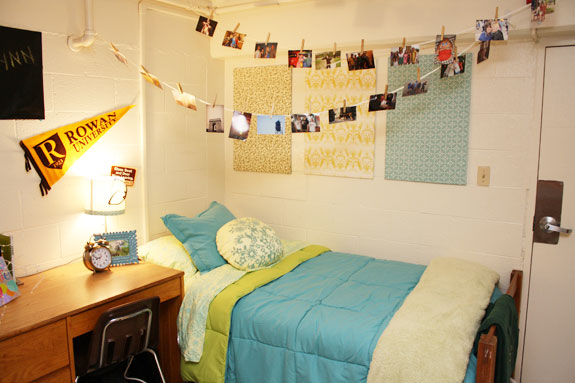 Tarynn calls her design "girly Midwestern," and refers to her dorm as her "second home." The clean, minimalist interior, tied together by the simple and elegant color scheme of sky blues, greens, and golds, is a testimony to her Missouri roots. Read on to learn more about Tarynn's design!
1. What inspired your design?
"I wanted to go for something a little more Midwestern in feel. Being from rural Missouri and going to school in New Jersey, I needed something to remind me of home. It all started with the bedding. I fell in love with the pastel floral sheets and everything just branched from there. I feel like my room is country-chic and a little whimsical."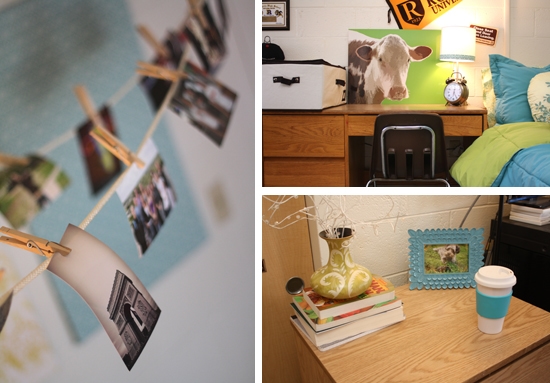 The unexpected country elements in Tarynn's decor add so much character to her room, especially the clotheslines with photos that crisscross over the bed, and the painting of the cow that Tarynn describes below!
2. What are your favorite pieces and where are they from?
"Most of my favorite pieces I made myself. The prints on the wall are fabric duct taped to Styrofoam poster board. The photo line was really easy to put together and a great way to display my favorite photos without cluttering up my walls or my dresser. My absolute favorite piece, though, is the cow picture my best friend, Matt, gave me for Christmas. He took a special trip to IKEA just to get it. It's so funny and goes perfectly with my room. Plus, it's just like looking out my window at home and seeing cattle out in the pasture."
3. What's your secret for decorating on a budget?
"DIY! Getting crafty during the break before the semester starts keeps you from getting too bored and saves you a ton of money. Although I haven't tried anything out yet for my room, I love looking at sites like Pinterest for fun ideas. You don't need to buy lots of trinkets, especially if you're really limited on space like I am. But think of creative ways to add color and texture and pattern to your room."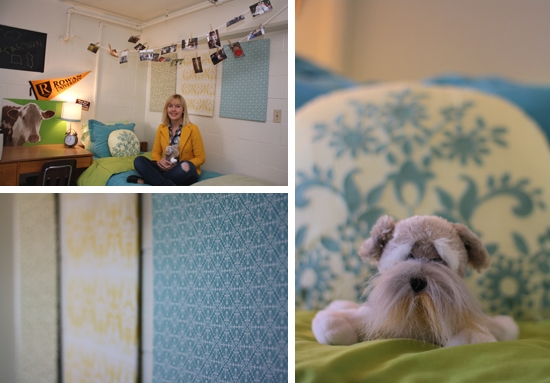 Colorful, welcoming, and elegant, Tarynn's personality perfectly reflects on her room, which started out as "random pieces" that came together to create a comfortable and gorgeous living space.
4. What's your favorite memory of something that's happened in your room?
"I really don't spend tons of time in my room, but my best memory would be at the beginning of last semester when everyone on my floor was still getting to know each other. We all ordered pizza and watched Mean Girls. That sparked some really strong friendships and some spontaneous movie quoting since then."
2. Katie (University of California, Santa Cruz): Nautical and Swedish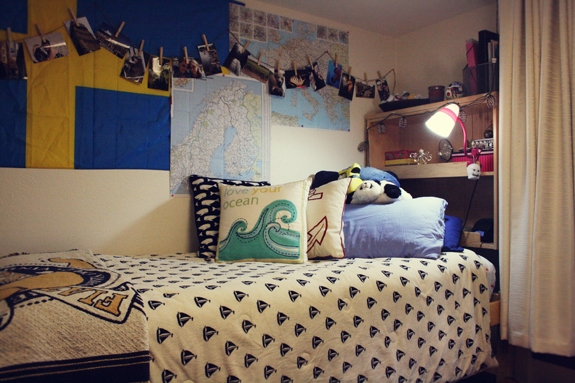 In her dorm decor, Katie of UC Santa Cruz managed to blend two things that wouldn't strike you as having too much in common: Sweden and sailing. On a recent study abroad trip, Katie collected "much of the decor in my room, including the Swedish flag, map of Europe, and the postcards from a Danish zoo." Her marine biology major is also extensively featured in her design, and she loves photography (with good reason, she's fantastic at it!) and "being surrounded by images of sailboats, anchors, and seashells." Let's explore Katie's room!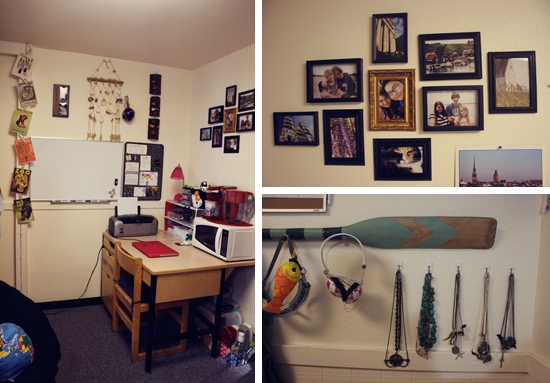 I love the many unique elements of Katie's room, especially the vintage oar on the wall, and the homey and comfortable nature of the mismatched photo frame display. She makes excellent use of wall space, building upwards to make the room seem larger.
1. What inspired your design?
"My design is inspired by my love of the sea and of travel. I've always wanted to live close to the ocean, and now I'm majoring in marine biology and living in a beautiful beach town, so nautical symbols are some of my favorite things to decorate with. This past summer, I studied abroad in Sweden, and many of the other decorations in my room were collected during my trip."
2. Where are your favorite pieces from?
"My favorite pieces in my room are the photographs hanging on the walls. They are all recent photos that I've taken during my travels or of my loved ones, and they are what make my room feel like home. My favorite hobby is photography, so seeing the photos each day also encourages me to keep photographing as often as possible."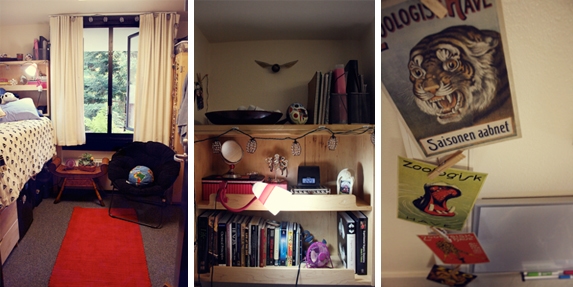 The splash of red in the rug is complemented by the various red accents in the room, like in the postcards and lamp, and is echoed by the rich wood color of the side table. Everywhere you look, there's something fascinating with a great history!
3. What's your secret for decorating on a budget?
"I love shopping at HomeGoods with my mom, who works in interior design. It's a hit-or-miss type of store, but I've found some really great pieces there (including most of my bedding) at very affordable prices. I also tend to buy small pieces for my room over time at whatever shops I happen to visit, instead of buying a ton of stuff at once, so it doesn't drain my bank account."
4. What's your favorite memory of something that's happened in your room?
"My favorite memory has to be a three-way tie between when my boyfriend Edward visited from LA after finals this quarter, when my best friend Roni paid me a surprise visit, and when I got to decorate my room at the start of the quarter! After sharing a tiny room with two people last year, it was, and still is, really nice to have a space of my own to decorate however I like."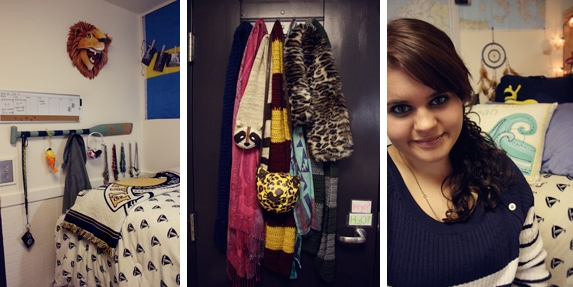 3. Kalli (University of Oregon): "Scrapbook" Sorority Chic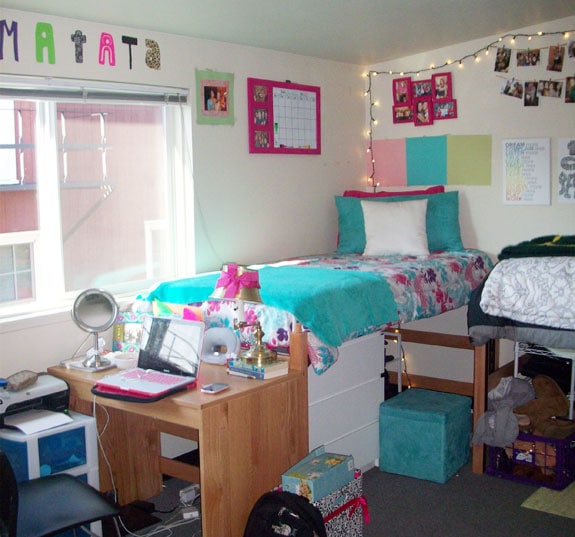 Kalli's room in her sorority house at the University of Oregon is cheerful, bubbly, and scrapbook-themed. Her color scheme focuses on teals, pinks, and pale greens, and is continued throughout the whole space. I love how her and her roomie took the time to match their bedspreads and decor!
1. What inspired your design?
"When my best friend moved to Korea after high school, I made her a scrapbook as a going away present. From that, I had a ton of leftover paper and crafting supplies."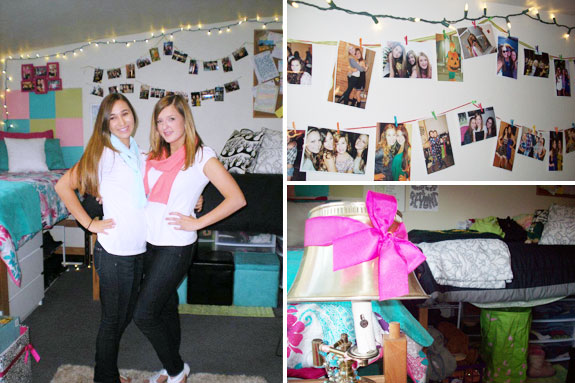 Kalli (in the peach scarf) and her roommate put up Christmas lights all around the room, making the dorm feel cozier, and made sure to furnish it with plenty of soft pillows and ribbons.
2. Where are your favorite pieces from?
"We got the lights from Costco, and I love them! We love to turn off the overhead lights at night, turn on the Christmas lights, and watch a movie. It's so cozy!"
3. What's your secret for decorating on a budget?
"Paper! When we moved in, there were these ugly grey closets in our room. Instead of buying all new closets, we just covered them in paper. Now they're one of my favorite things in our room!"
4. What's your favorite memory of something that's happened in your room?
"One of my favorite things to do in my room is actually getting ready. We usually have four or five girls in our room sharing two tiny mirrors, blasting music, and being ridiculous. I swear those are the moments I'll remember forever."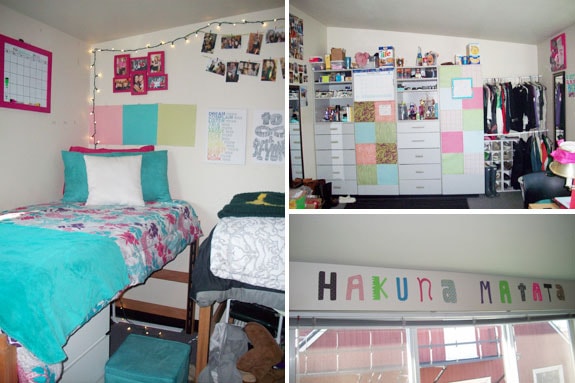 What do you think?
Dormspiration's been around for a while now — got any feedback? Which room was your favorite? Does your room have a unique theme like the three featured above, and if so, how did you achieve it? Let us know with a comment!
Think you have a great dorm or apartment?
Submit 1-2 photos and a brief description of your decor to [email protected] for a chance to be featured in an upcoming Dormspiration post! We'll make you and your room famous!