Frozen-mania is still going strong, and even though I was initially incredibly skeptical about this movie and its characters before I saw it, I would hereby like to dedicate this post to my little sister, who managed to get me so hooked on Elsa and Olaf that I do not go a day without playing the entire Frozen soundtrack on my iPod.
Our favorite scene is and always will be the "Let It Go" scene when Elsa creates her ice castle on the mountainside. The contrast between the icy and sleek surfaces of her castle and the warm, rich colors of the Arendelle home she leaves behind are a great source of dorm inspiration if you, like me, develop unhealthy obsessions with movies after you watch them. Let's get started!
Arendelle
Rich, velvety, and covered with intricate patterns, the interior of the Arendelle castle is a great source of inspiration for a luxurious room fit for royalty. Channel its design with lots of jewel tones and thick, drapey fabrics.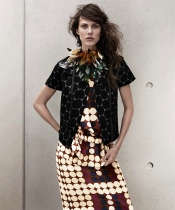 Product Information: Bedding, Throw Blanket, Garland, Tray
Wake up like a princess with this gorgeous ruffle duvet cover in a deep purple hue, and stay warm with a scarlet-colored velvet throw blanket on top. Next, add some sparkle and elegance with gold tones, like this heart-string garland. Top off your Arendelle-inspired room with a shiny gold tray that's ideal for holding makeup or keys.

Elsa's Ice Castle
Hopefully your dorm or apartment has a few more furnishings than Elsa's bare castle, but there's something to be said for interior design inspired by the glittering pinks, purples, and blues that reflect off of the ice. Sleek and minimalist is the name of the game here, as are clear surfaces and even a touch of the iridescent trend.
Product Information: Lamp, Cake Stand, Bedding, Paperweight, Star Projector
A geometric-patterned duvet cover covered in pinks and bright blues is a fun spin on the walls of ice. Illuminate your room with a simple white floor lamp and an incredible DIY star projector to create your very own ice castle. Finish off with another nod to ice in the form of a crystal paperweight and use a glass cake stand as a display table or catchall.
What do you think?
Are you as excited about Frozen as we are? What did you think of these two rooms? Which home was more inspirational to you? Let us know with a comment!