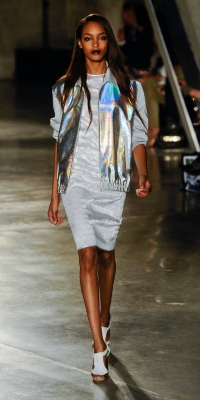 Holographic looks at Jonathan Saunders' spring 2013 show. | ELLE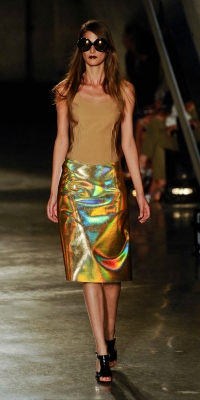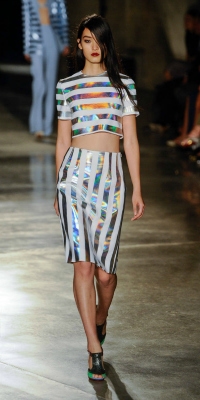 The word "hologram" may bring to mind Tupac concerts and '90s novelty sunglasses, but this iridescent finish is set to become a major spring 2013 fashion trend. Designers like Burberry Prosum, Stella McCartney, and Jonathan Saunders featured this futuristic look in their Spring/Resort '13 collections (pictured above), and now budget-friendly retailers have begun to roll out affordable holographic pieces.
Even though the holographic trend has an ultra-modern and fashion-forward aesthetic, it's also a surprisingly easy trend to pull off! Don't believe us? Then just scroll on down to check out our top picks for inexpensive holographic clothes and accessories, as well as some spring-appropriate outfits for inspiration:
Hot Picks for Spring
Whether you want to start small with accessories or make a bold statement with holographic jeans, the items below are fab picks for spring. And don't worry about breaking the bank — these items are all priced under $50!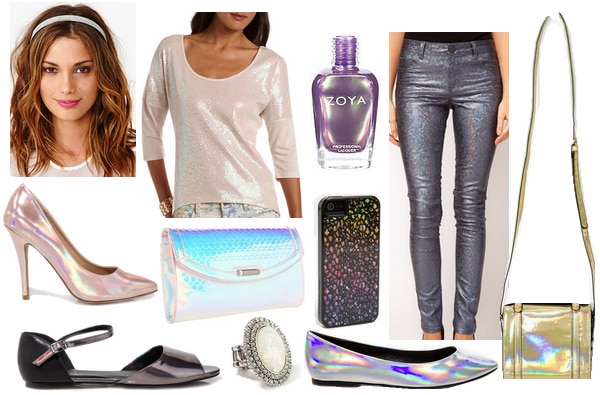 Product Info: Headband- Nasty Gal, Top- Charlotte Russe, Nail Polish- Zoya's "Adina", Jeans- ASOS, Crossbody Bag- Nasty Gal, Pumps- Forever 21, Clutch- Nine West, Phone Case- Nordstrom, Sandals- Forever 21, Ring- Forever 21, Flats- Forever 21
How to Wear the Hologram Trend
Need some outfit ideas before you try this trend? Below, we'll show you two college-appropriate ways to wear the holographic trend this season.
On Campus: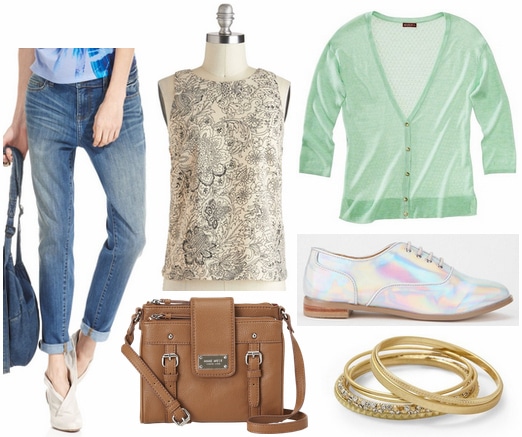 Product Info: Jeans- Macy's, Top- ModCloth, Cardigan- Target, Bag- Nine West, Shoes- Urban Outfitters, Bracelets- Piperlime
Wearing a full-on holographic ensemble may be a little too loud for an everyday look, but we think hologram accessories — like shoes, bags and jewelry — are a subtle, yet trendy choice for a day full of classes.
For this look, start by pairing loose-fitting cuffed jeans with a graphic floral print top. Add a pair of statement-making hologram oxfords, which have a casual, yet fashion-forward vibe. Next, layer on a lightweight cardigan — we love how this mint-colored one picks up on the hues found on the oxfords! Last but not least, grab a neutral-toned cross-body bag and accessorize with several gold bangles.
To a Party: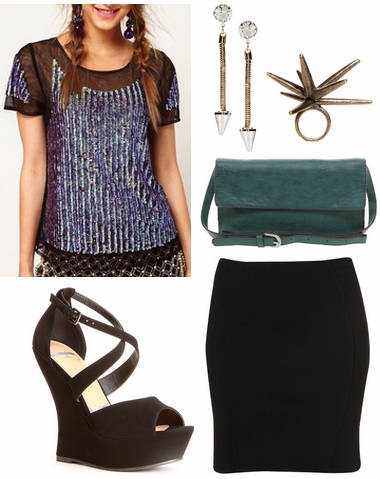 Product Info: Top- ASOS, Earrings- The Outnet, Ring- boohoo.com, Bag- ASOS, Shoes- Kohl's, Skirt- Topshop
Holographic clothing is a surefire way to make a statement, so we wanted to create an outfit that would work perfectly for a fun night out. For this party-appropriate look, we centered the outfit around a hologram blouse that features trendy sheer paneling.
Since the iridescent top stands out on its own, be sure to pair it with neutral pieces — like this black body-con skirt — for a streamlined look. Add a pair of sky-high wedges as well as a dark green handbag for an additional pop of color. Accessorize with edgy jewelry to complete this outfit.
Your thoughts?
What do you think of the hologram trend? Do you already own any holographic pieces? Which of these looks is your fave? Will you be rocking this trend come spring? As always, remember to leave a comment below and tell us what you think!