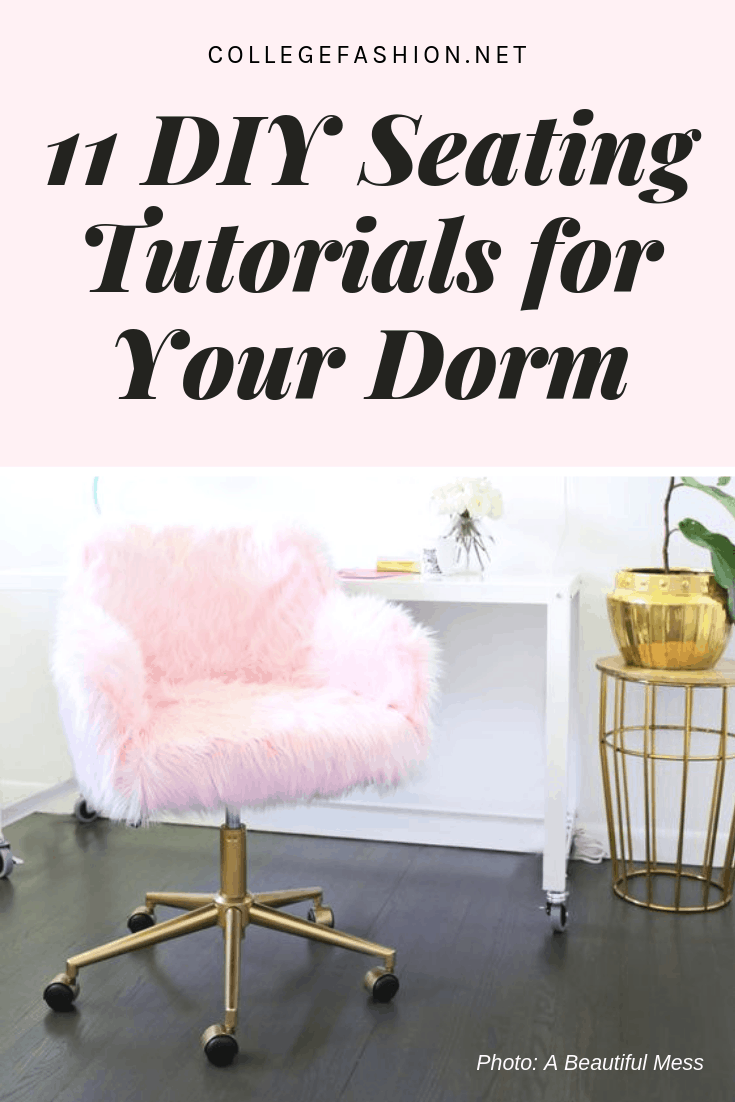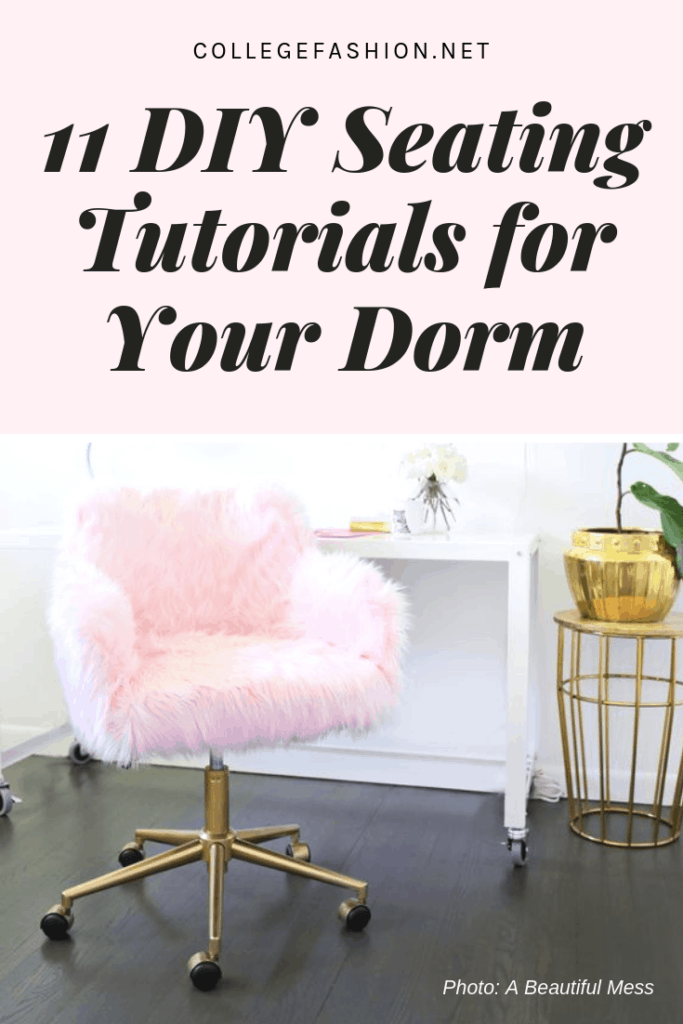 I'm back at it with another set of DIYs. This time we're focusing on DIY seating. Specifically, we're looking at seating tutorials that work well in small spaces, or ones that can be used for seating and storage. There are also some upcycles in this, including the fur-covered desk chairs (above) that I used to see everywhere.
Some of these DIY tutorials are more user-friendly or time-consuming than others. (I've personally decided to avoid the ones that involve power tools. I probably shouldn't use a drill without adult supervision.)
The one thing that most of these projects have in common, though, is giving new life to something. Yes, it is easier to go out and buy the chair you want straight from the store, but it's cheaper and greener to buy secondhand or upcycle. So consider these DIY seating tutorials!
Below, I've divided the tutorials by style (simple, chic, boho, modern) to make to easy to find the perfect one for you.
Simple:
1. Upholstered stools
I haven't quite achieved the do-it-yourself/Pinterest mom skills to attempt to upholster my own items. That said, this tutorial seems to cover all of the steps in a user-friendly manner.
Why stools? First, they can be bought for cheap from a number of places, including secondhand. If you scored some on the cheap that aren't quite your taste, you can use this tutorial to alter them to fit your space. Stools are also great because they don't take up a lot of room (perfect dorm seating).
2. Folding chair makeover
This tutorial covers an item I'm pretty sure everyone either has or knows someone with, the ubiquitous folding chair.
These chairs are appealing to people for a number of reasons, the main ones being their affordability and availability. Almost any superstore (Walmart, Target) has these chairs year-round. They are easy to store, durable (we have ones in my house that have lasted more than two decades).
The main drawback? Folding chairs are, well, bland. Design for Mankind fixed that, though, with a can of spray paint, some new fabric and a staple gun. Follow their lead for your own beautiful folding chairs!
3. Seats with storage
These are really great for small spaces. As someone who moved from a small dorm room to a small apartment, I can tell you that storage is a necessity. With these seats, you don't have to sacrifice space for storage. You could also hide your snacks, which to be honest is the main reason I want to make these seats.
Chic:
4. Tire faux fur ottoman
This DIY seating tutorial is similar to the nifty chair storage tutorial above, only a little more stylish. You could probably alter the tutorial a little if you wanted a cute ottoman, but didn't want to sacrifice the storage from the above tutorial. Maybe just cover one of the boards in fur and put it over the covered tire.
5. Pink faux fur desk chair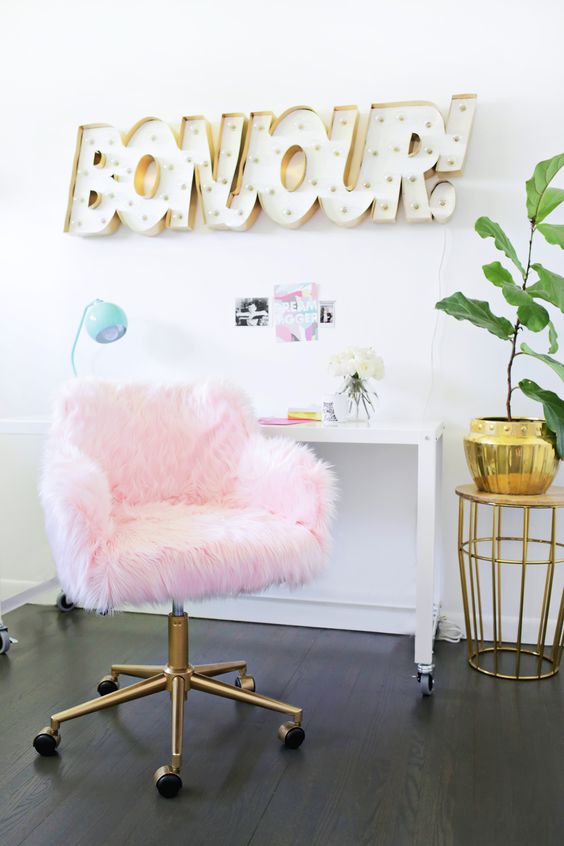 This tutorial is something I've been wanting to make for a long time.
These chairs were everywhere on the internet a few years ago. They may have gone slightly out of style since then, but they still look super cozy and stylish. I'm not sure I would ever leave my desk if I had one of these chairs in my room.
Boho:
6. Macrame hammock chair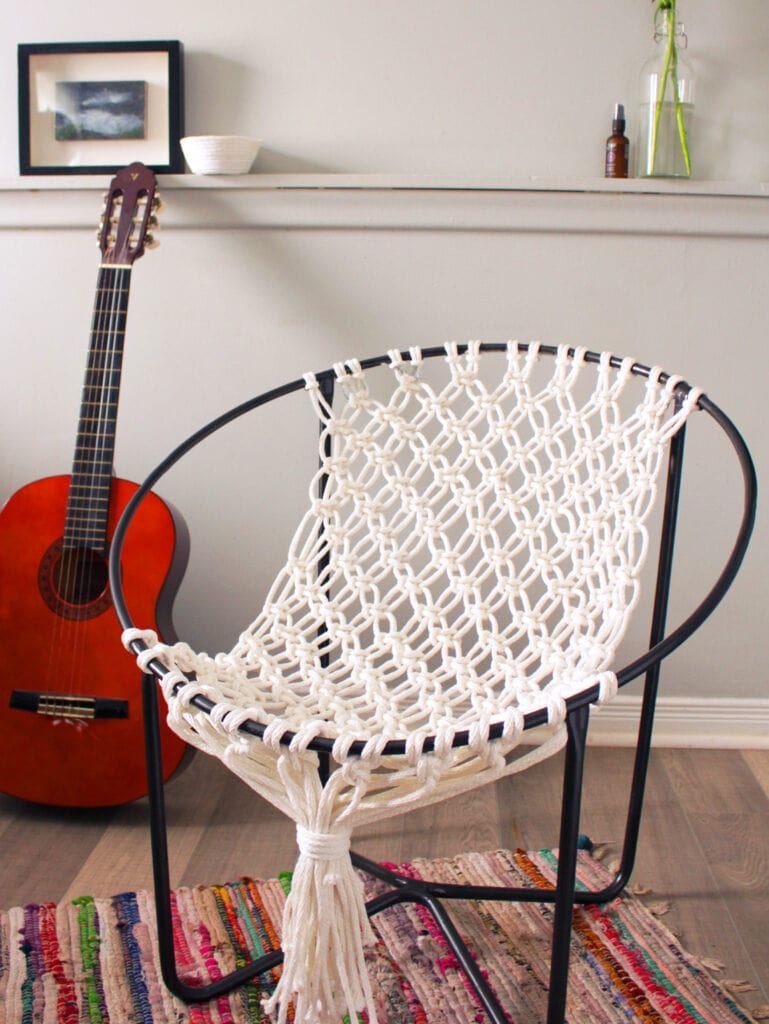 I went through so many of these hoop type chairs when I was younger. Had I thought of doing this tutorial once I outgrew my sparkly purple fur one, I might have kept it. This looks so effortless and cool. I aspire to someday give off the same chill vibes this chair has. It also looks like a great place to take a nap.
7. Floor pillows/poufs
I have made floor pillows before. Mine didn't look nearly as put together as these. (To be fair, I was younger and not the best at sewing at the time.)
In all seriousness, these are super cozy. If you want to up the snuggly feeling with the pillow, you could use cheap fleece throw blankets for the fabric.
You'll also want to make sure that you have a lot of stuffing for these. The more the better, especially because pillows have a tendency to flatten with use.
8. Macrame lawn chair
Though this project does take a while to make, the payoff is worth it.
These chairs are so cool and versatile. You can do them in almost any pattern or color scheme you want. You can even change up the pattern or color later on. This also seems like something that would be really relaxing to do while watching your favorite show, maybe one of our favorite feel good TV shows?
9. Vintage suitcase chair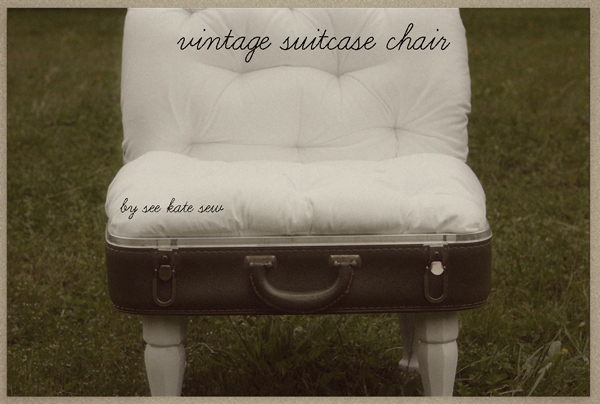 This vintage suitcase chair is one of the coolest things I've ever seen. I made a table out of an old suitcase, but now I'm wishing I would have saved it to use as a chair instead.
This is such a fun way to repurpose a suitcase. You could even use this as a bed for your pet as it's not super tall. (Although if you have a little animal and don't need it as a chair, you could just avoid adding the legs.)
Modern:
10. Leather lawn chair upcycle
This DIY looks so luxe — hard to believe it starts with a plain old basic lawn chair! The tutorial offers helpful suggestions and tips on how to complete the upcycle. Also, if you prefer animal friendly materials, you could absolutely use faux leather instead of real.
11. Dorm storage bench
This bench combines the hardest to come by components in a dorm room, storage and seating. I like the fact that you can customize it any way you need so it will fit your space. The best part? It has wheels, which anyone who moves frequently knows is a godsend.
If you're not sure where to buy the vintage milk crates, eBay and Etsy are good places to start.
I want to hear from you!
What dorm DIYs would you want to see next? Which of these DIY seating tutorials do you think would fit your space the best? I'd personally take any of the fluffy/cozy ones, namely because they look like prime locations for napping.