This post may contain affiliate links, which means we may receive a commission if you purchase through our links. Please
read our full disclosure here
.
When I first move in to a place, I always seem to decorate my room and the living room first – they're the obvious spots where I will spend lots of time. However, the the room that I always seem to neglect is the bathroom.
In fact, we should all put a little more effort into our bathroom decor. Most of us spend lots of time in our bathrooms, from relaxing showers to fixing our hair and makeup in the morning. And if you have people over, your guests will see it at some point! Even if you only enter your bathroom for brushing your teeth and the other necessities, it's a place you don't want to neglect.
Below I've compiled some bathroom decor finds, with tips on how to add color, style, and personality to your bath:
Bath Mats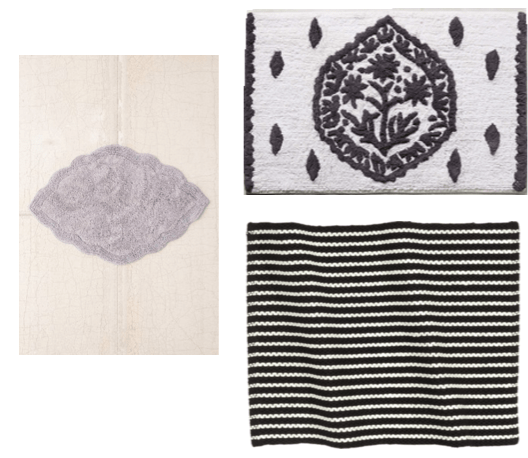 Products: Shaped Bath Mat, Coral Bath Mat, Striped Bath Mat
I love bath mats in theory, but not so much when they stick to me as I exit the shower. Without one, however, I'm left with a very basic tile floor that's cold to the touch and unappealing to the eye. These cute bath mats won't be overly distracting, but will add a little more personality to your basic bathroom.
Toothbrush Holders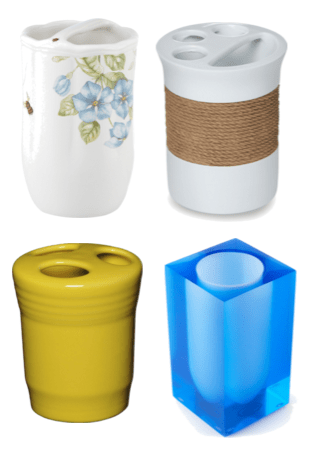 Products: Floral Holder, Twine Holder, Lemongrass Holder, Geometric Holder
My toothbrush holder is currently a cute coffee mug (which I recommend to anyone who owns tons of mugs or anyone who doesn't want to actually buy a toothbrush holder). But the times that I have had a proper toothbrush holder, I've liked it. It reminds me to put my brush back exactly where it belongs and not just throw it on top of my toiletry bag.
You don't just have to buy a standard white holder with no decoration; you can actually have some fun here! I am a particular fan of the Jonathan Adler geometric toothbrush holder on the bottom right, above, which has a retro feel to it.
Stylish Towels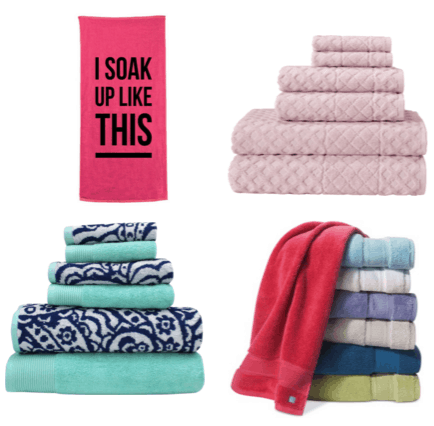 Products: Beach Towel, Aqua Set, Pink Set, Color Splash
So I couldn't help but include one beach towel, as it was just too funny not to share. But in general I think cute towel sets are a responsible-adult touch on a bathroom.
While I usually don't pay attention to the quality of my towels, every now and again I'll realize it's time for an upgrade. Why not get some that aren't just plain terry, like this diamond-embossed pink set or these printed aqua ones? And if you can't decide on just one color, that's okay. The color splash towels all complement each other very well.
Shower Curtains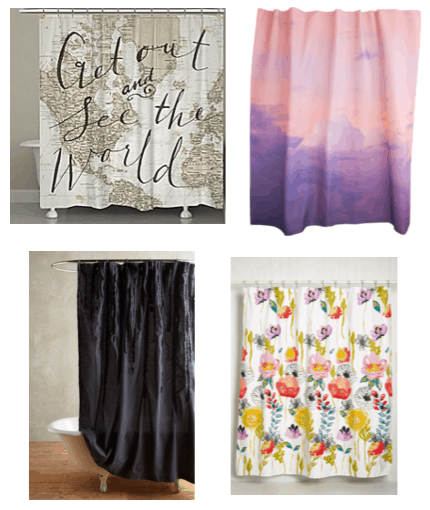 Products: See the World, Dark Draping, Roses, Pink Clouds
Shower curtains are extra important because there's not much else to look at in the shower. Additionally, they provide a "screen" of sorts so that people who use your bathroom don't see each and every product you use in the tub. There are so many stylish shower curtains to choose from but I like the variety in the set above — flowers, pastels, and sophisticated hues will suit any style.
How do you decorate your bath?
What are your favorite bathroom decor items? Do you usually decorate your bathroom, or does it seem like a waste? Let me know in the comments!