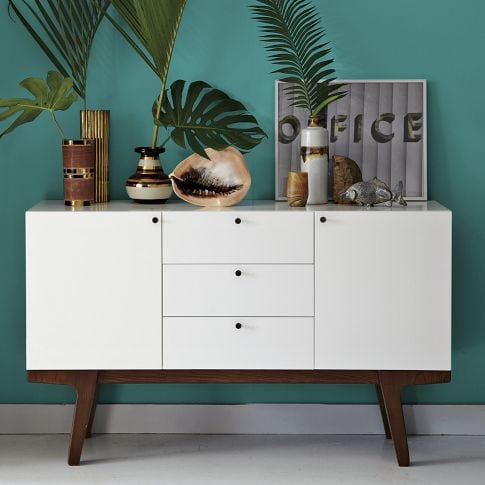 I don't know about you guys, but I absolutely adore animals. From the smallest of puppies to the magnificent giraffes, I'm obsessed with our non-human friends. Because elephants are my favorite animals, I have many posters and decorative art pieces devoted to them. Recently I've also acquired several cat mugs and even some llama sticky notes.
Animal decor items are some of the most fun things to purchase and can add a playful element to your dorm room or apartment. If you're a pet owner that couldn't bring your furriest friend to college, this is a great way to pay homage to your pal back home. Or, if you're like me and just love animals, you'll feel a pang of happiness when you see these animal-inspired items:
Cat Lovers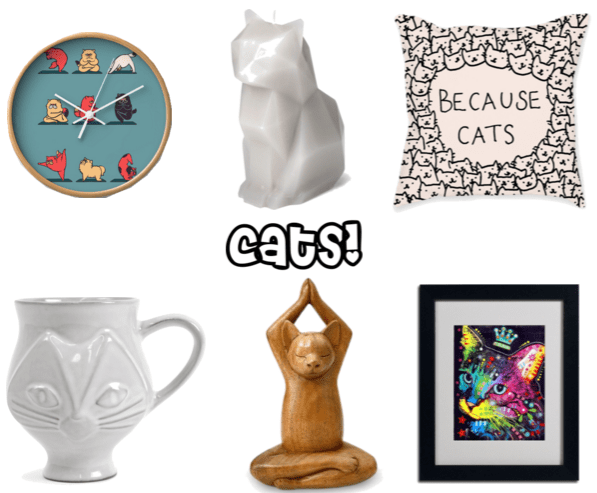 Products: Clock, Candle, Pillow, Mug, Sculpture, Wall Art
If you like felines or are simply in the mood for some quirky decor, check out these cat-related products! They won't make you seem like a crazy cat lady, so long as you don't overdo it. A few cat accents will add a quirky-cute vibe to your room.
I don't know what's up with cats and yoga but this cute wall clock pairs perfectly with the wood sculpture of a cat just trying to find his zen.
Dog Lovers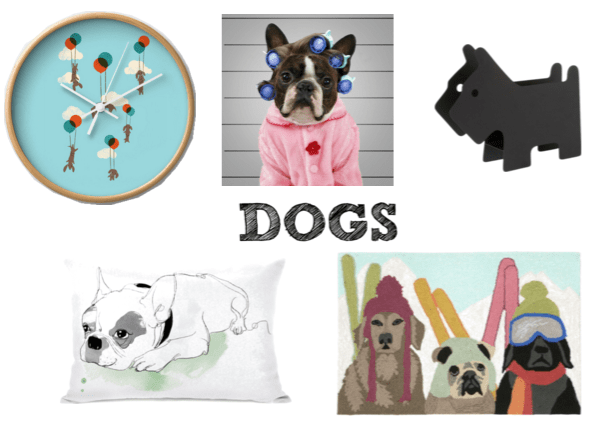 Products: Clock, Poster, Magazine Rack, Pillow, Rug
I am definitely a dog person. I get overly excited when I see a cute puppy on the street, and even more excited when I visit a friend who has a dog. Dogs rule!
Since I myself am not the proud owner of a pooch, I have to settle for bringing these cute animals into my life via my decor. I love this poster of a dog supposedly getting a mugshot taken, and also fell in love with these ski dogs that are perfect for winter!
Fish are Friends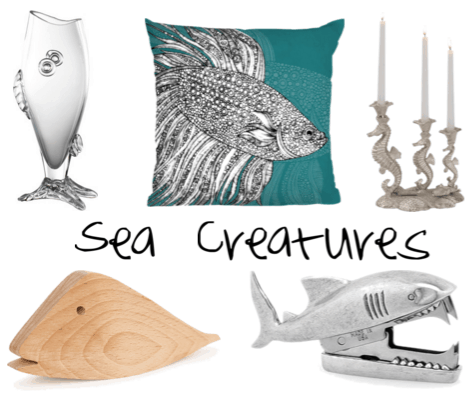 Products: Vase, Pillow, Candle Holder, Staple Remover, Sculpture
I don't think about aquatic animals as often as I do land mammals, but they're definitely special creatures. There's an entire world in the ocean, so bring it to shore with these decorative pieces. This fish vase is unusual yet still classy, and this shark staple remover isn't so much scary as it is funny.
Other Cute Animals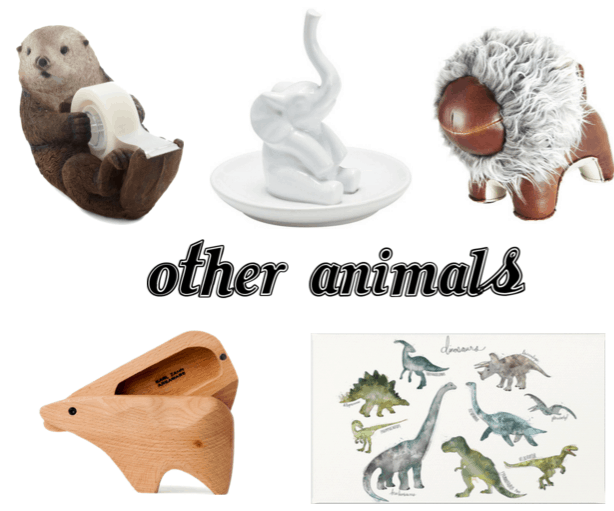 Products: Tape Dispenser, Ring Holder, Bookend, Storage Box, Rug
I love asking people what their favorite animal is — sometimes the answers are surprising and other times they reflect the person's personality to a T. With so many diverse answers, it's fortunate that the design world has a way to incorporate almost every animal.
These are just a few samples for inspiration – the possibilities are endless! The decorative boxes by Karl Zahn come in many animals other than the polar bear, like llama, whale, and rhino. This rug, from Society6, is just one of the thousands of prints offered. You can get a different animal print as a rug, or even as a postcard or wall art.
Do you love animal decor?
I hope you have some fun while decorating and incorporating your favorite animal! Do you utilize animal-themed decor in your room? Also, if you have any other ideas for how to bring animals into the apartment decorating game, let me know in the comments!