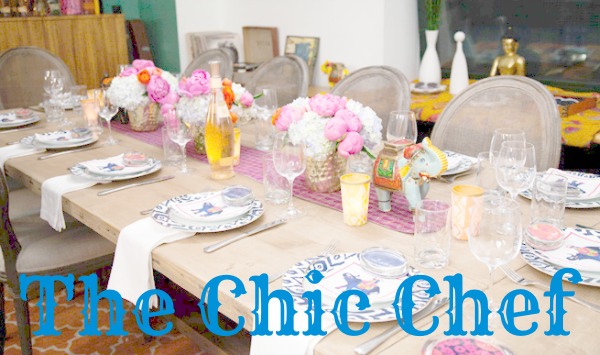 Hey girls! Another frosty, wintery week is upon us, and I've been craving some serious comfort food. So when I was making a quick grocery run, I grabbed a couple ready-made pie crusts and a freshly-roasted rotisserie chicken so I could make one of my old fashioned favorites… chicken pot pie.
You read that correctly. For this recipe, I used one of those delicious-smelling rotisserie chickens that tempt you right as you're walking into the grocery store and again when you're waiting in the checkout line. These juicy, tender, and perfectly cooked birds run around $5 or $6, whereas a whole uncooked chicken costs between $9 to $12. I don't understand it! I chalk it up to one of life's great mysteries, like why boxing rings are square-shaped and Jane Fonda looks younger and younger with time.
Another cool thing about this recipe is that it incorporate our two new friends from last week, a roux thickening sauce and a mirepoix flavor base. Told you those bad boys were versatile! You'll be surprised at how often these two tricks pop up in cooking, especially with dishes that have American or French roots.
So, I know that pot pie isn't exactly a low-fat entree. Because of this, after I wrote up the base recipe, I rounded up a few ways you can cut down the calories in this dish. But if one of your New Year's Resolutions is to eat only healthy foods, save this recipe for a special occasion or your "cheat" day. It's that good!

Let's get cookin'.
Ridiculously Easy Chicken Pot Pie
Adapted from the Pioneer Woman's Pot Pie
What You'll Need
3 cups of cooked chicken pieces – I recommend using a rotisserie chicken from the grocery store, but if you have leftover grilled, baked, or roasted chicken, or want to use the canned variety, it's all cool.
1/2 cup of frozen pearl onions (alternatively, you can use half of a diced onion)
2 carrots
2 stalks of celery
Half of a stick of butter
2 heaping tablespoons of all-purpose flour
3 cups of chicken broth
2 deep dish frozen pie crusts in a tin pan (or you can be ambitious and make your own pie crust, but well, I lack that sort of deep motivation)
Salt and pepper
A dash of poultry seasoning, thyme, rosemary, Lawry's Seasoning Salt, or any other spices you're in the mood for
Optional Add-In Veggies: butternut squash, mushrooms, frozen peas, green beans, corn, and/or a cubed potato.
How To Make It
Preheat your oven at 375 degrees Fahrenheit.
Take your pie crusts out of the freezer and let them thaw,one right side up and the other upside down on top of a paper towel. I swear I'm not insane… I'll explain this step later.
Remember aromatic mirepoix we learned about last week? This will help form the flavor base for this dish, too. Peel and finely dice up a couple carrots, and do the same with a few stalks of celery. I used frozen pearl onions just because I had them on hand, but dice up half of a regular onion if that's what you have in your kitchen.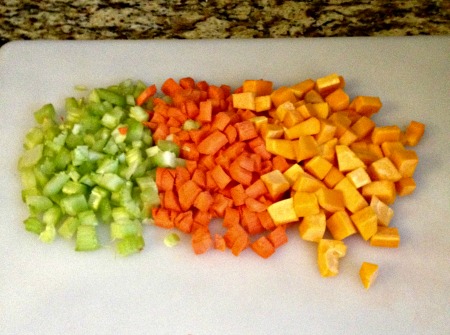 As for any extra ingredients you may or may not want to add: dice the mushrooms, drain any canned veggies, or let any frozen veggies thaw a bit. If you use butternut squash or potatoes, be sure to dice them very finely – think centimeter by centimeter cubes. You want to be sure that the starchy veggies are cooked through without overly cooking the others. For this batch, I used some fresh butternut squash.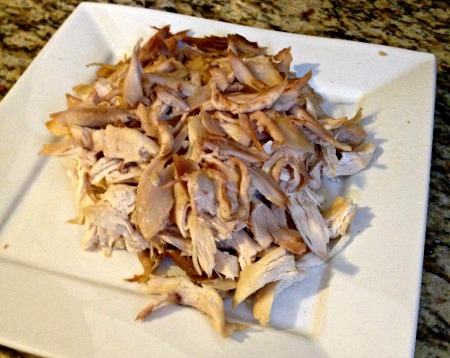 Shred, chop, or dice the chicken until you have around three cups worth. I got a jumbo rotisserie chicken, so after two thighs, two legs, and one breast, I had plenty of meat. That extra breast will make an awesome dinner later in the week. You might have to use the entire chicken, or you might just want to use the two breasts. Go crazy my friends, however you want your chicken is fine by me!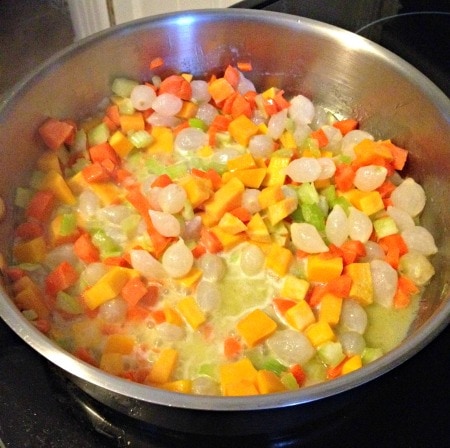 Melt half a stick of butter in a large saucepan or Dutch oven on medium high heat. Toss the veggies in the pan and let them cook for three or four minutes. Sprinkle in the flour, and mix really well with a wooden spoon — you want to make sure that there is no dry flour left anywhere in the pan.
Wait… flour and butter? Yes my friends, we're making yet another roux, and this is going to thicken up the chicken broth so that we don't have to use icky condensed cream soup to make this pot pie.The key to sauces and soups coming out lump free is to make sure the flour is adequately moistened with fat before adding more liquid–so if you see a lot of dry flour in the pan, splash in a little olive oil and mix well.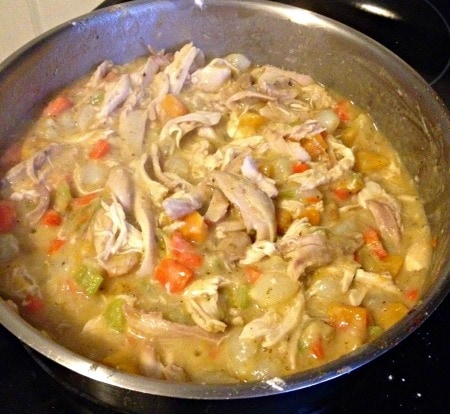 Let the roux cook for 2-3 minutes, then add in the chicken and chicken broth. Add salt, pepper, and any other seasonings that you want, then taste and make adjustments as needed. Turn the stove on high, and just when the mixture starts to boil, turn it down to medium low and let it cook and thicken for 10-15 minutes.
Meanwhile, turn your attention to the pie crusts. Take the one that thawed upside down and gently pry it from the tin pan. Ideally, it'll flop out of the pan in one perfectly round, unbroken sheet. In actuality, it won't want to lay flat and it'll probably crack a bit. Don't worry though! Pinch the edges back together where you can, but don't worry about it looking too perfect. Imperfection looks homemade, which is delicious, and which validates the 40 minutes of prep time this sucker requires.
Spoon the chicken, veggies, and gravy into the pie crust (you know, the pie crust that's still in a tin pan). Gently place the other pie crust on top of the pie, using your fingers pinch the perimeter together and mend any cracked pieces. The hot filling will warm the crust and make this process easier than it sounds.
I was a silly and impatient gal and didn't give the pie crust enough time to thaw, so it cracked into a bunch of pieces when I tried to flatten it out. In retrospect, I should have put the stiff pie crust on top of the hot chicken and gravy, and let the hot steam warm the dough so I could gently mold it. But of course, that's not what I did, so I had to rearrange the pie pieces on top like a dumb-dumb playing Tetris.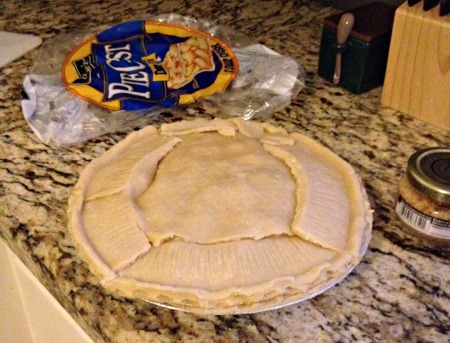 But you my friend, you are certainly a much more patient and graceful girl than I am. Your pie crust will be properly thawed and therefore won't look like a weird Frankenstein pot pie, like mine did. But just in case you're not, the pie will taste just as good, don't worry.
Use a sharp knife to slice 4 or 5 slits into the crust to allow steam to escape. Crack an egg and splash a teaspoon or two of water in it and whisk away. If you have a fancy pastry brush, use it to apply the egg wash to the top of the pie – but if you don't have one and just want to carefully splash it on with your fingers, that's cool too. This will make the top of the crust look shiny and brown and restaurant-esque, but if you don't have an egg at home, it's no problem to skip this step.
Put the pie on a baking pan, and let it bake for 30-35 minutes. Keep an eye on the pie crust around 25 minutes or so, to make sure it doesn't burn. Let it cool for 10-15 minutes before serving.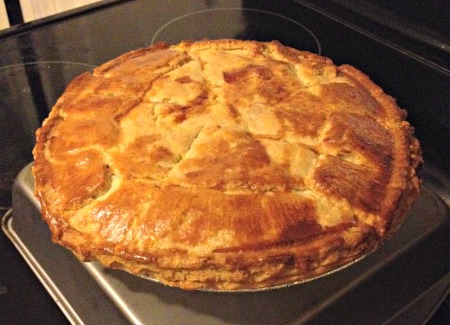 See that luscious brown crust? This pie is perfect to make if you're having friends over for dinner – it's delicious, comforting, and tastes out of this world.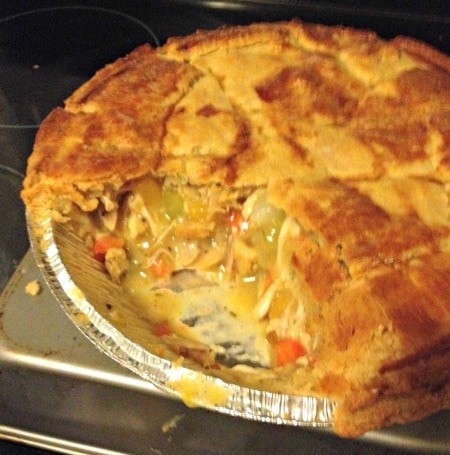 Stick a big serving spoon right into the pie, and be sure to scrape the bottom and get that yummy crust, too.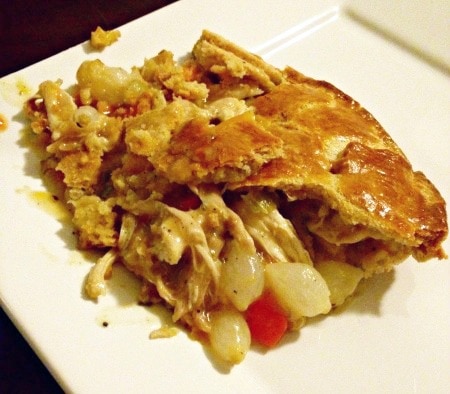 Eat up, buttercup.
Here are a few variations on this pot pie:
You can make pot pie with leftover roasted turkey, leftover pot roast, or even browned hamburger meat. Any meat will do in place of the chicken, so this is an excellent recipe to use if you have leftovers.
There are tons of recipes on Pinterest that suggest using refrigerated biscuit dough in place of a pie crust. If this tickles your fancy, pour the chicken, veggies, and gravy into a casserole dish and cover the top with biscuit dough, then bake according to the directions on the dough package.
Turn this into a vegetarian dish by loading up on the vegetables and swapping out chicken broth for vegetable broth.
Lighten up this recipe by spooning the filling into a round glass or porcelain baking dish and covering it with a pie crust. This way, there's only one layer of flakey, buttery goodness rather than two.
Another way you can cut the calories is to reduce the amount of butter and flour by half. If the gravy looks thin, sprinkle cornstarch in the filling, a little at a time, until it reaches the right consistency.
Thoughts?
What are some of your favorite comfort foods? Do you have a favorite pot pie recipe that you like to follow? What are some of your favorite winter recipes? What do you typically do with leftovers? What else would you like to see us cook here at CF? What kitchen struggles do you face?
Leave a comment and tell us what you think!