This post may contain affiliate links, which means we may receive a commission if you purchase through our links. Please
read our full disclosure here
.
Welcome back! This is the second edition of the ongoing CF Summer Bucket List series. Catch up on items 1-5 by reading Summer Bucket List Style Series: Week 1.
There are so many things to do in summer and so little time to finish them all – that means it's time to get going! Whether you're unsure of where to begin or have already been crossing off list items of your own, use the CF Summer Bucket List style series to plan your days, get inspired, and get dressed! Every other week from now until late August, we'll provide fun adventure ideas, summer tips, and styling advice. Read on for our second installment.
6. Take a road trip.
Going on a road trip seems to be a summer rite of passage for many college girls, and for good reason! (We recommend it for incoming freshmen and those who just need a mid-summer getaway!) The combination of a mini-vacay, fun times with friends, and a car stereo full of your favorite tunes is hard to beat! Of course, there are fashion perks galore as well.
Start planning early, and remember to pack: a printed duffel bag or canvas backpack, cozy clothes for long car rides, casual staples for daytime outings, and trendy going-out outfits!
See below for a mini list of non-fashion road trip essentials:
Chargers for all of your electronics
In-car entertainment: Movies, CDs, games, magazines
Pillow and blanket
First-Aid kit
Snacks!
7. Search for treasures at a flea market or garage sale.
A summery version of thrifting or vintage shopping, searching for one-of-a-kind finds at local flea markets or garage sales is a great way to spend a lazy weekend.
From costume jewelry, to shabby chic furniture, to vintage clothing, these sales are often brimming with fabulous finds. Use sites like GarageSaleHunter.com, Yard Sale Search, or Craigslist to find sales that are not only in your area, but also with items that appeal to you! Similar sites exist for flea markets, and Google is always an invaluable resource.
Make sure to start early, bring cash, and to shop carefully for best results! For more information on successful garage sale and flea market shopping, check out these helpful articles:
8. Go to an outdoor concert.
From Coachella to Lollapalooza, outdoor music festivals are summer staples from coast to coast. If you haven't yet attended an outdoor concert, what are you waiting for?! Go go go! From big-name series like WeFest (great for country fans) to inexpensive music in the park populated by local artists, there's little better than a night filled with music under the stars.
Not sure what to wear there? We've covered the topic before – see: What Do I Wear There? Music Festivals and Outfits Under $100: 3 Looks for Summer Music Festivals. Need even more inspiration? Style sites like Refinery 29, Stylelist, and The Frisky have all written guides on summer music style that are sure to provide excellent outfit inspiration. In any case, choose an outfit that's comfortable, weather-proof, and chic and you'll be good to go for whatever music event you're set to attend!
9. Attend a fair or festival.
A midwestern favorite, there seems to be a new fair or festival every day of the season! Consider it part of your summer duty to get to at least one of these all-day special events.
If you think your only options are funnel cakes and ferris wheels at small-town county fairs, think again! With another month and a half of summer left, you can pick from attending fine arts festivals, pride events, state fairs, film festivals, or craft fairs, just to name a handful of your options. Check out your city's go-to guide for events (I love Metromix!) and plan accordingly.
10. Get in touch with nature.
While many (if not all!) of you naturally-outdoorsy girls have likely already embraced warm summer weather to the fullest, there's no better time for all of us to get outside! From visiting a state park to spending a day hiking to going on a 20-mile bike tour, being active in the great outdoors is a must-do for the season.
If you're stumped for clothing options, get cute gear (and inspiration!) below! Not a nature fan? If you fancy yourself more of an indoor girl, however, trying a new water sport like kayaking, spending a day near a waterfall, or even doing a fun little photo shoot in the forest may be more your scene!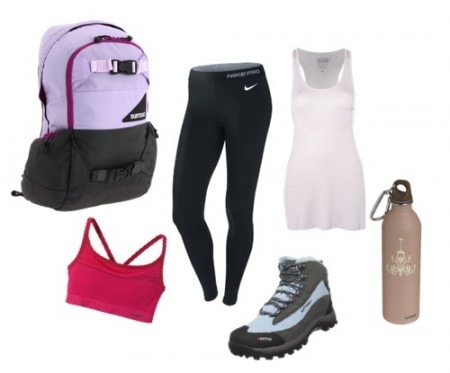 Product Information: Day Hiker,Bra, Leggings, Hiking Shoes, Tank, Water Bottle.
What do you think?!
What are your thoughts on our second installment of this series? Have you done any of these activities yet? What's on your summer bucket list? Share your thoughts with a comment!