Editor's Note: This is part five of Noel's ongoing series about her adventures navigating the NYC fashion world as a college student, adjusting to life without total financial support from her parents, and learning where to spend and save! In case you missed them, see Spending and Saving in New York City: Part One, Part Two, Part Three, and Part Four.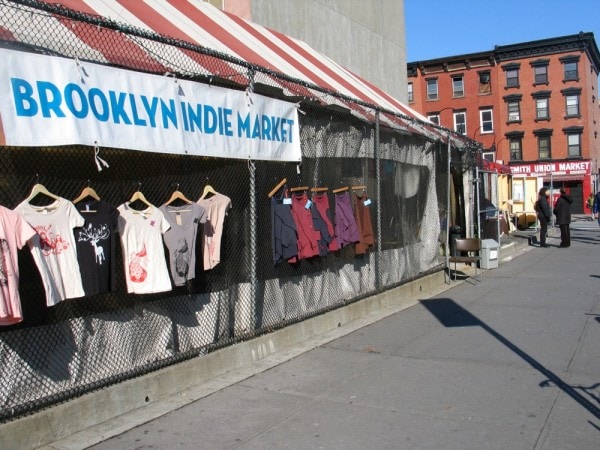 Photo Credit: Noel Duan
Last Sunday morning, I took a one-hour subway ride to the Brooklyn Indie Market, partly because I was writing an article about the venue for the Columbia Daily Spectator and partly because I needed to buy Christmas gifts for all of my friends and family. Also, partly because I had been cooped up behind my textbooks for the entire weekend and I wanted to get out of there — even though I promptly returned to Manhattan and immediately settled down in the library. For twelve straight hours without food. Really, there are times when shopping is crucial to one's health, especially when it forces one to get fresh air.
So, there I was, at the design and product market. I checked out some vendors, such as The Message Mat and folfolle. However, as delightful as the products were, I was more interested in chatting with the vendors than I was in purchasing a leather cuff bracelet. The only thing I ended up buying at the market was a $2 pumpkin blondie with brown butter frosting and white chocolate chunks from Bullfrog EATS. Delicious, but I was still without presents for my friends.
See, everyone was so warm and friendly at the market. All the vendors were willing to chat with me without shoving their products in my face, and I could not but think back to my traumatizing childhood experiences with sales associates.
Case in point: In seventh grade, I desired a Paul Frank sweatshirt from PacSun (which, by the way, has changed its aesthetics immensely throughout the years). Don't ask me why I wanted a cartoon monkey on my chest — it was the trend back then and I bought into it like any insecure middle school student would have. So, I took myself into the store at my local mall, and the sales associate behind the counter laughed at me and said, "Is this, like, your first time here or something? No offense, but only the cool kids shop here."
I, horrified at what had just happened, bought my Paul Frank sweatshirt, mumbled something about monkeys, and left the store. Twelve-year-old me wasn't ready to confront The Snotty Sales Associate. Twelve-year-old me just wanted a Paul Frank sweatshirt.
But nowadays, I've figured out a few key points to making the most out of your sales associate experience — maybe it's because I've been frequenting Henri Bendel and Bergdorf Goodman on Fifth Avenue too often, but at least something good came out of it:
It's a fact: you get more attention if you already have a few shopping bags, proving that you're there to shop and not peruse. It makes sense, doesn't it? When you try out on clothes without buying anything, sales associates still have to pick them up and refold them for you.
No sweat if you don't have four Bloomingdale's bags with you before you walk into Neiman Marcus — really, you just need to act confident and not out-of-place. That is, put yourself in the mindset of someone who can afford to buy $500 Lanvin flats and ask if you can try on the Miu Miu coat (the answer is always "yes"). Don't feel guilty if you think you're "tricking" the sales associates into thinking you can actually afford the coat. In my experience, I always make something productive out of it — I examine the stitches, fabric, cut, and print in order to understand the craftsmanship better.
Dress to the nines. Have you ever seen Clueless, where Cher needs to go shopping for clothes to shop in? Well, I used to think that was stupid, but now I understand (somewhat) what she meant — appearances do matter. I used to wear comfortable clothes when I went shopping, but now I end up looking like I'm going to a party in my best clothes. Is it worth it? I really don't know, but sales associates are a lot warmer to me.
In any case, I'm still looking for Christmas presents for friends and family, but it's nice to know that the retail world is not out to get me. Worst case scenario, online shopping has never done me harm (except when I look at my bank account).
Have you ever had any bad store experiences? Do you dress up to go shopping?
P.S. I was wandering around the West Village with fellow blogger, Dara Adeeyo of Secretista, when we saw the fantastic Cynthia Rowley in her own boutique!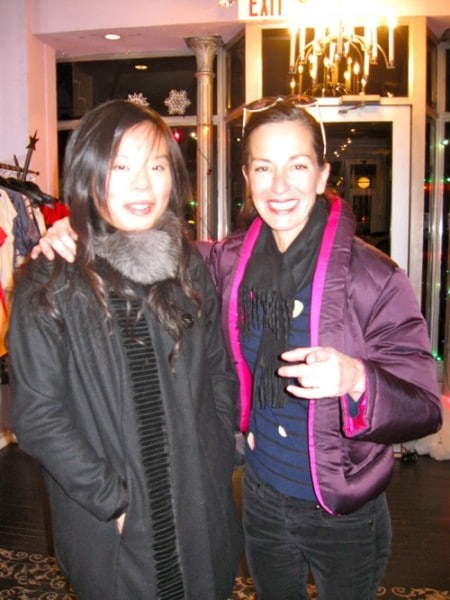 Photo Credit: Dara Adeeyo
She kindly obliged for a photo with my starstruck self — really, she was the sweetest person ever. Where else but in New York City can you meet a favorite designer while on a study break?