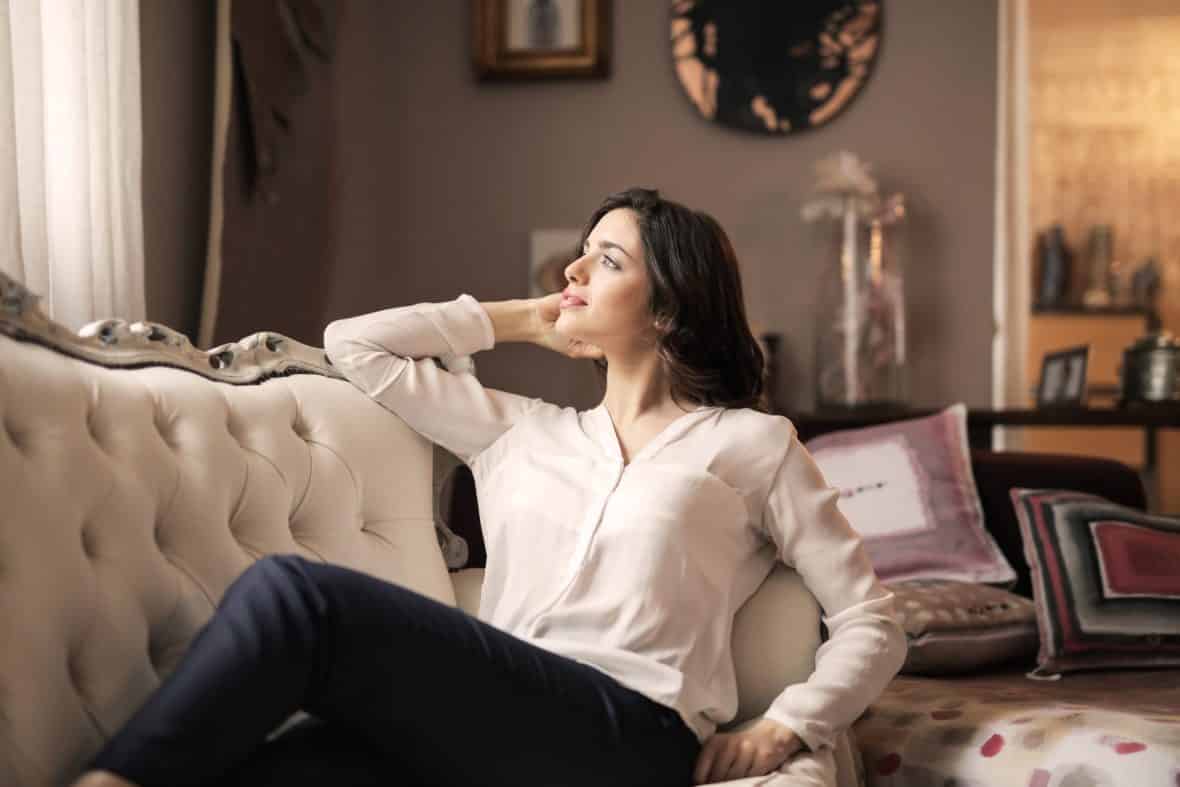 I'm not going to lie to you guys, this last week has been tough for me. The husdude and I are in the middle of moving and adulting in ways we have never adulted before, plus we both got sick this week. Between work, packing, getting sick, and adulting, I feel like I've barely had time to sleep, let alone do the self-care thing. Which, I guess, is why it's been on my brain all week.
I've written about self-care before, but one of my favorite (and adult-y) ways of performing self-care is with thoughtful retail therapy. Specifically, I love buying little things that will make me smile ("spark joy," for you Marie Kondo fans) but that I'll also use in my self-care exploits later.
It's a self-care one-two punch, if you will – self-care now, self-care later.
A word of caution: please don't wreck yourself. If you're on a budget, a splurge here and there won't bankrupt you, but know thineself and know thy limits. Here are the little things I like to splurge on when shopping for self-care items:
Candles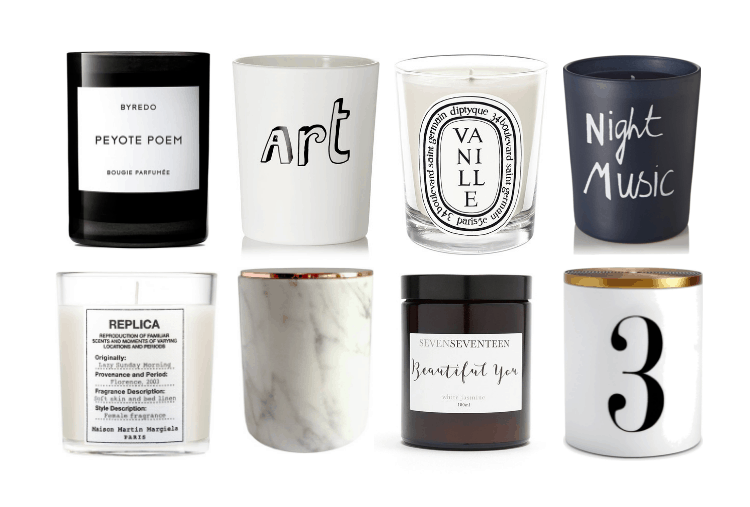 Row 1: Etsy | Etsy | Target | Target // Row 2: Nordstrom | Etsy | Barney's New York | Anthropologie
I am low-key at my most basic in the candle aisle at Target because I love me a scented candle.
There's something about lighting a candle and relaxing on the couch with a good book or giving yourself a mani-pedi. I like to think of these little hygge bombs as an investment; a more expensive candle tends to not only burn longer, but have a stronger, less synthetic scent.
For extra relaxation during your self-care session, opt for scents like lavender, jasmine, vanilla, and pine, which have mood-boosting and relaxation properties. Scents like musk, sandalwood, coffee, or bergamot will add an extra cozy, home-y vibe.
Essential Oils
If you're not into candles or you can't burn them where you live, diffusing essential oils will give you a similar aromatherapy boost.
Like, I love candles, but I still use my oil diffuser all the time. Even if you don't have a diffuser, you can drip some essential oil into your bath or shower or rub a drop or two onto your skin for a similar relaxing effect.
Essential oils aren't always expensive (you can get them at Target for a steal) but look for 100% oil if you can find it – these oils are less diluted and you can get away with using less.
Bath Bombs
Granted, if you are living in a dorm, you prooobably don't have access to a bathtub. BUT, if you do happen to have one, giiiirrrlllll. Bath bombs are not only fun and sparkly and awesome-smelling, but just soaking in a bath and doing nothing is the epitome of indulgent.
Bath bombs are not super expensive (as long as you aren't using, like, three a week, which I doubt you are) but you can also totally make your own if DIYing is your thing. (Also an excellent way to practice self-care!)
Nail Polish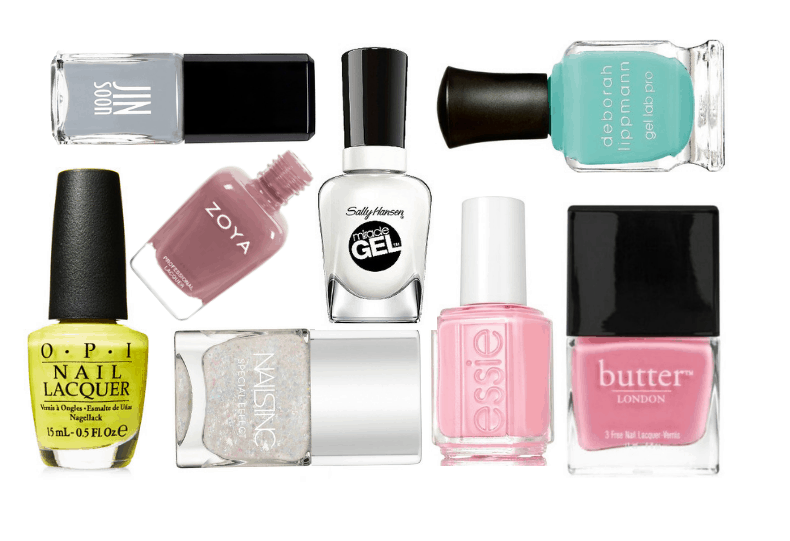 Products: Jin Soon – Bloomingdale's | Sally Hansen – Target | Deborah Lippmann – Sephora (in Splish Splash) | OPI – Beyond Polish | Zoya – Zoya (in Madeline) | Nails Inc – Saks Fifth Avenue | Essie – Nordstrom (in Coming Together) | Butter London – Bluefly
For girls who always have their nails painted, this is not as much of a relaxing, self-care thing so much as a regular maintenance thing? But as an art student, I almost never had my nails done.
When I did, my mani was immediately chipped, stripped, or covered in paint / ink / clay / whatever. Throw in anxious nail-biting and you've got garbage nails – all garbage, all the time. It always seemed a waste to paint my nails because I knew they would be ruined quickly.
It's a habit I've really never shook since graduating, but one thing that's helped me is buying nicer nail polish – nail polish that stays on longer than a day, for example – and treating manis like a relaxing ritual rather than a chore. So splurge a little on a nice nail polish in a trendy color (spring nails, anyone?) and make yourself a date with your topcoat and your netflix account.
Face Masks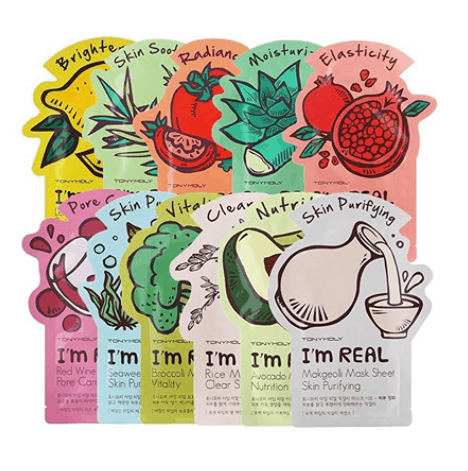 Products: Tonymoly – Amazon | Origins – Macy's | Yes to Tomatoes – Target | Peach & Lily – Barneys New York | KNC Beauty – Violet Grey | Herbivore Botanics – Domino | Lush – Lush | Clinique – Nordstrom
This is MY go-to for my self-care sessions – GOO. I like knowing that while I'm taking care of my soul I'm taking care of my skin as well…multitasking is adulting, right?
I usually reach for a Tonymoly I'm Real face mask, but I use charcoal masks too when I'm looking real spotty.
The good news is that face masks are available in all price ranges – if you've got a little cash to drop on your self-care, definitely go for a more expensive mask if that's something you've wanted to try. However, masks are available on the cheap too.
You can even DIY your own face mask with some powdered clay and some honey if that's your thing. (Promise the clay lasts forever, too. I'm pretty sure I bought mine in like, 2011.)
Treats
Again, this is something that you can wreck yourself with, so go easy, but…one of my favorite forms of self-care when I'm having a terrible day or week is making myself a delicious comforting meal or splurging on an indulgent Frapp at Sbux.
If baking is your thing, make yourself your favorite cookies – or, if you looooooove macaroons, buy yourself a box of macaroons, fam.
I'm not telling you to eat a box of macaroons on your own every week, but letting yourself splurge on an occasional indulgence is a great way to treat yourself. Moderation is not moderation without the occasional treat.
Comfy Blankets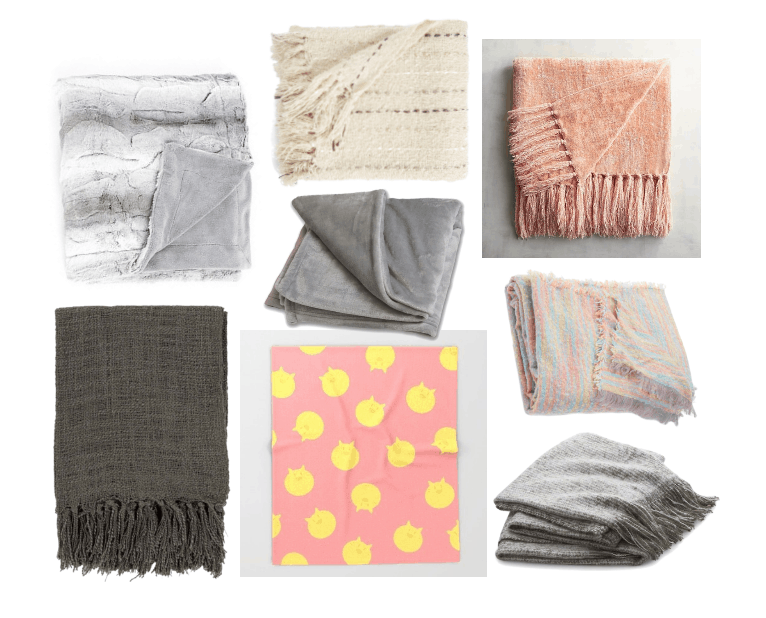 Products: Faux Fur – Target | Ivory Weave – Nordstrom | Blush Chenille – Pier 1 Imports | Rainbow Weave – Nordstrom Rack | Dove Fleece – Saks Off Fifth | Charcoal Weave – JC Penney | Cat Fleece – Society6 | Gray Yarn Throw – Crate & Barrel
If your self care involves you getting snuggly and comfortable, may I suggest spending a little extra on a soft throw blanket? I have more throw blankets than I'll ever need, and even in the summer I'm often wrapped in one just for the coziness.
I'm a huge fan of soft knits and faux furs, but you do you! Fleece blankets are great because you can – you guessed it – DIY them yourself, if you're so inclined.
Music
In the age of Spotify, spending money for music probably seems a little extra, but hear my little hoarder heart out.
I love having physical copies of my music, from the CDs I bought in high school to the records I buy now – plus, if you're like me, no activity is complete without the perfect soundtrack, from cleaning to writing to, yep, self-care.
Putting on a soothing or familiar record is the ultimate in hygge for me, but if records aren't your thing, investing in tech like amazing headphones, portable bluetooth speakers, or a killer sound system are excellent ways to up your self-care game.
What do you think? 
What is your self-care ritual? What self-care items are you willing to splurge on? Have any suggestions for the adulting column? Let me know in the comments below!