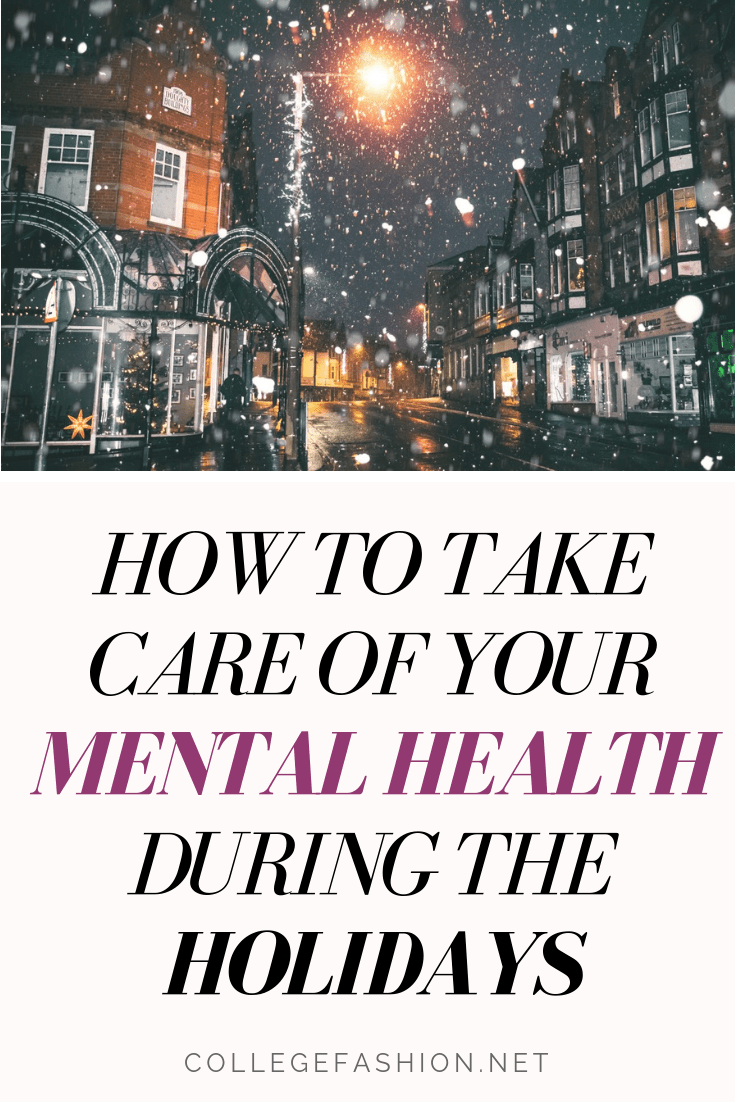 The holidays are generally known for being the most wonderful time of the year, with almost every major world religion having some form of celebration in the winter time. However, despite the festive atmosphere, the holiday season is not free of strain, stress and pain. Traveling and buying gifts can cause financial burdens, the jokes about family strain and politics during Thanksgiving still ring true into December, and for many college students going home is not always the rejuvenating and relaxing time so many of us crave.
That said, the situation is not dire! I'm here to help in any way I can with 10 ways to embrace self care and tend to your mental health during the holidays.
1. No Sun is No Fun
Vitamin D is an important vitamin that we get through the sun and our food (primarily the sun). In the winter, the lack of sun can lead to lower Vitamin D levels and negatively affect your mood!
Eating foods that are high in vitamin D like salmon, oysters, shrimp, eggs, mushrooms, and milk (cow, soy, and almond) can help you get to your daily goal. And supplementing works, too: Vitamin D comes in both liquid and capsules that you can buy at most grocery/health food stores (or even on Amazon) and a little bit every day can seriously help with your mood.
2. Get Outside!
Fresh air is another simple way to combat winter blues and the regular moodiness that comes with being cramped in your house all day. If you are someplace with snow then those typical snow activities (sledding, skiing, snowshoeing, or just playing in the snow) are a great way to get outside and exercise. If you aren't in a snowy area, just walking around the block will get your blood pumping and make you feel a million times better. Try it and it will surprise you!
3. Create a Morning or Night Routine Just For Yourself
Taking time to prepare for the day or for bed can create a small amount of privacy in your life, even if there are a lot of people surrounding you (as there often are during the holidays). For example, you can take a few minutes to do your skincare routine before bed and just spend a little time pampering yourself. For me, doing my makeup gives me a minute to spend with myself even if someone else is in the room. Meditation, even if it's just while you're lying in bed before sleeping, is also a great way to carve out a little space for yourself.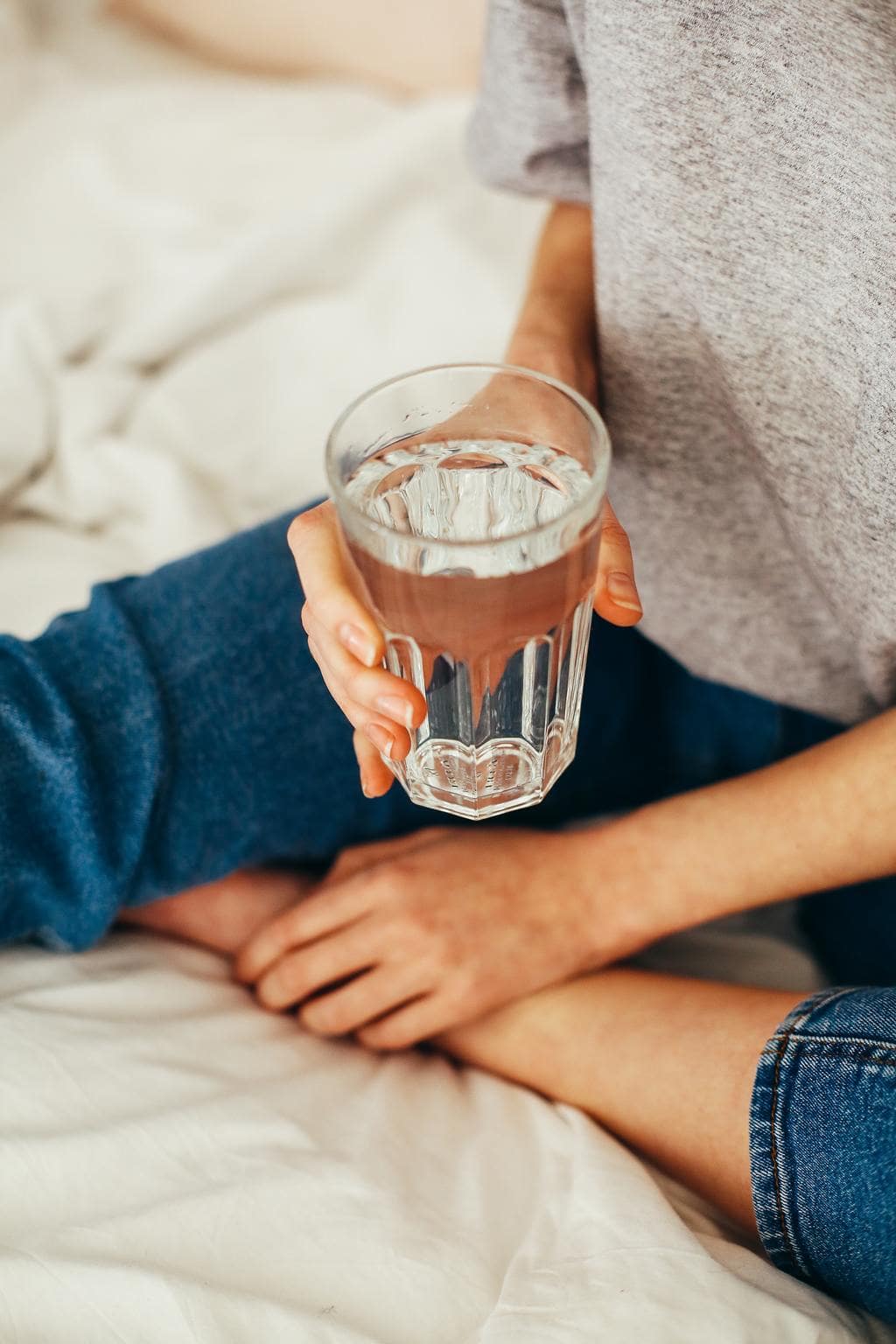 4. Drink Water and Eat Well (and Take Your Medications!)
Being reminded to drink water always makes me roll my eyes, but it is so important. Being dehydrated can wreak havoc on your body, and can cause exhaustion; dizziness; dry skin, hair, and nails; confusion; irritability; and tons of other negative side effects. Getting sick is really common during this season and that can dehydrate you further, so water is critical.
Eating well depends on each and every person's diet and needs, but holiday foods are usually not the healthiest, so nourishing your body with fruits, protein, and veggies will go a long way to keep you feeling good throughout the season.
5. Gift-Giving is Meant to be Thoughtful, Not Stressful
Spending money on gifts can put strain on everyone's budget, so it helps to remember that gifts are meant to be meaningful, not stressful. Holiday gifting is NOT about procuring the biggest, best gift ever. Handwritten notes, shoveling someone's driveway, babysitting for the parents in your life, or making a meal for your older relatives are all examples of inexpensive ways to show you care. Honoring people in your life in those ways can be a lot more meaningful than you'd think. As a bonus, you're not adding to the pile of gifts people might get rid of six months from now — less clutter is a gift in itself!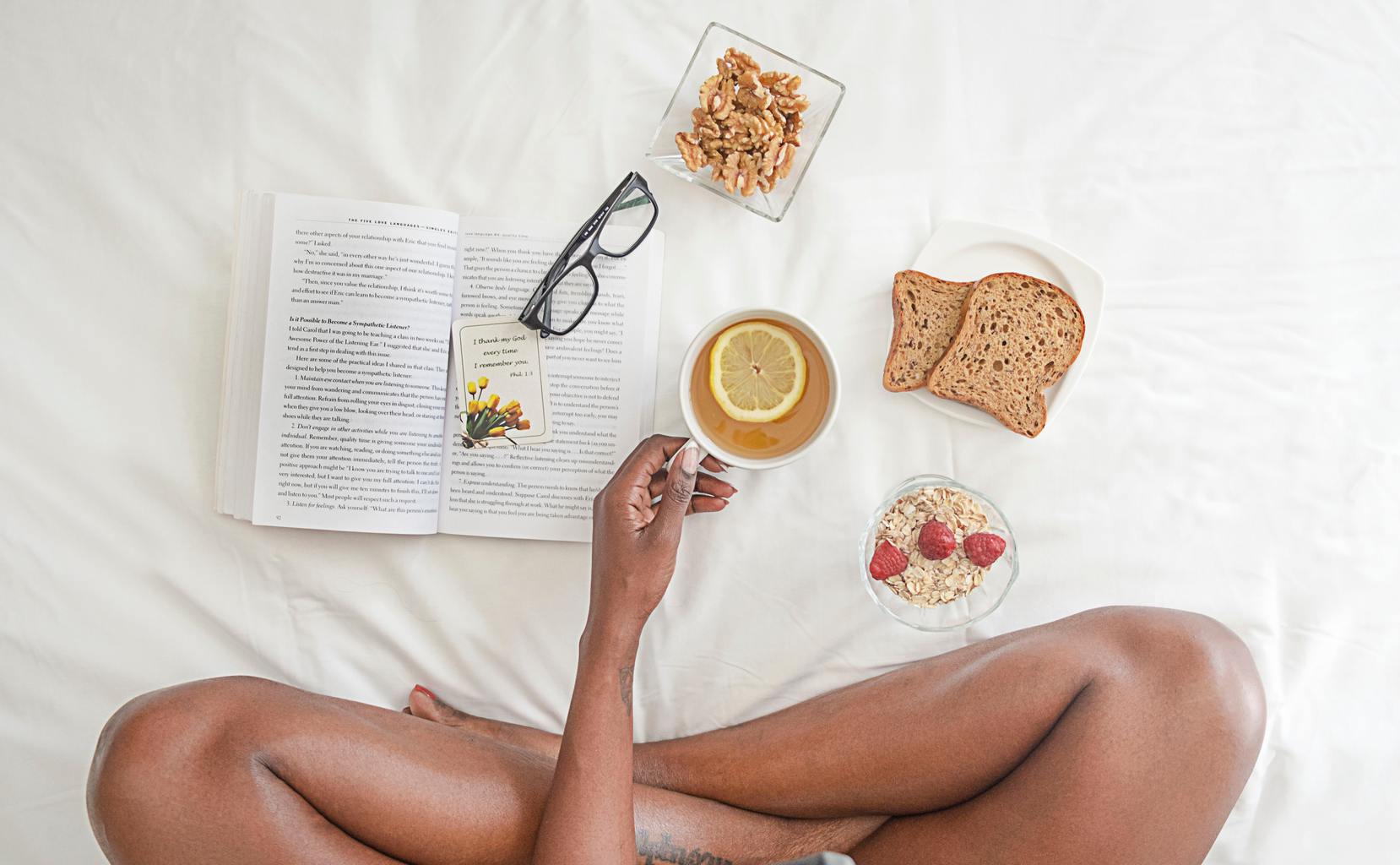 6. No is a Full Sentence
"No" can come in many forms. "No, I'm too tired to stay late at the party.", "No, I'm taking time for myself right now.", "No, I'm okay, thanks." When you haven't seen people in a long time, it can feel like you've got to cram in time with everyone. Relatives who only see you once a year might ask you personal questions you aren't comfortable answering, or ask you to participate in discussions that might not be good for your mental health. There is no shame in saying a polite no.
7. Take Time to Write and Reflect
Reflecting, especially through writing, is a form of therapy that can really help with the stress of the holidays. It can really help to vent in a journal, especially if little things are frustrating you. Even a few minutes a day can really help you blow off steam and put things into perspective. (See: Why You Should Keep a Journal in College.)
8. Reduce Stimulation
The lights, the movies, the smells, the music — during the holidays, it seems like all of these are cranked up more so than at any other time of year, and while it can be wonderful, it can also lead to sensory overload. So if you're feeling overwhelmed, try disconnecting from your phone or TV for a day. Clean up or cook in silence instead of with music, and make sure that lights are at a steady glow, not constantly blinking. Lowering your stimulation helps lower that panicked feeling that can crop up this time of year and makes it easier to return to calm.
9. Comparison is the Thief of Joy
Tell me if this happens to you: When you first come home, you feel amazing and excited and great about yourself… and then you talk with your relatives, or run into old friends, or have a conversation with your parents and suddenly start feeling like you're never doing enough. You might talk to someone who has a better GPA than you do, or maybe one of your friends is engaged, or your cousin might have just landed a dream job — all awesome things worth celebrating and feeling great about, if you look at them in the right way!
This year, make an effort to be happy for others and stop comparing their lives to yours. Other people's achievements are amazing, so celebrate them, be a friend, and remember that someone else's success doesn't take away from yours. There's plenty of success to go around in this world, and it might be your turn to celebrate next!
If all else fails, remember the following: Don't let someone make you feel bad for your page five when they're at the end of a chapter.
10. Get Naps and Extra Sleep
The holidays can be a time to be a little bit lazy, and as college students, sometimes this is necessary! Few students get the recommended amounts of sleep during finals week, so we're all in need of a break when the holidays roll around. Sleeping is so important to managing your stress level. Take time to get at least eight hours of sleep and take short naps, giving yourself time to relax and recover.
How do you take extra good care of yourself during the holidays?
As serious as life can be during the most wonderful time of the year, I hope you all are safe and loved and know how valuable you are! Let us know how you practice self care during the holidays and if we missed anything.