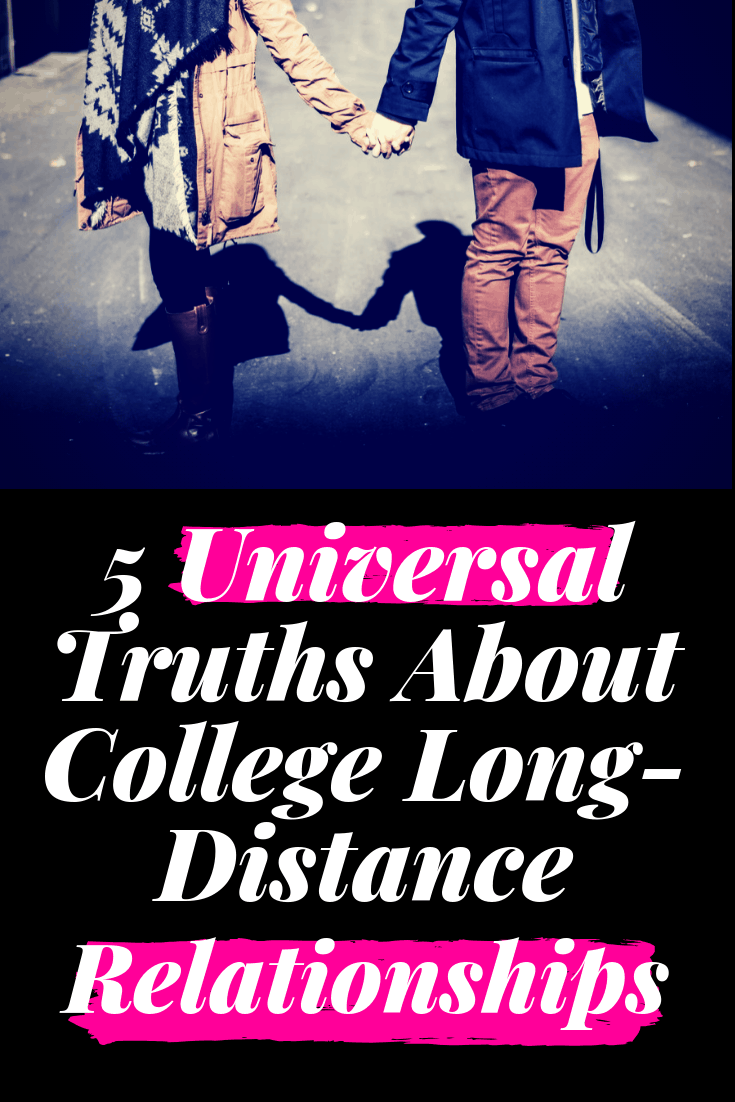 When you think of a college long distance relationship, you probably picture the ending of a high school movie where two 18-year-old sweethearts part ways to different universities within the country. We silently think to ourselves…Will their relationship really last? Although this is a common trope amongst LDRs… this is not the story I'm telling today.
As a sophomore in college, I never intended on committing to a long distance relationship with a guy halfway across the country. In fact, I had been trying to avoid getting into anything too serious in my dating life. When it came to my future long distance relationship, I just sort of fell into it.
My story begins on a girls-trip to Florida. At my hotel, a friend and I were taking the elevator down to the ground floor in order to go to a nearby restaurant. Out of courtesy, I felt compelled to make small talk to a lone stranger in the elevator (oh, how I dread making small talk). After taking a liking to this stranger's cheerful personality and accent, I decided to ask him to come out to dinner with us if he wasn't doing anything that night. He agreed to go, although I later found out he lied about not having to meet up with his group of friends hanging out in the hotel.
For the rest of the week, I kept finding convenient ways to run into him. I would just happen to be at the same club as him or walk past him at the beach. At the end of the week, we exchanged phone numbers and traveled back home in our separate directions.
Although we occasionally texted and video chatted with each other, we continued living our lives going to school and dating other people. One night, I absentmindedly sent him a text asking him to come to visit me in Lubbock. Instantly, I regretted hitting that send button. Why would he come all the way to West Texas for someone he barely knew? He didn't agree right away but eventually found a window free of school and work to come visit.
Two years later and several trips back and forth from Texas to Georgia and Georgia to Texas, we were finally in one state together and eventually moved in with each other. We geeked out over video games, game boards, and our Pomeranian, Missy. We watched each other graduate college and encouraged each other in our careers.
Today, we are still living together. We constantly bicker, conduct spontaneous road trips, and gossip like two old ladies. I couldn't be happier.
We definitely had challenges with the distance, but in the end, it all worked out. Now, the huge obstacles we once faced look like trivial matters.
After meeting new people who had similar stories to tell of originally finding their partner at a less-than-ideal distance, I took comfort in relating to their struggles, their adventures, and their triumphs. Here are the five truths I've learned about dating long distance while in college:
Many People Won't Take Your Relationship Seriously
Long distance relationships are not the norm, especially when it comes to couples who have never lived near each other. Most people get their information about long distance relationships from TV and movies where these relationships are used as a plot device to stir up drama.
Although my close friends believed in my relationship, others weren't so kind. A few of my coworkers would constantly tease me about my "not-real" relationship while some peers assumed it was a passing phase. Even my dad had his doubts: when he first met my partner, he flat out told us that our relationship wasn't going to work out.
There will always be people who will question the legitimacy of your LDR, but if you feel that you're in a happy and healthy relationship, just ignore the haters.
Your Relationship Can Get Expensive
As college students footing our own bills, a long distance relationship wasn't the most financially sound decision for either of us. For instance, round trip plane tickets would easily cost $400 or more going in and out of my town's small airport.
On top of the costs of plane tickets, visiting one another was like an exciting adventure. We both were eager to show each other our hometowns and occasionally made the mistake of trying to pack a month's worth of dates into a week. We made it to all the touristy stops, spending vacation amounts of money in the process.
At the beginning of our relationship, I took on extra shifts at work and ate more ramen and cereal to compensate for the extra spending. After about six months, we concluded that we had to become smarter about our spending if we were to visit each other.
You Can't Live in Denial
At some point, you'll realize that in order for your relationship to continue, someone is going to have to make the big move (or you're both going to have to move to a new place). This was a point of contention for us.
As students, we both recognized that getting our degrees was our first priority. But, what would happen after we got our degrees? Who was going to be willing to uproot their life to be with the other? After one very awkward conversation, we realized that we both expected the other to make the big move.
Since we were too wrapped up in the thrill of our relationship, we never truly considered and communicated our expectations of what the end of long-distance would look like. This was a definite wakeup call.
In order to avoid our mistake, create a game plan for your LDR! Set your priorities, set meeting dates, and set an end date to the long distance… and a game plan for that end date.
Your Relationship is Never Going to be Convenient
This April will mark our fourth anniversary, and although we've now lived together for two years, I would be lying if I told you that we didn't have any more distance-related problems.
Just like last year, this year we have continued to debate on our holiday season strategy. The same list of questions has continued to plague us.
Whose family will we be spending Thanksgiving with?
Whose family will we spend Christmas day with?
How do we make each family feel like they're equally valued?
How are we going to afford the round-trip tickets?
Having my friends and family living in Texas and his friends and family living in Georgia has also made the prospect of a possible wedding equally dizzying, being perpetually put off to a distant future.
When dating long distance, you just never consider how financially and emotionally taxing it will be. Even after your relationship is no longer long-distance, your families still are!
Just Like Any Relationship, Trust and Communication Are Key
A long distance relationship is just like any other relationship, it just has a different dynamic. You won't see each other in person all the time, but you'll still be in touch — in fact, our modern technology allows us to be connected 24/7.
You can wake each other up to a "Good Morning Snapchat" and say "Goodnight" face-to-face through Skype. You can talk on the phone for hours about life and end the night playing on Steam together. When the only option you have is to communicate, you'll find out how easy it is to be intimate and vulnerable.
If you're feeling down about the long distance, let your partner know. If they feel stressed out with finals and need to spend less time on the phone and more time on the books, trust them with their decisions and appreciate their honesty.
Being transparent with each other is good practice for the future of your relationship. Acknowledge that if you ever stop feeling comfortable, the relationship can end at any time, but that you feel for and trust your significant other enough that you're willing to wait for them.
What Do You Think?
Every relationship is different and comes with its own specific challenges. For more on this subject, see our guides to remaining happy in a long distance relationship and making a long distance relationship work in college.
If you are or have even been in an LDR, do you agree with my advice? If you're considering an LDR, was this advice helpful? Tell us your thoughts and stories in the comments below. We love hearing from our readers!