If you've already finished finals, CONGRATULATIONS! If you're still in the midst of finals, at least you can spend your short study break dreaming of your impending freedom.
Dead week and exams can really get you into a funk. Even though both have passed, you may feel awkward with this new sense of free time and have a nagging feeling that it's not over (although it is, you just retrained your brain with an abnormal week filled with cramming). It's a weird sensation but remember: It's officially over and that's a cause for celebration!
Below, I have listed all the best ways to celebrate the end of the semester (or not … no judgment).
Treat Yo Self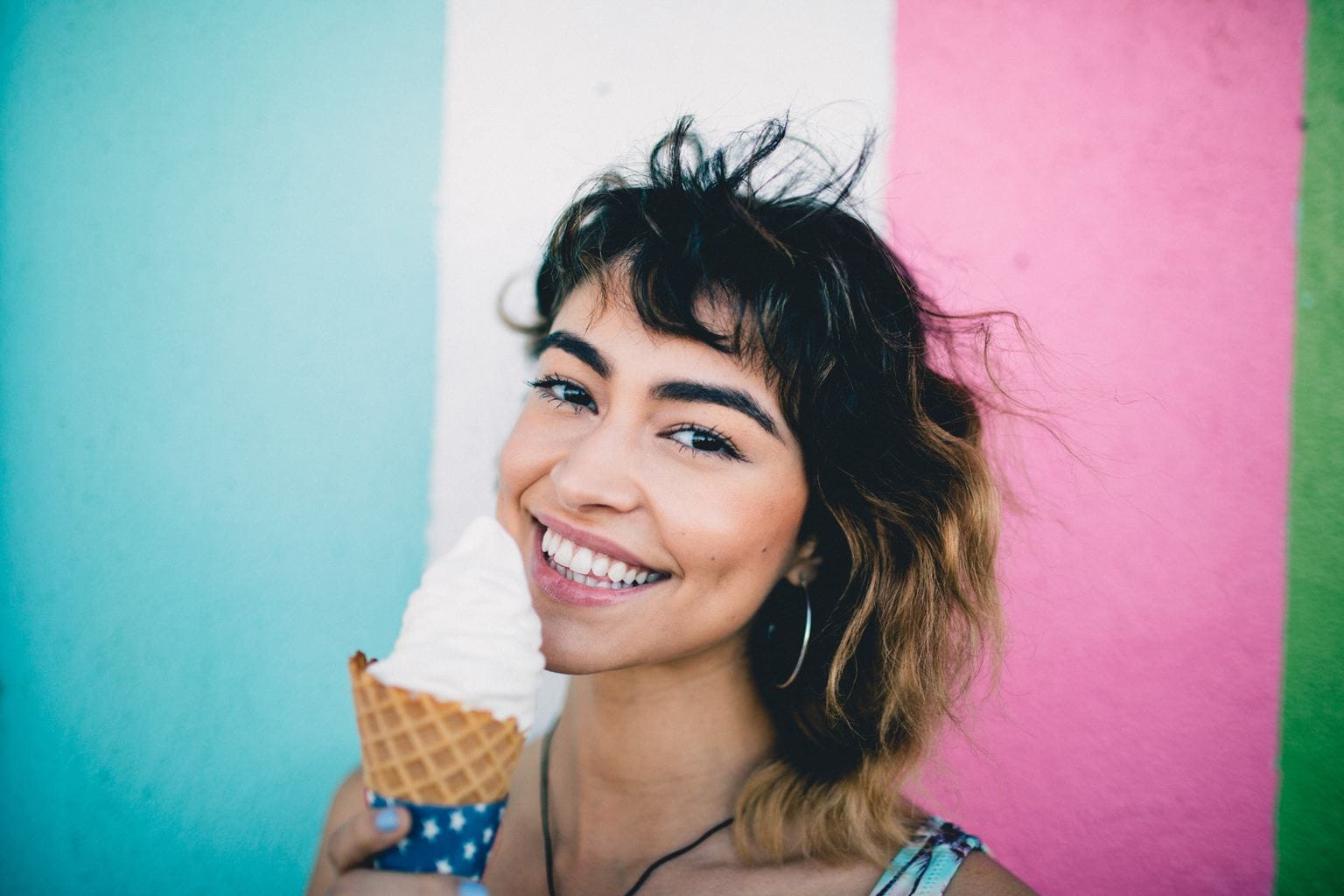 After doing nothing but thinking about finals, reviews, presentations, and group projects, you deserve some much needed "me" time. Here's a to-do list that will leave you feeling revived after your stressful week:
Sleep – Although science isn't clear on whether it's possible to catch up on missed sleep, there's no denying that a long slumber will feel amazing! So indulge, you've earned it!
Get a message – As a Groupon aficionado, I believe its time to splurge on that local massage deal.
Buy yourself a present – Just saying… College Fashion is filled with fashion advice and outfit ideas if you're feeling spendy.
Eat your favorite meal – We all scream for tacos and ice cream! (Okay, maybe it's just me.)
Get yourself a mani/pedi – Nails on fleek!
Netflix-binge on Lost in Space – I've been seeing the commercials all week and hope it will fill the void I have in my life for Stranger Things episodes.
Outfit Inspiration – Lazy Dayz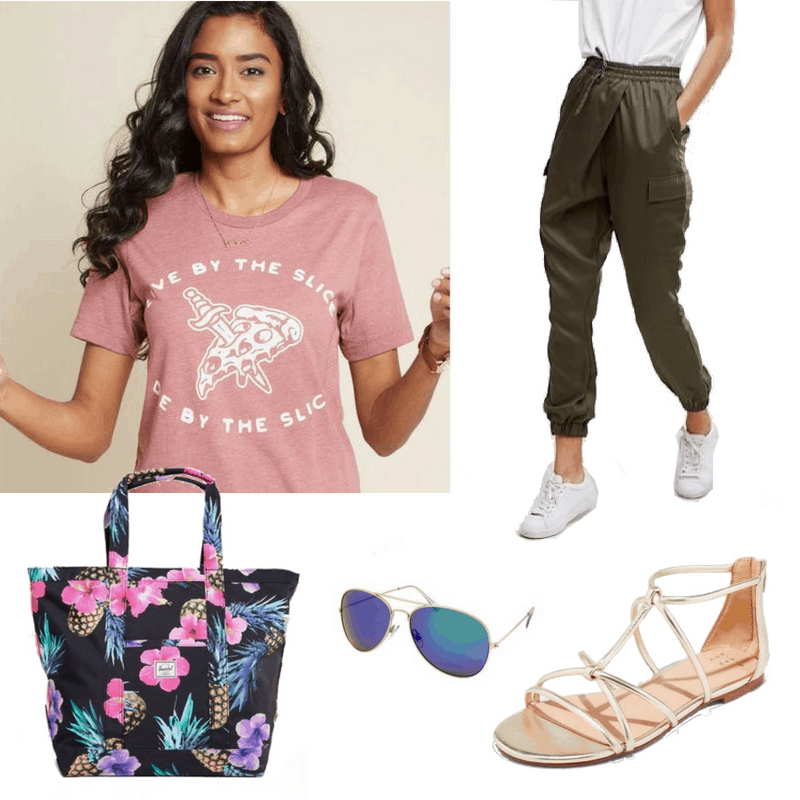 Products: Graphic Tee – Modcloth; Pants – Asos; Bag – Asos; Sunglasses – Target; Sandals – Target
When relaxing, you might feel the urge to pull out an old t-shirt and your hole-ridden faded black sweatpants. Yeah, it's comfortable but I bet you won't feel your most confident in this look.
Here, I took the concept of the typical lazy day outfit and glammed it up! Who says you can't be lazy and look cute at the same time?
The trick is to add a refreshing mix of colors to your overall look. I opted for a fun pink graphic tee and army green utility joggers. You get all the comfort of your worn-in t-shirts and sweats but look fun and edgy. Add a bright neon floral pattern tote, blue ombre aviators, and metallic gladiator sandals for a futuristic vibe.
Get Some Fresh Air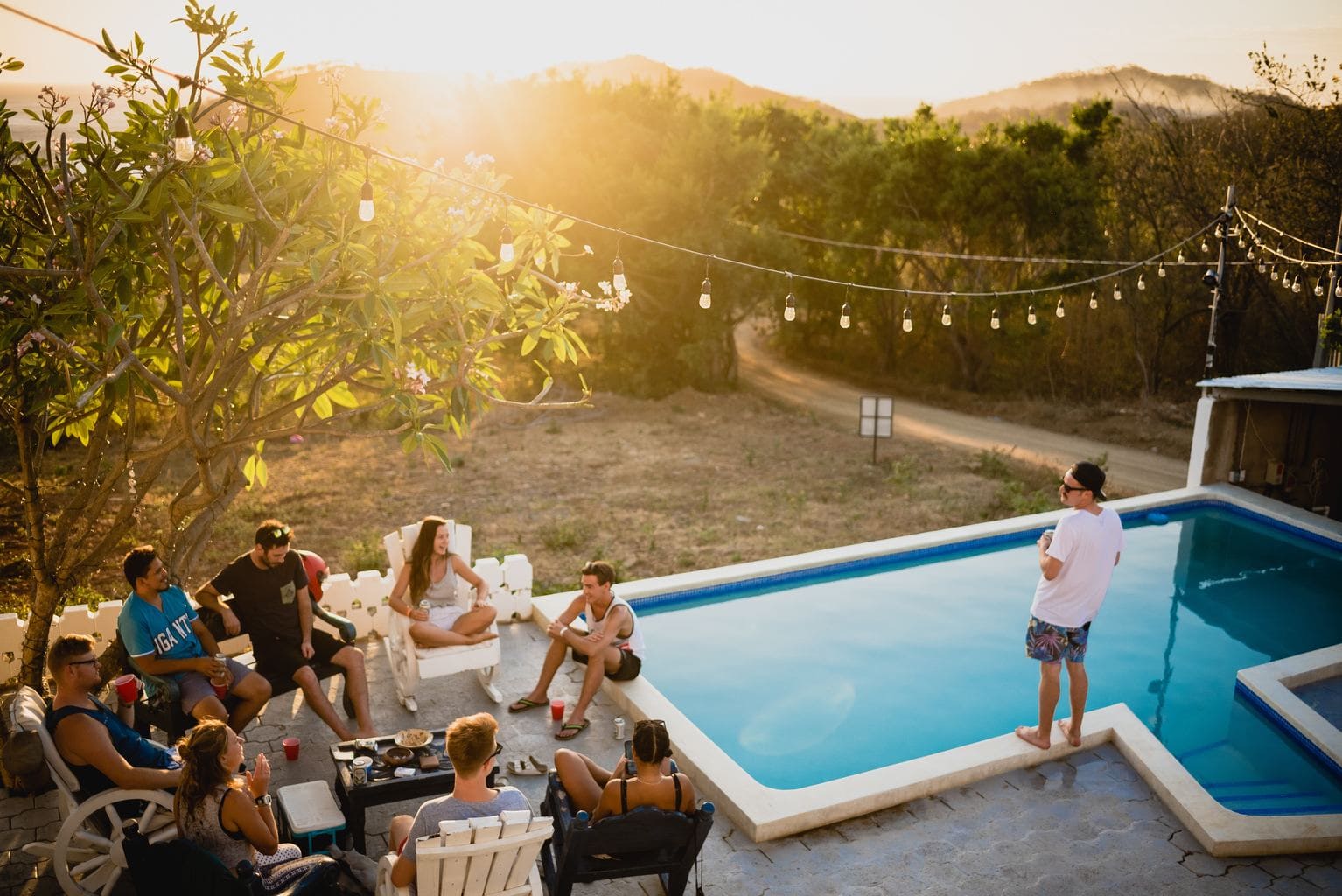 Spending so much time indoors studying is a bummer… especially on days when the weather outside is beautiful. If you're anything like me, you're ready to trade out the musty university library for an outdoor setting.
Here are some fun ideas to celebrate the end of finals outside!
Throw an impromptu BBQ Bash at your apartment's outdoor pool & grill area or at the park.
Go hiking at a nearby trail (Check out College Fashion's Guide to What to Wear and Pack for Your Next Hiking Trip for tips.)
Hit up the swimming pool at your school, community or nearby water park.
Ride roller coasters and eat fried foods at a local theme park.
Visit a driving range and practice your swing. Even if you're not a golfer, anyone can have fun at a Top Golf.
Outfit Inspiration – Chilling at a BBQ Bash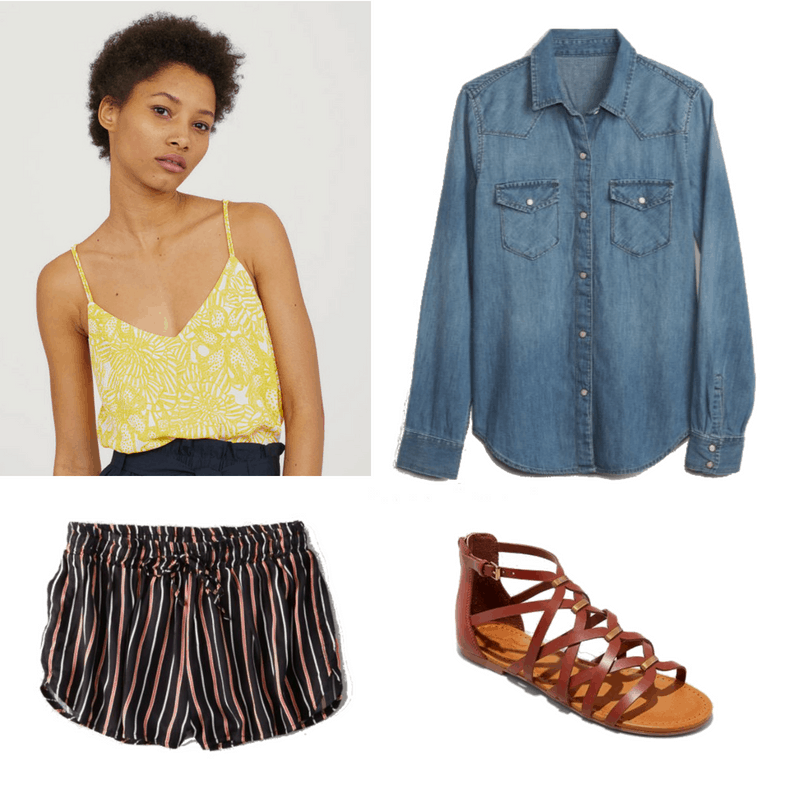 Products: Tank Top – H&M; Shorts – American Eagle; Button-Down Shirt – Gap; Sandals – Target
My favorite thing to do after finals is hang out at the park with friends and help light the grill for cooking all of our favorite foods. Since we typically play outdoor games like corn hole or volleyball, I like to wear light, breathable fabrics that are easy to move around in.
To stand out, mix bold patterned pieces such at the striped shorts with a brightly colored item like the yellow floral tank top above. Bring a chambray button-down shirt as a layer to throw on if it starts to get chilly.
Hang Out with Your Girlfriends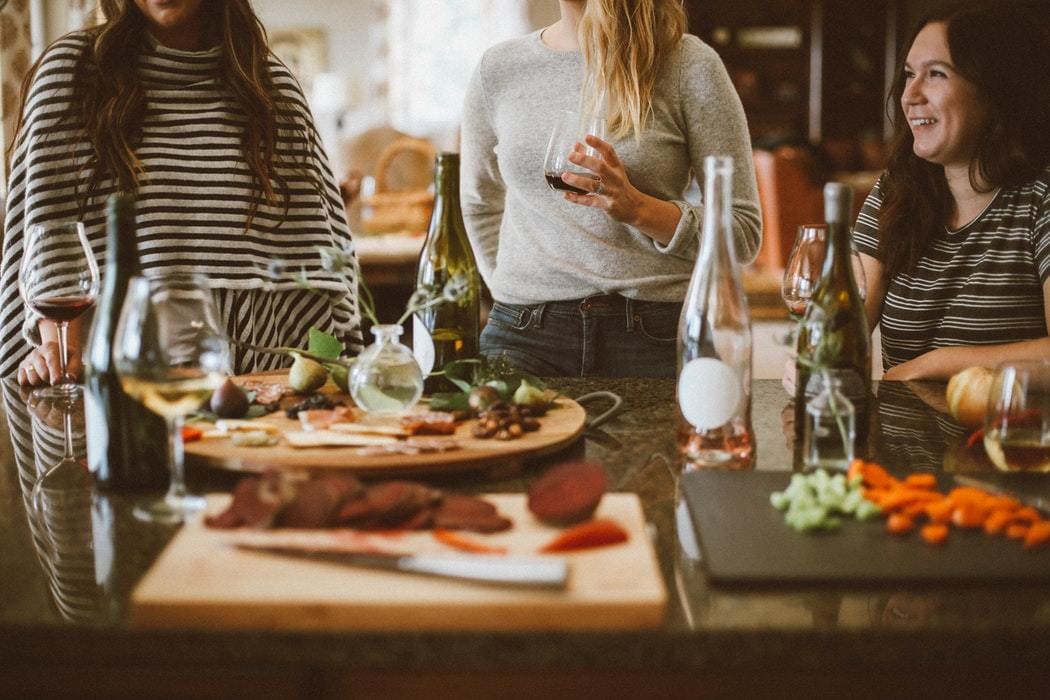 Even if you live with your best gal pals, chances are you've spent less time with them than normal during the end of the semester. That's okay – we all get extremely busy and focused during the last lap on the track that is finals week to our semester.
Now that finals are over, it's time to reconnect with your friends and see how they've been. Make time to:
Go out to dinner with your girlfriends – Pick a medium-loud to quiet place where everyone can engage in the conversation.
Host a game board night at your apartment – Avoid a five hour game of Monopoly and try one of these party games suggested by Bustle.
Create a DIY spa night for the squad – An awesome way to bond and save money. See our DIY spa guide for more.
Outfit Inspiration – Fancy Dinner On The Patio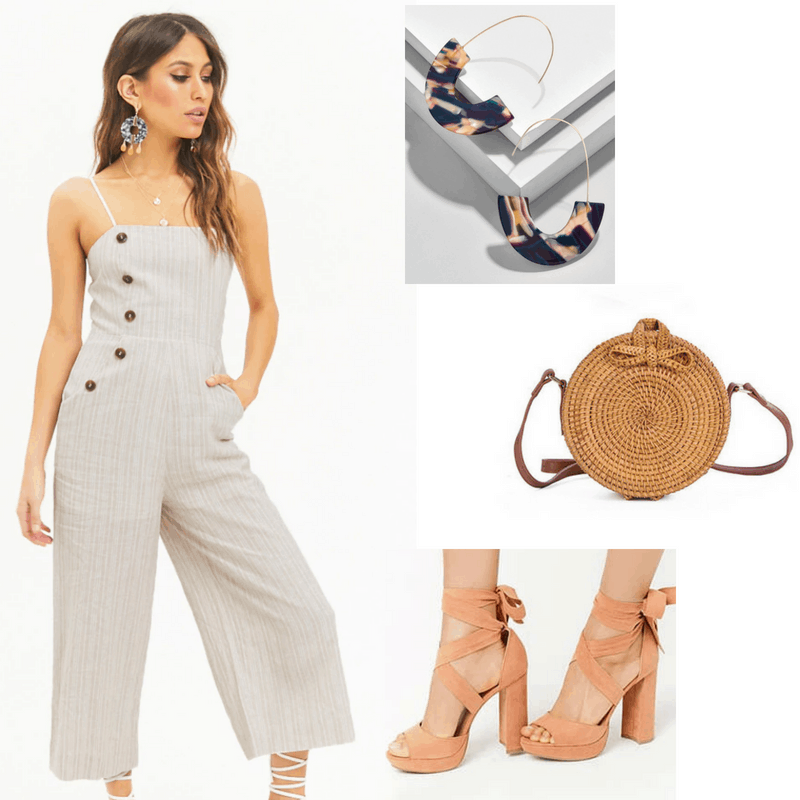 Products: Romper – Forever 21; Earrings – Bauble Bar; Bag – eBay; Heels – Forever 21
This outfit was inspired by this the grand reopening of a sophisticated restaurant in my college town called The Funky Door. I went there last week for the first time with a group of my college friends and was enamored by the dazzling atmosphere.
The Funky Door is two stories tall with a circular wine column in the middle of the restaurant that reaches from the floor to the ceiling. Beautiful modern chandeliers offer dim lighting accompanying the warm red walls. The top story overlooks the bottom story where a collection of stylishly-clad locals snack on fondue and calamari while a band sings what sounds like Jason Mraz music.
The next time I go out to The Funky Door, I would love to sit underneath the string lights on the patio. A special evening out like this deserves a special outfit and the romper and ankle tied suede heels are perfect for the occasion!
Wearing an outfit in shades of beige may sound boring but mixing elements of stripes, structure, tortoise, buttons, straw, and suede looks lighthearted and glamorous.
Hit Up the Party Scene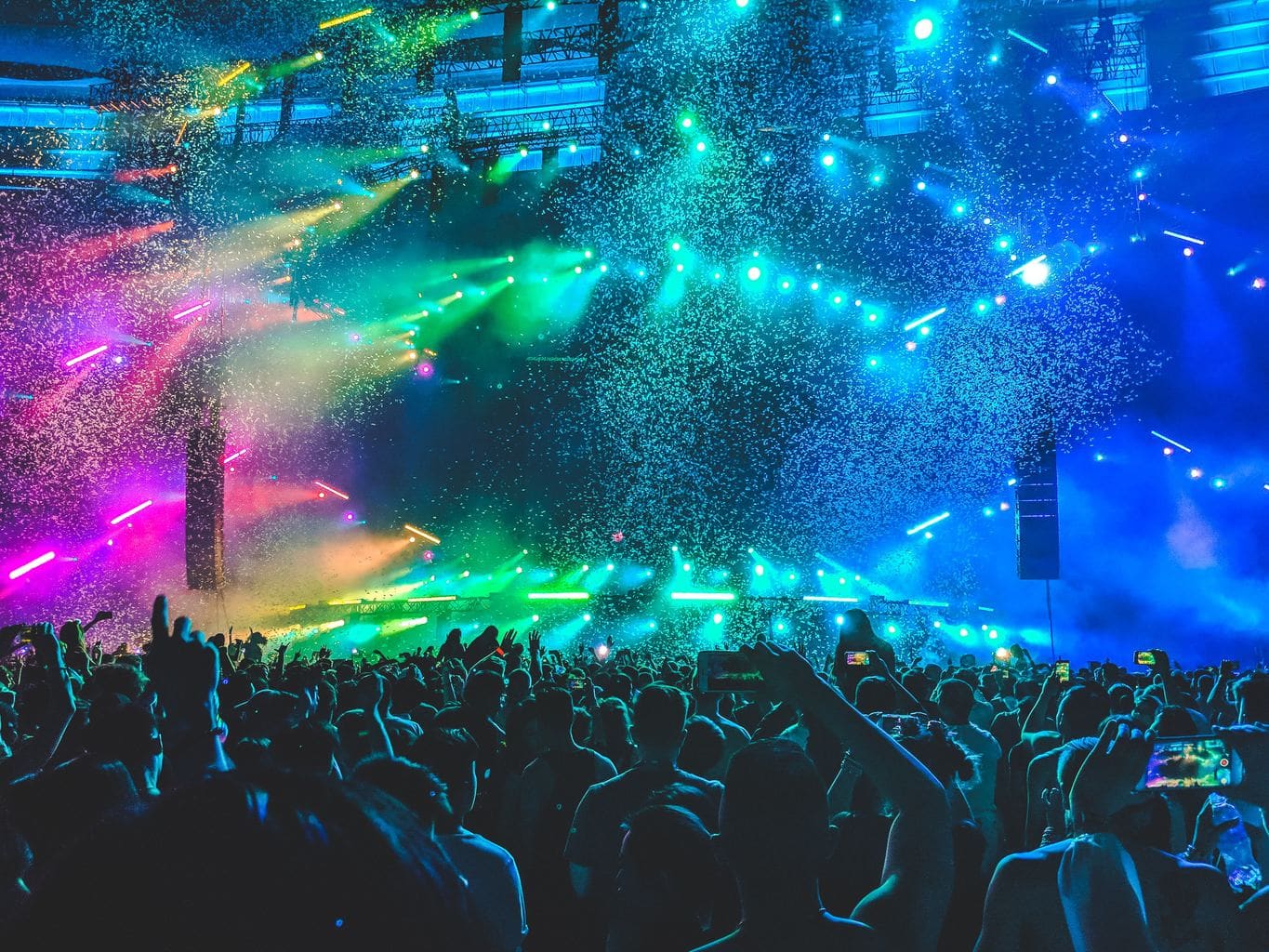 Now that you've relaxed, finally got to enjoy sunlight, and caught up on your friends' lives, it's time for the ultimate college celebration post finals… partying!
Tour your friends' house parties and maybe stumble upon some random ones. Enjoy some college theme parties if you can!
Take your group project teammates out to local bars – Celebrate nailing the final presentation and make new friends in the process!
Try out a new dance club – Find a partner to practice those new country or salsa dance moves (maybe even some Zumba moves).
Go to a concert or local music festival
Outfit Inspiration – Bar Crawl After Your Last Final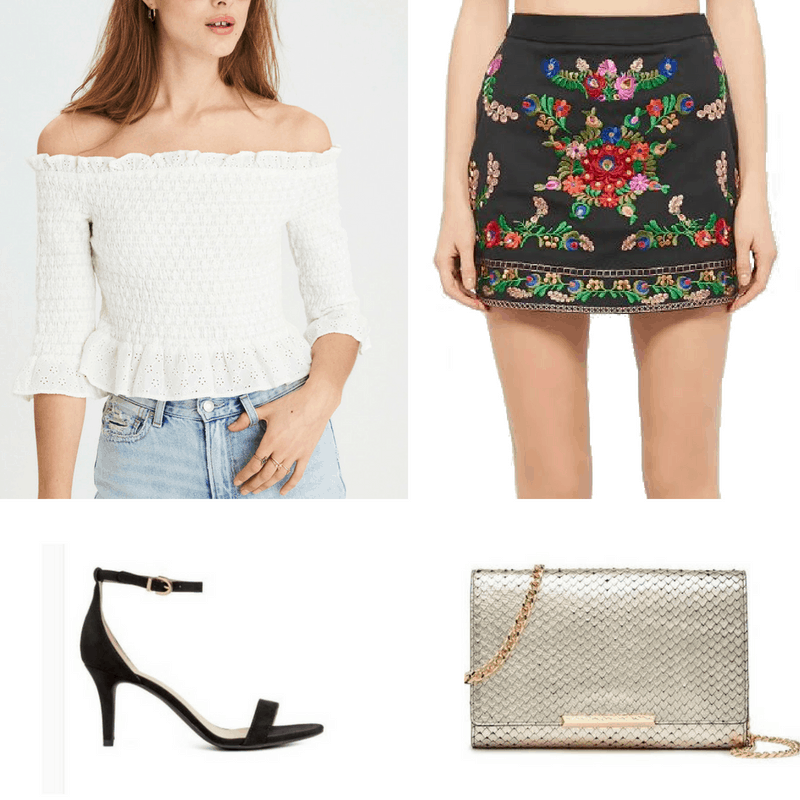 Products: Top – American Eagle; Skirt – Forever 21; Heels – H&M; Bag – Nordstrom Rack
I'm OBSESSED with embroidery and cross-stitch! This obsession has sky-rocketed after stumbling across Emma Mckee's cross-stitch work for famous rappers. Although some people believe these art forms look old fashioned and stuffy, I think they look unique and beautiful.
In the outfit above, the floral embroidered skirt is the focal point of the outfit. Since we don't want to draw attention away from the skirt, keep the rest of the outfit simple. I added a gathered off-the-shoulder white eyelet top and basic heels to this going out look. To add a touch of glamour to this effortless outfit, throw on a shimmering crossbody purse.
What do you think?
Now that the academic year and finals are over, how do you plan on celebrating your freedom? Share your plans in the comments below!