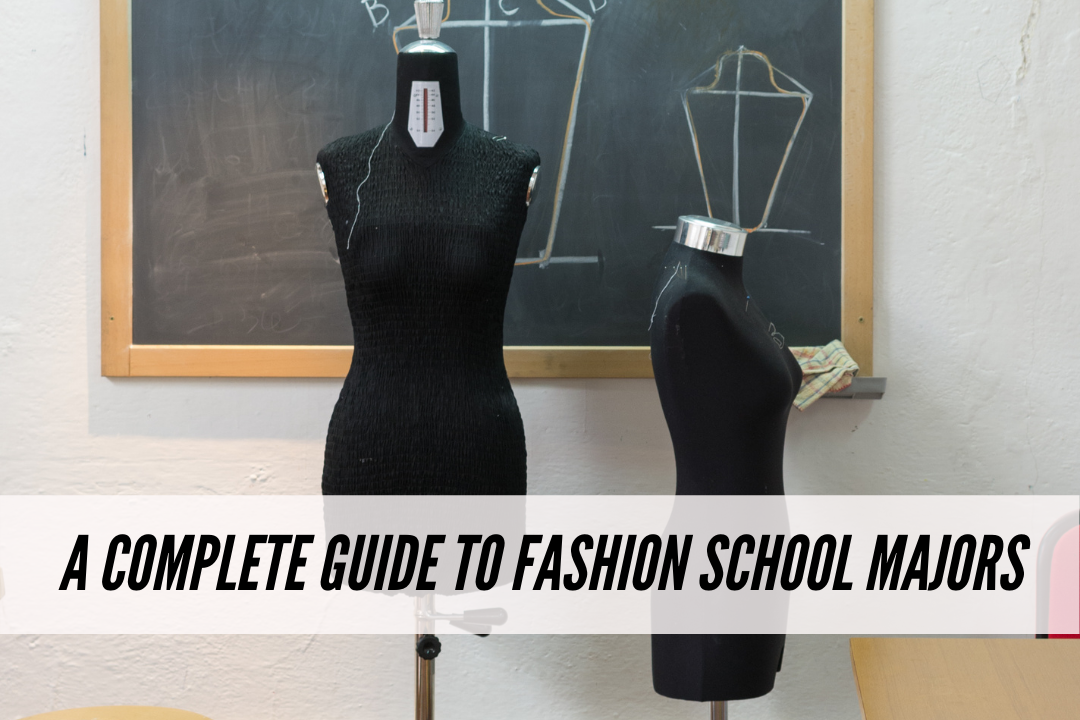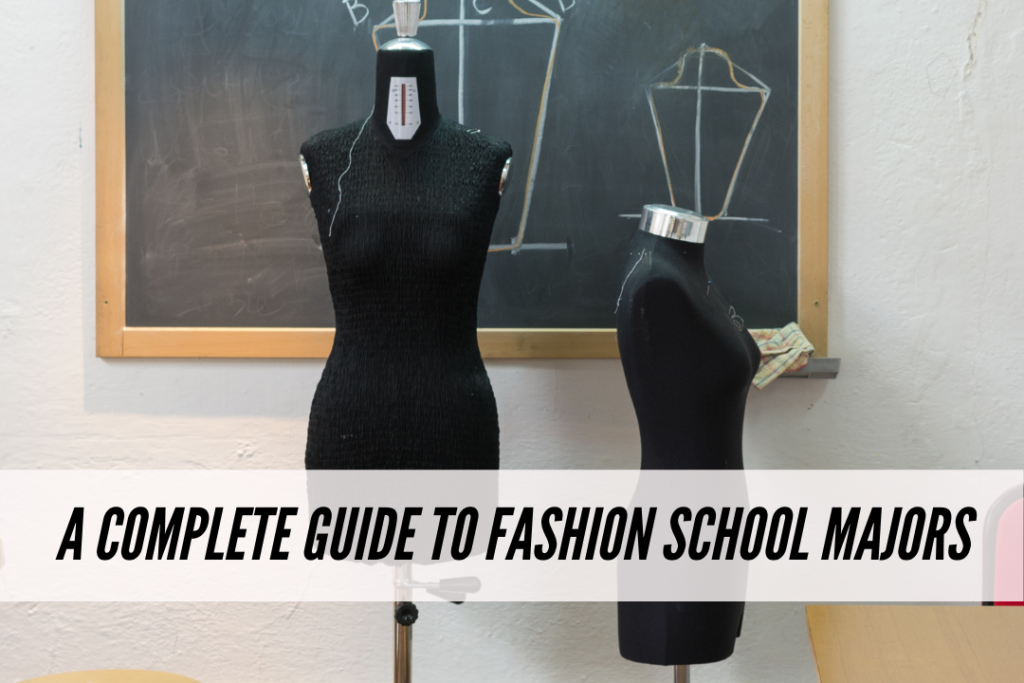 As a current FIDM student (check out my series, Diary of a Fashion School Student for info about my life at fashion school), I am always being asked about what exactly you do in fashion school. And – surprise – not all majors at fashion school are directly fashion-related! Sound a little crazy? Let me explain.
Here at the Fashion Institute of Design and Merchandising, 20 majors are offered.
Most of them are related to fashion, whether it's the creative or business side (or a combination of the two).
But, there are other majors that deal with similar industries such as beauty and entertainment. All of them have certain aspects in common and most deal with fashion in some way; they just don't all revolve around it.
Here is my guide to the 20 majors offered at FIDM. I imagine other fashion schools have similar programs.
Fashion-Related Majors
Textile Design
This major represents the basis of fashion design – everything in the world of clothing revolves around textiles. Without fabric, clothing wouldn't exist!
This major combines creative classes with science and practical applications. Textile Design students learn not only the basics of fabric design but also how the textile industry works. Everything from the fibers to the production and manufacturing of fabrics is covered.
Choose this major if: You love to paint, you shop for clothes by touching everything, you want a creative painting career – but want to make money, too!
Classes: Creating Fabric Structures, Print & Dye, Computer-Aided Surface Design I & II, Design for Form and Function, Line Development
Fashion Design & Advanced Fashion Design
Even if you can hardly sew on a button or draw a figure, if you love to create and have a head full of fabulous ideas, the fashion design program at FIDM could be perfect for you!
Here, the Fashion Design program teaches the proper techniques from square one: Draping, pattern making, sketching and construction are all covered in-depth in this major. Students selected for the third-year Advanced Fashion Design program have the opportunity to create their own line for the FIDM Debut Runway show, which is displayed in front of a mass of industry insiders.
Not only is Fashion Design intensely creative, it also stresses the importance of practical, real-world knowledge so students can succeed in their own markets and business pursuits.
Choose this major if: You spent your younger days cutting and reworking your tee shirts, you could see yourself succeeding in a highly competitive environment, you daydream of showing your own work at Fashion Week.
Classes: Fashion Sketching for Design I & II, Industry Sewing, Pattern Drafting Essentials & Procedures, Draping and Garment Construction I & II, Collection Development
Fashion Knitwear Design
As an extension of the Fashion Design program, Knitwear Design appeals to students looking for a more specialized field. In the Fashion Knitwear Design major, students learn how to create and design knit garments and accessories. FIDM students use state-of-the-art looms and technology to create knit fabrics from scratch.
Choose this major if: You live in knit sweaters and dresses during winter, you are always knitting scarves for your friends, constructing garments just isn't enough work for you – you want to make the fabric, too!
Classes: Fashion Sketching for Design I & II, Color & Design Theory, Stitch, Color and Surface Design, Shape & Detail for Knitwear, Line Development for Knitwear
Jewelry Design
Similar to Fashion Design, Jewelry Design focuses on both the creative and business sides of the jewelry industry.
In this major, students learn about the business side of the jewelry industry in order to succeed while out in the working world. They also analyze trends, and learn how to design, market and produce jewelry. Since FIDM is located near the jewelry district in LA, these students find themselves in the heart of where their products are made and sold.
Choose this major if: You own more earrings than you can count, accessorizing your outfit is the best part of your day, you love creating with your hands.
Classes: Metalsmithing I, II & III, Creative Design for Jewelry, Rendering I & II, Wax Carving and Casting
Apparel Industry Management
Apparel Industry Management majors control absolutely every part of the apparel line process – without ever physically making a garment.
Students in this major have a hand in everything, from the initial collection concept and design, to supply chain management, production, sourcing, business plans and financial strategies. These students know the ins and outs of the industry, how and where garments are made, and how to control a fashion line from start to finish. On top of that, these majors learn how to take their line global. Pretty neat, huh?
Choose this major if: You love fashion but are much more interested in the behind-the-scenes aspects, you love to travel, you're a bit of a control freak.
Classes: Computer Pattern Drafting I & II, Textile Testing for Quality Assurance, Merchandising, Costing & Specification, Computer Grading, Marking & Cutting, Cost Control, Ownership & Finance
Film & TV Costume Design
FIDM students enrolled in the Film & TV Costume Design major are in control of making a static, scripted character turn into a real vision. Film & TV Costume Design is for students interested in creating clothing – but not for ordinary people to wear! This major focuses around clothing on sets.
Since FIDM is so intertwined with the entertainment industry, students have real life work opportunities available during the program and immediately after graduation.
Choose this major if: You count the days until the season premiere of your favorite TV show, you couldn't care less about the plot of a movie – you only care about what the actors are wearing, you love recreating extravagant pieces from other time periods.
Classes: Script Analysis, Costume Illustration for Film & TV I & II, History of Film – An Eye on the Wardrobe, Film & TV Now, Sourcing the Costume
International Manufacturing & Product Development
International Manufacturing & Product Development students tour Europe and Asia to work with companies around the world that specialize in global manufacturing. Since fashion is an international business, students in this major learn about globalization and how to successfully navigate the business world in other countries.
Choose this major if: You're not scared of flying, you speak another language fluently, you are fascinated by other cultures.
Classes: Strategies for Import/Export, Global Relations and Negotiations, Merchandise Sourcing & Production, International Merchandising Strategies
Footwear Design
If you're reading this article on College Fashion, chances are you love shoes. But have you ever thought about creating shoes and the process that goes into making every piece of footwear?
FIDM students in the Footwear Design program learn about the construction and design of shoes as well as the global business behind every shoe creation. Since a well-made shoe requires an intensive technical process, students also learn about the latest technology and tools in the industry.
Choose this major if: Your shoe closet is getting out of control, you own every book about Manolo Blahnik ever written, you're fascinated by the foundation of your stilettos and how they manage to hold up.
Classes: Marketing Strategies for Footwear, Applied Footwear Design I & II, Computer-Aided Design for Footwear, Footwear Collection Development
Merchandise Marketing
The Merchandise Marketing major combines many facets related to the fashion industry. Students in this major often go into the business side of fashion: buying, selling, sourcing or starting their own boutique. However, this major is not strictly about business. Many other Merchandise Marketing students end up as visual merchandise managers, trend forecasters or fashion marketers.
Choose this major if: You love fashion but aren't sure what exactly you want to do, you love math, you daydream about launching your own business.
Classes: Entrepreneurship, International Business, Promotion in the Merchandise Environment, Merchandise Presentation, Merchandise Math, Contemporary Business Strategies, Applied Trend Forecasting
Merchandise Product Development
Although Merchandise Product Development might sound similar to Merchandise Marketing, the two are entirely different!
Product Development majors are incredibly creative, but usually have no interest in sewing garments themselves. Instead, they come up with concepts, patterns and technical drawings for garments to be sold to major retailers. While the line itself may be physically made by others, it will be 100% the Product Development major's design.
Choose this major if: You love coming up with ideas and sketches for lines but have no interest in sewing, you love computers, you're great at budgeting.
Theater Costume Design
Theater Costume Design majors create garments for the stage. They employ the skills of Fashion Design majors but focus on theatrical style. These students bring scripted characters to life through the extravagant costumes, jewelry and accessories they create for theater actors.
Choose this major if: You can name every show on Broadway right now, you dream of baubles and bustles, you were the costume wiz kid in your high school drama club.
Classes: Wardrobing for Film & TV, Costume Crafts I & II, History of Decor & Costume I & II, Drawing and Rendering for Theater
Visual Communications
Visual Communications is an incredibly popular major at FIDM. These students are more interested in selling a product through visual display than making the product itself. As a highly creative field, Visual Communications involves everything from designing lighting for events or stores, to sketching floorplans, creating window displays and studying trend forecasting.
Choose this major if: You spend more time in stores staring at the style of crown molding or visual displays than looking at the clothing, you love watching the Rachel Zoe Project, you would love to design window displays for a living.
Classes: Ideation Sketching; Trends: Past, Present and Future; Drafting Techniques for Visual Presentation; Lighting Techniques; Lifestyle Presentation
Non-Fashion-Related Fashion School Majors
Beauty Industry Merchandising & Marketing
If you are a makeup fiend, then Beauty Industry Merchandising and Marketing may be the perfect fit for you!
The beauty industry is fast-growing and operates differently from the world of fashion. Accordingly, Beauty Industry Merchandise & Marketing students learn the ins and outs of the business of beauty products. Also, Beauty Industry Merchandising and Marketing majors create their own beauty lines and learn to sell them!
Choose this major if: The salespeople at Sephora know you by name, the thought of writing a business plan for a line of beauty products excites you, you are always complimented on your perfume.
Classes: Fundamentals of Fragrance, Current Beauty Industry Topics, Principles of Beauty Technology, Fragrance & Treatment Industries, Brand Imaging
Interior Design & Interior Design Specialties
Interior Design majors learn the ins and outs of creating beautiful rooms in their own style. On top of this, they learn how to launch their own business ventures and achieve success with their own businesses. These majors also can specialize in an advanced program to learn more about residential, furniture or commercial design processes.
Choose this major if: You watch HGTV constantly, you love perspective drawing, you always enjoyed creating houses on The Sims.
Classes: Technical Drawing I, II & III, Residential Design Concepts, Materials for Interior Design, Commercial Thesis, Lighting Design
Business Management
Business Management is the only four-year Bachelor's degree offered at FIDM. Many students from every major join in on the Bachelor's program in order to get a well-rounded feel for the industry. When combined with the skills learned in their own majors, the business management degree makes students unstoppable in their fields. They learn about domestic and global issues, the knowledge of starting and running a business, and managerial skills.
Choose this major if: You want a stronger knowledge of formulating a business, you are great with math and budgeting, you want to be a stronger professional.
Classes: Business Law, Global Marketing, Strategic Management Policies, International Finance, Macroeconomics
Digital Media
Digital Media students are plugged in to technology at all times and are fascinated by the world of computers. Whether it's animation, creating video games, editing film or crafting 3-D movies, Digital Media has something to satisfy every interest in this field. This major is extremely technical and requires being a bit of a computer geek to make the most of it!
Choose this major if: You own an Xbox 360, PS3, and play video games on your Droid… and PC… all the time; you'd love to make movies; you can wire anything properly within minutes.
Classes: 3-D Model Creation, Motion Graphics I & II, Web Design Fundamentals, HD Filmmaking for Visual Effects, Avid Editing for Film & TV
Entertainment Set Design & Decoration
The basis of every movie and TV show is the set design. Students in Entertainment Set Design & Decoration learn to create sets for films and TV from scratch. They also learn the history of film and style and adapt it to fit the script of a project. In addition, they learn firsthand what working on a set is like with limited budgets and production flow. These majors learn interior design but take it to a new level.
Choose this major if: You find yourself watching what's behind the actors in movies, you love how a space can reflect a person, you're fascinated by vintage furniture.
Classes: Film: History and Development, Production & Set Design, Set Decorating, Essentials of Film Production, Perspective Sketching
Graphic Design
Graphic Design melds creativity with technology. Students in this major create brand images, develop concepts for companies and form logos and ad campaigns. Graphic design opportunities after college range from making cereal boxes to video game cases to spearheading marketing campaigns. At FIDM, two different specialties exist within this major: Branding and Entertainment.
Choose this major if: You love Photoshop, you have an eye for proportions and beauty, you want your art to be commercial and sell-able.
Classes: Packaging Design, Typography, Graphics/Licensing, Logo/Symbol Design, Graphics in Motion, Title Design
Your thoughts?
Now that you know all about fashion school majors, I want to hear from you! Which major would be most up your alley? If you're a prospective fashion school student, did you find this helpful? Leave a comment and let me know!