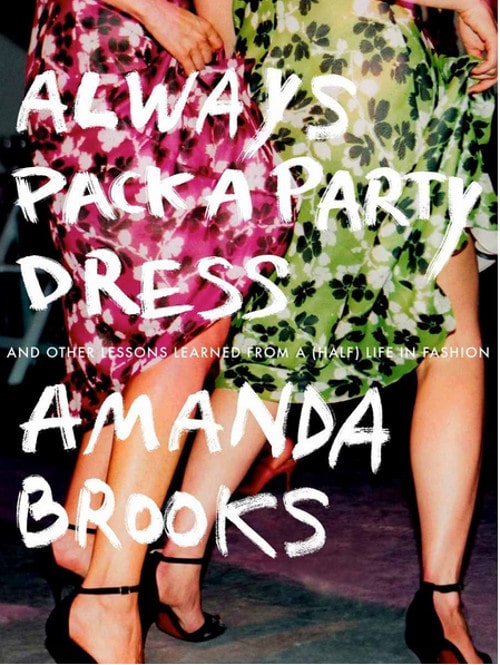 Always Pack a Party Dress cover via Amazon
The other day I was browsing Barnes and Noble (okay, I was specifically looking for a copy of Game of Thrones with Jon Snow's face on it, but that's neither here nor there). At the front of the store, sitting innocently on a table, was a book whose cover art and title immediately captured my eye – Always Pack a Party Dress: And Other Lessons Learned from a (Half) Life in Fashion, by Amanda Brooks.
How can you ignore a book that gives you a pretty solid advice tip in its title, before you even turn to the first page!? I was intrigued and had to pick this book up for a read. Brooks's book is not quite a memoir, not quite a how-to book, not quite a blogger's compilation of photos and anecdotes. Somehow, it's all three at once, while simultaneously being one of the most uniquely formatted books I've ever read.
Amanda Brooks speaks candidly about the fashion world, what it's like from an insider's perspective, and how exactly she got to be on the inside of such an exclusive community. If you have any interest in writing, designing, or modeling for the fashion world, or simply want to be involved in this universe, you should consider picking up this book.
You'll love this book because…
Like I mentioned, it's not quite a memoir and not quite a how-to book. It's a bit of a mixture between the two! Brooks fills the pages not only with personal anecdotes and insider tips, but also loads up on colorful, intriguing photographs. It's really beautiful to just flip through the pages and get a glimpse into the fashion world.
While this book provides a lot of how-to tips on getting ready for events, doing your hair, and putting outfits together, it also includes a lot of outfits that Brooks admits didn't work for certain events. It's refreshing to see how even fashion experts make mistakes, and how personal style is really a learning experience.
Whether you're into the fashion world or not, Brooks provides insightful tips and tools that are essential for anyone looking to gain a career in any field, not just in the fashion industry. It can never hurt to brush up on your skills!
That being said, Brooks is not your average girl off the street who magically stumbled into the fashion world like Anne Hathaway in The Devil Wears Prada. Brooks definitely had connections (she briefly dated Diane von Furstenburg's son, for instance), so some of the advice and experiences she discusses just aren't realistic or relatable for the average college student. Still, you'll probably be able to relate to some of what Brooks is saying, and for the rest of it, it's still fun hearing about the Met Ball from someone who's been there, right?
Overall, if you're interested in fashion (and I'm assuming you are, if you're on this website), you'll probably enjoy flipping through Always Pack a Party Dress. No, we can't all afford vintage Chanel handbags, even from Parisian flea markets. But we can all dream and gather inspiration from the ambitious Amanda Brooks, and live vicariously through her stories while we do it.
Thoughts?
Have you read Always Pack a Party Dress? Do you have any interest now in picking up the book? Whether you've read the book or plan on reading it, I'd love to hear your thoughts!