Need a new podcast to listen to? We've rounded up the 6 best fashion podcasts every fashion girl needs to have on her radar.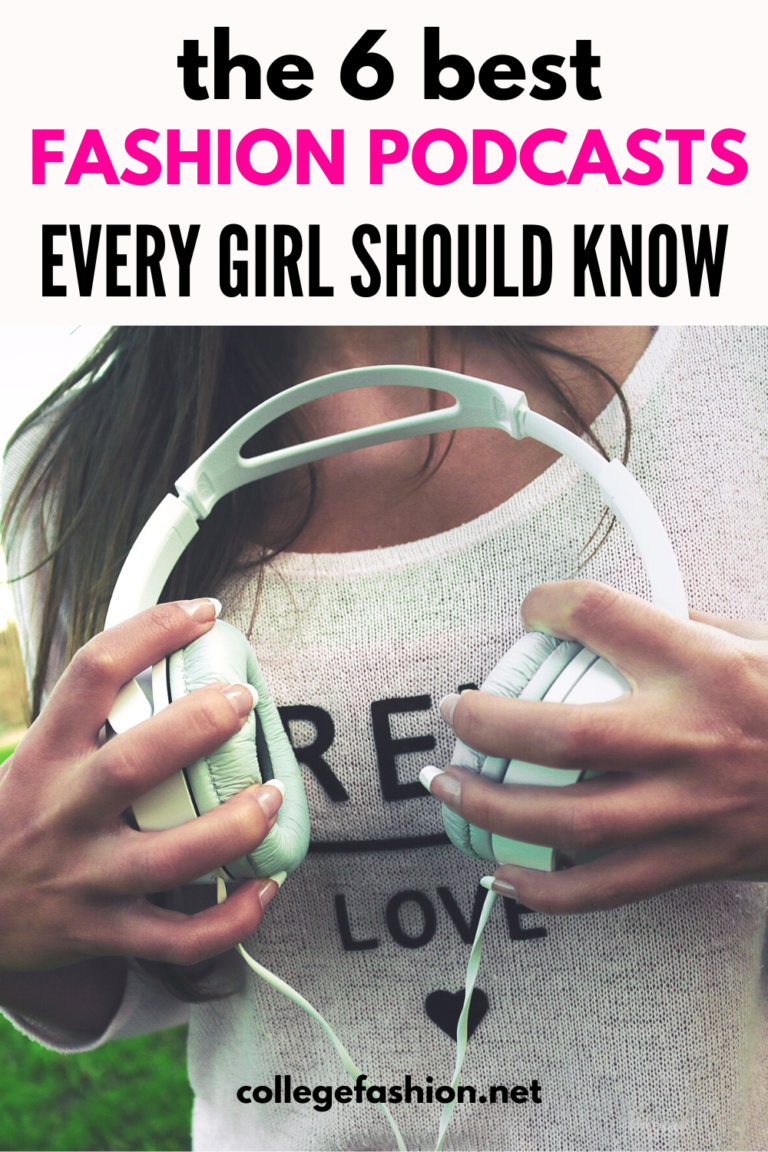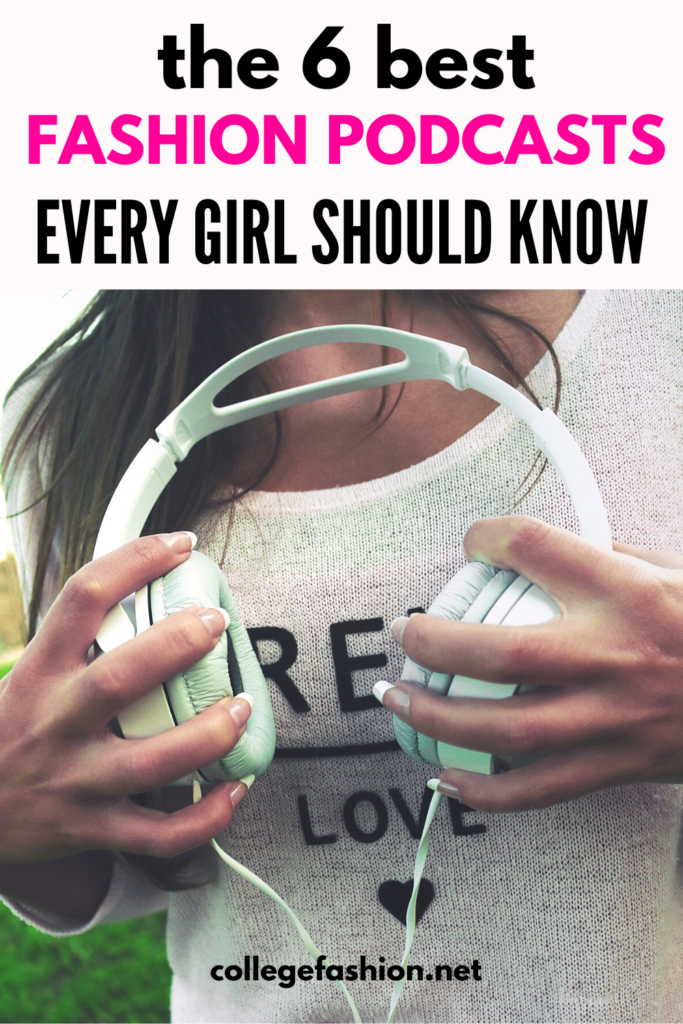 If you ask me, podcasts are this century's greatest invention. They're perfect for just about every occasion — when you just want to sit down and relax, when you're killing time between meetings, or when you're on the go and need to spice up your commute.
Choose any topic under the sun, and you can probably find at least 5 to 10 podcasts dedicated to the subject. So suffice to say that I have quite a few podcasts in my regular rotation.
Here at CF, we've written before about podcasts to listen to at the beach and the best female led podcasts, but today I've rounded up my favorite fashion based podcasts available on Spotify, Google Podcasts or wherever you get your podcasts.
So whether you're into fashion merchandising, fashion history, or just want to stay up to date on the latest runway trends, there's something for you in this list.
Without further ado, here are the 6 best fashion podcasts that every fashion girl should have on her radar.


For all those history buffs out there, Dressed: The History of Fashion is just what you'd think. April Calahan and Cassidy Zachary are fashion historians who each week cover the history of various trends, clothing pieces, and people involved in fashion.
An impressive amount of research and detail goes into every episode. For instance, did you know that polka dots were introduced into European society as a result of the folk dance, the polka? Or that there are connections between women's clothing and driving?
There are Fashion History episodes where they discuss things like Mister Roger's jumpers or Miss Piggy's Instagram. So, you see, history is fun.
One of my favorite episodes is the one on Elizabeth Keckly, a former slave and later a very successful dressmaker during the Civil War Era and eventual dressmaker to the First Lady, Mary Todd Lincoln.
As April and Cassidy say, "With over 7 billion people in the world, we all have one thing in common: Every day, we get dressed."


This is one of the newest fashion podcasts on the list. Similar to Dressed, Fashion Bites has some fashion history elements, only they are incorporated into a shorter time frame, hence the "bites" in the title.
AnthiG covers topics such as the history of fashion shows, skirts, and even prom. There are also episodes with various fashion tips, with guides to thrift shopping and ways to have a more sustainable wardrobe.
So if you have a little bit of time between classes or just want to learn something in a couple of minutes, Fashion Bites will be your new favorite podcast.


This one is good for people who are into fashion as an industry and want a behind the scenes look at all the glitz and glamour.
Hosted by two France-based fashion journalists, Camille Charriere and Monica Ainley, Fashion No Filter offers an unfiltered look at fashion shows, big brands, and even fashion documentaries.
One episode has the hosts attending Copenhagen Fashion Week and interviewing Danish stylist Pernille Teisbaek. Another one has them chatting with fashion show producer Alexandre de Betak on what it takes to get a show on the runway.
Featuring a variety of guests, from designers to stylists to entrepreneurs, the podcast gives listeners an objective look at what goes into preparing fashion shows, navigating Instagram's algorithm (a story or episode in itself), and promoting a fashion brand.
So if any of you are budding fashion entrepreneurs or just want to gain a deeper knowledge of the fashion industry, Fashion No Filter is worth a listen.


This one is one of my all-time favorites and a must-listen for me. I never miss an episode.
Hosted by fashion entrepreneur and YouTuber Patricia Bright, Caught Off Guard features guests ranging from influencers like Grace Beverly to models like Leomie Anderson, beauty CEOs like Akash Mehta, and fashion interns. Patricia talks to these guests about everything from how they got where they are, to how they manage their money.
As Patricia says, "no topic is off limits and I ask the questions that we all really want to know the answers to." So if you're interested in the journeys and lessons of successful people, you'll get all that and more from Caught Off Guard.
My favorite episode is definitely the one with Leomie Anderson, which really surprised me — I had no idea what models actually have to go through on a day to day basis.
Patricia is a charming host and really bounces off nicely with all of her guests. You can follow her @thebreaksocial on Instagram.


For all those wondering what studying fashion is like, Life of a Fashion Student is the podcast for you. Host Kristina Ang studies fashion design at the Parsons School of Design in New York City.
On the podcast, Kristina tells you her story of how she got into fashion and her journey through fashion design school. On some episodes, she debunks the stereotypes surrounding fashion students, tells us what they don't tell you about fashion school, and she even explains how fashion school has operated online during the pandemic. She even has an episode on her experience attending New York Fashion week!
Kristina is very vulnerable and engaging when she speaks, so even if you're not an aspiring fashion school student, Life of a Fashion student is definitely a good listen that's perfect for college women.
Follow the podcast on Instagram @lifeofafashionstudentpodcast.


If you want to begin thrifting or just want to hear from someone who loves it as much as you do, then look no further than the Pre-Loved Podcast.
On this podcast, Emily Stochl and her thrifty guests talk about vintage style and various topics relating to second-hand clothing and other items. From seamstresses to upcycled fashion brand owners, there are people in the thrifting community ready to share their knowledge with you. And they hail from all over the world, from Mumbai, India to Accra, Ghana.
I'm a huge Etsy fan, so the episode where Emily interviews Aarica Nichole on her vintage and homemade goods store on Esty, was a favorite. Quite a few of the episodes delve into the sustainability of thrifting, so if you've considered thrifting as a way of reducing your carbon footprint, give these episodes a listen to learn how you can change your habits.
What do you think of my fashion podcast favorites?
Which ones did I miss? What are your favorite podcasts? Let me know below in the comments.