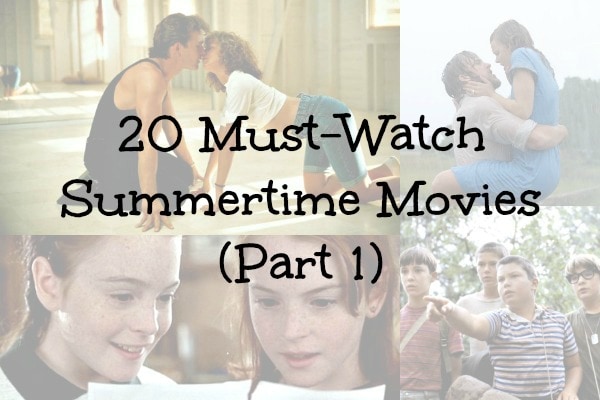 Summer has arrived and we're FINALLY rewarded with a little bit of free time. What are some of you favorite things to do when you want to relax? Lay out by the pool? Workout? Clean your house and organize? You don't have to ask me twice what my favorite pastime is. Since the day I was born, I've always been a movie junkie.
To kick off the summer, I thought it would be fun to write about 20 awesome summer-themed movies. Most of these film explicitly happen during summer months or summer break. Some of them never say exactly when they take place, but have an undeniable summertime vibe to them. And of course, all of them will make you want to put on some Bermuda shorts, find a summer fling, and get a snow cone!
This week we'll feature 10 movies, then finish the list next week. If you don't see your favorite summer flick on this list, be sure to leave a comment and let us know – it just might make an appearance next week!
Let's begin.
1. Weekend at Bernie's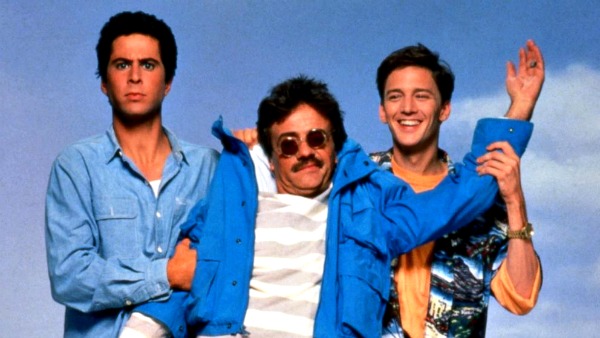 Weekend at Bernie's is a dark and twisted comedy about two young professionals who are invited stay the weekend with their shady boss Bernie at his beach mansion in The Hamptons. After they realize he's dead, they uh, tote his body around for the rest of the weekend so they can still enjoy the all boats, parties, and babes The Hamptons has to offer.
Yes, the movie is as bizarre as it sounds. But it's a total classic – other movies and TV shows reference this film all the time, and it even inspired a dance craze! Weekend at Bernie's is the perfect kind of movie to play while cooking out with your friends, and it's a must-see for pop culture aficionados! Plus, Andrew McCarthy is just kiiiiinda adorable.
Favorite Moment: Right after the boys figure out that Bernie's well, dead, dozens of people barge into the house and a huge beach party commences. As the boys watch nervously, several friends and sexy ladies talk to, hug, high-five, and even kiss Bernie, and all have absolutely no idea that he's a corpse.
2. The Parent Trap (1998 version)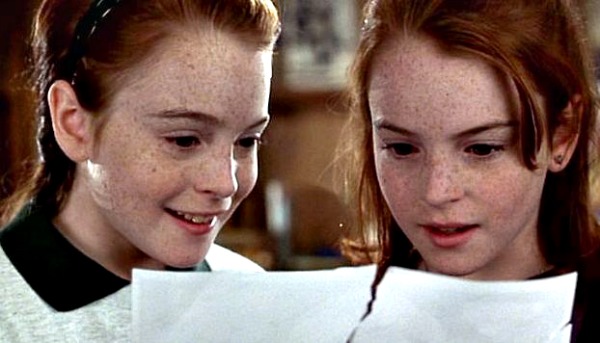 While the original was wonderful and will always be a classic, the Nancy Meyers remake was the Parent Trap that just spoke to girls our age! I still remember seeing Lindsay Lohan the first time on one of those Disney Channel behind-the-scenes teasers. After seeing the movie, I actually asked my dad to teach me how to play poker, tried Oreos with peanut butter, and attempted to casually speak with a British accent. I was also totally convinced I could safely pierce an ear.
The other awesome thing about this movie is the beautiful love story between Dennis Quaid and Natasha Richardson. When I was young, I only paid attention to the twins and how cool it was that the girls found each other – now, I adore the sappy love between the parents, and the butler and housekeeper!
Favorite Moment: The twins' epic fencing duel. You know the younger owner of the camp, Marva? That's the same lady who played Janice in Friends!
3. Wet Hot American Summer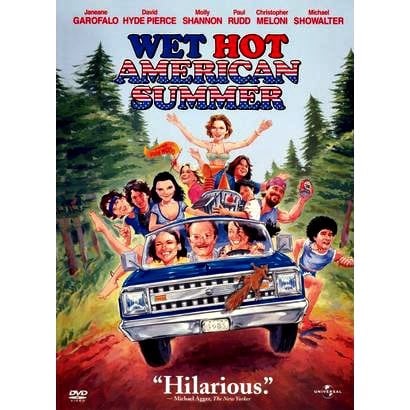 Paul Rudd, Amy Poehler, Molly Shannon, Bradley Cooper, Michael Ian Black, and Elizabeth Banks all star in this independent, silly, cult classic comedy. Wet Hot American Summer takes place on the last day of a summer camp, where the counselors all, well… have just a few screws loose.
I'll warn you, you've gotta be a little wired and loopy to "get" this movie. It's the perfect kind of flick to watch in the middle of the night. Think Monty Python or Napoleon Dynamite. But once you watch it, it'll become one of those movies you'll love to turn on and play in the background while you cook or clean your apartment. It's good ol' goofy comfort.
Favorite Moment: "Douchebags are hygeinic products, I take that as a compliment. Thank you!"
 4. The Great Outdoors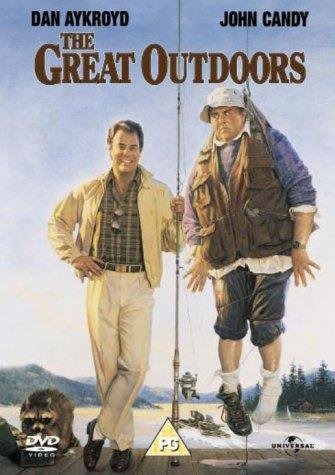 The Great Outdoors was one of those movies we kept at my lake house growing up, so I have several memories watching it with my extended family, friends from school, and the other kids who vacationed in my lake neighborhood.
This movie, written by John Hughes, has the feel and comedy of a classic '80s movie, and features the things that make us love Dan Aykroyd and John Candy. It's pretty much the perfect old school flick to watch while eating a burger and playing a board game with one of your young cousins!
Favorite Moment: When John Candy and Dan Aykroyd try to chase a bat out of their lake house using tennis rackets and hockey pads, and don laundry baskets as helmets. My dad and uncle had a similar experience with an opossum a couple years ago. Too funny!
5. Almost Famous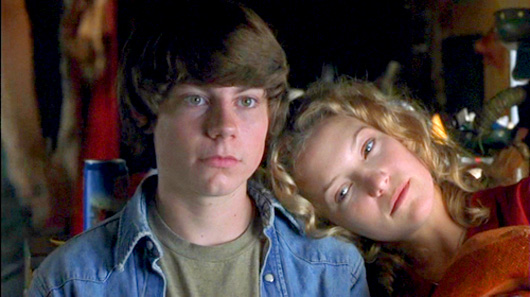 Cameron Crowe's semi-autobiographical coming-of-age film tells the story of a young teenage writer for Rolling Stone who tours with Stillwater, a burgeoning band, and their "band aids" (a.k.a. groupies).
Almost Famous has a really cool, nostalgia feel to it, and tells the story of a band's rise to fame from a different angle than we're used to seeing. This movie is also responsible for putting Kate Hudson on the map. Plus, her outfits throughout the movie are to die for. I AM A GOLDEN GOD!
Favorite Moment: There's so many awesome parts in this movie, but this one still gives me cold chills. After being on the road for weeks, the band, the entourage of girls, and William are all exhausted and on a tour bus headed to their next show. "Tiny Dancer" plays on the radio, and the whole band joins in to sing the song together. William tells Penny Lane that he has to go home, and she looks at him and says "You are home."
6. Stand By Me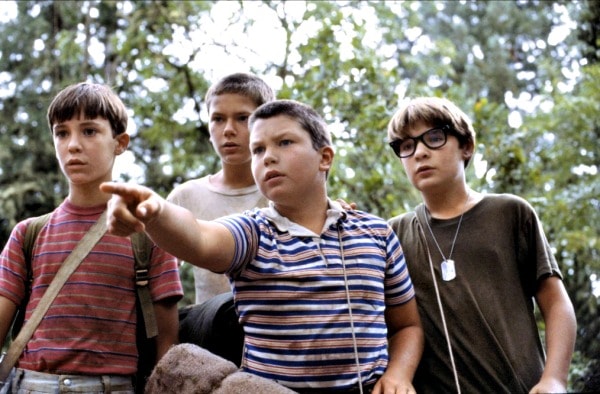 Just thinking about this movie makes me smile! Stand By Me, adapted from a Stephen King short story, follows four middle school-aged boys who follow the train tracks in search for a kid's dead body. It's a coming-of-age film, and stars cult-favorite actors Wil Wheaton and Cory Feldman, Jerry O'Connell, and the late and legendary River Phoenix.
See the adorably chubby kid in the picture above? Yeah, he grew up to be this guy and married Rebecca Romijn. This is perhaps the second greatest puberty success story (after Neville Longbottom, that is!).
Favorite Moment: In one of the most memorable and iconic scenes of '80s cinema, Chris Chambers (played by River Phoenix) who everyone in their community is certain is bound for a life of crime, shares with Gordie (Wil Wheaton) the heartbreaking story of how their own teacher stole the milk money fund herself and put the blame Chris. Gets me every time!
7. The Notebook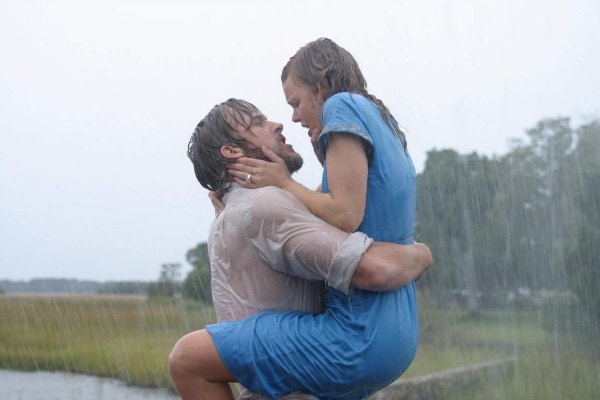 The Notebook might be the ultimate summer movie our our generation. 1) it's about a summer romance that never ended, 2) it was a huge summer blockbuster right around the time most of us were allowed to go to movie theaters with our friends, 3) the gorgeous Ryan Gosling, and 4) THE GORGEOUS RYAN GOSLING, OF COURSE!
Favorite Moment: The one pictured in the photo above, obvi! I was 14 or 15 when the movie came out, and remember blushing in my theater seat when this scorching hot sex scene occurred.
8. Cruel Intentions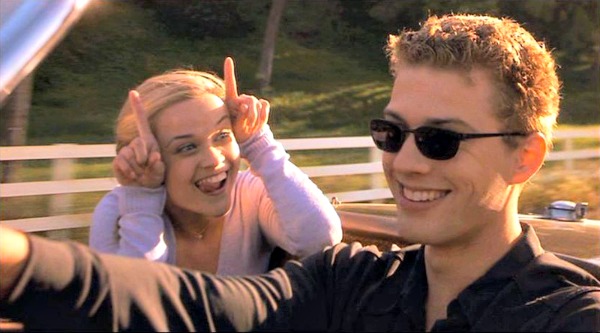 I still remember the first time I saw this movie – and having to pick my jaw up off the floor during the insane ending. This movies features an all-star cast, and was one of the first films that I ever saw with Reese Witherspoon and Selma Blair. Plus, Ryan Phillippe was totally beautiful, and Sarah Michelle Gellar was frighteningly cold.
I actually remember buying the movie soundtrack CD in high school because I loved "Bittersweet Symphony," "Praise You," and "Colorblind" so much. Yeah, remember the days before iTunes and Spotify? Hah!
Favorite Moment: The scene pictured above, when Annette (Reese Witherspoon) tries to get Sebastian (Ryan Phillippe) to lighten up a bit and have a good laugh. Too adorable.
9. Adventureland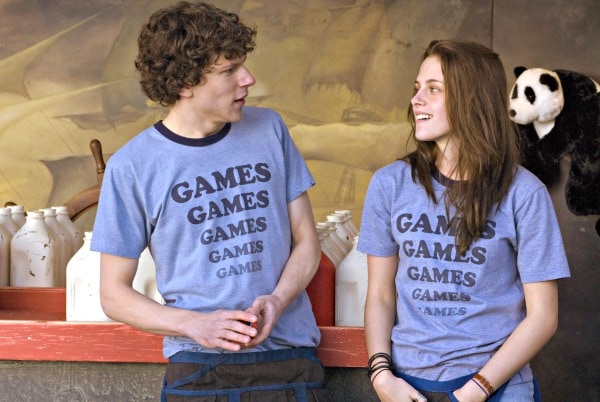 With its all-star cast and messy web of inter-dating and secret affairs, Adventureland feels a little bit like the summer job retro version of He's Just Not That Into You. James (Jesse Eisenberg), has a thing for Em (Kristen Stewart), who's hooking up with Mike (Ryan Reynolds), while pretty much every other person who works at the amusement park wants to date or has dated one of those three.
My two favorite character in this movie are the quirky husband and wife who own the park, played by Bill Hader and Kristen Wiig. Yes, they're as funny as you'd imagine.
Favorite Moment: Pretty much any scene that Ryan Reynolds is in. Yowza!
10. Dirty Dancing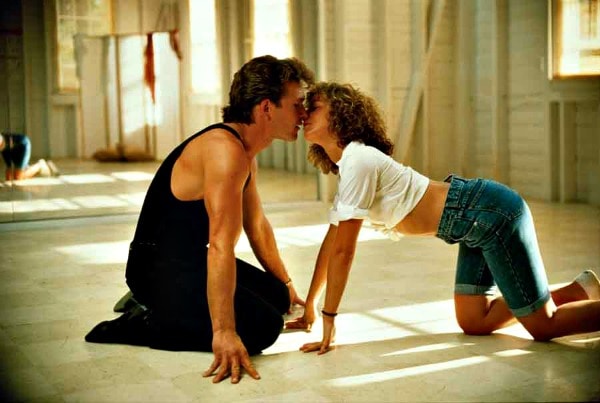 Dirty Dancing is sexy. It takes place over summer break. It has rock and roll elements, including a killer soundtrack. Plus, it make the late and great Patrick Swayze a household name. I cannot think of a more quintessential summer throwback flick. I mean, it's practically the standard that we compare all other teen summer romances to!
And always remember: Nobody puts Baby in the corner!
Favorite Moment: Who doesn't love the moment that Baby leaps into Johnny's arms during the final dance?
See the rest of the list!
Want more? Click right here for part 2 of this list.
What are some of your favorite summer movies?
Which of these movies have you seen? Which film is your favorite? What would you like to see on the rest of the countdown next week? How do you like to spend your free time over summer break?
Leave a comment and tell us what you think!