Citing fashion icons like Cher, Twiggy, and Bianca Jagger, Bella has mastered her own style with ensembles that bring to mind the 1970s. Her hippie taste will inspire you to go on a shopping expedition to your local thrift store and seek out hidden gems!
Bella crafted this winning look with impressively minimal effort, highlighting each individual piece's texture and color, meshing everything together in one seamless (& stylish!) look.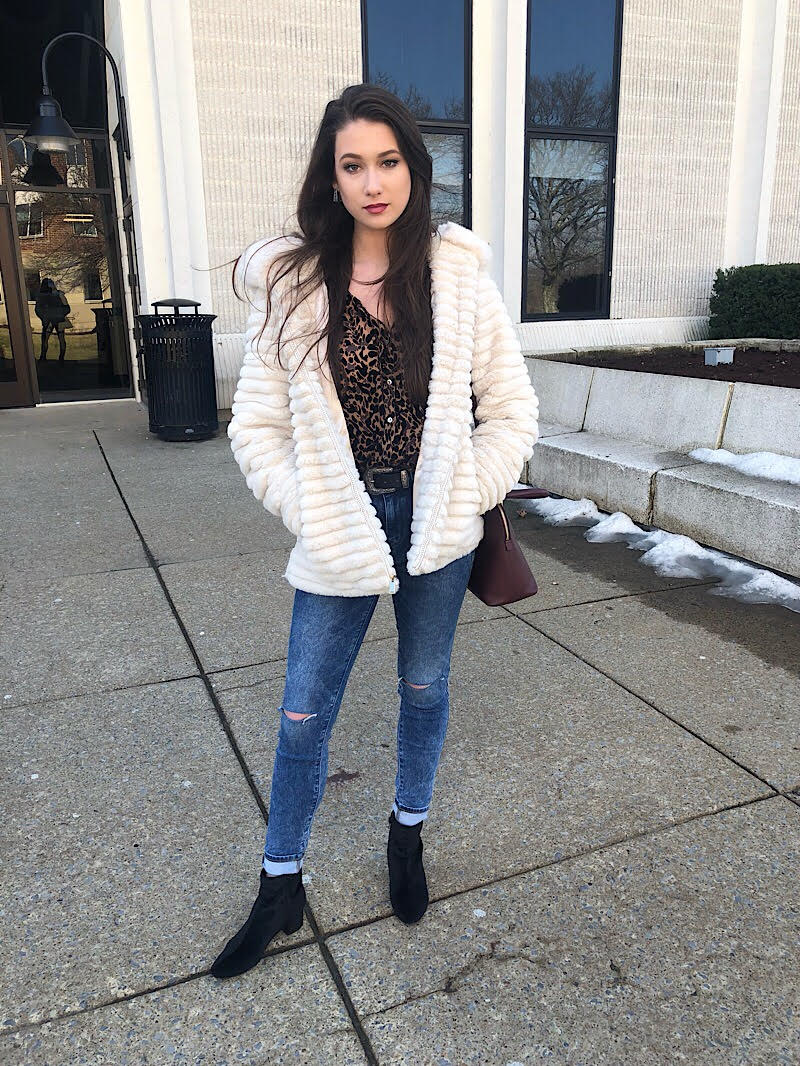 Bella 101
Name: Bella
School: West Virginia University
Year: Sophomore
Major: Fashion, Dress, and Merchandising
Hometown: Berkely Springs, WV
Let's Talk Fashion
Who or what inspires your style? "I'm inspired by a lot of looks from the '60s and '70s. I love the unapologetic and bold looks of women like Cher, Twiggy, and Bianca Jagger. There is an effortless decadence about them. I also get inspiration from my mom and my grandma who are always put-together. All of my jewelry in the photos are actually hand-me-downs and some of my everyday accessories."
Where do you like to shop? "I shop everywhere: thrift stores, department stores, online, and the shirt I'm wearing actually came from the Goodwill. It's more about the individual pieces I buy and how to put them together, rather than where I get them or their brands. Recently, I've been raiding my mom's closet."
How would describe your sense of style? "I'd describe it as '70s rocker meets lazy college student. It really depends on where I'm going that day and what mood I'm in."
Why did you choose this particular outfit? "I put together pieces that I love at the moment. My shirt and boots are two of my favorite things from my closet and I wear them a lot. I always like to feel a little dressed up but also comfortable and I think that outfit represents my style at the moment."
Do you have any favorite trends? "I love all of the biker jackets and fur coats… faux of course! Chunky ankle boots, unique sleeves, and statement belts are some more of my favorites. Also, you [can't] go wrong with an animal print right now."
What fashion advice would you give to other students looking to improve their style? "I would say to go for things you wouldn't normally go for and take a risk! You'll be surprised how confident you feel when you aren't dressed like everyone else. It can be anything from a bold print or some interesting jewelry; accessories are everything. Some of the best looks I've seen on other students are the eccentric ones that stand out. Ultimately, I'd say wear whatever makes you happiest. Wear what makes you feel confident."
Do you have any favorite fashion designers?  "I have an unconditional love for Yves Saint Laurent. I also have been loving the interesting silhouettes and drapery of Jacquemus' and Valentino's latest collections. I enjoy looking at up and coming brands too… I've been following The Attico and love their vintage but modern feel."
What do you do for fun? Do you have any unique hobbies or interests? "I'm a music addict and I'm always finding new bands to listen to. I love going to live shows and concerts. I also love to paint, draw, and read."
If you could raid anyone's closet, who would it be? "Harry Styles because he's lovely. His look is androgynous, trendy, and incorporates influences from every time period. I've always found his style really unique and inspiring."
Elements of Bella's Outfit
1. Faux Fur Coat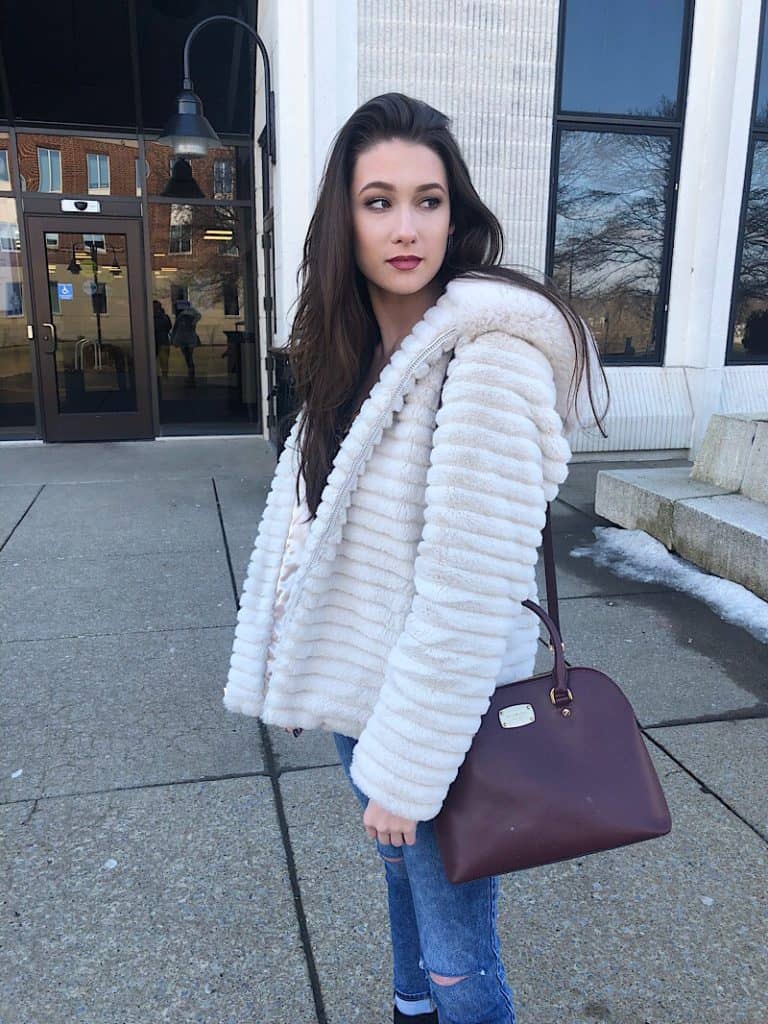 With the harsh cold weather still lingering around WVU's campus, Bella's coat keeps her warm while being aesthetically pleasing. This faux fur piece is ribbed with lines, making it a more unique version of a popular style.
2. Black Booties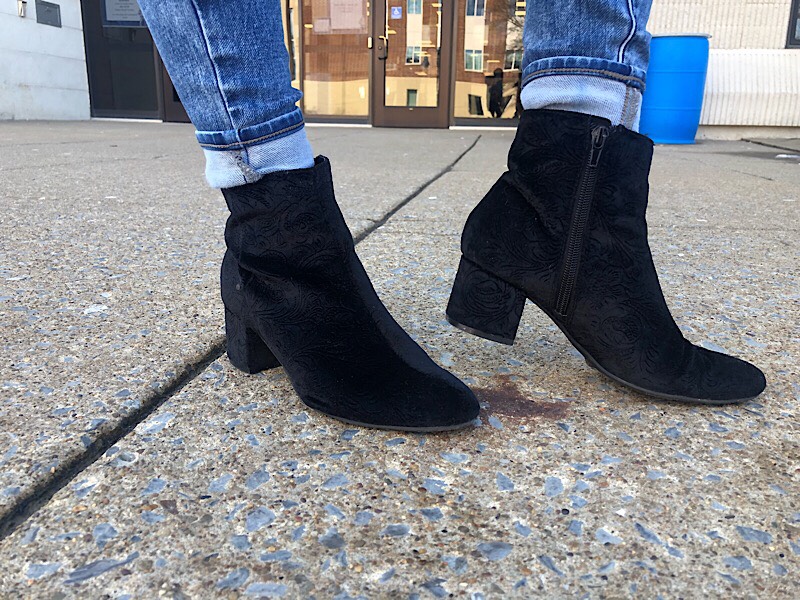 Bella is wearing the cutest DSW black booties. Bella cleverly cuffed her jeans above the ankle, allowing her booties to stand out against the light wash lining.
3. High-Waisted Jeans + Statement Belt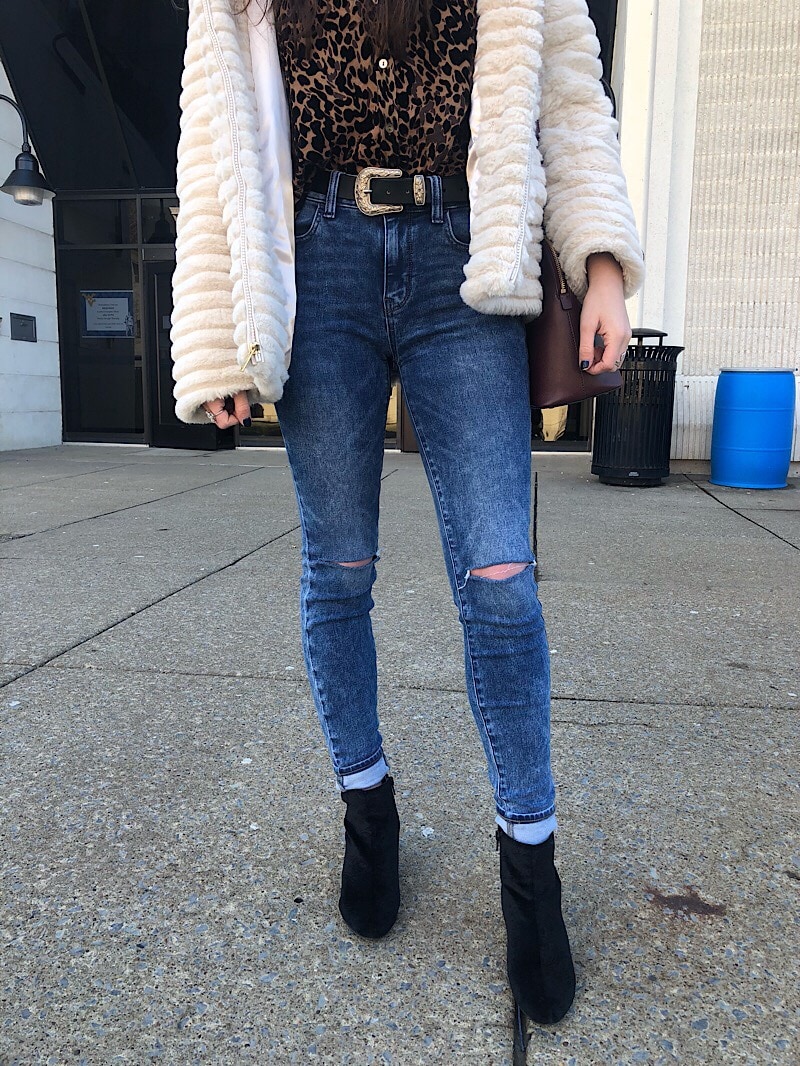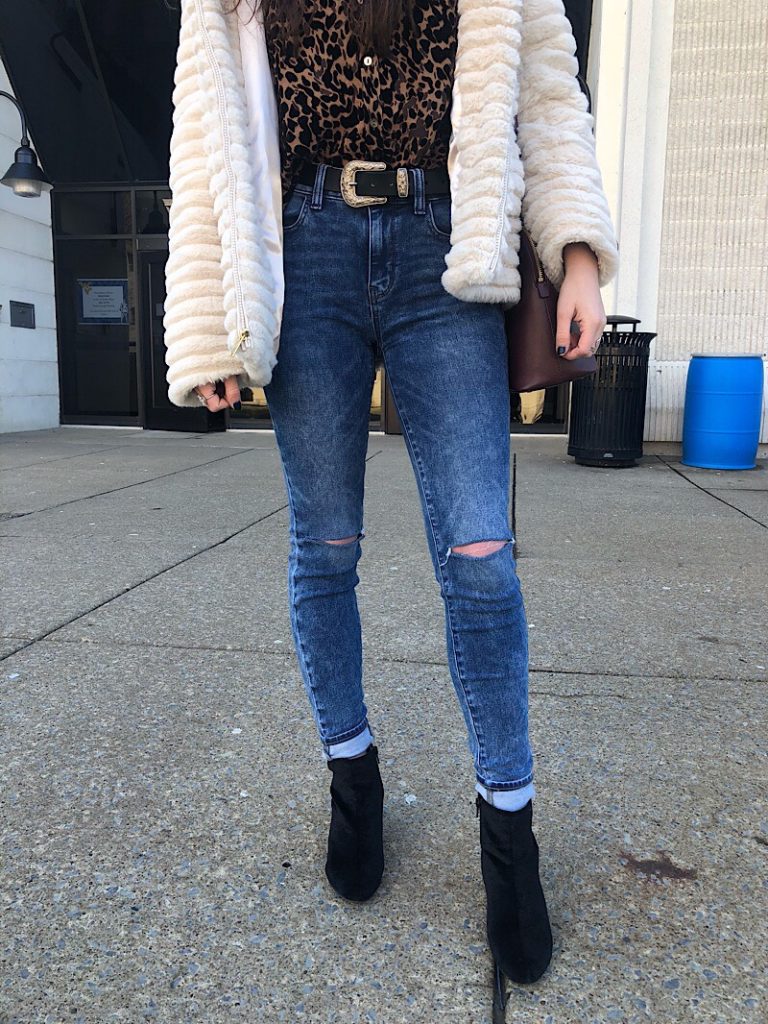 I only have one word to summarize Bella's ensemble: BOLD. Her Old Navy jeans scream 'rocker' with the single rip at the knees. They hold your attention but don't take away from the overall look. Her statement belt complements her high-waisted denim while standing out as her most prominent accessory. The chunkiness of the belt is a great way for Bella to break up the loose blouse and tight skinny jeans combination.
Now we want to know what you think!
Are you also inspired by 1970s fashion icons? Would you wear Bella's faux fur coat? Let us know what you think below!