Carly describes her style as "boho meets rocker grunge" and this outfit fits that description. In this look, she makes simple pieces edgy by pairing them with distressed items, flashy rings, and a unique belt. A turquoise necklace adds a pop of color and complements her western-style belt. She finishes it off with some chunky ankle boots. Well done, Carly!
Check out her outfit below — it's awesome inspiration for what to wear on a hot day at school: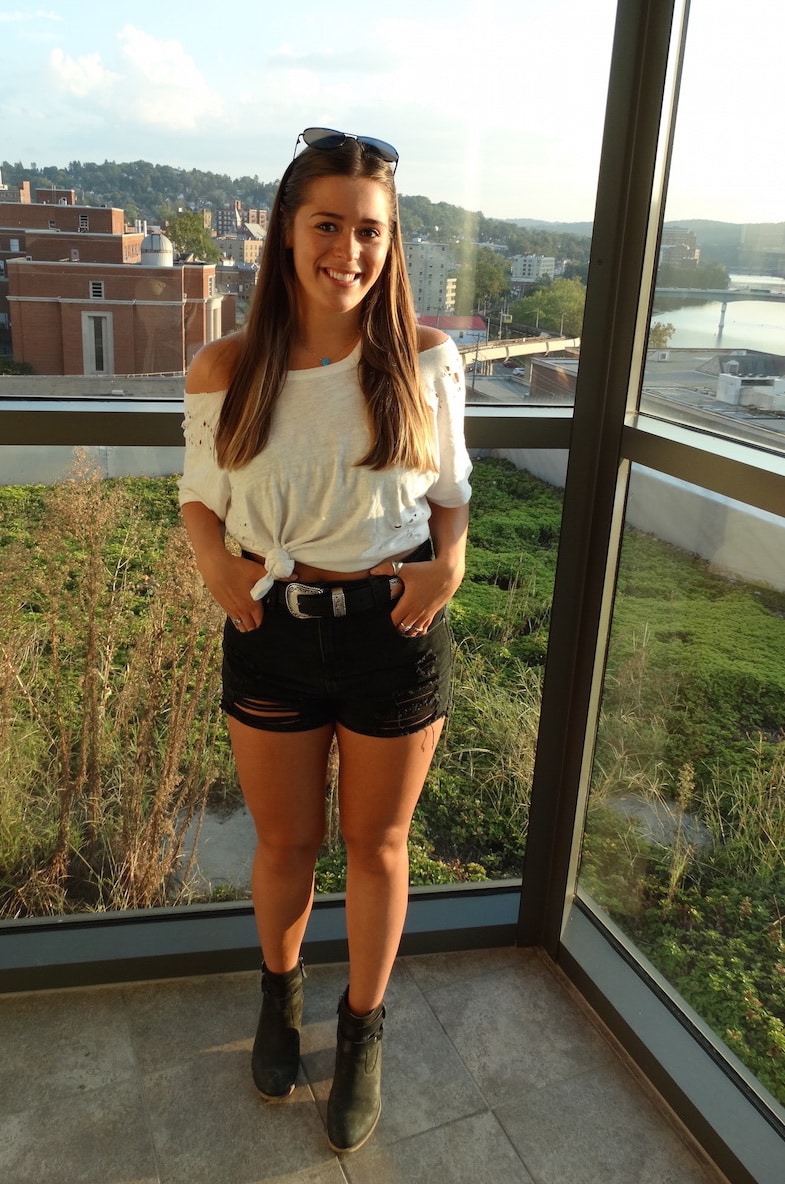 Carly 101
Name: Carly
School: West Virginia University
Year: Junior
Major: Journalism
Home: Bucks County, PA
Let's Talk Fashion
Who or what inspires your style? "I follow a lot of Instagram accounts that give me a lot of inspiration. A couple of my favorites are @hazel_boutique, @huntforstyles, and @the.indigo.child."
Where do you like to shop? "I do most of my shopping online. Free People, Urban Outfitters, ASOS, and Forever 21 are where I order from the most. I love Bloomingdale's and I could spend hours in Nordstrom Rack. Also, if I see a new store I think I'd like, I'll always go in and check it out. You never know what you might find."
Why did you choose this particular outfit? "I chose this outfit because I think it represents my style pretty well. It's also simple and comfortable, but still trendy."
What fashion advice would you give to other students looking to improve their style? "Wear whatever you like and don't be afraid of what other people will think. Don't be afraid to try new styles, but always wear whatever makes you feel comfortable."
Do you have any favorite fashion designers? If so, who? "I would probably say Steve Madden. I'm obsessed with shoes and I just love all of his designs. He also has great handbags and accessories, too!"
What do you do for fun – do you have any unique hobbies or interests? "I don't really have any specific hobbies, but I love going to concerts. It's my favorite thing to do. I love music and seeing your favorite bands live is the greatest thing ever."
If you could raid anyone's closet, who would it be and why? "If I could raid someone's closet I would probably choose Vanessa Hudgens. She has the best clothes and I obsess over almost every outfit she wears. I look forward to seeing her Coachella outfits every year."
Elements of Carly's Outfit
1. Distressed Tee + Shorts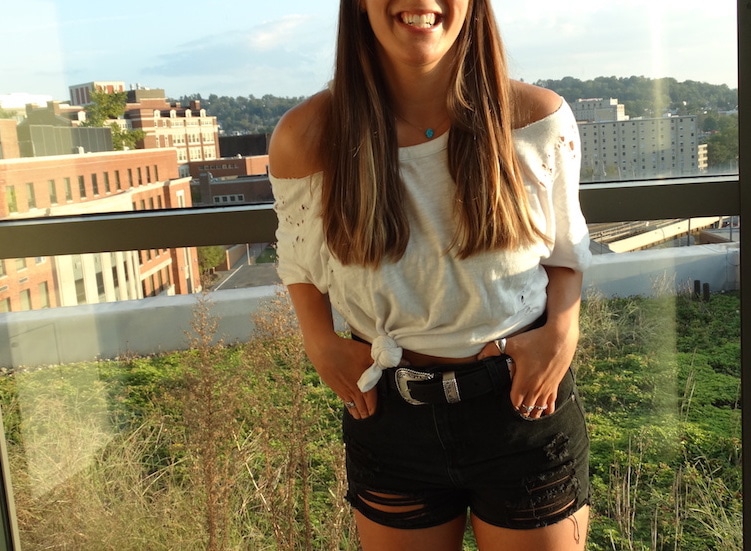 The distressed look will never go out of style and will always hold a special place in my heart. Carly took advantage of a hot fall day by tying a large white tee and pairing it with shredded black denim shorts. She's keeping things edgy and in style, yet weather-appropriate.
2. Cowboy-Inspired Belt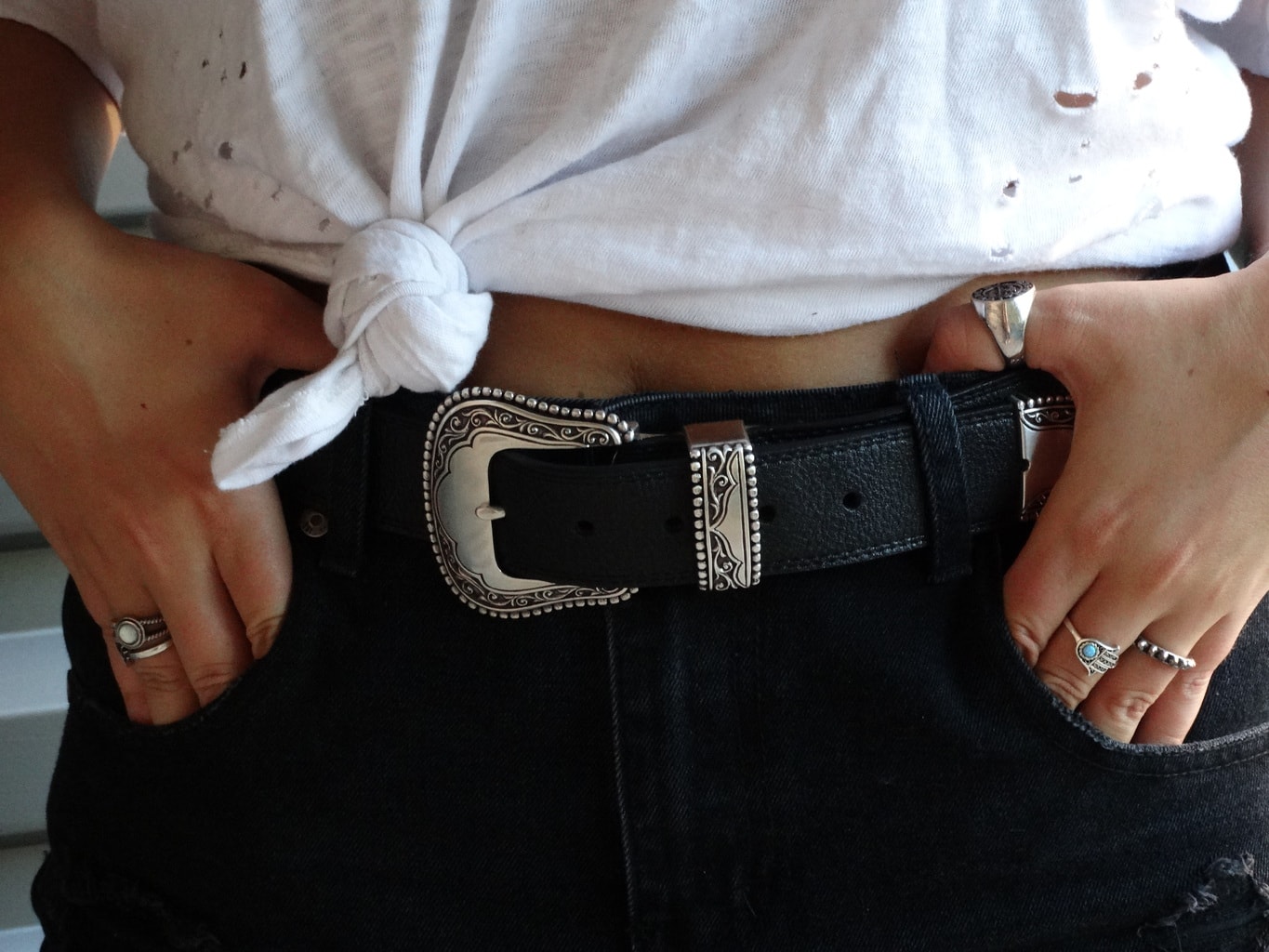 Carly's belt is my favorite part of her look. This wild west inspired belt is stunning and so truly unique. It accents her turquoise necklace and rings perfectly without distracting from her overall outfit.
Distressed: yes?
Or are you not a fan of shredded shorts? Are you as obsessed with Carly's belt as I am? Comment below!