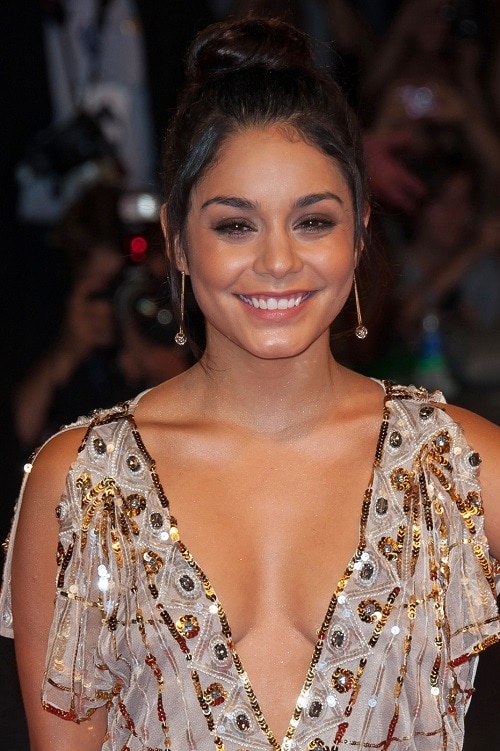 In honor of Coachella, this week's style inspiration comes from Coachella Queen/boho goddess Vanessa Hudgens.
Sadly, Vanessa won't be attending the festival this year, but we can honor her "reign" by channeling her breezy style and looking like we just got back from the beach.
For more on Vanessa's look, be sure to check out our guide to Vanessa's casual style in 2020.
Monday: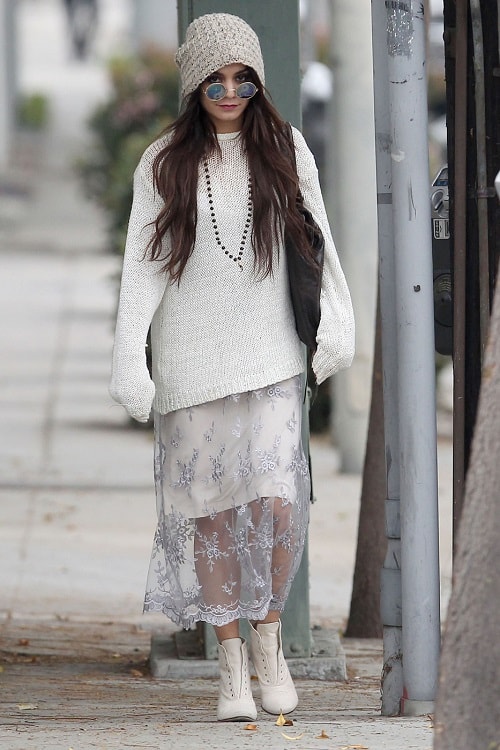 Channel your Monday angst with this moody look. Vanessa's ensemble is a mix between boho and grunge, which is perfect for a Monday. While her look may be a bit bold for you, there are ways to tone it down.
Start with a breezy, sheer skirt to bring out your inner boho babe. The sheerness can work on a chilly spring morning when paired with a loose-fitting, neutral-colored sweater. You can opt for rocker booties, like Vanessa, or go for flats to keep the look more relaxed. Pair the outfit with a beanie and round sunnies and you'll be ready to go.
Tuesday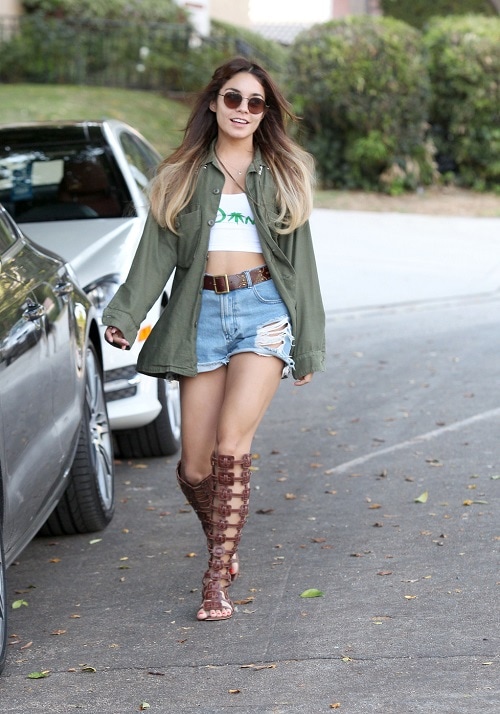 What's great about this outfit is the fact that you probably already own most of these pieces. High-waisted denim cut-offs? Check. Printed crop top? Check. Military-inspired green jacket? Hopefully, check. Add on-trend knee-high gladiator sandals to complete this playful and easygoing outfit that can take you from class to chilling with your friends.
Wednesday: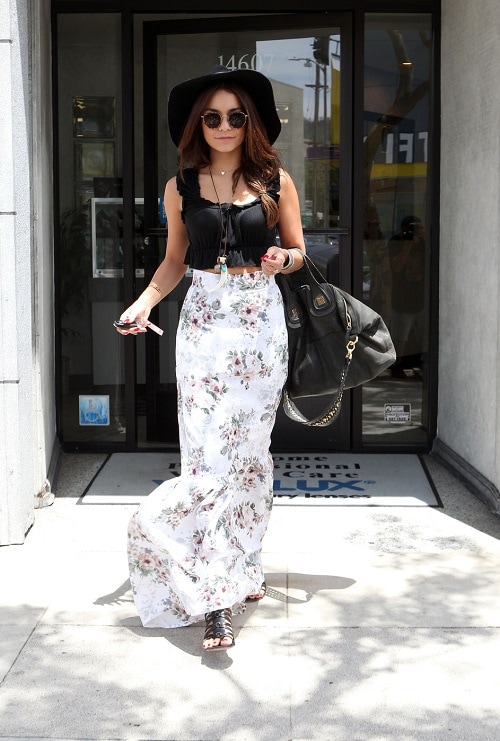 This outfit is perfect for a breezy spring day and has a bohemian vibe that doesn't look over-the-top. Choose a fresh floral print maxi skirt; one with a white or cream-colored base mimics Vanessa's clean and chic look.
Pair it with a cropped black tank or tee and leather sandals. Grab a floppy hat and a big weekender bag to tote your stuff around in style. This ensemble has a chic, music-festival vibe, so even if you're stuck on campus, you can still pretend you're rocking out in the desert.
Thursday: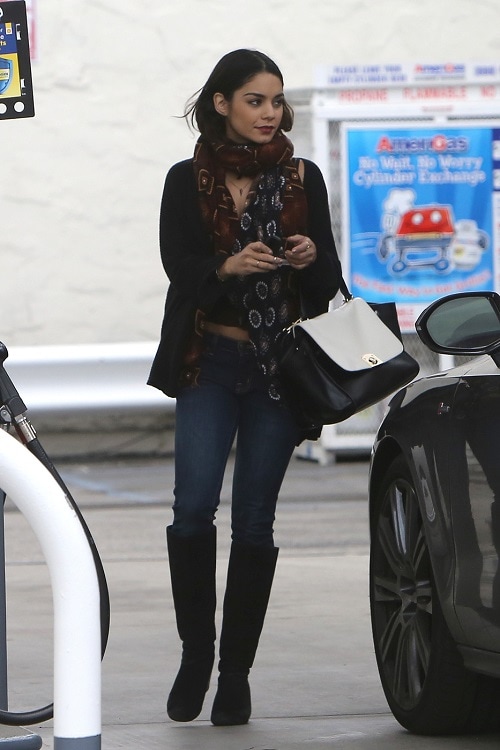 This cozy and casual outfit is easy to throw on for a Thursday afternoon study session or coffee date. Basic jeans and a black top are elevated with fun patterned scarves. Add a cozy black cardigan and knee-high boots to keep you warm in the moody spring weather.
Even if you aren't a scarf person, I'm sure you have some laying around; scarves are an excellent way to add interest to an outfit. You can even try wearing more than one for a fashion-forward look. Forever 21 has a bunch of cute and budget-friendly scarves, like this one and this one.
Friday: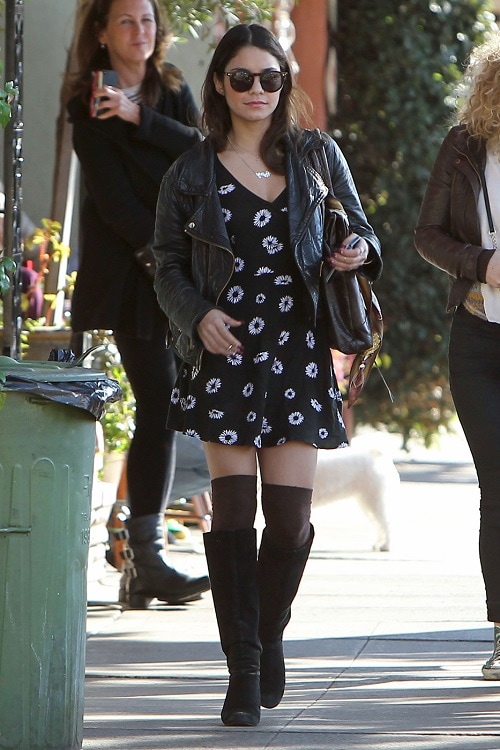 Reuse your boots from Thursday for this all-back look that's ideal for a night out. A daisy print dress is the perfect mix of grunge and boho, and looks edgy when paired with a moto jacket. Knee-high boots paired with the knee-high socks give the outfit a tailored and youthful feel.
Saturday: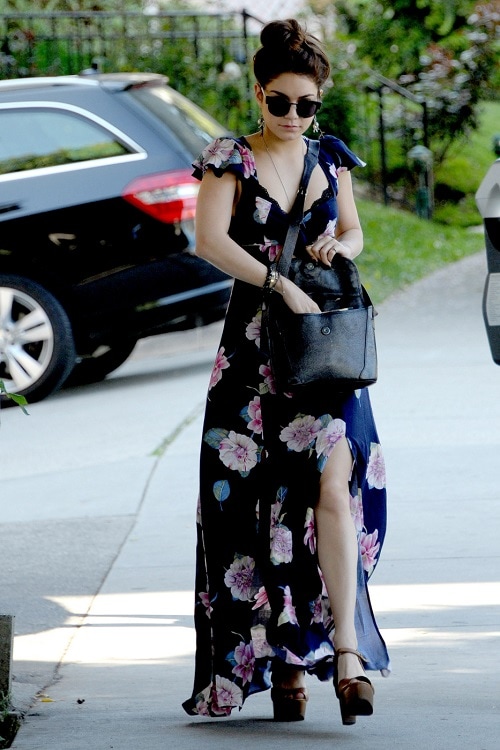 The thing I love about dresses is that they make outfits so easy – you don't have to worry about matching a top and bottom. I also love that Vanessa's breezy, floral print maxi dress is the perfect mix of boho and girly.
Pick up a dress like hers for yourself and you will have an easy-to-throw-together outfit to wear throughout spring and summer. Pair the dress with on-trend platform heels to channel that '70s vibe. Don't forget to accessorize with sunglasses and a leather satchel.
Sunday: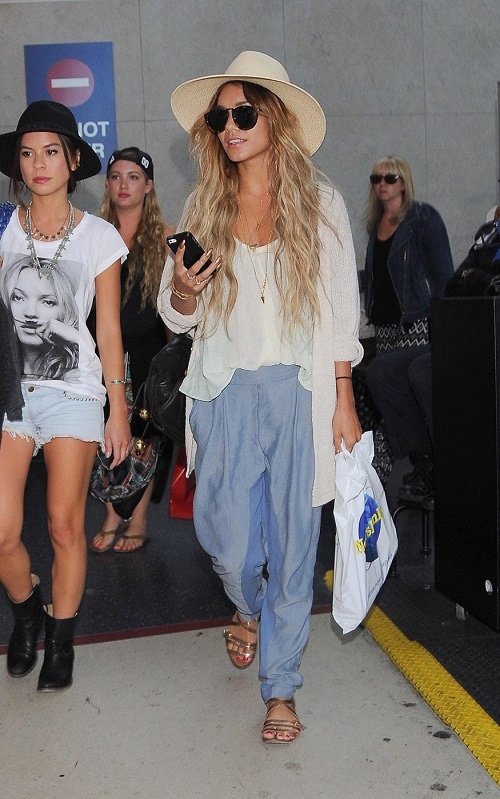 This outfit is perfect for a lazy Sunday; it looks like you just rolled out of bed, but this ensemble is still very chic. It's the perfect mix of boho pieces and a beachy vibe, and will definitely have you feeling like the Coachella queen Vanessa knows you can be.
Pair loose-fitting blue pants (go for light wash jeggings if you want to make the outfit more sleek) with an equally loose white top and an oversized, cream-colored cardigan. A straw hat, metallic sandals, and gold jewelry will transform you into a total beach babe.
Thoughts?
What did you think of this post? Do you like Vanessa's style? Would you wear any of these outfits? Are you sad she won't make it to Coachella? Who would you like to see next? Let me know in the comments!